Reason Studios Reason 11 Review
That's why I wrote this Reason Studios Reason 11 review.
If you've been looking into Thunderbolt audio interfaces like I have, you'll be quite impressed with what Universal Audio's latest audio interface can accomplish. Most of the Thunderbolt audio interfaces I've seen are rather expensive and feature too many inputs/outputs for most music producers. That's why I simply had to write this Universal Audio Arrow review; I had to share this device with you all.
I'm saying that Universal Audio's Arrow Thunderbolt 3 DSP-Powered Audio Interface has what it takes to take your music production career to the next level! It may look luxurious, but it's actually UAD's most affordable audio interface to date. It's also its first Thunderbolt 3 audio interface, but what enhancements does the Arrow truly benefit from? Let's find out why the Arrow is the best thunderbolt audio interface for music producers at home and on the road.
An overview of the Universal Audio Arrow Thunderbolt 3 audio interface
Before finding out about Universal Audio, I had no idea that there was another level to audio interfacing. If you're familiar with their Apollo range of audio interfaces, you may be aware that they're equipped with SHARC-based processors (huh?).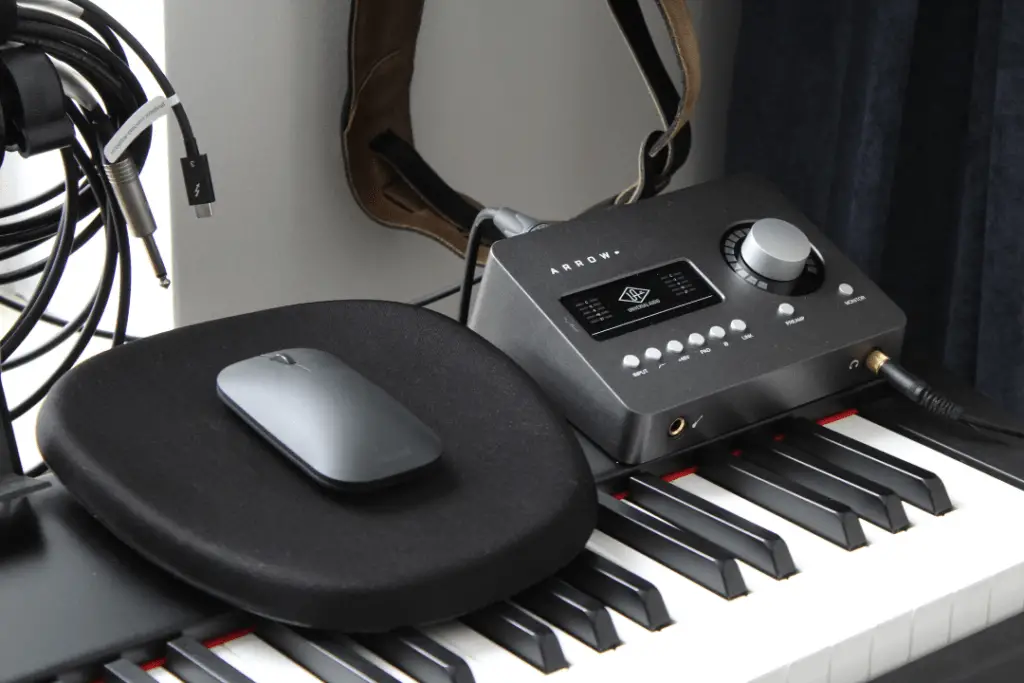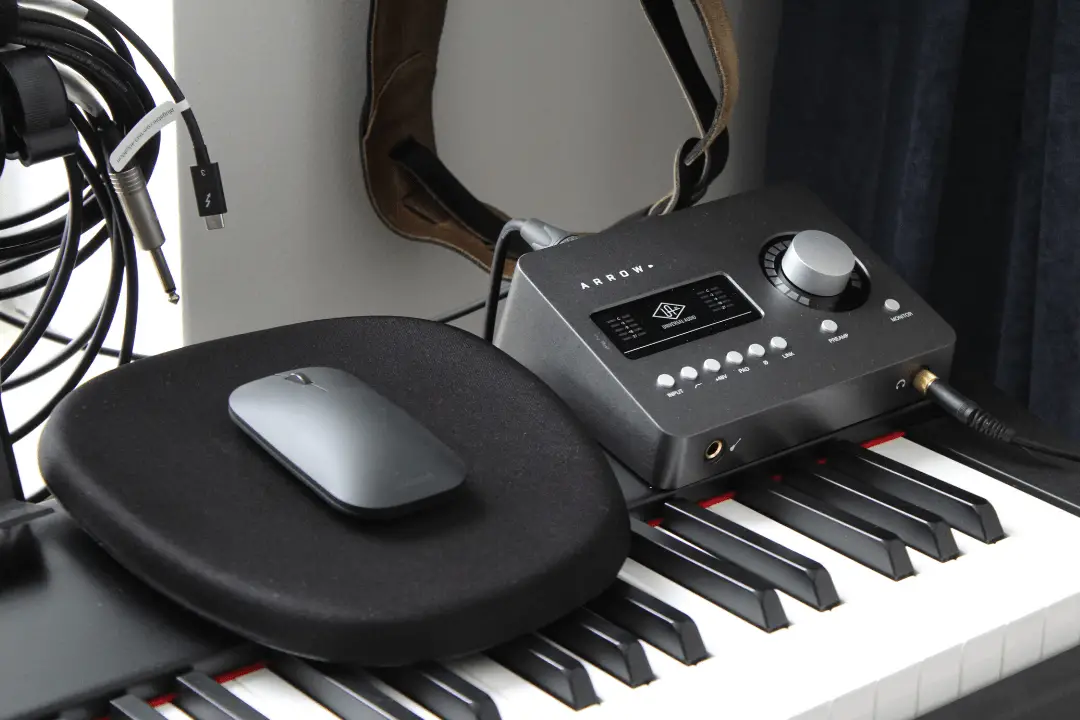 You may ALSO know that their audio interfaces are DSP-powered!
In layman's terms, what all this means is that the Arrow can theoretically provide ZERO-LATENCY. It can also achieve this while hosting some pretty demanding plug-ins created exclusively for UAD devices.
Instead of hosting these plug-ins in your DAW, you can host them in the included software known as Console 2.0. In other words, we can record straight into a plug-in as if it were a piece of physical hardware.
Since the Arrow is equipped with a single-core CPU, it handles these plug-ins in real-time (i.e. zero-latency).
Unfortunately, this feature is limited to UAD's proprietary plug-ins, so it won't work on your other plug-ins. However, keep in mind that the Thunderbolt technology dramatically reduces latency rates. More than USB technology?
I'll be explaining the advantages of Thunderbolt technology in the next section. If you think it has something to do with its increased bandwidth… THINK AGAIN!
Thunderbolt 3 vs USB 3.1 audio interfaces
If you're not particularly tech-savvy, I'll be explaining why USB technology has some pretty major flaws. I'll also be explaining why Thunderbolt 3 provides some distinct advantages over USB 3.1, even though they both have a bandwidth of 40 Gbps.
One of the main advantages of Thunderbolt technology is its ability to communicate directly with your computer's CPU.
USB technology relies on "drivers" to relay information from point A to B. Even if you were using USB 3.1, you would still be limited by the efficiency of that device's "driver" (and your computer's performance, of course).
However, we're not looking at bandwidth when comparing these two technologies. Additional bandwidth would only benefit us if we were recording HUNDREDS of tracks simultaneously.
In other words, it's the technology that impacts the latency rate. This also means that Thunderbolt 3 isn't any faster than Thunderbolt 2,
BUT…
It does make it possible for the Arrow to be completely bus-powered. That's right!
Those of you with phones that use Thunderbolt 3/USB-C as chargers know that it accelerates the process. Thunderbolt 3 is capable of powering many devices such as external GPUs!
So, what is it that really distinguishes Universal Audio from its competitors?
They've built the first Thunderbolt 3 audio interface with Unisson preamps
If you're new to the world of Universal Audio, you may not be familiar with their Unisson preamps. It's the reason I needed to get my hands on one of these as soon as I could!
Basically, it can turn your Thunderbolt 3 audio interface into a piece of vintage analog hardware.
If you're using one of UAD's amp simulators, it'll make your Arrow feel and react like an actual tube amplifier. Using higher-gain settings will get your amps to "break up" like the real ones! You'll need to hear it for yourself to understand how significant this feature truly is.
In technical jargon, it mimics that piece of hardware's impedance and adjusts the input impedance accordingly (kind of like a direct box).
Whether you're working in an apartment or bedroom studio, you'll be able to hear these amps as if they were fully cranked (and the tubes red-hot)! It actually sounds exactly like the popular amps it emulates…
Ampeg
Fender
Friedman
Marshall
Suhr
We'll be taking a closer look at some of these plug-ins later on, but believe me when I say they sound phenomenal. Legends such as Dave Pensado rave about these plug-ins and claim they sound exactly like the original piece of analog hardware they aim to emulate.
All of these features are accessible via the Console 2.0 software that controls your UAD device in realtime!
Introducing your personal mixing console, Universal Audio's Console 2.0
UAD's Console 2.0 software is the engine that runs your audio interface. You'll have access to all parameters from either through Console 2.0 or the Arrow front panel. They're essentially "mirrors" of each other.
It's through Console 2.0 that you'll be able to access all of UAD's plug-ins.
The user interface is pretty simple to navigate. Each channel strip functions like the ones in most DAWs, like Logic Pro. You have access to four inserts per channel and ONE reserved for Unisson. Everything you can access via your Arrow's front panel can be found in Console 2.0.
Input Select
HP Filter
+48V Phantom Power
Attenuation (PAD)
Polarity Reverse
Channel Link
Preamp Editing
Monitor Editing
It's the perfect combination of hands-on-design and the innovation of digital technology. You can easily save each channel strip's setting as presets for future recall.
When I first received my Arrow, the installation process was effortless. Console 2.0 is more than just your mixing console, it's the engine behind your new audio interface.
It's also the ignition key.
The software also authenticates your hardware and plug-ins which can be managed via your UAD account. I'm honestly impressed with its performance.
You can even use it to monitor how much DSP and CPU power you're using!
Experience Universal Audio's suite of modelled analog plug-ins
We've been hearing about these "game-changing" plug-ins for quite some time now, so let's find out what Universal Audio includes with each of their devices.
Considering how much we're paying for this audio interface, we're actually getting a pretty decent bundle.
Here's a list of what you'll have immediate access to:
Teletronix LA-2A (compressor)
UA1176LN (compressor)
UA 1176SE (compressor)
Pultec EQP-1A (equalizer)
Pultec Pro (equalizer)
Raw Distortion (ProCo RAT)
Ampeg SVT-VR Classic Bass Amp
Marshall Plexi Classic Amplifier
UA 610-B Tube Preamp/EQ
RealVerb Pro (algorithmic reverb)
Precision Channel Strip
Precision Reflection engine
Precision Delay Modulation
Precision Delay Modulation L
And if you ever wanted to try any of their other fantastic plug-ins, you could demo them for TWO weeks! Once they've been registered with your Universal Audio audio interface, you'll have access to them wherever you go. They can be synchronized with up to SIX different audio interfaces (from Universal Audio, of course).
The only downside to all of this is you'll always have access to the plug-ins you DON'T own. I guess it's Universal Audio's way of pushing users to purchase their plug-ins. It's kind of intrusive to be honest, but I've gotten used to it.
The secret is to keep track of the plug-ins you DO own and try to ignore the rest.
However, I do encourage you to take advantage of the 2 week trial period included with each plug-in. You'll often have discounted prices on UAD plug-ins and they sometimes go on sale.
They're worth every penny and to be honest, the amp simulators cost MUCH less than having to buy the actual amp.
Universal Audio's Arrow is the best Thunderbolt audio interface for home recording
Something very important to remember is that the Arrow is Thunderbolt 3 audio interface, so it won't work with older Macs. If you purchase the appropriate PCIe adapter for PC, Universal Audio claims it'll be compatible with Windows.
However, The Arrow is one of the audio interfaces I don't recommend for beginners.
It's been designed for professional music producers and musicians. It's durable enough to be deemed roadworthy, but without compromise. The Arrow is also the most affordable "gateway" to Universal Audio's massive collection of plug-ins.
You'll really be getting the most of your new audio interface using these plug-ins. The Arrow's Unisson preamps are truly remarkable… I've never heard anything quite like it.
It makes every single guitar I plug into it sounds like a completely different instrument. Do I recommend it for guitarists in particular? Hell yeah!
Follow the link to find out more about Universal Audio's Arrow.
The Arrow doesn't include a Thunderbolt cable (for some reason). I personally use this one…
What do you think is the best Thunderbolt audio interface for home recording? Let us know in the comments and feel free to share this product review with anyone looking for an upgrade to their current audio interface!