Creating music outside of your recording studio can be quite a challenge, but not anymore. If you've been looking for the best Apple laptop for music production, you've found it.
Apple computers have always been a standard in the music industry, but why would you consider a MacBook Pro? If making music on-the-go is essential to you, then you'll definitely benefit from the advantages of Apple's MacBook Pro. As you may know, Apple makes it easy for each user to customize their iDevice, so which specifications are we looking for exactly? That's where I come in!
The best laptop for music production is a MacBook Pro
Why not a MacBook Air? What about non-Apple laptops? I recommend the MacBook Pro for those of you who are serious about music production.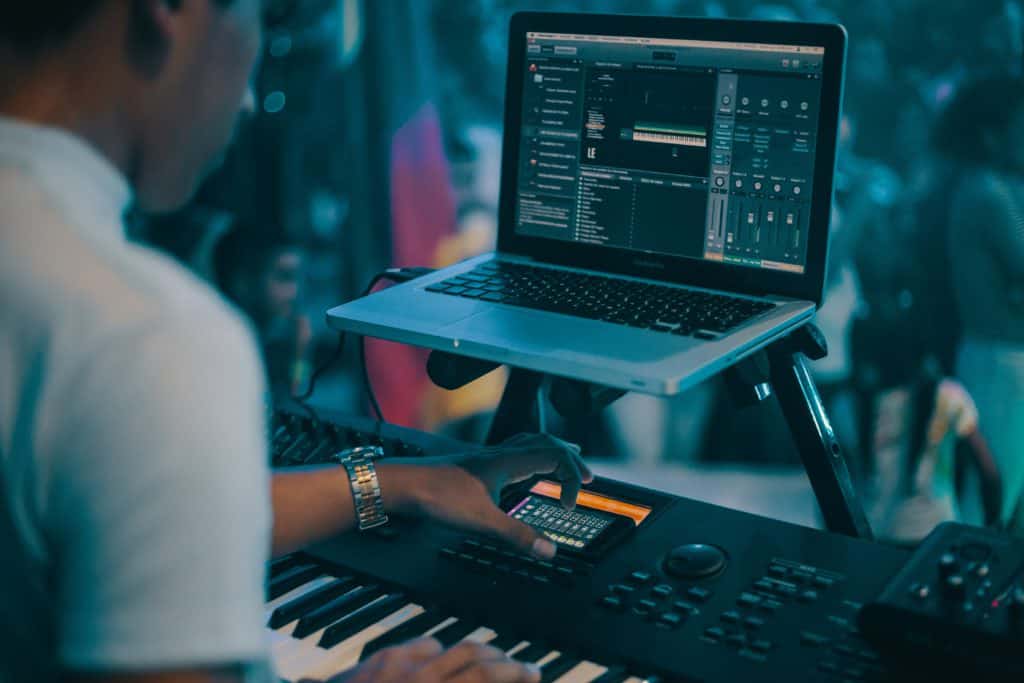 Technically speaking, you could produce music on pretty much any desktop/laptop.
However, we're looking for a laptop that will compete with a desktop suitable for music production. The last thing we'd want to do is limit ourselves by making compromises to our flexibility.
Here's what music producers need from their laptop:
Powerful CPU | We're looking for a quad-core, although hexa-core and/or octa-core are options as well. For processing audio specifically, we need superior single-core performance (more on that later).
Abundant RAM | We're looking for at least 8 GB of RAM, although more is always better. Speed is also a variable we need to take into account (DDR3, DDR4, etc…).
Solid State Drive (SSD) | We're looking for the quickest type of memory to speed up load times. It's more of an asset to the computer since external hard drives (HDD) have become quite reliable.
Battery Life | We're looking for an average battery life of 10 hours, so don't settle for less. The last thing you'd want is to rely on your charger to operate.
Thunderbolt Ports | We're looking for a laptop that features Thunderbolt ports because it's quickly becoming the new standard. It's actually exclusive to Apple computers and it provides the BEST performance (more on that later).
The latest MacBook Pro fulfills all of these needs with ease. The entry-level model is suitable for most music producers.
However, we don't need to opt for the largest display. The Retina display will provide ample clarity even on the smallest screens.
And the new Touch Bar really caters to music producers. It'll really enhance your experience if you use GarageBand and/or Logic Pro.
If you're not willing to compromise, I guarantee you'll be satisfied with your purchase.
Is the MacBook Pro really worth the price tag?
Apple products are often viewed as overpriced, so can that be justified? I believe it can, considering the value Apple includes with each of its products.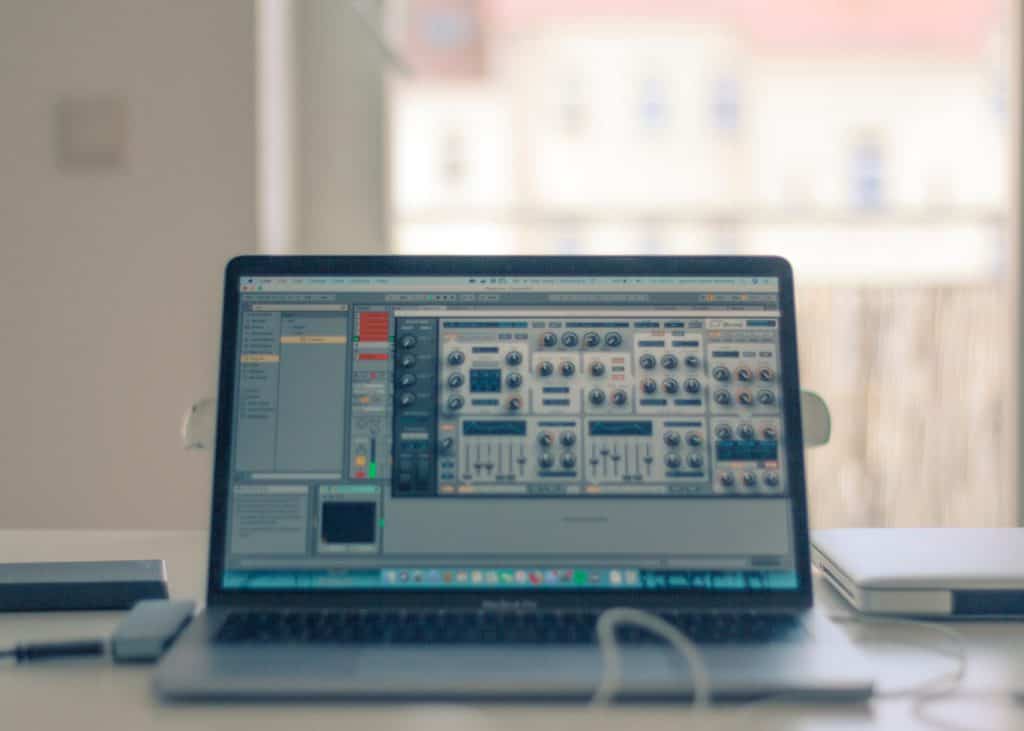 Apple's future operating systems won't cost you a dime, unlike Microsoft's (well, up until Windows 10).
If you're just getting started as a music producer, you may be aware that GarageBand is included with every Apple product. You'll instantly benefit from an enormous library of sounds exclusive to Apple.
I'm not even going to cover all the FREE software Apple includes with its products. We should simply acknowledge the fact that it will save us the expense of a DAW. And honestly, an upgrade to Logic Pro is much less expensive than any other DAW out there.
Considering the quality of the hardware/software, you may actually be saving yourself some money down the road.
I guarantee you could find a similar laptop at a lower price, but you'd be missing out. And this is coming from a man who used to build his own computers. Upgrading to an Apple computer is one of the smartest moves I made for my music career.
To save some cash, I simply bought mine used/refurbished. You can even buy a model from a previous year (like 2013) to potentially save hundreds of dollars.
As it turns out, Apple products were much more durable back in the day (advice from a used computer salesman)!
The best laptop for music production requires optimal single-core performance
I mentioned earlier that single-core performance is extremely important for audio processing. This is because audio data is processed in a sequential manner, not necessarily in parallel.
In other words, a single-core needs to be capable of handling multiple audio processes simultaneously (i.e your tracks).
Using multiple cores (quad, hexa, octa, etc…) will obviously spread the workload from other processes more efficiently, BUT…
It won't help your audio process any faster. You'll be pleased to find out that the Intel i5-8279U at 2.4 GHz (8th generation) has an excellent single-core benchmark score. 
If we compare it to my iMac on the Geekbench Mac Benchmark Chart, you'll see that an entry-level MacBook Pro is pretty powerful.


Once again, this is how a laptop competed with a desktop suitable for music production (my rig). The numbers simply reflect their score regarding single-core performance.
Higher clock-speed doesn't mean better single-core performance. We need to pay attention to the generation of its processor.
I wouldn't object to the idea of replacing my iMac with a MacBook Pro that could outperform it.
Music production requires 8 GB of RAM, but what about storage?
It's pretty much understood that 8 GB has become the norm for most computers recently. The advantage of these new MacBook Pros is that you can upgrade them to 16 GB.
Either way, you'll be perfectly functional with 8 GB. 
We need to consider our RAM's speed. The current standard for entry-level is LPDDR3 at 2.1 GHz which is acceptable. I currently use 8 GB DDR3 at 1.6 GHz.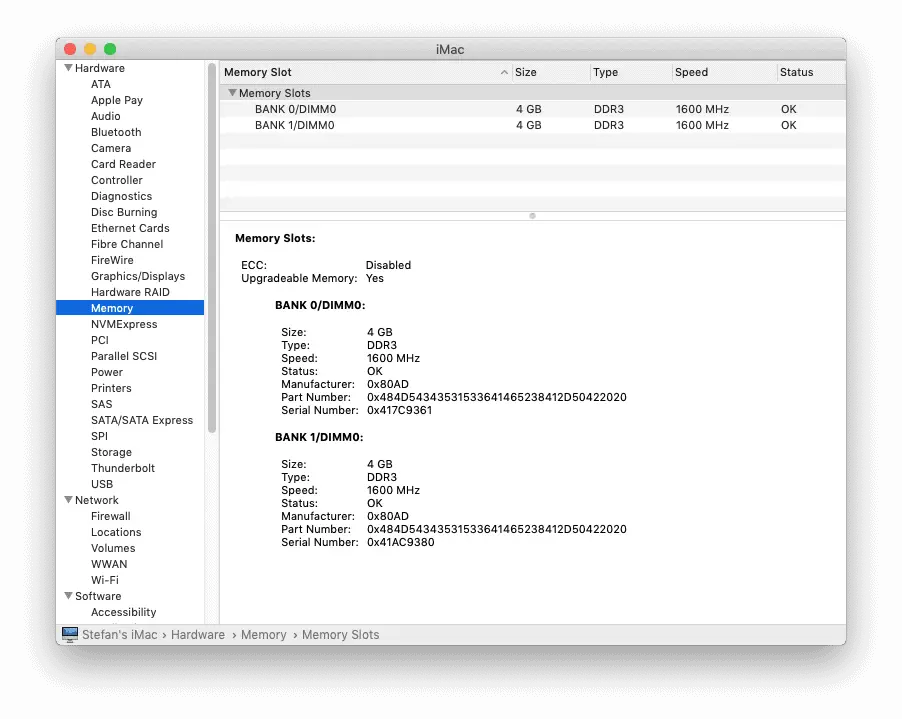 In music production, RAM is used to run large sample libraries (Kontakt, EastWest, Steven Slate, etc…).
Think about it… The average size of a sample library is 2 GB, so using FOUR of them simultaneously could max out your RAM. If you ever experience this, you could upgrade at any stage.
In other words, you'll be capable of running massive sample libraries on your MacBook Pro. Especially with this 1TB Thunderbolt 3 solid-state drive, because as you may have noticed…
You exchange storage space for a lightning-fast SSD with much less capacity. I think it's much better this way. Your "main software" will run much more efficiently installed on SSDs.
You'd basically use your internal memory to install the software (128 GB is plenty). External memory would be used to install sample libraries and save projects.
We'll be talking about the Thunderbolt protocol a bit later… You'll understand why this system will be more efficient.
Apple's new MacBook has an extended battery life
In the past, laptops have never been known for their battery life. In fact, it's been one of the biggest disadvantages of using a laptop.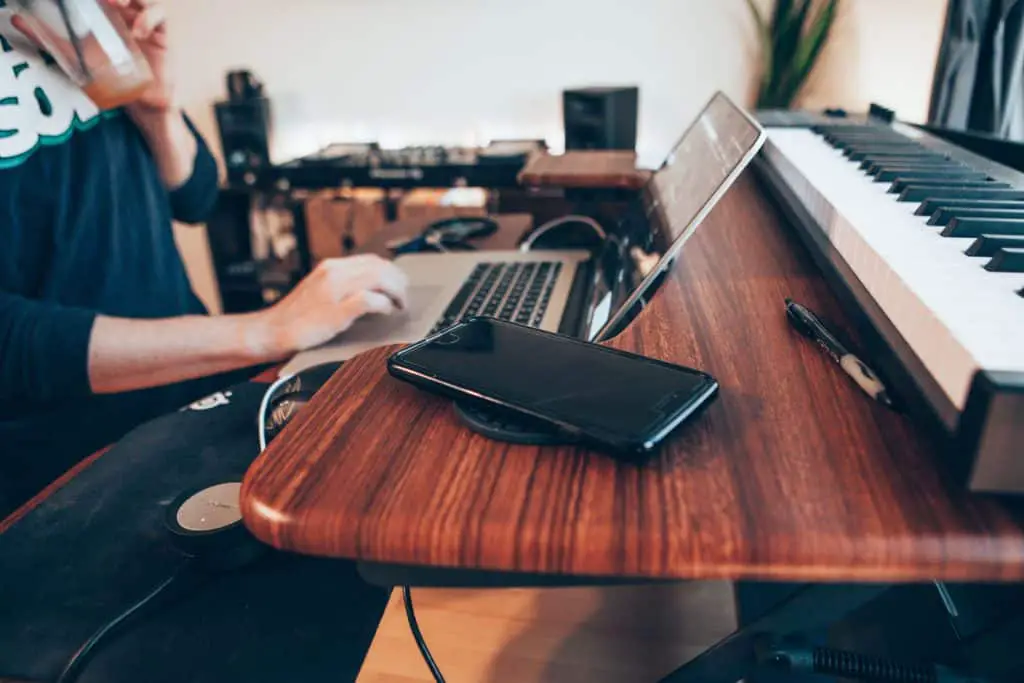 Running demanding software like DAWs can drain your battery's life pretty quickly.
I personally own a Chromebook simply for the fact that its battery exceeds 10 hours. However, Apple has caught up and offers a similar average lifespan; 10 hours!
This is a HUGE upgrade on these new MacBook Pros, they'll last as long as your cellphone. But keep in mind that running demanding applications will shorten that lifespan considerably.
Even if you had 5 hours to work with, it'd be more than enough time. You could always recharge, or carry a portable battery with you.
Either way, you won't find much better than this in the laptop world. I think Chromebooks are in the lead because they run less demanding software.
The USB-C 61W power adapter also guarantees quicker recharge times.
Thunderbolt technology is revolutionizing music production
It's a well-known fact that audio and video are the TWO most demanding applications for computers. USB 3.0 hasn't really brought anything new to the table, but Thunderbolt ports have.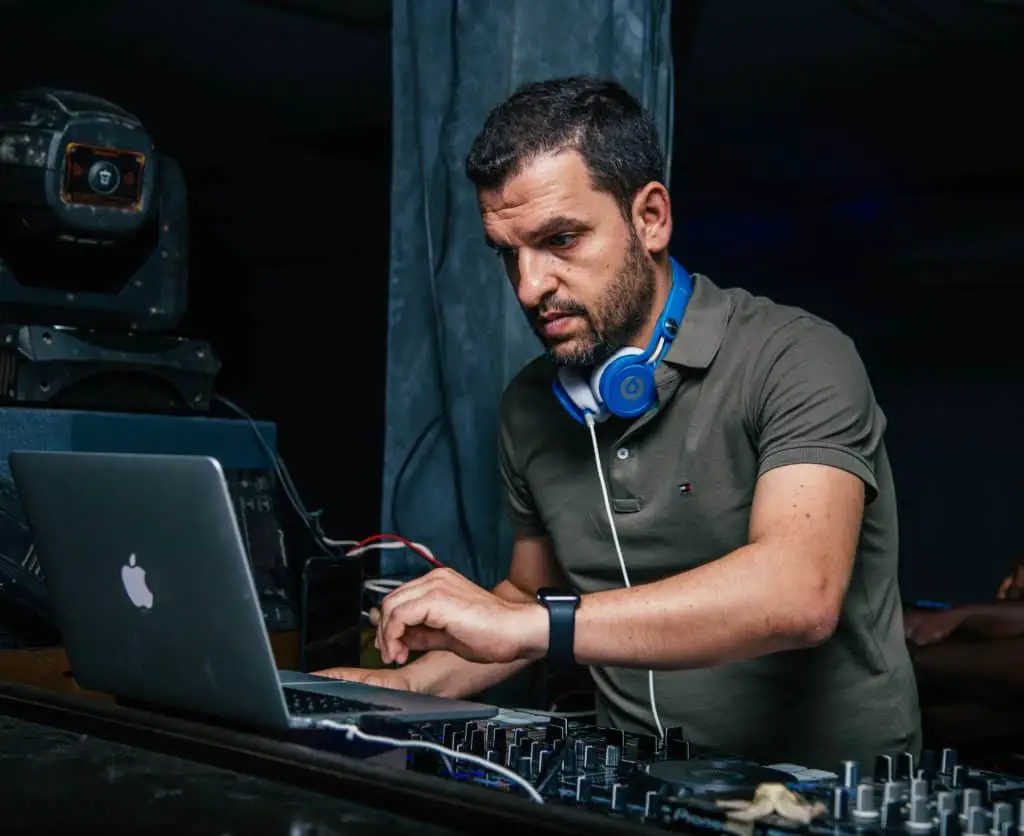 With lightning-fast data transfer rates, there's no competition.
What I find the most interesting about Thunderbolt is its efficiency. Unlike USB protocols, which rely on drivers, we get a dedicated path for audio/video data transfers.
What this means is that your Thunderbolt technology can communicate directly to your CPU. This guarantees the most stable performance currently possible.
Thunderbolt audio interfaces are quickly becoming the new standard and guess what… They're becoming pretty affordable as well!
The Thunderbolt protocol also allows us to "daisy-chain" multiple devices simultaneously. 
Remember those Rugged Thunderbolt Mobile Hard Drives I was talking about? They'll work perfectly with your audio interface, providing the highest data transfer rates possible.
The 13-inch MacBook Pro will feature TWO Thunderbolt 3 ports which will be sufficient for our needs.
And once again, I guarantee all of this is way ahead of my current 2013 iMac.
Which Apple laptop is best for music producers?
The best Apple laptop for music production is definitely the MacBook Pro mid-2019 i5-8279U 2.4 GHz (4-cores). However, I didn't mention that their CPUs can be overclocked, so you can save some cash with the MacBook Pro mid-2019 i5-8257U 1.4 GHz (4-cores).
These are both entry-level models, but they'll outperform certain desktops.
Remember, single-core performance should always be something you consider when looking at CPUs. The fact that you can overclock a MacBook is pretty neat, but I'm sure it significantly lowers battery life.
Switching over to Apple computers really changed my perspective on content creation. It's an incredible experience to work with such an advanced system. It simply works!
So if you're serious about "mobile" music production, consider one of these MacBooks Pros. You can even look around on Amazon to see if you find any refurbished models. You'll save so much, see it for yourself!
I hope this review has been insightful to you and if it has, consider passing it on! If you have any questions before purchasing, feel free to reach out to me. I'd be more than happy to shed some light on a model I didn't cover in this review.