---
If you use a lot of post-processing effects while recording, we may be experiencing the same issues regarding latency. I've recently been searching for the lowest latency audio interface, but it still needed to be affordable. I wanted everyone recording music at home to benefit from a high-speed audio interface.
The Zoom TAC 2R is the lowest latency audio interface for home recording at an affordable price. In fact, it's the least expensive Thunderbolt" audio interface on the market. If you're looking for speed, the Thunderbolt protocol is currently the fastest option with data transfer rates up to 10 Gbps.
An overview of the Zoom TAC-2R
I've been using Zoom products for quite some time now and they have never disappointed me. The Zoom TAC-2R Thunderbolt audio interface actually exceeded my expectations when it came to sound quality.
It's no surprise considering it uses high-quality Burr-Brown PCM4202 analog-to-digital converters and AKM AK4396 digital-to-analog converters.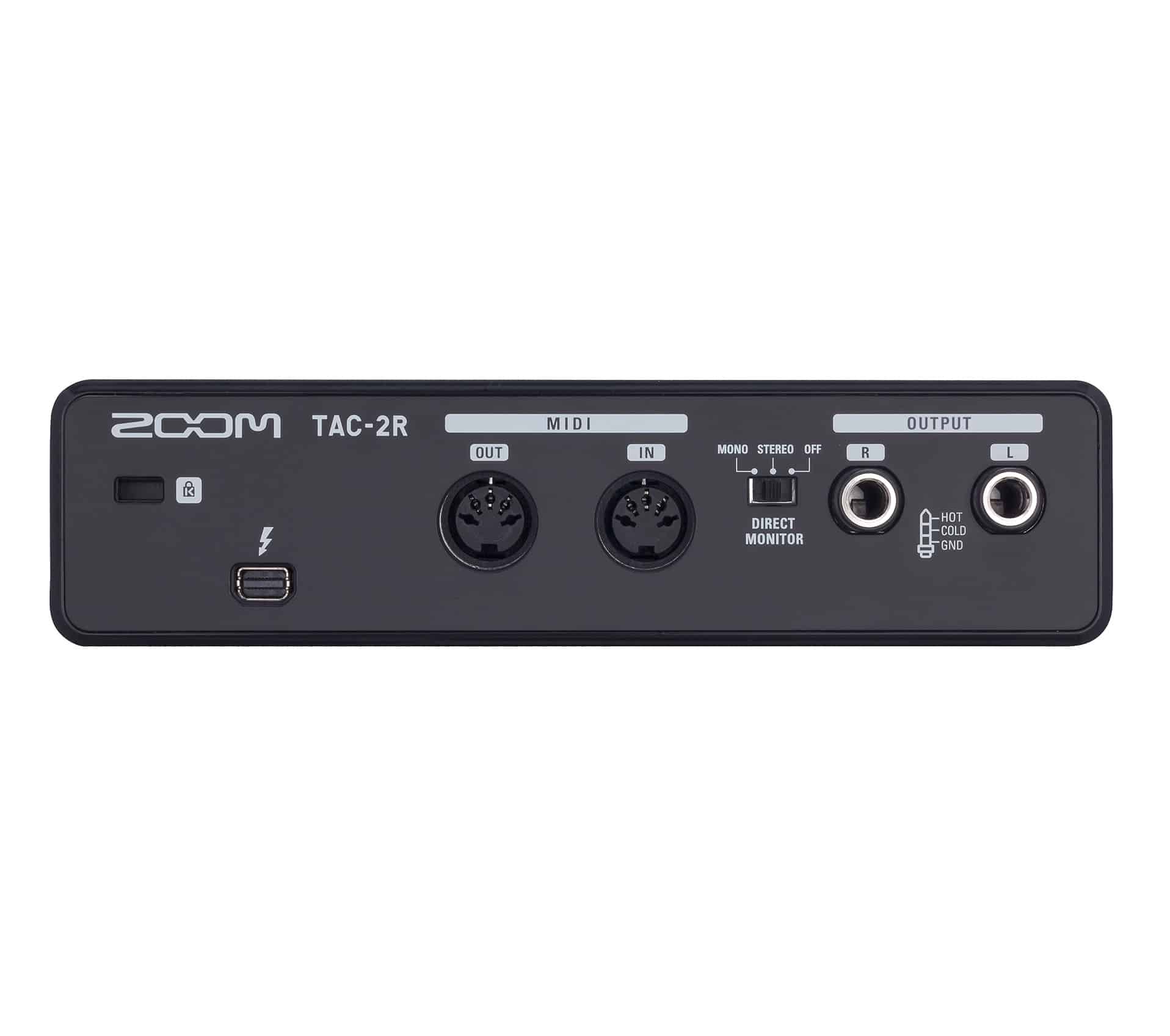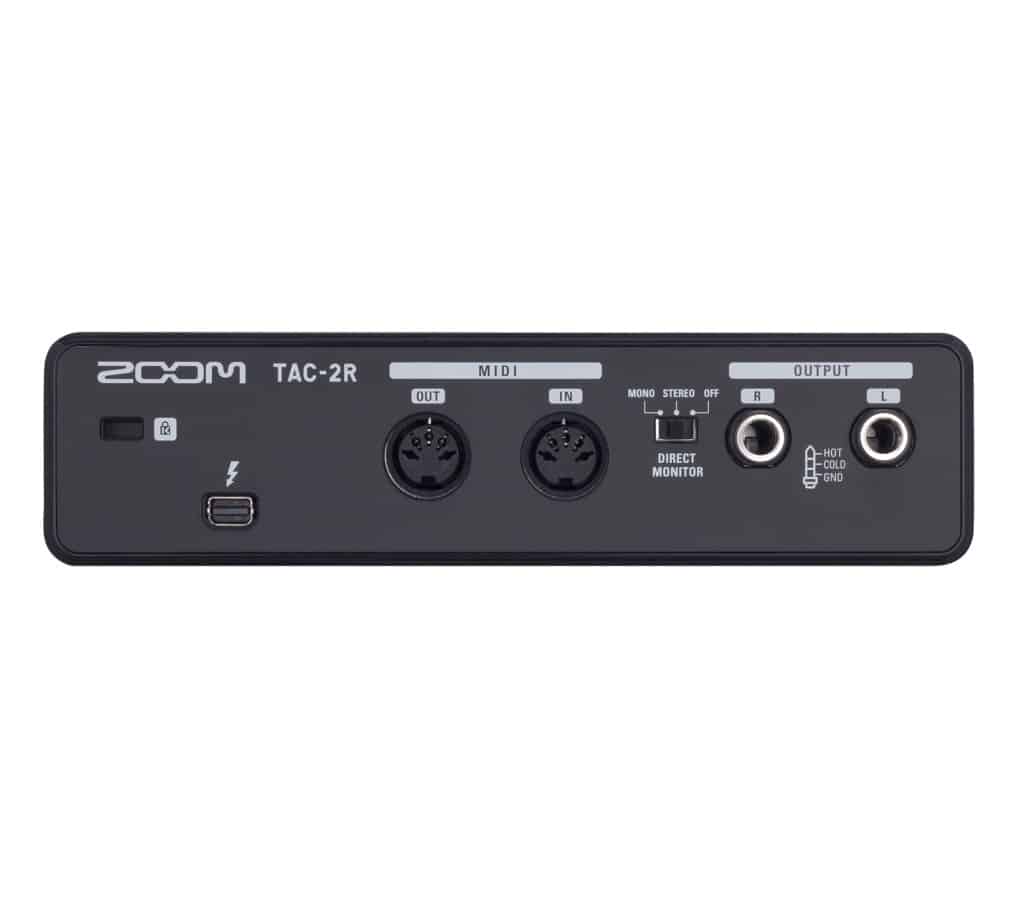 You'll also be glad to know that the TAC-2R makes full use of Thunderbolt's performance. It performs 4x upsampling of your signal during both conversions stages (ADC/DAC). So technically, if you were recording at 44.1 kHz, it would actually sound like 176.4 kHz.
The result of pairing excellent converters with this upsampling process is… incredible detail and pristine clarity. This user on Gearslutz claims it competes with… Apogee Duet 2, Apollo Twin and Tascam UH 7000 audio interfaces.
Although it's only got 2-ins/2-outs, it should be more than sufficient for a home recording studio. I also really appreciate the fact that they included MIDI I/O. There aren't enough audio interfaces that can serve as stable MIDI interfaces.
The Zoom TAC-2R will also be compatible with a variety of high-impedance instruments. Each input features "HI-Z" impedance to accommodate a line-level keyboard, for example.
Can this eliminate the need for a direct box?
It just may be considering this is NOT a typical -15 dB pad. Using the "HI-Z" switch will actually change your input's impedance from 5 K-Ohm to 1 M-Ohm. It'll definitely handle bass/electric guitar and keyboards.
The Zoom TAC-2R also includes the ability to switch to "direct monitoring" for ZERO latency playback. You'll be using the integrated headphone output to use this feature.
Lastly, it's worth noting that this audio interface includes Zoom's TAC-2 Mix Efx software. It includes the ability to not only control your audio interface, but a variety of tools (phase reverse, auto-gain, reverb, echo, etc…) and the ability to save presets.
And of course, you can use this audio interface to power all your microphones using 48V Phantom Power.
Zoom TAC-2 vs Zoom TAC-2R
You may have noticed that Zoom has another 2-in/2-out audio interface on the market known as the TAC-2. This model is actually the predecessor of the TAC-2R, but notice how they look completely different.
There are some key differences that are worth mentioning that go beyond aesthetics.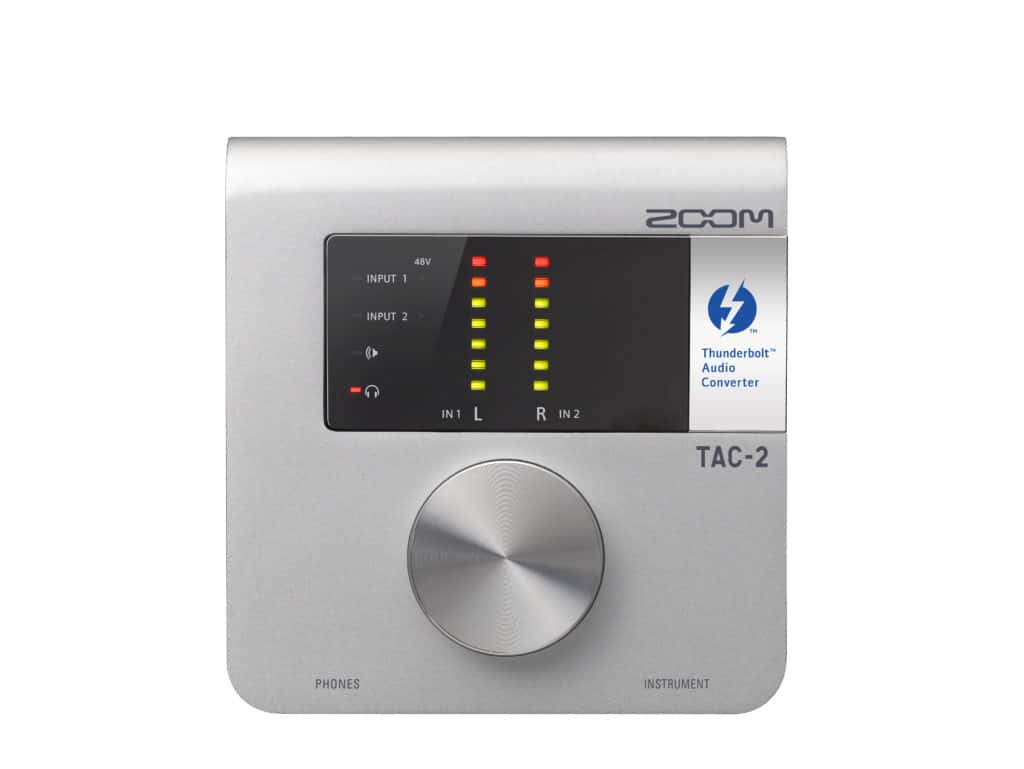 For starters, the TAC-2 has much more detailed metering that the TAC-2R's simple "clip" LED. Why would Zoom remove such a useful feature on their newer model?
I believe it has something to do with the fact that the TAC-2 Mix Efx software already provides adequate metering.
However, you'll realize that the TAC-2 doesn't have MIDI I/O. I think including it in the TAC-2R was a great move on Zoom's part. 2i2 audio interfaces that can also be used as a MIDI interface are rare.
Another wise move for the TAC-2R was providing independent gain control for each input. But you'll notice that its predecessor doesn't feature the "HI-Z" switch.
This is because the "instrument" input on the TAC-2 is already calibrated for high-impedance instruments.
Other than that, they are virtually identical. I still suggest the TAC-2R and you may not have a choice since the TAC-2 has been discontinued.
The Zoom TAC-2R is one of the lowest latency audio interfaces
If you've ever had any problems with latency, I guarantee that they will disappear once you connect this audio interface. Even running multiple effects, including amp modelling software, you'll be amazed by the Zoom TAC-2R's speed.
Zoom claims that you can achieve a round trip latency of 4.17 ms when operating at 44.1 kHz with a sample buffer of 64.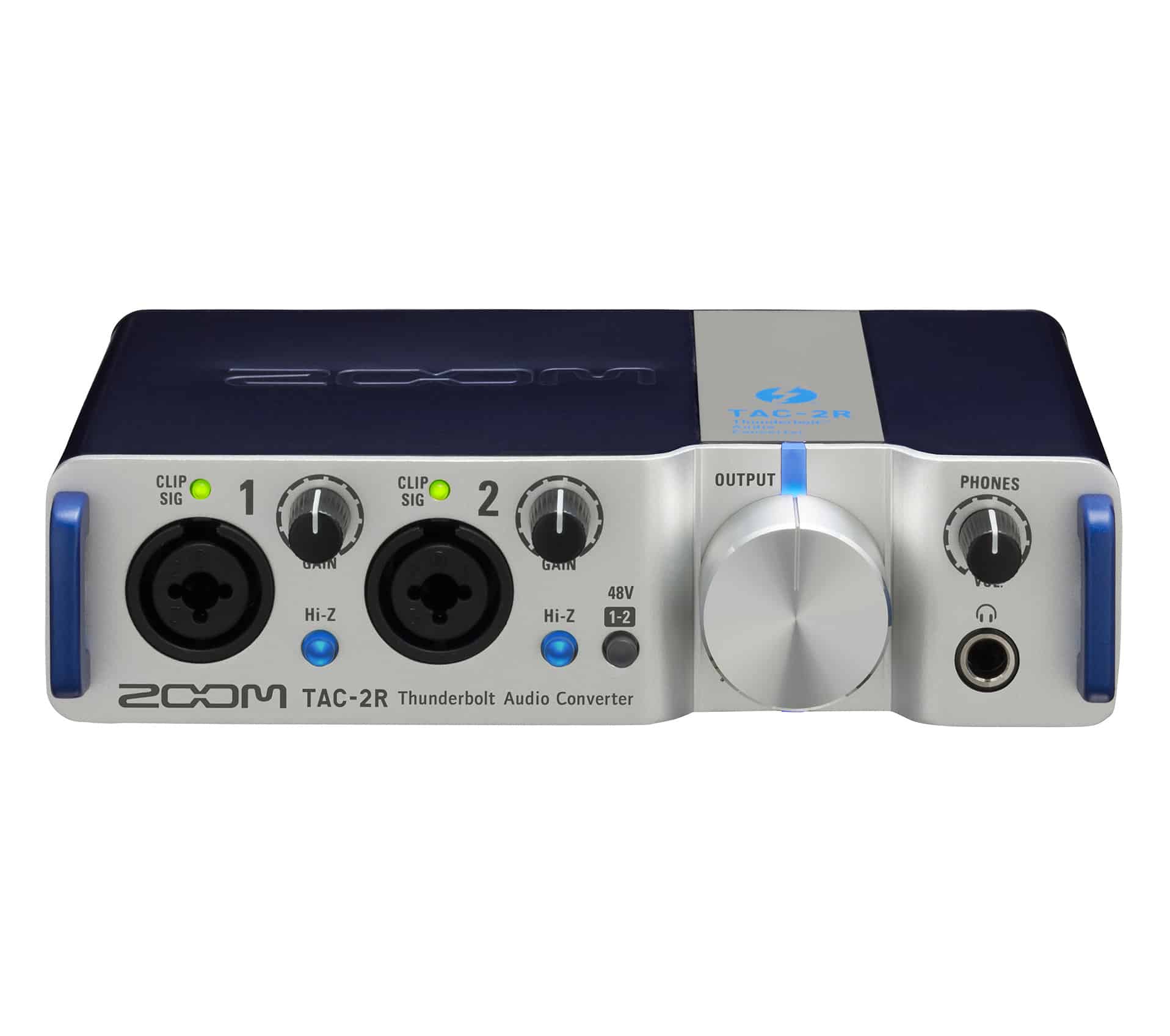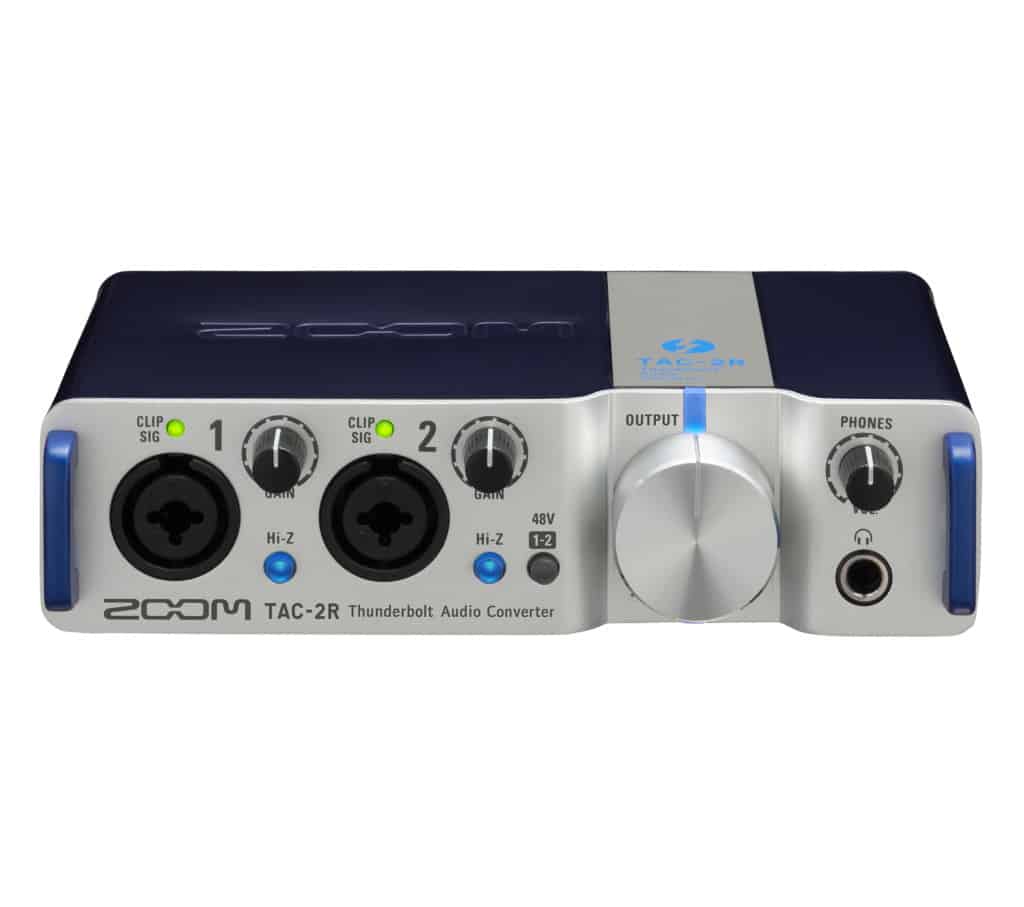 Considering that the TAC-2R is upsampling your signal 4x, this is pretty amazing. Not only are you getting a major performance boost, but you're also augmenting your sound quality.
And just for the record, there are no audio interfaces that provide 0 ms of roundtrip latency.
The advantage of the Thunderbolt" protocol is also the fact that it features an asynchronous transfer system. In layman's terms, this simply means that your audio interface will not be affected by your processor's performance. It's like having a dedicated path for transferring audio data exclusively which is not possible with a USB audio interface.
You could even "daisy-chain" another Zoom TAC-2R with no loss of performance. This may be useful if you ever require more inputs/outputs.
Each Thunderbolt interface is capable of streaming data rates of 10 Gbps, so you've got nothing to worry about.
Finally, we can take full-advantage of GarageBand/Logic Pro's suite of amp models. You'll be impressed by the workload this audio interface can handle. You could even afford to raise your sample rate and bit-depth.
At this price, you won't find a faster audio interface, I guarantee it!
How rugged is the Zoom TAC-2R?
The Zoom TAC-2R is rugged enough to survive outside your recording studio, let's put it like that. Featuring an all-metal chassis, it's more than durable enough to withstand being on the road.
Using this audio interface in a "live" setting is more than probable. It could definitely handle the wear and tear.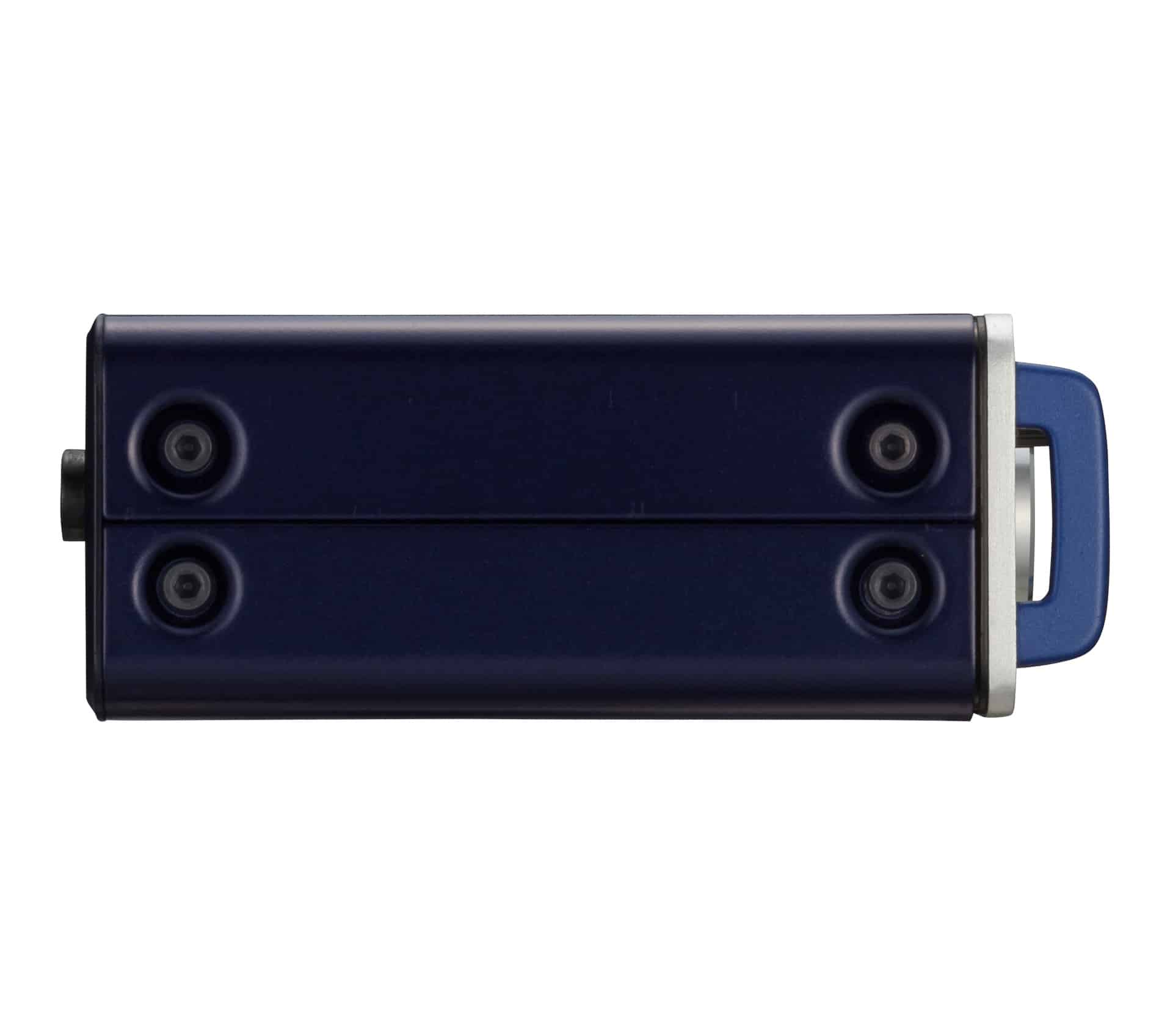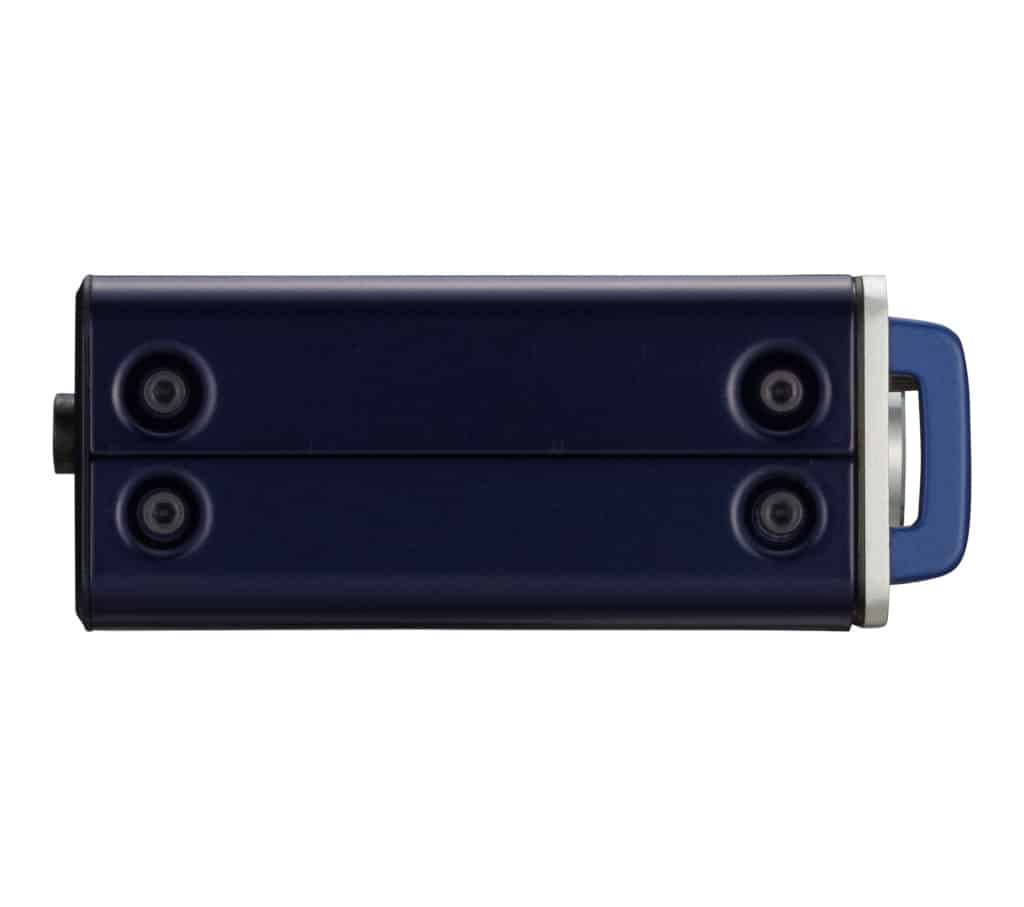 In general, Zoom products tend to be rugged since they are designed to be portable. I've dropped my Zoom H4n Pro countless times and it still works perfectly 5 years later.
I would imagine this audio interface to be capable of undergoing the same amount of stress.
Zoom does include a 1-year warranty with the TAC-2R, but I wouldn't worry about that. I can almost guarantee the lifespan of this product to be over 5 years.
So whether you're using it in your home recording studio or onstage, the TAC-2R will be reliable.
The Zoom TAC-2R makes perfect use of your Thunderbolt 2 ports
One of the greatest advantages of using an Apple computer is accessibility. If you're using Windows, you may not be capable of benefiting from the Thunderbolt protocol.
Sure, you could install a supplemental Thunderbolt chipset onto your computer's motherboard, but these devices are catered to Macs.
The Zoom TAC-2R is the lowest latency audio interface at an affordable price. The sound quality will certainly surpass your expectations.
Like most audio interfaces, it is virtually noiseless as long as you don't push the preamps more than they need to. The preamps are "flat", so you can expect full-transparency from the TAC-2R.
It's also a great option for beginners since Zoom includes a fully-licensed version of Cubase LE 8. You could start creating music the second you connect your new device! The TAC-2R Mix Efx software can also be quite useful.
You'll be surprised how many effects you can run simultaneously. You'll have to try pretty hard to get any noticeable amount of latency out of this device.
So if you've got an Apple computer and would like to take your home recording to the next level… The Zoom TAC-2R is definitely your best option. It's also great for live performances and durable enough to handle the toughest environments.
I hope this review has given you some insight into the lowest latency audio interface for home recording; the Zoom TAC-2R.
Do you know of any audio interfaces with lower latency in the same price range? Let us know in the comment and don't forget to share this product review with your network of music producers. Thanks!