M-Audio Hammer 88
Pros
The Hammer 88 features realistic hammer-action.
Its keys are relatively quiet.
It includes 3 pedal inputs (sustain, soft & expression). I'll be recommending the ones I use later.
You can connect the Hammer 88 using its USB/MIDI ports.
It's completely USB-powered.
Cons
The keys don't have aftertouch.
The Hammer 88 doesn't include an "ON/OFF" switch.
If you have any warranty claims, you'll need to pay for shipping to M-Audio. They take care of the return shipping though.
M-Audio's customer support is terrible. I needed to send multiple emails before finally getting support. They take forever to reply (and sometimes they don't).
The free 3-month subscription to Skoove requires a credit card.
---
To become a professional TV/Film music producer, I knew that I had to provide myself with the best 88 key weighted keyboard I could afford. I spent months searching, but NONE of them met my expectations.
However, just as I had given up the search, M-Audio had released the Hammer 88. I couldn't believe how affordable this keyboard was, it was in a category of its own. Once I saved up enough money, I purchased the Hammer 88 and let me tell you, it exceeded my expectations. If you're looking for an affordable MIDI/USB keyboard that features 88 fully-weighted hammer-action keys, you've most likely found your match.
For the minimalist composer… or the complete beginner
I prefer my creative environment to be as clutter-free as possible. I believe the highlight of the Hammer 88 is its playability.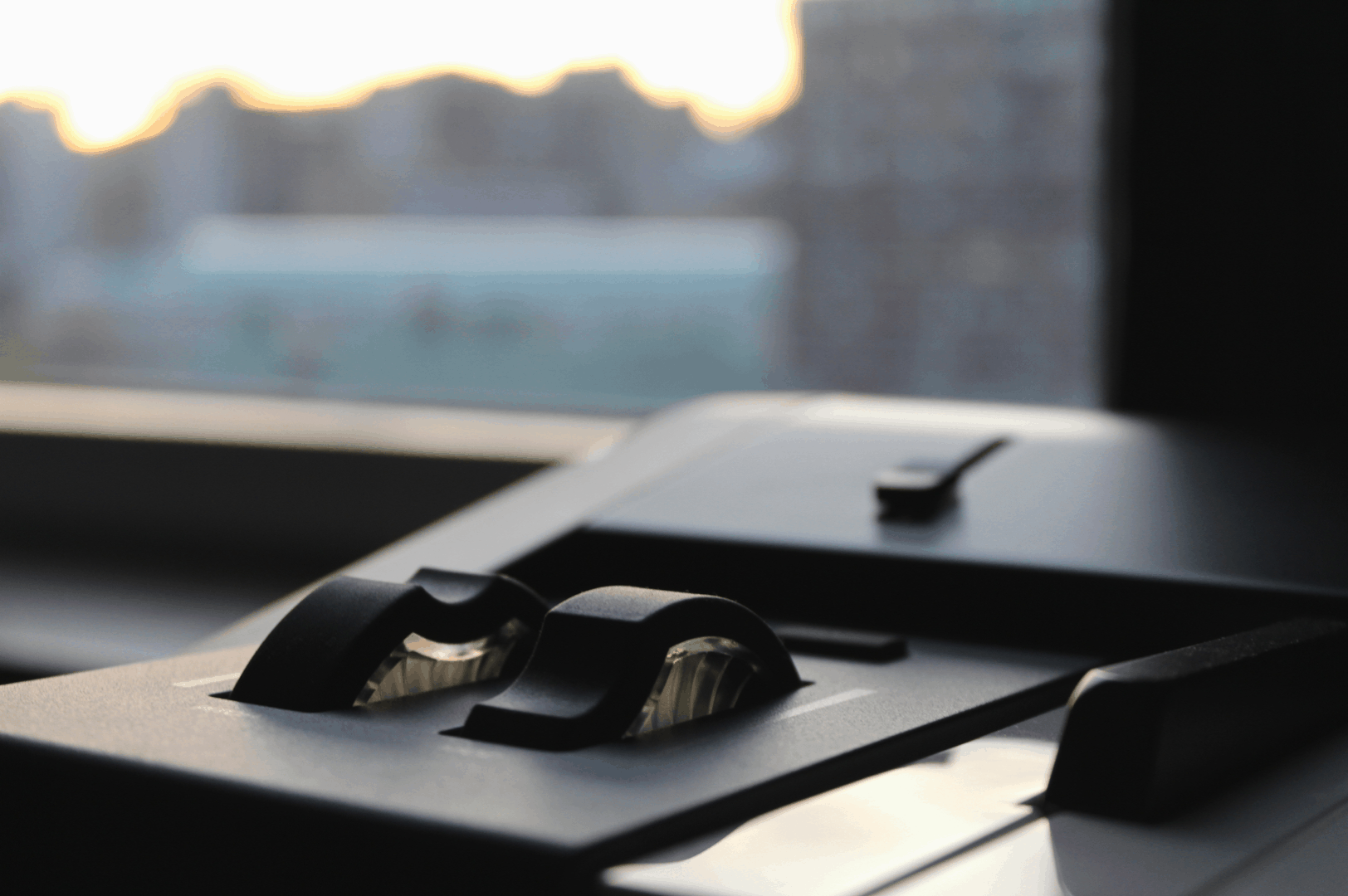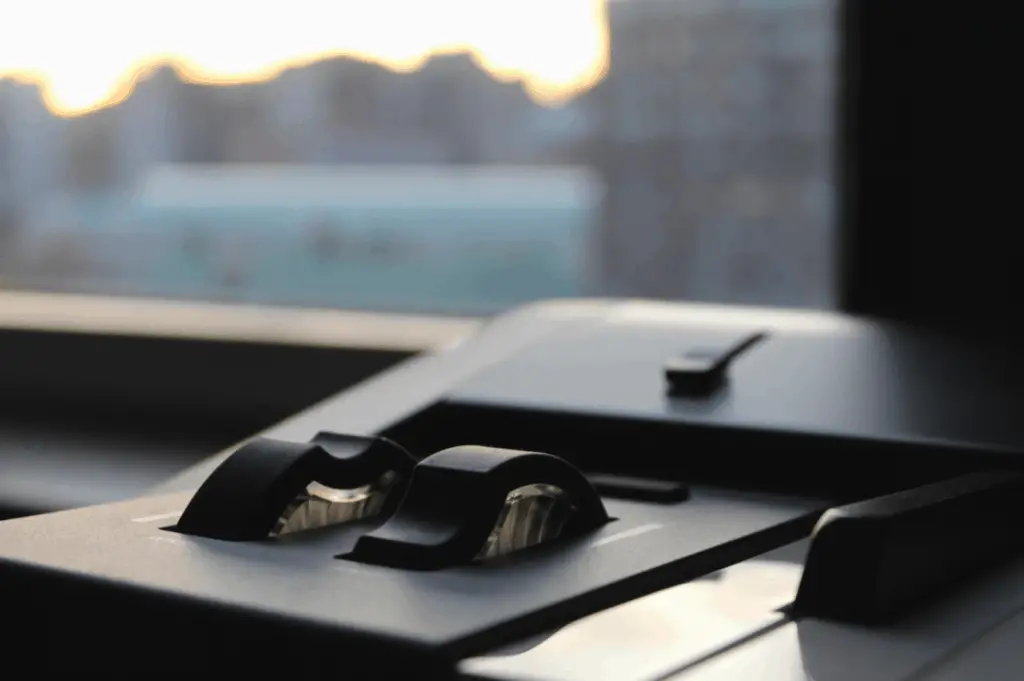 When I look at this MIDI/USB controller, I am immediately drawn to it by its simplicity. The M-Audio Hammer 88 includes everything this type of controller needs.
Pitch Bend Wheel
Modulation Wheel
Master Volume Fader
+/- Buttons
You'll need to try the keyboard for yourself to understand how luxurious it feels. I personally like to use the +/- buttons to navigate through "presets" which can be achieved with the Hammer 88 Preset Editor.
Another feature that has saved me LOTS of room is the built-in music rest which I usually use for my portable display.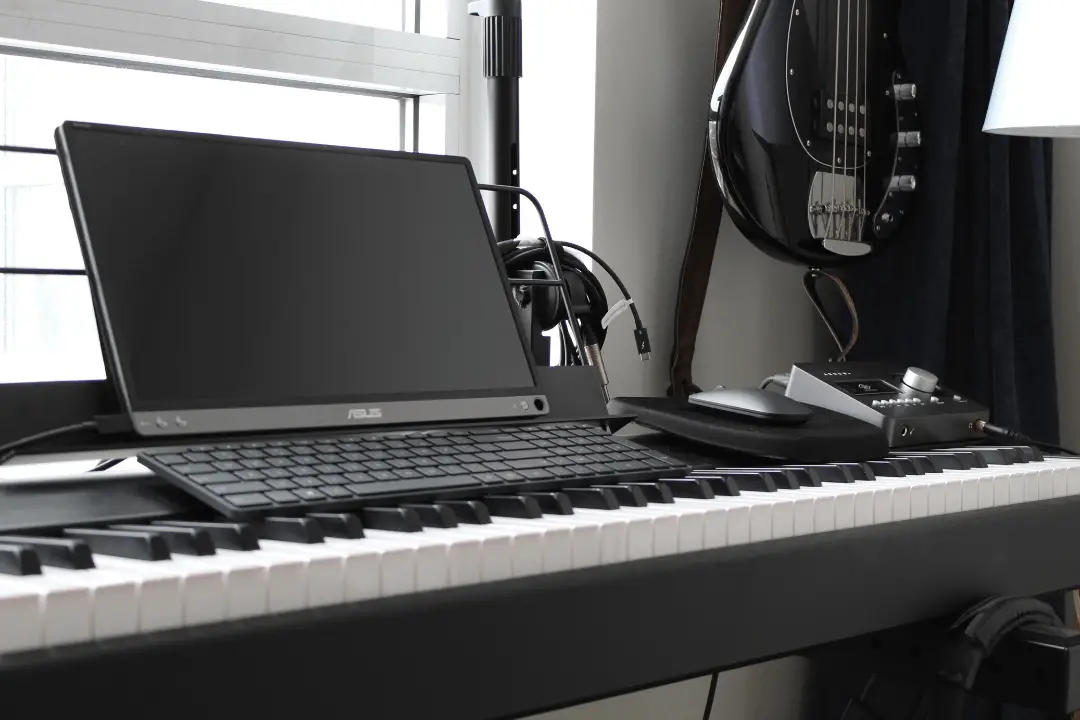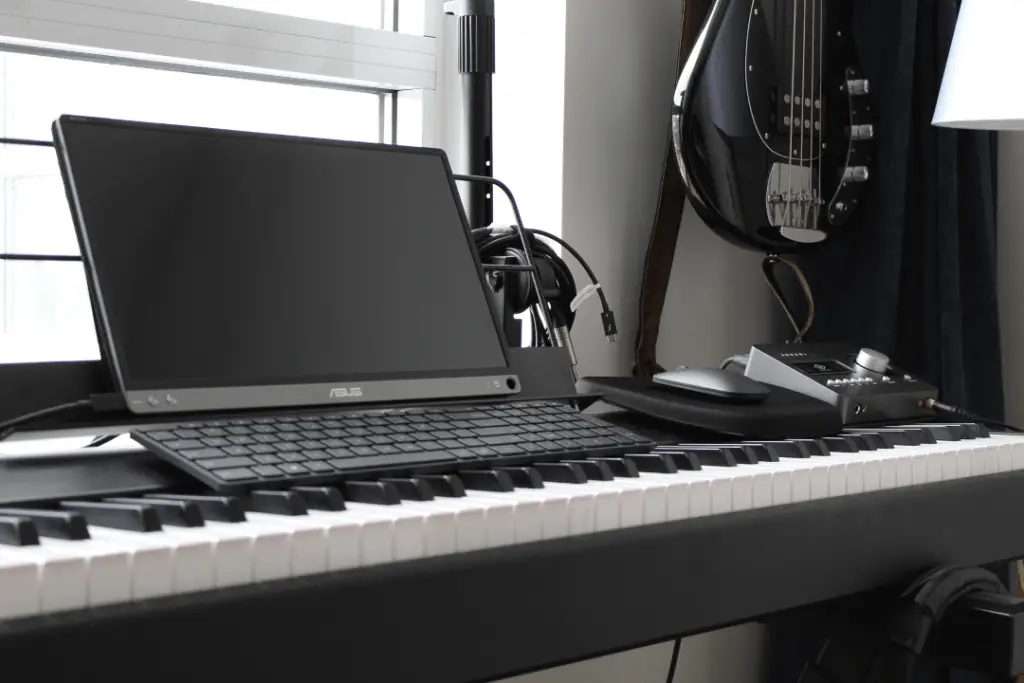 You can also adjust the sensitivity of the Hammer 88's wheels via its preset editor as well. They're extremely precise, especially the pitch bend wheel.
This keyboard controller is suitable for professionals, but it was designed for beginners as well. The keybed provides an incredibly realistic action for training a pianist's dexterity.
However, I think every pianist will benefit from the 3-month subscription to Skoove (more on that later). M-Audio even includes 4 software instruments to emulate the sound of an acoustic/electric piano and electric organ.
Considering how affordable this 88-key keyboard is, you'll feel proud of your next investment!
What's under those 88 keys?
The M-Audio Hammer 88 is truly in a category of its own… I feel like I own a 1000$ + keyboard controller. It's the best 88 key weighted keyboard because you won't be afraid to use it (or break it).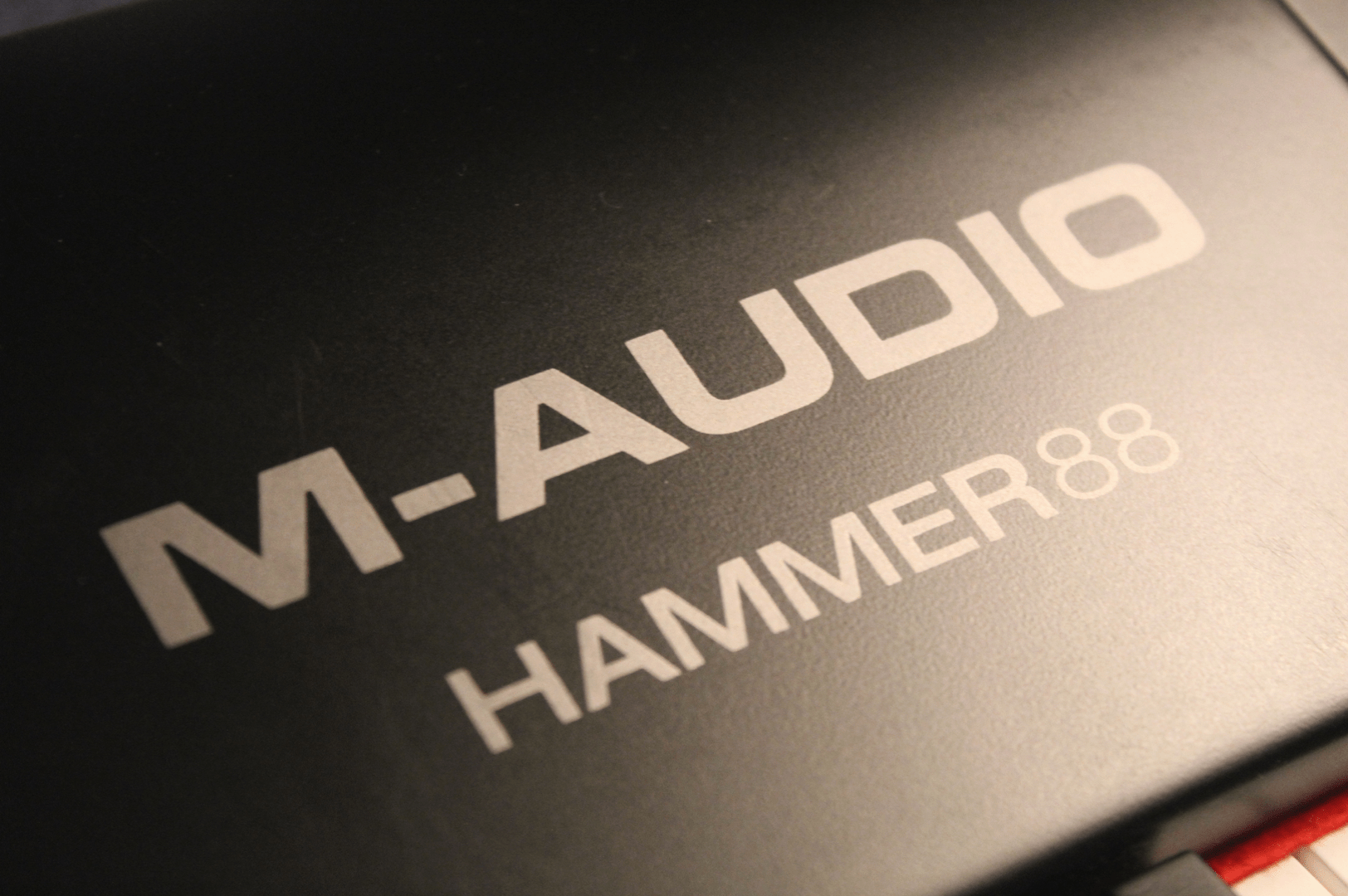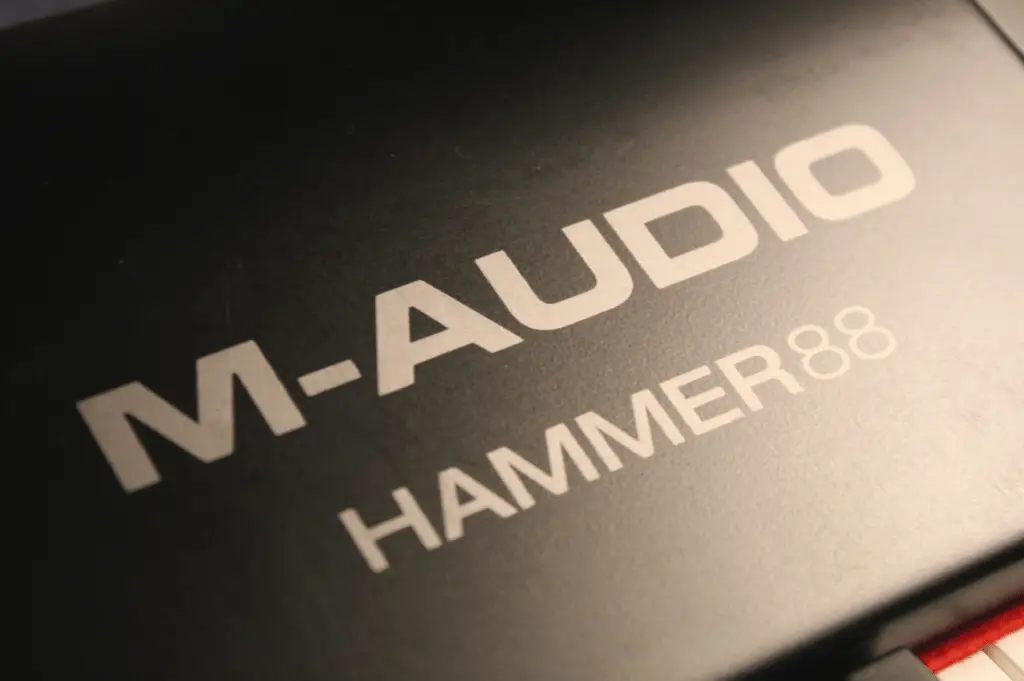 The mechanical action feels EXACTLY like the upright pianos I used during my college days. M-Audio has truly engineered an award-winning keyboard.
To achieve such a realistic action, hinges need to replicate the large movements of an acoustic instrument's hammers. You'll notice how balanced the keys are, regardless of where you strike them.
I was even more impressed to find out how quiet the keys are. They definitely produce that heavy beating sound, but they're muffled. There are certainly some pretty quiet keyboards out there, but the Hammer 88 is amongst the best.
You may even be shocked to find out how much this keyboard weighs. It really feels like a heavy-duty instrument.
Transporting it shouldn't become an issue, but treat it like a stage-piano. It certainly performs like one!
Everything you need from your weighted keyboard controller
I honestly can't think of a single thing M-Audio skipped out on with the Hammer 88. This keyboard can be completely powered by USB, but it also includes a 9V socket (if you're using MIDI instead of USB).
One of my favourite features is the ability to connect up to 3 pedals (sustain, soft and expression).
My experience using software instruments like Arturia's V Collection 7 was significantly enhanced. You'll definitely want to pair the Hammer 88 with an expression pedal.
And you'll actually get a MIDI output with the Hammer 88 (which is rare nowadays). You could use it as a "master" keyboard to control your external hardware (drum machine, synth, etc…)
What's great about the Hammer 88 is that it's USB-compliant (plug & play)… NO drivers required, even on Windows!
Here's a complete list of what you'll find on the rear panel:
9V DC Outlet
MIDI "Output" Socket
USB-B Socket
3 Pedal Inputs (sustain, soft, expression)
There you have it, everything you need and more!
The fully-customizable 88 key weighted keyboard controller
With the Hammer 88 Preset Editor, you will gain the ability to customize your controller. One of the first modifications I did was assign my +/- button to a CC parameter.
Instead of switching octave, I was now capable of assigning the +/- buttons to navigate presets.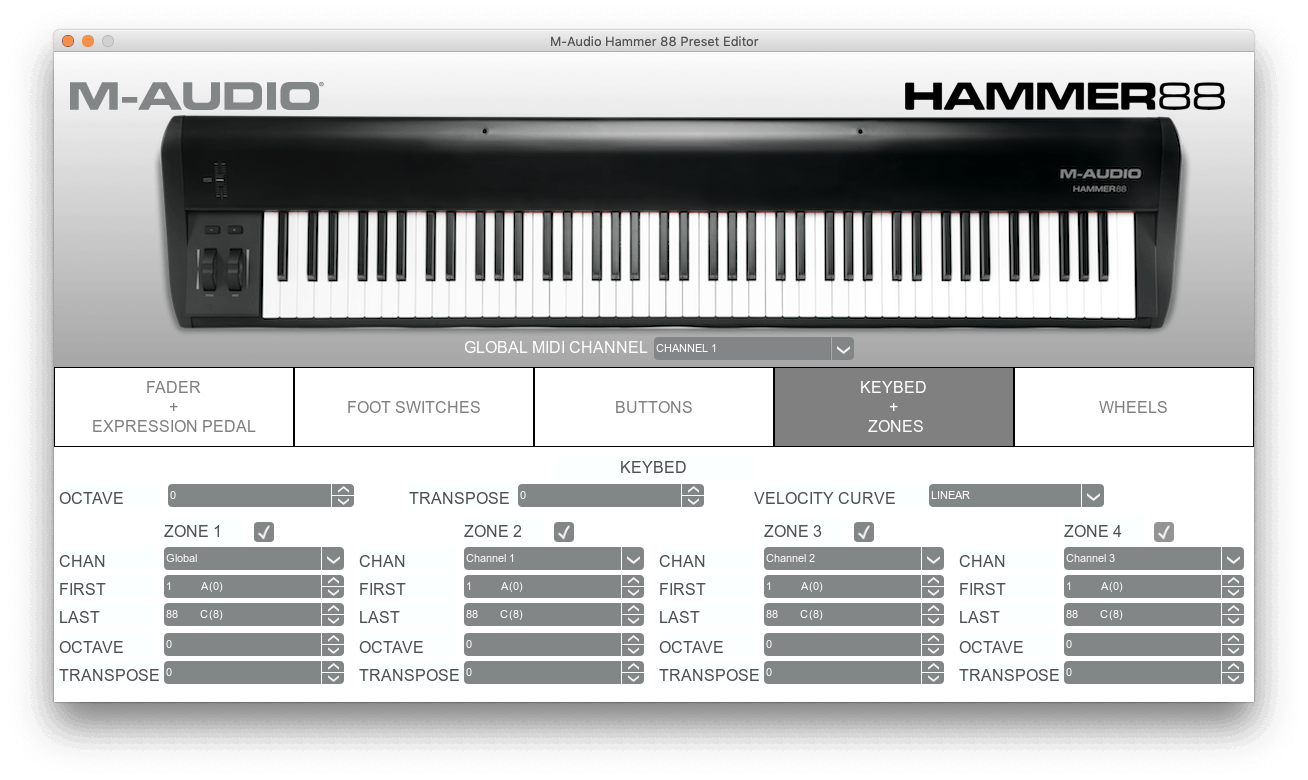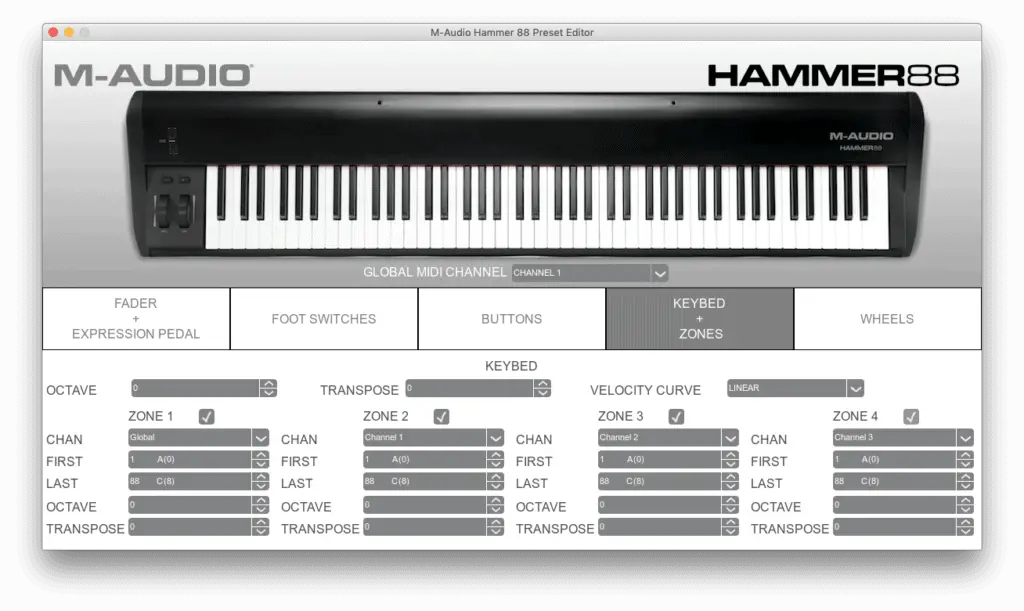 I also found the ability to divide the keybed into 2,3 or 4 "zones" incredibly useful for composing. Basically, you can assign each "zone" to a different MIDI channel and control up to 4 instruments at once. For example, I use this to compose for string ensemble by controlling bass, cello, viola and violin with ONE keyboard.
What I like most about the editor is the ability to save presets, so you can prepare for every occasion.
However, the interface may seem a little daunting for the inexperienced. The Hammer 88 is set up to run perfectly right out of the box though.
M-Audio has simply included an extra bag of tricks for the more advanced!
Included software with the M-Audio Hammer 88
To be completely honest, I haven't even downloaded any of the plug-ins included with the Hammer 88. I have nothing against any of them, but I personally use Arturia's V Collection 7 which has everything I need and more.
If you haven't equipped yourself with some decent software instruments (grand piano, electric piano, electric organ), you've got nothing to lose by trying them!
Here's a brief description of the 4 software instruments you'll be able to download from your M-Audio account:
SONiVOX "Eighty-Eight" | A sampled virtual instrument that emulates the character of a 9-foot CD327 Steinway grand piano.
AIR "Mini Grand" | A sampled virtual instrument that gives you access to the sounds of 7 different acoustic pianos. Complete with re-pedalling technology, built-in room simulation and equal/stretched temperaments.
AIR "Velvet" | Emulate the sounds of 5 legendary electric pianos from the 60s and 70s including the Fender Rhodes Suitcase, Fender Rhodes MK1 and MK2, Wurlitzer 200A and the Hohner Pianet-T.
AIR "DB-33" | Recreate the sounds of classic tonewheel organs such as the Hammond B3, complete with rotary cabinet and tube overdrive emulation. It includes 122 presets to provide you with hours of material to work with.
M-Audio even included a 2 GB sound library called Touch Loops, a free 3-month subscription to Skoove (online piano lessons) and their proprietary Hammer 88 preset editor.
I personally don't use sound libraries, but I checked it out nonetheless. It wasn't that great (compared to Apple's sound library) and the "free" subscription to Skoove still requires your credit card number.
The one piece of software that I still enjoy is the Hammer 88 preset editor.
I managed to find an excellent demo of the software for those who are interested…
Lastly, the Hammer 88 also comes with M-Audio's version of Pro Tools (it includes more sounds) and Ableton Live Lite. If you haven't purchased a digital audio workstation (DAW) yet, these two programs can certainly get you started.
If you're already set like I am though, you'll most likely never end up using them though.
I think it's great that M-Audio has included everything a beginner could need and the Hammer 88 preset editor for more advanced music producers. There's something for everyone!
The best 88 key weighted keyboard is the M-Audio Hammer 88
I never thought that I would actually find a MIDI/USB keyboard controller at this price range, but M-Audio has done it again. Don't let its affordability fool you because the Hammer 88 is actually one of the best 88 key weighted keyboards on the market.
If you are looking for a controller that provides realistic hammer-action, the M-Audio Hammer 88 will exceed your expectations.
I use it with Arturia's V Collection 7 mostly and let me tell you, it really feels like I'm playing the real thing.
However, I do not recommend this keyboard for emulating the playability of a synthesizer. I still use my M-Audio KeyRig 49 (discontinued) for synth tracks, but I use the Hammer 88 for orchestra, piano, organ, clavinet, etc…
And it really comes fully-equipped! Complete beginners will have access to TWO pieces of recording software, a suite of software instruments, interactive piano lessons and more. The Hammer 88 is a professional-grade instrument suitable for ALL levels.
I really enjoy composing with this keyboard controller… It allows me so much expressive freedom.
The best 88-key weighted keyboard…
This is the keyboard stand I use…
The Hammer doesn't include a sustain pedal. I personally use this one…
I also use this expression pedal…
If this review has helped you find what you were looking for, please consider passing it on. What do you think about the best 88 key weighted keyboard controller? Let us know in the comments!