Reason Studios Reason 11 Review
That's why I wrote this Reason Studios Reason 11 review.
I've written many product reviews on some of the best computers for music production, but today… We're going to be looking at the best Apple computer for music production. If you've been reading my blog for long enough, you know that I only recently started using Apple computers.
It might surprise you, but I personally believe the best Apple computer for music production to be the current Mac Mini from 2020. I'm not talking about any of their upsells, I'm simply referring to Apple's entry-level Mac Mini. There's actually a lack of information when it comes to this particular model's performance with music producers, so I decided to jump in. Since recently trading-in my old 2013 iMac for one of these powerhouses, I've been really enjoying the experience!
Apple computers are designed for music producers
Music producers, cinematographers, photographers and many more demographics of creative individuals. It's been less than a year now since I personally made the switch and it's completely changed my workflow.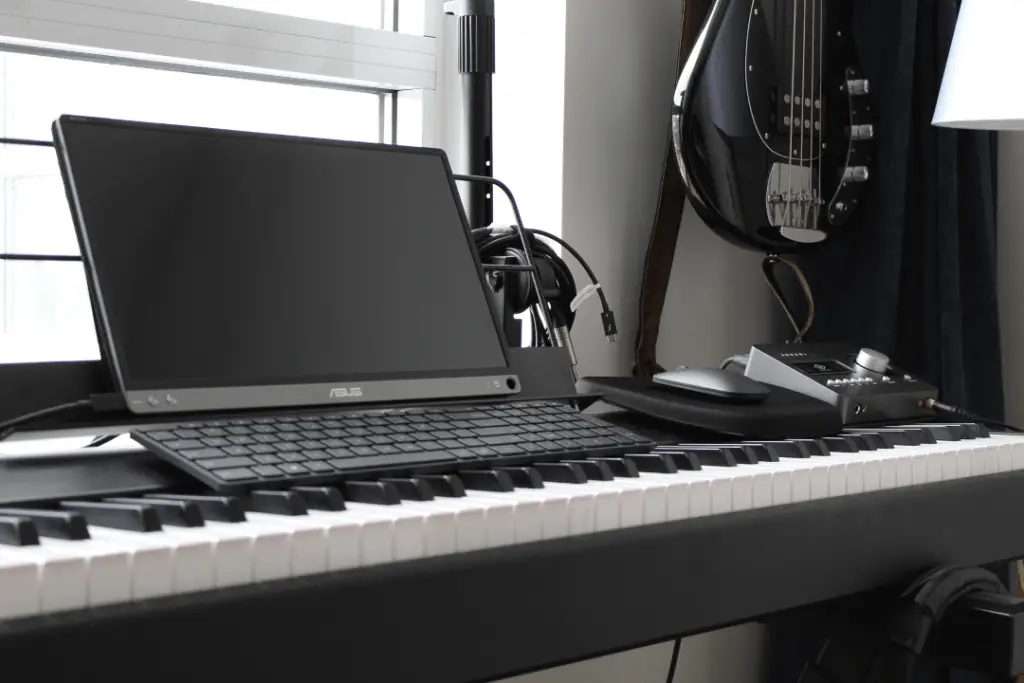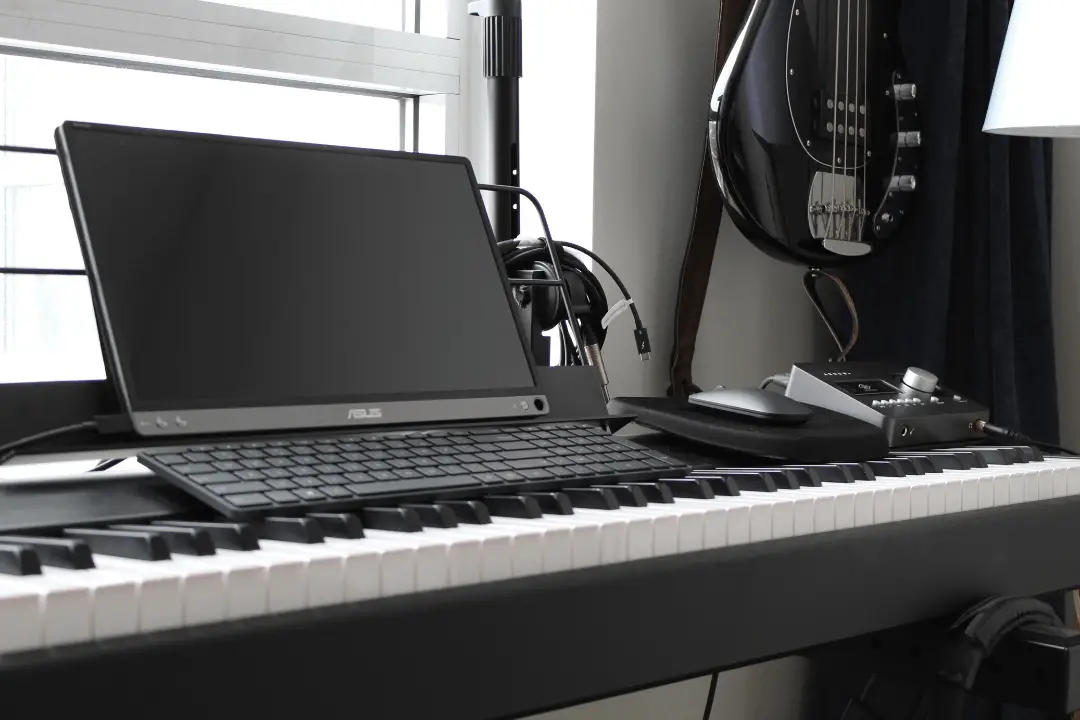 Apple computers are finely tuned machines that are designed to suit a variety of lifestyles.
One of my favourite parts about owning a Mac Mini is the ability to slip it into your bag! It's basically like a portable desktop, but there are NO compromises when it comes to performance. Each model comes fully-equipped with all the necessary tools to tackle the new decade.
4x Thunderbolt 3 Ports
2x USB 3.1 Ports
1x HDMI 2.0
1x Ethernet
Bluetooth/Wi-Fi
The only thing missing from this Mac Mini is the SD card reader. I guess with the ability to transfer images wirelessly nowadays, it's become obsolete.
What interested me the most about upgrading to the next-generation were those Thunderbolt 3 ports though. I seized the opportunity and upgraded to Universal Audio's Thunderbolt 3 audio interface, the Arrow at the same time.
Another big leap for me was the upgrade to solid-state drive (SSD) storage. I'll be talking about how my current setup has been affected by these changes. Stay tuned because you're about to find out why the 2018 baseline Mac Mini is the best Apple computer for music production.
Computers with solid-state drives (SSDs) VS hard disk drives (HDDs)
If you aren't particularly tech-savvy, I'll be explaining the difference between solid-state drives and hard disk drives. We're basically referring to the physical component that grants our computer the ability to store our data.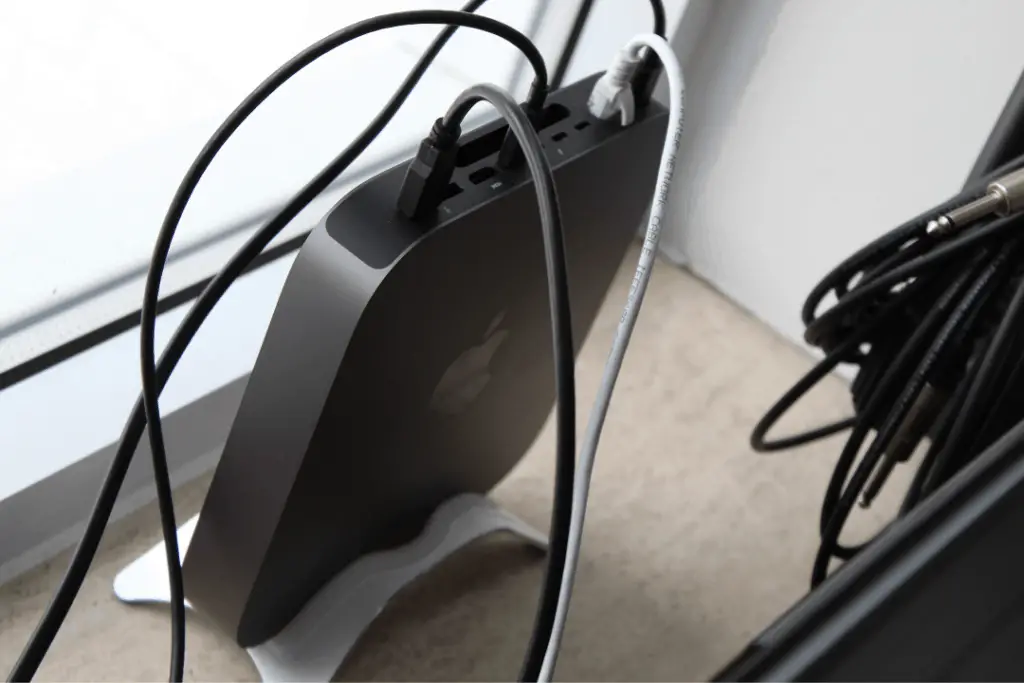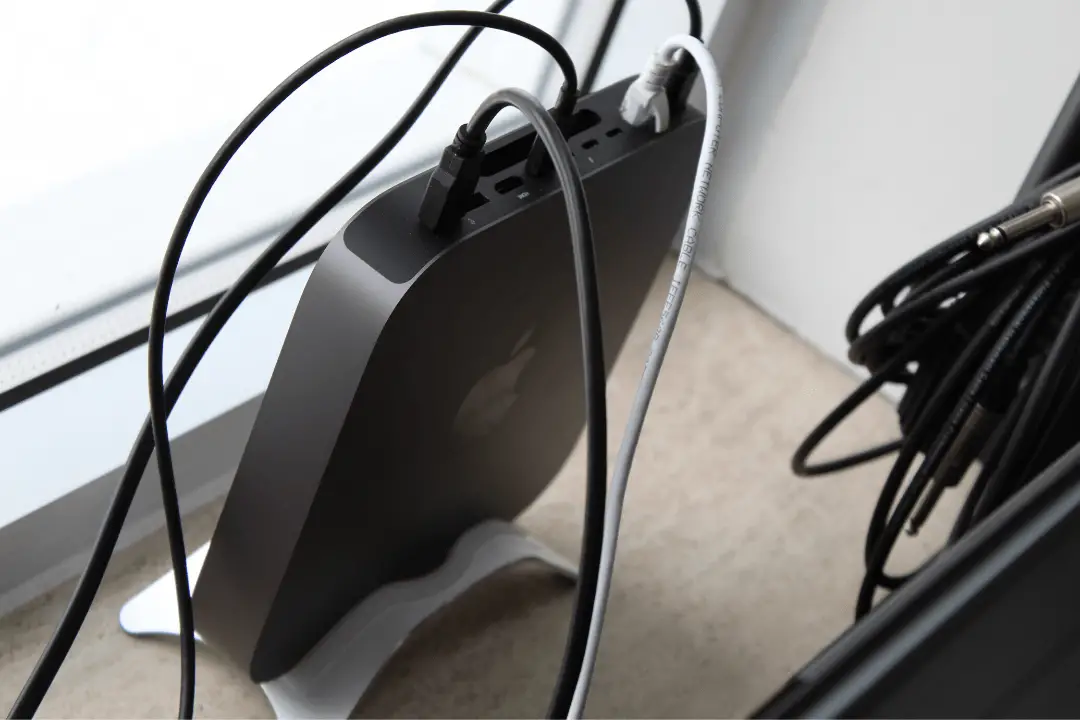 Hard disk drives (HDDs) were once our only option, but solid-state drives (SSDs) are now beginning to take over the market.
The main difference is that HDDs are mechanical and SSDs are completely digital. This means that SSDs are superior both in performance and durability. Anything that involves the transfer of data becomes lightning-fast, it's honestly impressive! 
Although these drives have been around for quite some time, their expensive price tag has made them seem a little inaccessible. The other disadvantage is that SSDs are typically smaller in volume to make them more affordable to manufacture.
However, I was determined to prove that this was in fact not a disadvantage, but a blessing in disguise!
The 2018 Mac Mini includes 128 GB of storage and can be configured to 256 GB. If you haven't read any of my recent articles on storage, I suggest doing so to get an understanding of some of the possibilities we'll be discussing.
Accommodating your Apple computer for music production
There's something about minimalism that's always attracted me and let me tell you, this Mac Mini is for minimalists. It really feels like Apple has designed this particular product for a specific demographic. If these photos don't prove it, I don't know what will!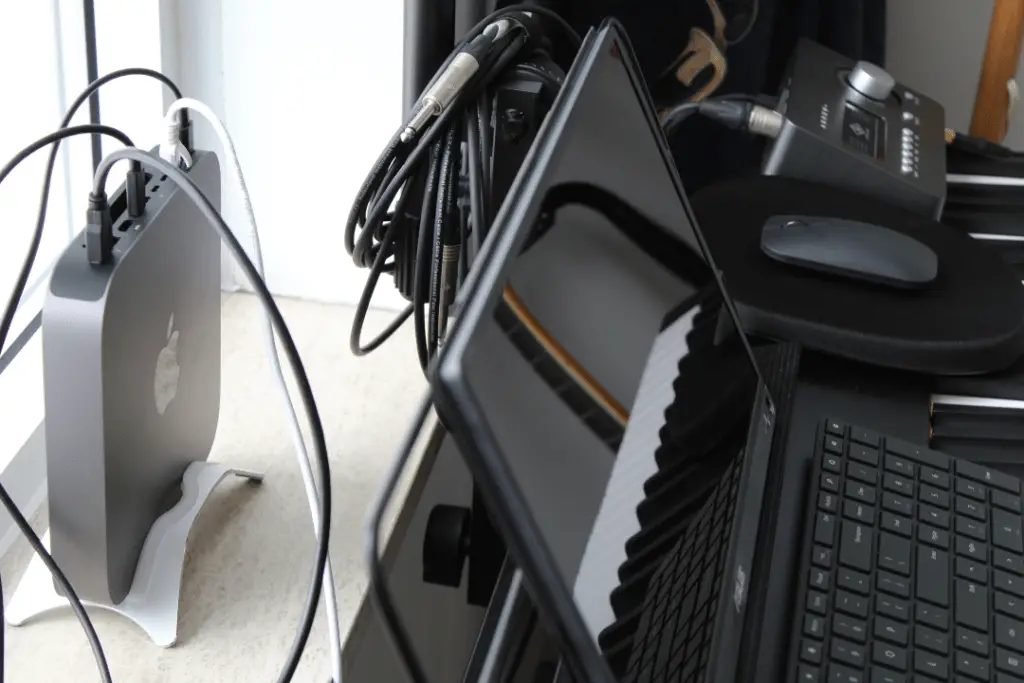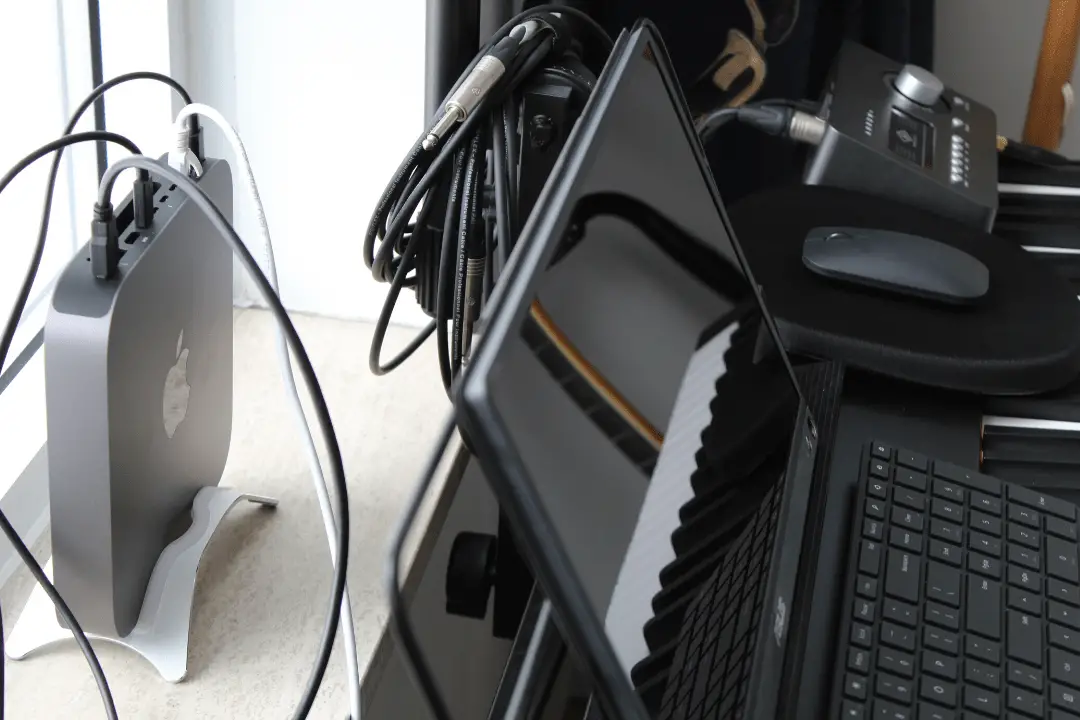 It's somewhat of a hybrid between a Mac Pro and a MacBook Pro.
However, it's the Thunderbolt ports that really allow us to tap into this Mac Mini's true potential. This new technology essentially opens up the door to a multitude of future upgrades. For example: external graphics unit processors (eGPUs), external SSD storage, DSP-powered audio interfaces and more!
I see the Mac Mini as a really powerful system that powers the rest of my rig. It hosts all of my software, but I use external storage for everything that involves sample libraries, project files, etc… The Mac Mini is like the brain and each external component acts as an additional limb.
Strange analogy, I know… But this thing really feels like a beast!
It's great because you can save a lot of cash by going barebones and adding these "extensions" to your computer at your own pace. It's essentially fully-customizable to suit each music producer's personal needs.
Here are a few examples of the upgrades you could consider down the road…
The Apple Mac Mini provides excellent single-core performance
If you've read some of my previous product reviews, you know how important single-core performance is for music production. Multi-core performance is important as well, but it's useless unless each one of those cores can perform adequately.





The entry-level Mac Mini is quite competitive when it comes to both of these aspects, but it's still tailing Apple's 2019 releases.
Now don't get me wrong, it's not the best of the best, but most music producers will be more than satisfied. It uses Intel's 8th generation of processors which as we all know, is what determines single-core performance. It's one generation behind, but 9th generation Intel processors are honestly "overkill" for those on a budget.
To give you an idea, these are the kinds of projects I can EASILY run…
An average of 20 tracks (audio & software instruments)
Using multiple libraries from Composer Cloud
All mixing plug-ins active
All mastering plug-ins active
In essence, I don't need separate files for each step in the production process. I can run EVERYTHING in one session with several software instruments and many plug-ins active on each channel strip.
In contrast, I was experiencing unbearable load times with my 2013 iMac and I would frequently experience CPU overload. Basically, my projects would take 1-3 minutes to load and oftentimes the track would cut out because the CPU couldn't handle the load.
These issues are now a story of the past, to say the least… Every component in this new Mac Mini works in perfect harmony with one another. Load times are blazing fast!
Can music producers upgrade their 2018 Mac Mini?
YES. If you're familiar with Apple's older Mac Minis, you know that it's always been relatively easy to upgrade their RAM. However, this video will give you much better insight into what you'd be getting yourself into with the 2018 model.
Although it's clearly shown that upgrading your entry-level Mac Mini's RAM is in fact possible, it will require both skill and the right tools.
If you ever intended on doing this, I'd recommend having a professional (not Apple) take care of the job. I've been building my own computers since I was a little boy, so I can reassure you that doing this on your own is also quite possible.
As I said, you'd simply need the right tools and the finesse.
The power supply is also one of the components that can be replaced, but that's it! Everything else is soldered onto the motherboard which quite frankly is a good thing.
After watching this video, I was honestly impressed to see how well-built these new Mac Minis are. The cooling system is probably one of its most notable features.
Thunderbolt 3 technology is the future of music production
I've spoken of Thunderbolt technology many times. It's quickly becoming the new industry-standard making USB technology obsolete. USB was never designed to handle the demanding processes of audio/video processing.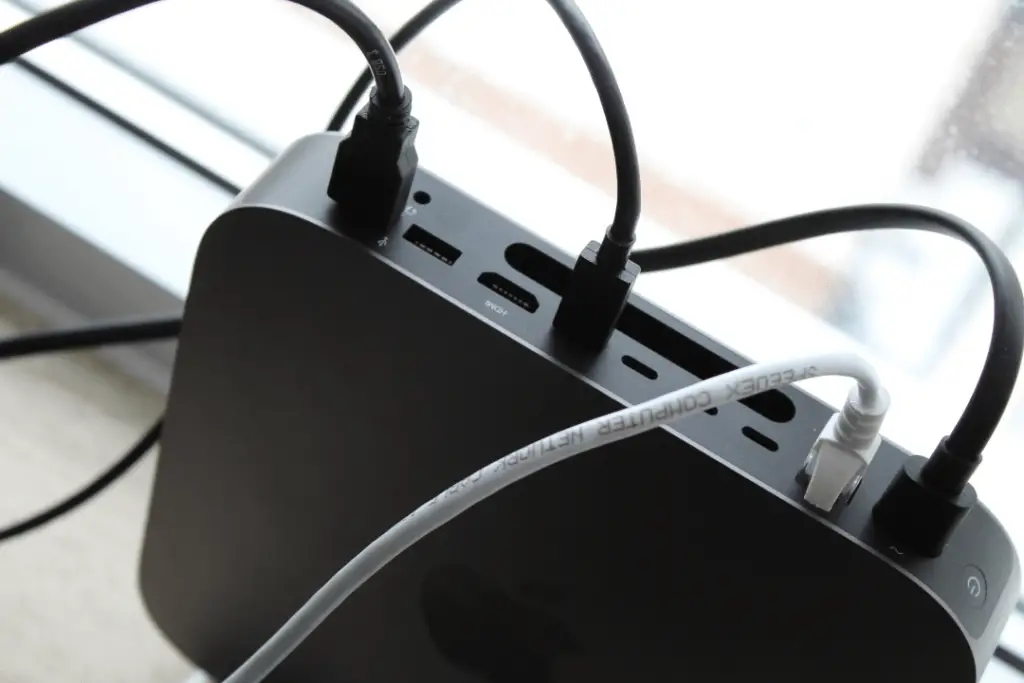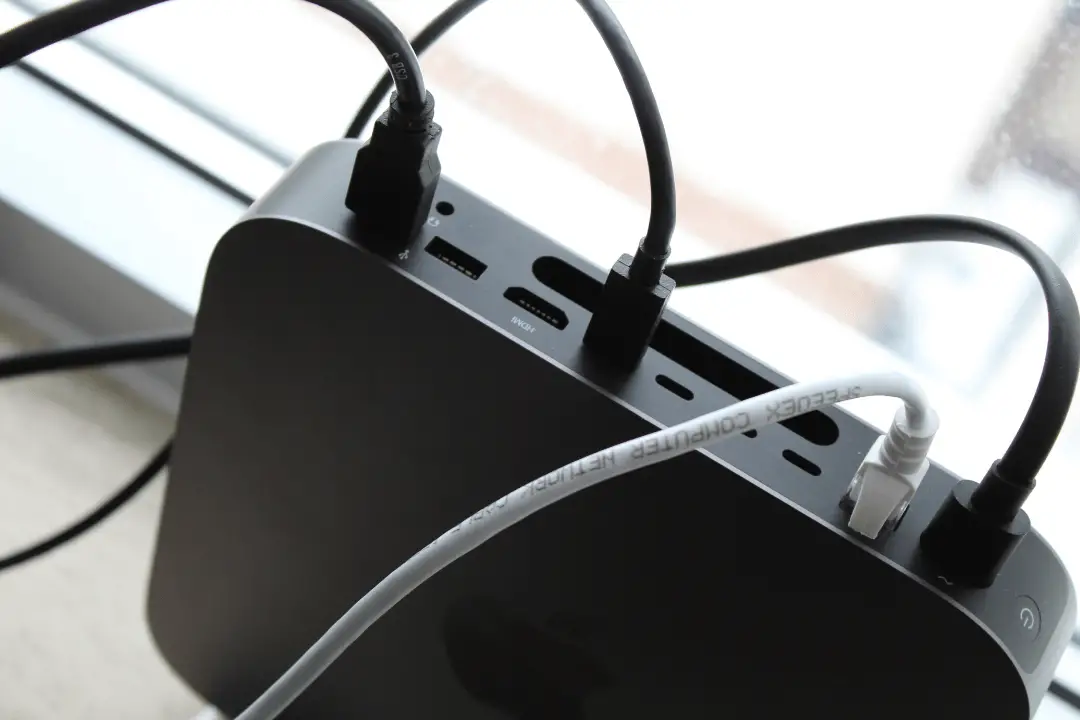 Although you could technically install an additional Thunderbolt PCIe card to your PC, it wouldn't be optimal.
Thunderbolt was designed by Apple and Intel. In other words, Macs and Thunderbolt technology are synonymous with one another. Each new version of the technology presents new advantages like the ability to stream 4K at 40 Gbps.
To explain how Thunderbolt works in brief… It's like connecting a device directly to your CPU. These devices are able to communicate directly with the CPU without the need of a driver (which is why USB is flawed).
This is why it's possible to connect an external graphics card via Thunderbolt 3. The ability to completely power devices like my Arrow from Universal Audio is another perk of this recent upgrade.

The four integrated Thunderbolt 3 ports can also be used as USB-C ports. I use one of these to completely power my display of choice, the Asus ZenScreen.
Of course, making this transition isn't easy for everyone. With only two USB 3.1 ports to work with, you'll be relying on Thunderbolt 3/USB-C most of the time.
The best Apple computer for music production is the Mac Mini
The Mac Mini is built like a TANK! Seriously, it's been designed to run indefinitely on computer farms to power servers 24/7. This machine is built to last, especially considering there are no displays to risk breaking (like that precious Retina display).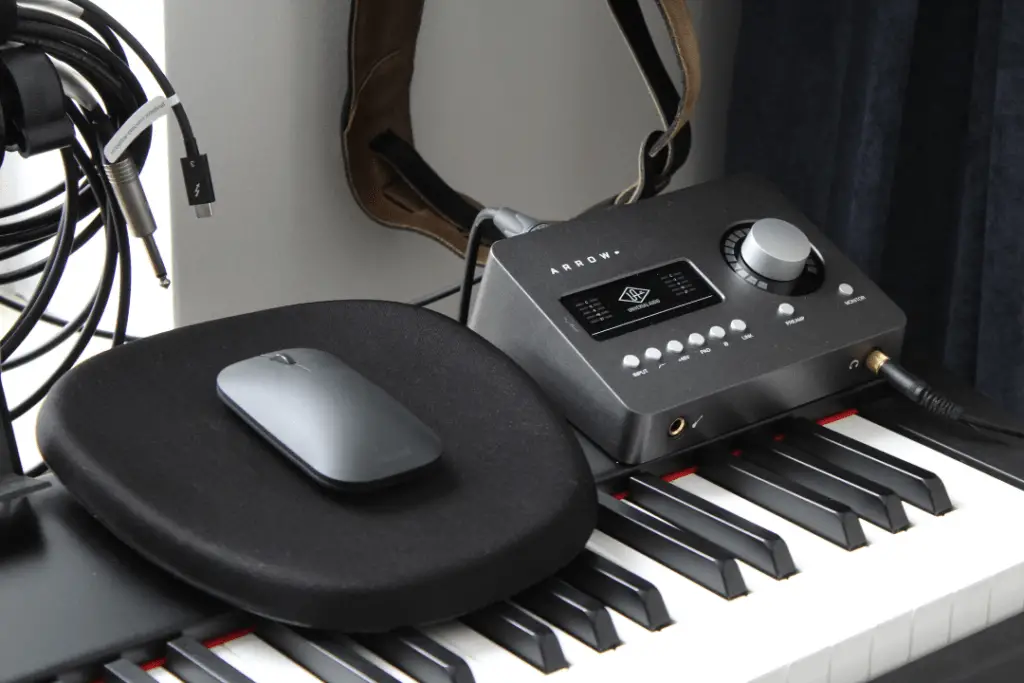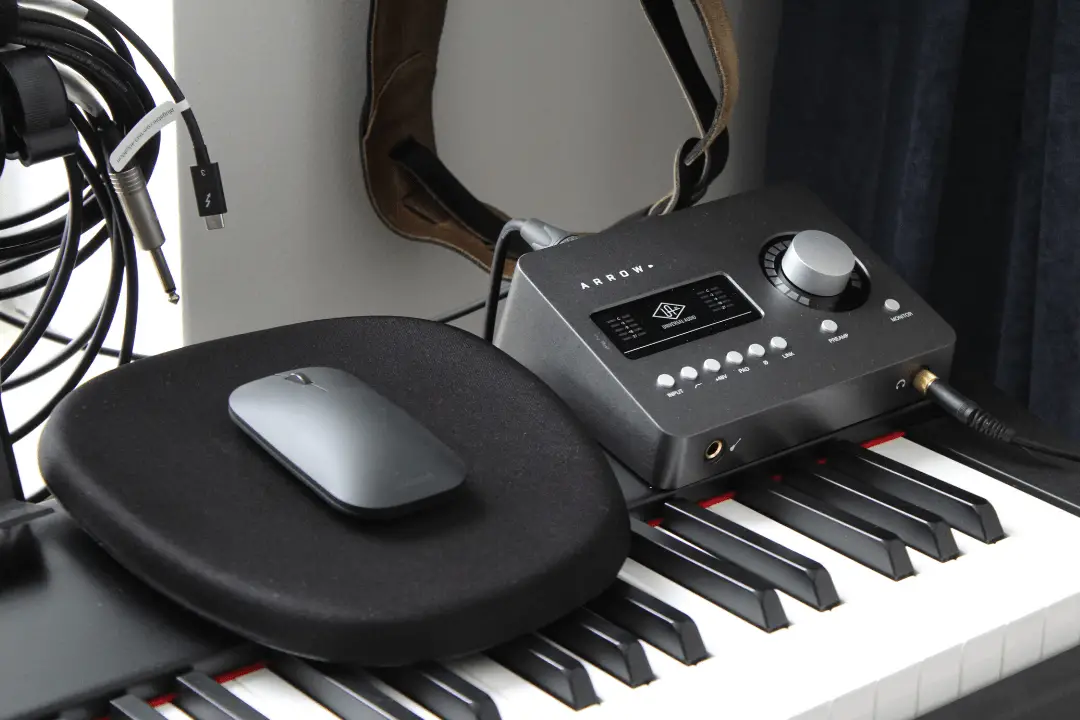 It fits in your bag, but this computer is a powerhouse!
I can't get over how quickly it boots up and how quickly it loads some rather large Logic Pro X sessions. It usually takes about 10 seconds at the most… Unbelievable!
The Mac Mini is also nearly noiseless. The ventilation system seems pretty efficient, especially when you use a stand to keep it upright. It gets a little warm during strenuous activity, but for the most part, it stays pretty cool.
I can't recommend this computer enough both for its fantastic quality, amazing performance and affordability.
To finish up, I'll be sharing the hardware I've got hooked up to this thing. It'll give you an idea of what's possible. The display I use is also proven and tested to work on this Mac Mini and it looks fantastic! The keyboard/mouse (Bluetooth) are useful for freeing up a USB port.
The entry-level Mac Mini (2018 Model)…
The proven Asus ZenScreen…
Microsoft's Bluetooth keyboard/mouse… (less than half the price of Apple's equivalent)
Universal Audio's revolutionary DSP-powered audio interface…
Samsung's lighting-fast external SSD…
I hope you've found this product review helpful. Feel free to reach out if you have any questions and please share this page with your fellow music producer friends. Thanks!