Samsung X5 Portable Thunderbolt 3 SSD
Pros
The bottom portion of the Samsung X5 features a rubberized grip.
It can provide read/write speeds of up to 2.8 Gbps.
It's capable of resisting falls of up to 2 meters.
It's completely bus-powered by the included Thunderbolt 3 cable.
The Samsung X5 features a dynamic thermal guard designed to extend your device's lifespan.
Cons
Most computer's don't included Thunderbolt 3 ports. Thunderbolt 2 ports won't be compatible with this device.
---
With my recent upgrade to Apple's 2018 Mac Mini, I've been excited to utilize the full potential of those Thunderbolt 3 ports. Since solid-state drives (SSDs) have become more accessible these days, music producers need to explore new storage possibilities. Whether you're working with the most expansive sample libraries (like Composer Cloud by EastWest Sounds) or simply saving your work, I've found the best external hard drive for music production.
It's become quite obvious that solid-state drives (SSDs) would be best suited for music producers (amongst many other content creators). Once I found out about the Samsung X5 Thunderbolt 3 SSD, it became clear to me that technology had reached a new summit. There's isn't a better option on the market at the moment, but why is Thunderbolt 3 so important?
The best external hard drive for music production uses Thunderbolt 3 technology
If you've been keeping up with my content, you know how fond I've grown of Thunderbolt technology. With my recent acquisition of Universal Audio's first Thunderbolt 3 audio interface, I was seriously impressed.
In case you aren't familiar with Apple/Intel's proprietary technology, it now allows up to 40 Gbps of data transfer rates.
BUT, let's get one thing clear… the Samsung X5 won't stream your sample libraries at 40 Gbps. There's no hard drive that can currently do that, at least not anytime soon. However, the Samsung X5 Thunderbolt SSD can deliver up to 2.8 Gbps of read/write speeds.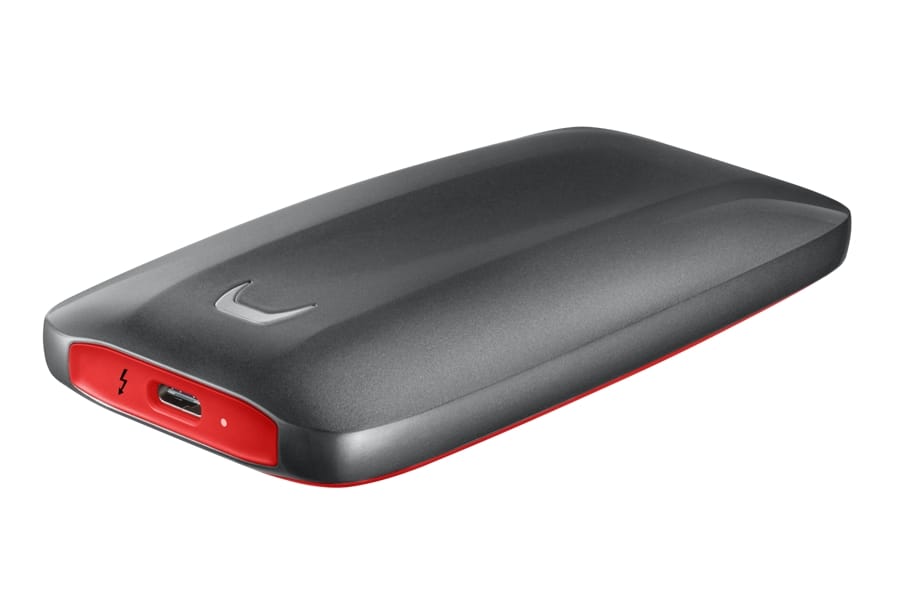 That's pretty astonishing to be completely frank with you!
Compared to the external hard drive I built (which has read/write speeds of 180 Mbps), it's a pretty big step up! I still use my external HDD, but the Samsung X5 is much more powerful. To be honest, it's kind of "overkill" for most music producers, but I wouldn't consider anything else if you were looking into Thunderbolt 3 technology.
I would NEVER invest in an external SSD that used USB ports (even if it's USB 3.1). In 2020, we need to face the fact that USB technology has become obsolete. It wouldn't be capable of keeping up with solid-state technology.
Thunderbolt technology allows our devices to connect DIRECTLY with our CPU. It can also power devices that would've otherwise required an external power supply. It's made things like external GPUs (eGPUs) possible and allows us to stream 4K.
Using an external hard drive to host your sample libraries, project files and more
As I mentioned earlier, I recently upgraded to the entry-level Mac Mini from 2018. It's an amazing leap forward from my previous 2013 iMac (which I loved dearly).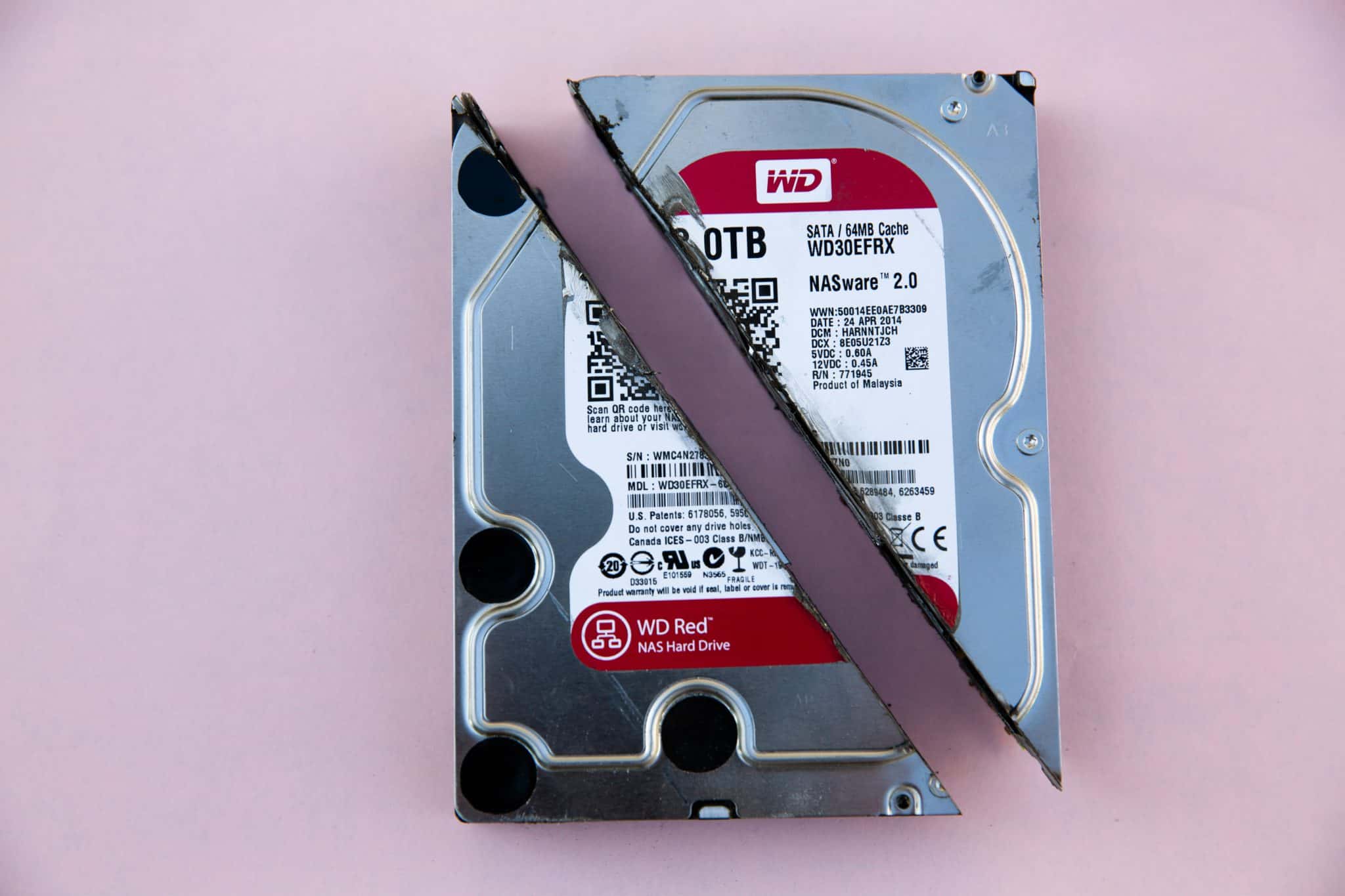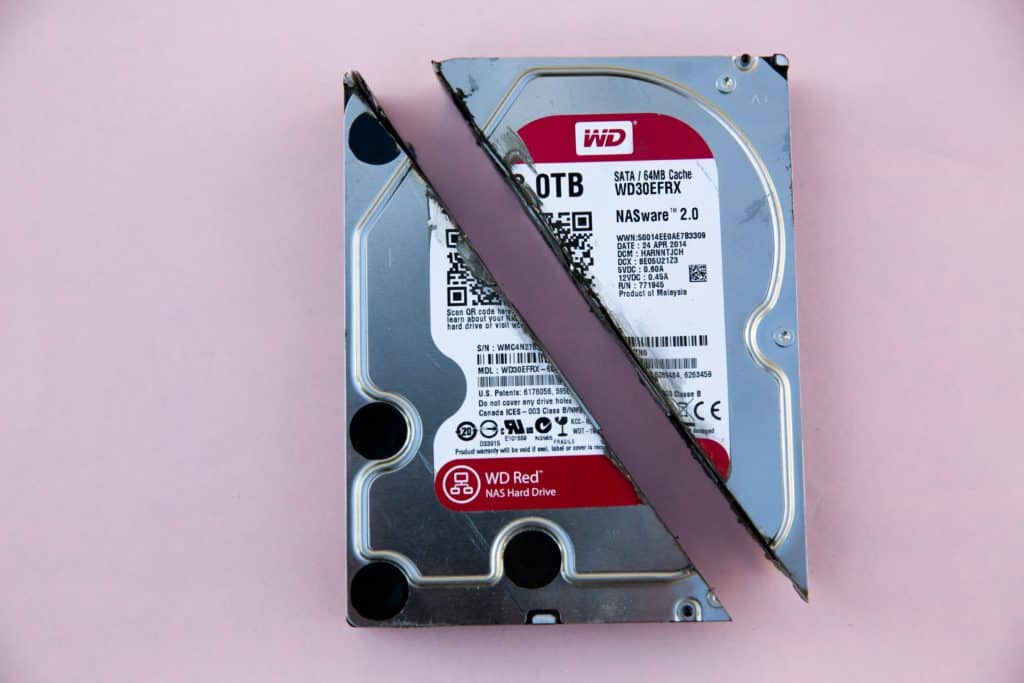 However, the one disadvantage with these newer machines is their relatively small SSDs.
Don't get me wrong, I could've opted for the model with a larger SSD, but I took it as a challenge instead!
My computer's SSD basically handles all my main applications (Logic Pro X, Reason 11, V Collection 7, etc…) and my external SSD can host all of my sample libraries and project files.
In essence, you'd be "future-proofing" your future setups by keeping the bulk of your digital assets on an external device. Upgrading computers would only require you to re-install your basic software instead of having to re-download over 1 TB of sample libraries (maybe more).
It's made my working environment much more flexible and functional.
How durable is the Samsung X5 external solid-state drive?
You'll be pleased to know that the Samsung X5 has actually been designed to be shock-resistant. Samsung has incorporated an internal frame to help your precious data withstand falls of up to 2 meters. However, the chance that such an accident would ever occur will be severely reduced.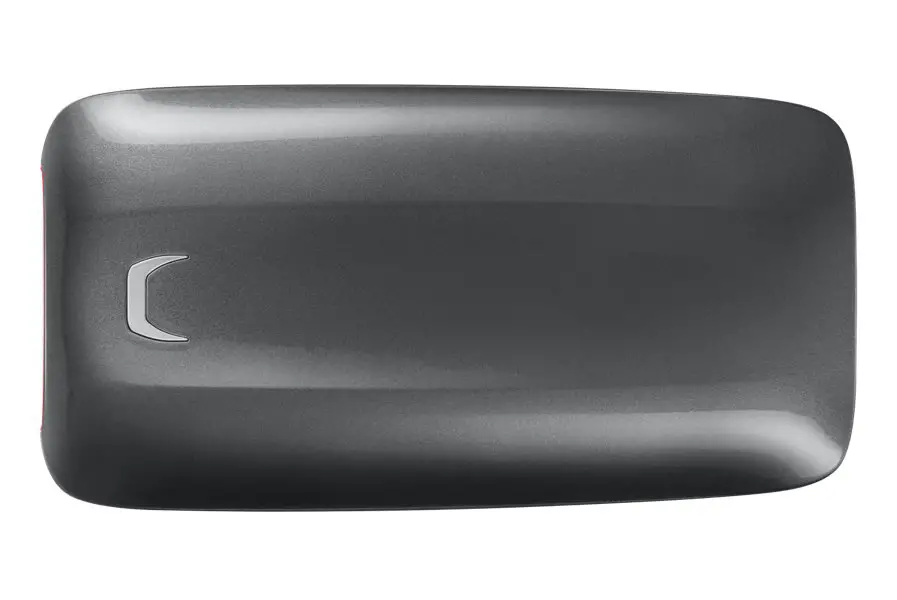 It's also extremely portable and definitely roadworthy.
The fact that it's Thunderbolt 3 means it can be powered by its cable exclusively. No need to carry a power supply around with you!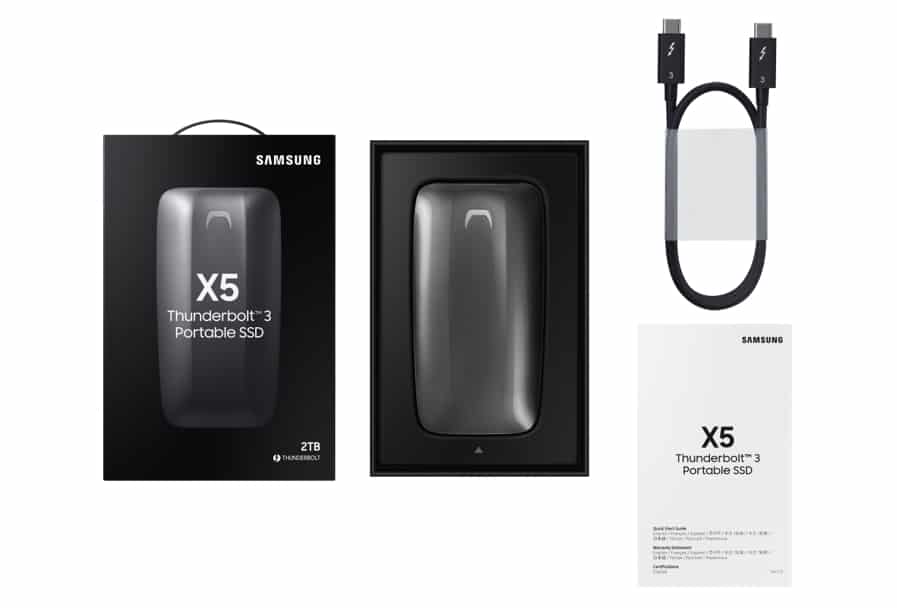 You won't even need to worry about the Samsung X5 overheating. It's dynamic thermal guard is surprisingly efficient at keeping the device cool. This will ensure that your external SSD's lifespan is as long as possible.
Another great thing about SSDs is that they're completely digital. HDDs are still mechanical since they literally spin a hard disk. This doesn't mean that HDDs aren't portable, but they're certainly a bit more delicate.
Also, the X5 is just as big as most smartphones. It could fit in your pocket!
The best external hard drive for music production is the Samsung X5 portable Thunderbolt 3 SSD
If you haven't checked out my tutorial demonstrating how to build your own external hard drive, I highly recommend it. I provide this alternative because I know the X5 may not be appropriate for everyone's budget.
I think it's worth every penny, but most music producers can live without one.
I'm still very pleased with the external HDD I built using an enclosure and 7200 RPM hard drive. Using USB 3.1 technology, it still loads my sample libraries VERY fast. The wait-times aren't unbearable, just a few seconds at the most.
However, if you're looking for the best you can get, please check out the Samsung X5 Thunderbolt 3 SSD…
I hope you've found this product review insightful. If you're as impressed with the X5 as I am, make sure to let your music producer friends know about the best external hard drive for music production.