Reason Studios Reason 11 Review
That's why I wrote this Reason Studios Reason 11 review.
So, you're looking for an affordable pair of professional studio monitors?
I usually recommend the PreSonus E3.5, but it seems like Edifier has come up with its own contender; the MR4. It's actually Edifier's first studio monitor.
I've used Edifier speakers in the past for general listening, but they definitely weren't suitable for the studio. That's actually why I eventually bought the Eris E3.5!
However, I was truly impressed with the Edifier MR4…
In fact, I think I'm starting to like them more (and we'll talk about why that is).
I'll be sharing what I like/DON'T like about the Edifier MR4 and putting them up against the PreSonus E3.5 to help you determine which of these studio monitors is best for you.
I'll also be answering some questions, so make sure to read my entire Edifier MR4 studio monitor review!
Overview of the Edifier MR4 studio monitors
For starters, let's just keep in mind that Edifier isn't known for their studio monitors.
That's because the Edifier MR4 is their first!
That being said, I think Edifier definitely did a great job and that's probably because they "referenced" one of the most popular affordable studio reference monitors (the Eris E-Series).
I might be wrong about that, but the similarities are definitely there!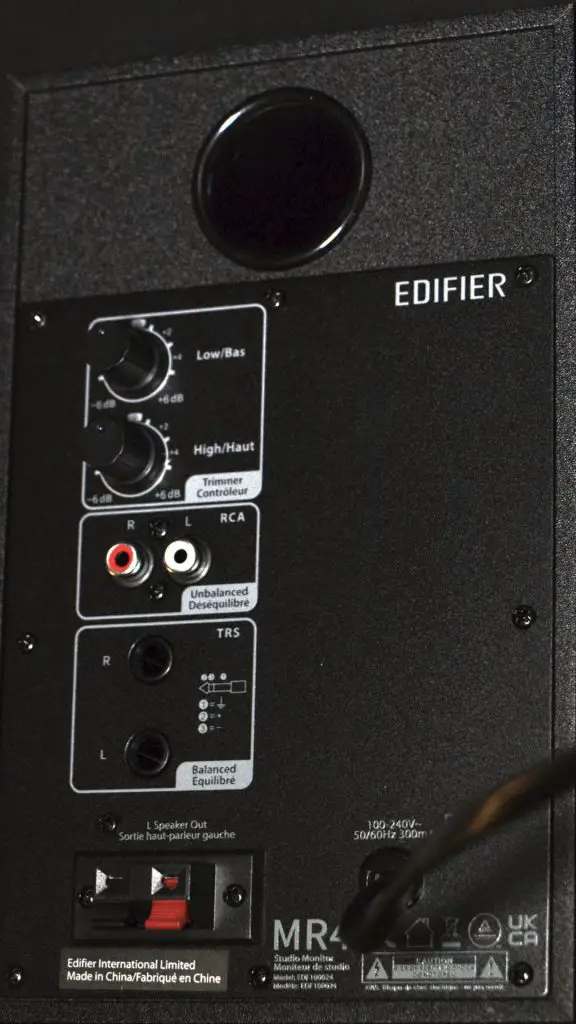 Here are the specs…
1" Tweeter
4" Woofer
60Hz – 20,000Hz Frequency Response
Auxiliary Input/Headphone Output
Balanced TRS Inputs
Unbalanced RCA Inputs
Monitor/Music Mode
So, it's got pretty much everything the average music producer might need.
Let's talk more about the features I personally look for in the following section…
What I like about the Edifier MR4 studio monitors
The balanced TRS inputs are a must, if you ask me.
It's nice that the Edifier MR4 includes unbalanced RCA inputs, but it's rarely used nowadays (unless you've got some older equipment). The AUX input definitely comes in handy though.
I also like the overall construction of the speaker itself.
It's true that MDF is a more "neutral" sounding wood, but most speaker monitors (especially at the budget level) use this material.
The 4" woofer was a small upgrade from the Eris E3.5's 3.5" woofer, but it still doesn't grant you entry into the world of sub-bass.
More on that in the following section…
What I DON'T like about the Edifier MR4 studio monitors
Of course, it's only to be expected… Small studio monitors cannot produce sub-bass frequencies. That's why I still can't recommend the MR4s to everybody.
If you're producing EDM, you might not get the full spectrum.
The Edifier MR4 cannot produce anything substantial below 60Hz.
That being said, I've been using small studio monitors for over 2 years now. I reserve my Beyerdynamic DT770 Pros for sub-bass "sculpting".
60Hz is fine for most genres of music (funk, rock, metal, etc…).
I had to criticize the Edifier MR4s a little bit, but I can't really think of anything else you should be expecting from such an affordable small studio monitor.
Edifier MR4 vs PreSonus E3.5
To get started, let's look at this table…
| | | |
| --- | --- | --- |
| | Edifier MR4 | PreSonus Eris E3.5 |
| Woofer Size | 4″ | 3.5″ |
| Tweeter Size | 1″ | 1″ |
| Frequency Response | 60Hz – 20,000Hz | 80Hz – 60,000Hz |
| Balanced TRS Inputs | YES | YES |
| Unbalanced RCA Inputs | YES | YES |
| AUX Input | YES | YES |
| Headphone Output | YES | YES |
| 2-Band EQ (Bass/Treble Boost) | YES | YES |
As I already stated, it's pretty obvious that the Edifier MR4 and the PreSonus E3.5 have more similarities than none.
Does that mean that they both perform the same? Nope!
I have to admit that the Edifier MR4 has a more powerful bass-response (especially in certain rooms), but it's also true that the PreSonus E3.5s are slightly more affordable.
If I could go back though, I would've definitely splurged for the Edifier MR4!
However, it is true that the PreSonus E3.5 has a Bluetooth model (that costs a little more) that could come in handy if you're into that sort of thing.
Personally though, I just prefer better value. Both of those options are viable!
Okay, let's move on to some questions…
Frequently Asked Questions (FAQ): Edifier MR4
Does the Edifier MR4 produce sub-bass frequencies?
Technically speaking, the Edifier MR4 only produces frequencies down to 60Hz.
The sub-bass range is from 20Hz – 60Hz. 
The only way to overcome this would be with a larger woofer (if Edifier ever releases other models in the MR-series) or a dedicated subwoofer.
Does the Edifier MR4 have bluetooth?
At the moment, the Edifier MR4 doesn't have a Bluetooth option.
However, Edifier is known for making Bluetooth versions of their speakers. Since the MR4 is new, it's possible that it might happen in the future.
Is the Edifier MR4 passive or active?
The Edifier MR4 is an active studio monitor with an included power supply.
In other words, you don't need a dedicated amplifier to power these.
Does the Edifier MR4 have balanced inputs?
Yes, the Edifier MR4 is equipped with 2 TRS balanced inputs (L/R). I highly recommend using an audio interface that has balanced outputs.
Summary: Edifier MR4 Studio Monitor Review
In short, I think the Edifier MR4 is definitely worth checking out.
Also, I recommend mounting these on these B-Tech speaker mounts.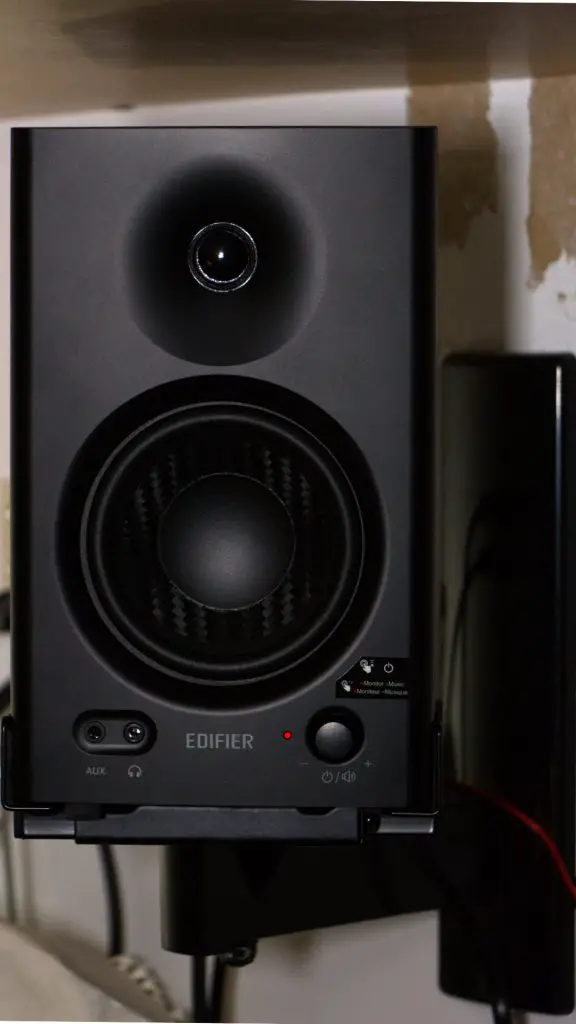 I just can't say I'd rely on these monitors 100%. I wouldn't rely on any SMALL studio monitor completely.
That's because you need SIZE to get an accurate result.
If you're not working for the big screen though, I think the Edifier MR4 is an excellent pair of studio monitors for beginners and advanced music producers.
You could always use an extra pair of ears!
That being said, I definitely recommend upgrading to a pair of larger studio monitors when you get a chance (you can read THIS article to find out more).
However, you'll also need to take care of your room acoustics (READ HERE).
If you want my personal recommendation though, the best affordable small studio monitors have got the be the Edifier MR4 or the Presonus E3.5-BT.
I hope you found this review helpful and insightful.
Feel free to ask me any questions in the comments! Also, let us know what you think about the Edifier MR4s… Are you using anything else instead?
Sources
https://edifier-online.com/us/en/speakers/mr4