This post may contain affiliate links. As an Amazon Associate I earn from qualifying purchases.
How many record labels are you signed with? None? I wouldn't worry about that because today, we're learning how to distribute your music for free. Independent artists no longer need to be dependent on a record label to get their music out into the world.
By using a music distribution service, you can easily distribute your music to over a dozen platforms including Spotify, Apple Music, Google Play, Amazon, etc… There are many of these digital service providers on the market, but some of them charge NO upfront fees. However, you'll most likely be giving up a percentage of your royalties in exchange for their service. Let's look at a few options!
Free distribution vs paid distribution
Although some of the music distribution services charge no upfront fees, it doesn't mean they are free. It may seem appealing at first, but a paid service may actually save you money sooner or later.
So how do I decide which type of service is best for me?
The deciding factor will be based on the sum of royalties you receive. If you haven't started distributing your music yet, chances are you aren't receiving any royalties… unless you've been licensing your music.
In this case, select a free distribution service. They'll take a percentage of your royalties (like a record label), but you'll pay nothing else. Just make sure you maintain your exclusive rights!
However, if you ever started to make more than 100$ per year from royalties… I would start considering a paid distributor.
But why?
Let's do the math… Using DistroKid as an example, you'd only be paying 20$ per year. So if your free music distribution service took 15% of your royalties (most do), it'd cost you 15$ per year.
It would still cost you less, but here's the deal… Royalty payments are made quarterly (every 3 months), so what if your audience grew within the next 3 months?
It's always a good idea to think ahead and act before your free distributor actually starts costing you money.
But don't get me wrong, if you're just starting out, these following music distributors will be your best options!
Distribute your music with Soundrop
I recently found out about an interesting option for artists who'd like to include cover songs in their music catalogue. Soundrop not only lets you distribute your music for free, but they'll also license you to cover songs at an affordable price.
Why would you be interested in such an offer? It's simple.
Covering popular songs can be an excellent tactic for growing your audience, but the licensing process can be difficult. Tracking down their owners can be quite difficult, so Soundrop simplifies this.
You'll only need to pay 9.99$ to license a song FOREVER. That's right, you can cover it for the rest of your life.
To top it all off, they also distribute your music for free, BUT…
Soundrop does take 15% of any royalties coming your way. Instead of paying them up front, you'll only pay them once you start making money.
There's no application process for this distributor, you can simply sign-up.
If you're thinking of producing cover songs, I would sincerely consider Soundrop. It's pretty unique.
Distribute your music with Stem
You'll be giving up much fewer royalties with Stem. They actually have the lowest "cut" out of all these distributors.
Dividing payments will be much easier with Stem as well.
If you're collaborating with other artists on projects, this option will probably suit you best. Every owner can sign-up via the platform to simplify this.
And believe it or not, they only take 5% of your royalties. You'd need to be making LOTS of money for that to impact you.
However, Stem does have an application process. You'll need to apply for a direct membership and have it reviewed. They claim this to be necessary to ensure personalized service for each artist.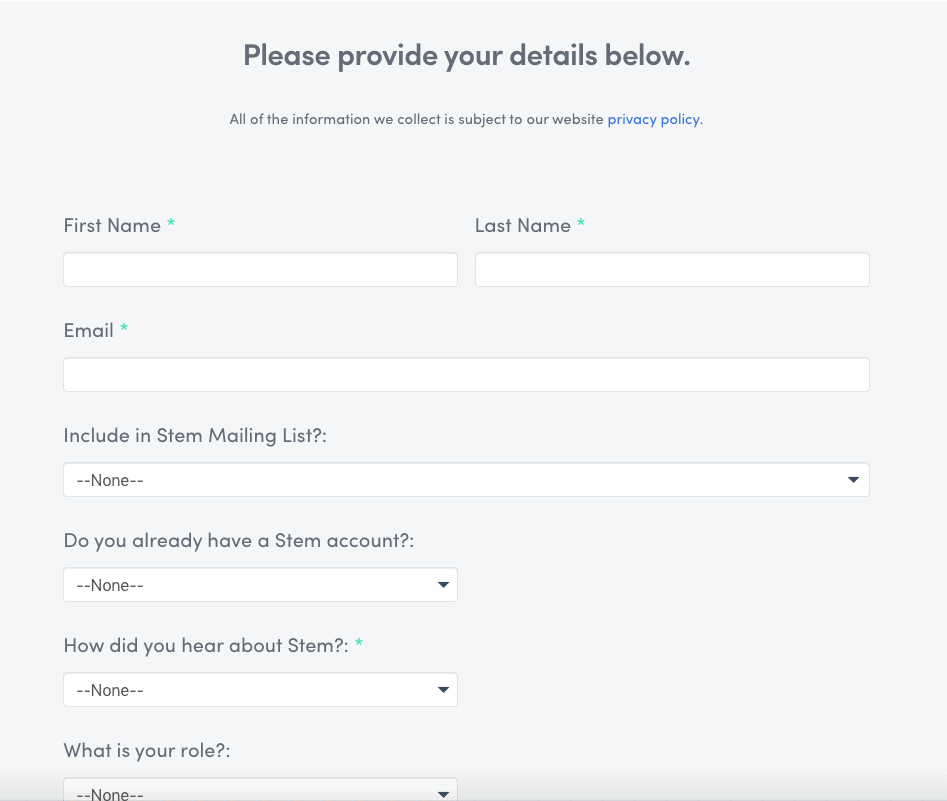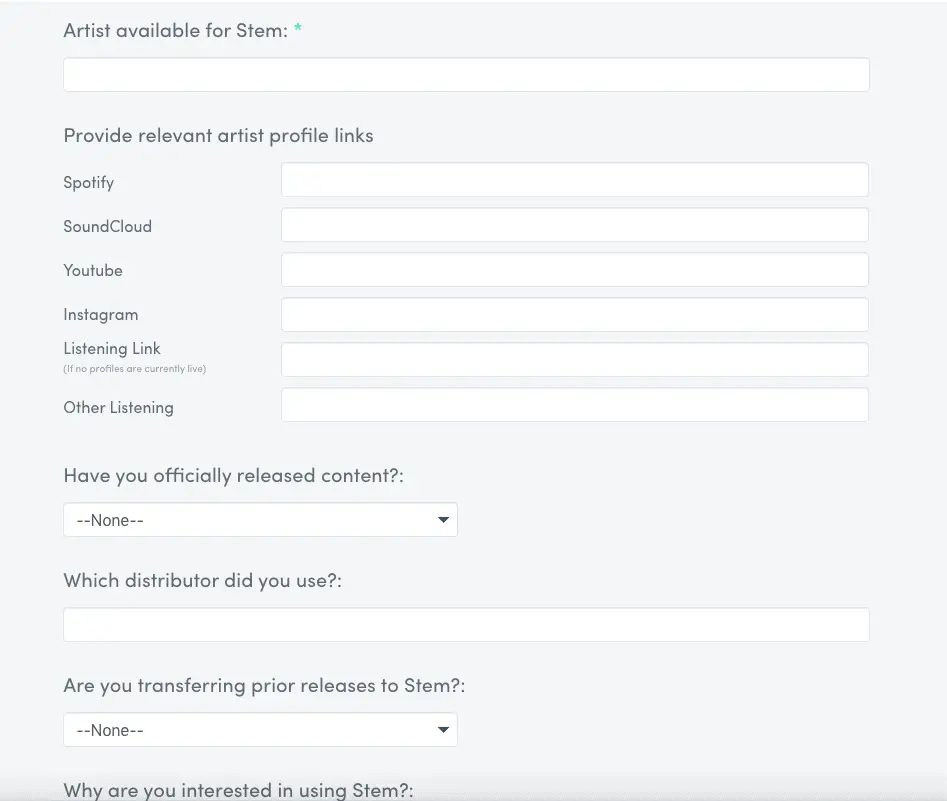 The real advantage is that you get access to a representative. It'll be like having an agent who's truly looking out for you. It's pretty amazing that you get all of this for FREE.
And it doesn't end there… You'll also have access to analytics and you'll also get paid MONTHLY. Royalties are normally paid out quarterly, so this is a HUGE plus. You can receive payments via direct deposit or Paypal.
Once again, I highly recommend this option if you wish to automate split payments.
Distribute your music with AWAL
I personally find AWAL to be the most impressive free music distributor. It's like the record label for artists who don't want a record label.
Ironic, isn't it?
It basically begins with a selection process. You'll need to submit your music for review by AWAL's team. They claim to only work with artists they think they can help.
You'll have a dedicated behind backing you up if you are accepted. The percentage of royalties this distributor will take varies from person to person.
There are essentially 3 stages you can join; Gaining Momentum, Breaking Through, Going Global.
They'll start by taking 15% in the first stage, but as your career evolves… You'll gain access to funding from AWAL!
However, this will result in a renegotiation of terms that'll most likely result in fewer royalties. It's a little vague, but you won't be signing any long-term contracts.
If you're somewhere between independent artists and signed artists, this may be interesting. But it really functions like a record label.
Distribute your music with Amuse
Amuse is sincerely my favourite option on this list, there's nothing quite like it. It's the only music distributor that lets you keep 100% of your rights and royalties.
What's the catch?
Amuse makes it very clear to artists why they can provide free music distribution. They are also a record label!
This free music distribution platform is simply a way for Amuse to find new artists. If your music performs well, they may reach out to you personally to sign a contract.
The split is usually 50/50 like a traditional record label, but they can truly bring you to the next level. You could also refuse the deal and keep your free music distribution service so you keep 100%.
It feels like Amuse can potentially cater to everybody. I highly recommend this option.
Amuse is open to everybody, there's no application process. 
They even provide an app for your mobile devices. You could use this software to upload your music, review your analytics and withdraw payments.
Amuse can even pay you 6 months in advance. Wait… what?
Fast-Forward is a feature that allows Amuse to "predict" your future earnings 6 months ahead of time. They actually forward you the money, but they charge a fee.
You'd need to be making considerable money to gain access though.
Distribute your music with RouteNote
Lastly, RouteNote is probably the most humble of them all. This music distribution service will allow you to distribute your music to 50 different platforms.
It's not as much as most platforms, but you're still getting a lot to work with.
They take 15% of your royalties which is typical, but they also offer a paid service. You can sign-up anytime if you realize keeping 100% of your royalties is better.
They provide monthly reports in the form of analytics which can be useful.
However, I'm not a huge fan of their pricing options. This blog post is all about free options, but it's worth mentioning.
RouteNote even allows you access to a unique marketplace to sell your music directly. It's an interesting option, but keep in mind that they keep 85% as well. I would personally sell my music on my own website in this scenario.
They even host somewhat of an affiliate program. Each time you refer someone, you gain 2% of that artist's earnings under the "free model". Personally, I think this is the highlight of using RouteNote.
It's not the best option, but RouteNote can be interesting for musicians interested in affiliate marketing.
Register with your national performance rights organization (PRO)
To make sure you receive ALL your royalties, you'll want to register your artist profile. By consulting your national rights management organization, you'll guarantee your payments.
If you want more information, you can consult this blog post.
You'll want to do this BEFORE you start uploading your music. It should be the first thing on your "to-do" list.
It's reported that there are currently billions of dollars that weren't paid to artists You want your music to bring you as much wealth as possible.
Since most of the music distributors I listed don't facilitate split payments… You'll really need to make sure each owner is registered as well.
And keep in mind, every time your music is played in…
Restaurants
Bars
Cafes
Grocery Stores
Advertisements
Commercials
You are earning royalties! The amount of "plays" your music generates also creates more royalties. However, "pay per play" rates vary from platform to platform.
Which of these music distribution services do I recommend?
If you've been wondering how to distribute your music for free, you now have multiple options to choose from. It can seem overwhelming at first, but you simply need to sort them one by one.
I encourage you to visit each website to compare.
Each artist has particular needs, so there is no "one size fits all" solution. However, I have a personal preference for Amuse.
Out of all the options, it is the most transparent. Amuse simply distributes music and charges you NOTHING for it, not even a "cut" from your royalties.
For artists who would eventually like to be signed, this is the best option. Amuse is actually a record label seeking new talent!
The app for mobile devices is also a really nice touch. It feels like a paid distributor, but it's NOT!
But if you were going to consider a paid option, I'd take a look at DistroKid. It's only 19.99$ per year for unlimited tracks!
I hope you have retained some value from this article and if you have, please consider sharing it with another musician.
Which music distributor have you chosen to distribute your music? Let us know in the comments and feel free to share any of your personal recommendations.