Do you want to learn how to mix spatial audio ASAP?
Let's get you started with 4 of the best spatial audio plugins out there. Of course, the plugins we'll be talking about today are MY personal recommendations.
To be more specific, we'll be looking at the dearVR Collection, dearVR MICRO, the Dolby Atmos Production Suite and Logic Pro X's integrated binaural pan tool/plugin.
However, I WON'T be recommending any of the "industry standard" tools like the Dolby Atmos Production Suite and the DTS:X Creator Suite.
Why not? It seems that these plugins haven't prioritized ACCESSIBILITY.
It seems that you need to be using Pro Tools, MacOS and make sure that your CPU is Intel-based. In other words, Dolby Atmos/DTS:X aren't compatible with Windows and aren't supported by other major DAWs (Logic Pro X, Cubase, etc…).
Also, they're MUCH more expensive than the plugins I WILL be recommending.
If you want to learn more and find out where you can get your hands on them, keep reading…
Dear Reality – dearVR Collection
It's true that Dolby Atmos and DTS:X are the industry leader when it comes to cinema (and home cinema), but Dear Reality is the industry leader in spatial audio PERIOD.
To be more specific, Dear Reality specializes in virtual reality (VR).
They've essentially created a spatial audio plugin for every use…
dearVR Music (for music production)
dearVR PRO (for audio post-production)
dearVR MONITOR (for mixing and mastering)
dearVR UNITY (for the popular gaming-engine)
dearVR SPATIAL CONNECT (for VR and motion controls)
AND relatively speaking, they're pretty affordable.
In terms of compatibility, they work with pretty much every major DAW and on both macOS and Windows. I can also say that they work on M1 Macs (using Rosetta 2).
If you were going to pick only ONE of these plugins though, I recommend dearVR MUSIC.
Besides having the ability to pan your individual tracks in a three-dimensional space, Dear Reality also includes ultra-realistic modelling of 3D acoustical spaces.
It'll take your mixing and mastering to a WHOLE OTHER LEVEL.
Of course, we're simply talking about binaural rendering here. If you want to expand the possibilities even more, dearVR PRO provides options for all the different possible speaker configurations.
If you're serious about spatial audio, I definitely recommend Dear Reality.
Sennheiser – AMBEO Orbit (dearVR MICRO)
If you can't afford dearVR MUSIC or dearVR PRO, then you'll be glad that you came across this article. Dear Reality actually provides a "lite" version of dearVR PRO.
It's called dearVR MICRO and is actually the successor of Sennheiser's AMBEO Orbit.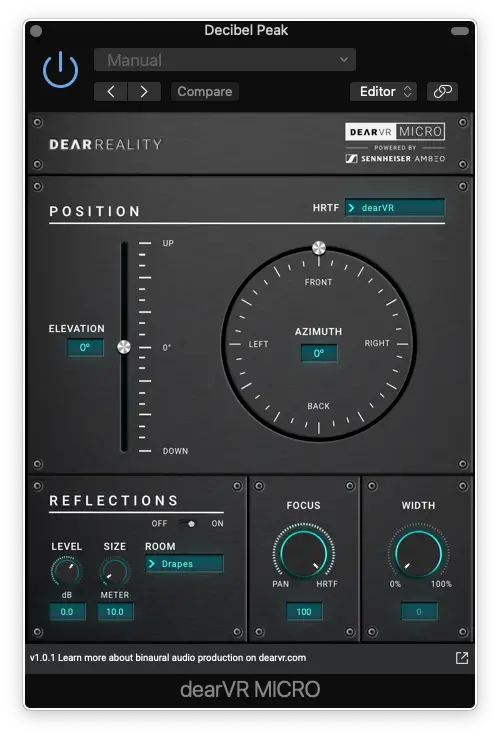 In other words, dearVR MICRO is actually a collaboration between Sennheiser and Dear Reality to provide a FREE spatial audio plugin that works with every major DAW.
The only real limitation is that it doesn't provide as much precision as dearVR PRO.
You won't be capable of mixing in a full-360 environment, but it's still a MAJOR improvement on conventional stereo mixing (L/R).
It's also an improvement on surround sound believe it or not!
That being said, dearVR MICRO is the perfect entry-level plugin if you want to learn how to mix spatial audio.
If you're using Logic Pro X though, you might not even need it…
We'll talk more about that later, for now let's look at another free/open-source option.
Spatial Audio Real-Time Applications (SPARTA)
The only thing that frustrates me about SPARTA is that it doesn't support Audio Units (AU).
In other words, it doesn't work with Logic Pro/Garageband.
However, I managed to get it running on Reason Studios Reason 11 since it's available in VST format. It'll also be compatible with other DAWs that support VST/VST3 plugins.
Being an open-source project, SPARTA is actually quite impressive.
It can also be quite overwhelming once you realize how many plugins are included…
If you want a full-list, you can check out the official page for yourself. Let's just say that these are ADVANCED spatial audio plugins/tools.
I don't recommend SPARTA for most, but I had to include it on this list.
Logic Pro X – Binaural Pan
I recently discovered a feature in Logic Pro X that changed EVERYTHING…
I actually couldn't believe that it had been around for over a year and I had NEVER heard of it. Nobody was talking about it and it was thanks to THIS VIDEO that I discovered it.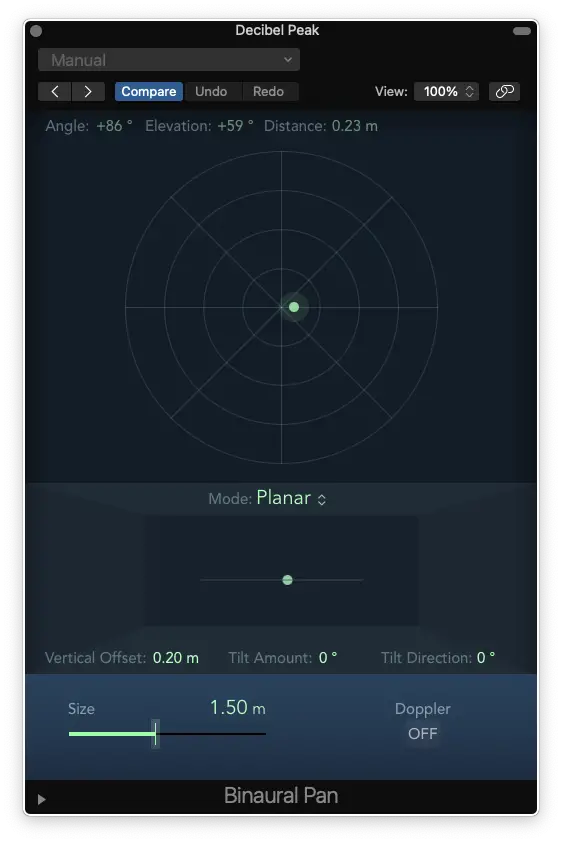 All you need to do is right-click the pan knob on your mixer and select "binaural pan".
The standard L/R paneer turns into a RADAR that represents a three-dimensional plane.
In other words, Logic Pro X has its own integrated spatial audio plugin that allows you to do the same thing as dearVR MICRO.
I was BLOWN AWAY!!
If you're not already using Logic Pro X, it just might be one of the most important reasons to. However, I get the feeling that most DAWs will eventually follow suit.
The only downside is that it doesn't include 3D acoustic modelling reverb.
That's why I still recommend the dearVR Collection if you really want to take your mixing to another level.
Who knows what else Logic Pro X is hiding though…
Also, apparently Logic Pro X will include an ENTIRE SUITE of spatial audio plugins by the end of the year (2021). I'll keep this article up to date once that happens.
Summary: 4 of the Best Spatial Audio Plugins
Now you're ready to start mixing with 4 of the best spatial audio plugins.
Actually, you can start TODAY and for FREE if you decide to work with dearVR MICRO or are already using Logic Pro X.
Spatial audio is truly the future, so might as well get a headstart!
It was difficult to find some accessible options, but I'm really happy that my weeks of research into spatial audio unlocked some hidden treasures.
As I said, Dear Reality is your best bet if you want the industry standard.
For the time being, Dolby Atmos and DTS:X aren't accessible enough and to use them on commercial projects, you'll actually need to be certified.
That's a whole other discussion and will require LOTS of investment.
I know that most of us simply want to extend our DAW's capabilities and to start producing spatial audio NOW. So, I hope you enjoyed reading through this article.
If ever you discover some interesting spatial audio plugins, let us know in the comments and feel free to start a discussion as well! Don't forget to join the dB_Network Discord server and to support us on Patreon if you appreciate the content.
Thanks for reading, now let's innovate!
Related Articles
Sources
https://en-de.sennheiser.com/ambeo-orbit
http://research.spa.aalto.fi/projects/sparta_vsts/plugins.html