3D, 360, VR, binaural… YOU NAME IT!
Today, I'm going to be teaching you the EASIEST way to mix spatial audio using ONE plugin. I'm talking about Sennheiser/Dear Reality's FREE plugin called dearVR MICRO.
It used to be called AMBEO Orbit, but Sennheiser's recent collaboration with Dear Reality took this three-dimensional mixing plugin to the next level!
Now, I said it was the EASIEST way to mix spatial audio, not necessarily the best.
However, you seriously can't go wrong with this one!
It's also one of the few options available to Logic Pro X users. It seems like Pro Tools has some sort of "special" ability that other DAWs don't have when it comes to spatial audio.
It also seems like developers aren't prioritizing Apple M1 support at the moment…
I'm talking about Dolby Atmos, DTS:X and even the other free/open-source options.
Oh well… If you want to take your spatial audio to the next level, you'll just have to prioritize Dear Reality since they DO have advanced spatial audio plugins available RIGHT NOW that are compatible with pretty much every DAW.
If you want to know more about dearVR MICRO and the leading company in the field of immersive audio (Dear Reality), keep reading…
What do you need to mix spatial audio?
Before getting started, you probably think you need some "special" gizmo to mix spatial audio.
Right? WRONG!!
The best type of monitors you can use to mix spatial audio are HEADPHONES. That's especially true if you're focusing on binaural/VR audio.
However, you could consider a new type of monitor called a "soundbar".
They're actually SUPER CHEAP, but I recommend getting yourself a decent one if you want to mix spatial audio with it. As it turns out, Sennheiser makes an excellent soundbar!
Did you think you would need some sort of surround sound setup?
Well, the professional studios that mix for Dolby Atmos and/or DTS:X do and they're required to do so because it's the only way to get certified (for commercial use).
Luckily, we don't have to worry about any of that with dearVR MICRO!!
That being said, there's nothing stopping you from going "all-in", but just keep in mind that you'll need dearVR PRO (which we'll talk about later) to have access to complex speaker configurations.
However, I'm fully aware that most of us won't need to go that far.
Remember… This is "the EASIEST way to mix spatial audio". Now, let's talk about the plugin!
Introducing dearVR MICRO (formerly "AMBEO Orbit")
I actually heard about the AMBEO Orbit plugins a while back.
If I remember correctly, it was actually my father who told me about it after listening to THIS VIDEO demonstrating "3D/6D/8D audio" (all the same thing).
I researched it and found out that AMBEO Orbit was the plugin they were using.
I didn't make much of it at the time, but apparently it wasn't that great according to most. However, that was BEFORE Dear Reality came into the picture.
Now, the plugin has been reborn as dearVR MICRO.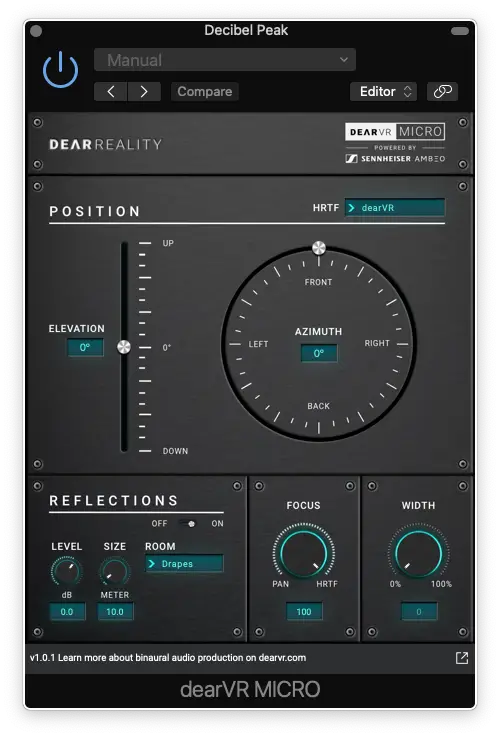 Based on my personal experience with it, I'd say it does an EXCELLENT job of extending your DAW's ability to pan your tracks in a spherical/3D environment.
That being said, I noticed (and later found out) that it wasn't creating an authentic 360-degree environment. In other words, it lacked the precision of dearVR PRO.
It's essentially the "Pro" version of dearVR MICRO and it's relatively affordable.
To be honest, I'm considering it because I'm already very impressed with the effectiveness and simplicity of the "freebie" Sennheiser and Dear Reality have decided to offer.
Okay… So now let's learn how to use the plugin!
How To Mix Spatial Audio using dearVR MICRO
The user interface of dearVR MICRO is actually quite simple.
You have TWO basic parameters…
Elevation (the height of your "sound-object")
Azimuth (the location of your "sound-object")
One of the first things you might realize is that setting your elevation to either extreme nulls the effect of the azimuth.
That's because the extremes of elevation correspond to the "poles" of your virtual spherical environment (i.e. the top/bottom of your head).
The dearVR PRO plugin would most likely solve this by providing more possibilities.
Anyway, here's how you'd go about setting up an entire project for spatial audio mixing…
Step 1: Insert an instance of dearVR MICRO on every channel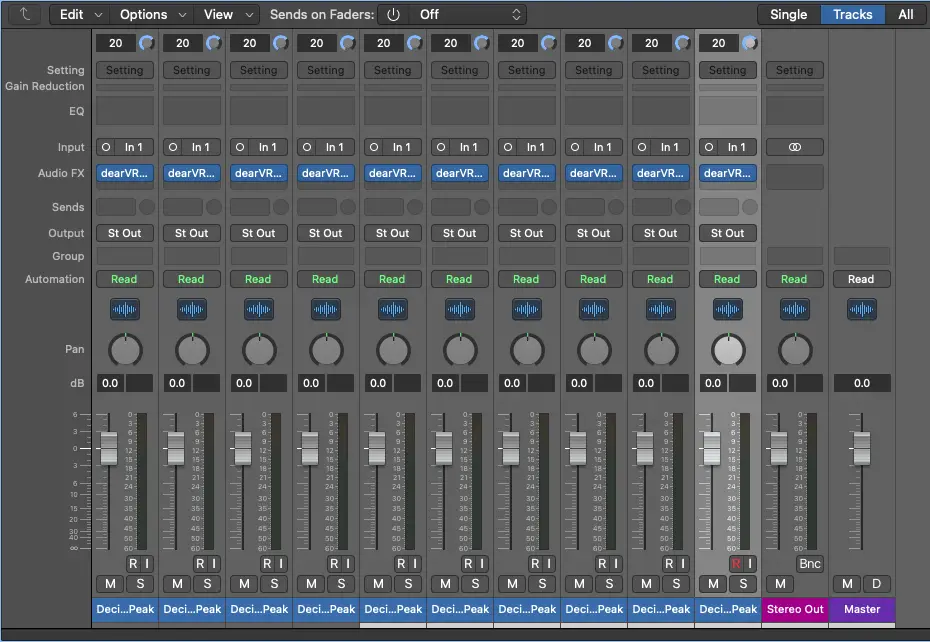 Step 2: Set your track's "elevation" and "azimuth"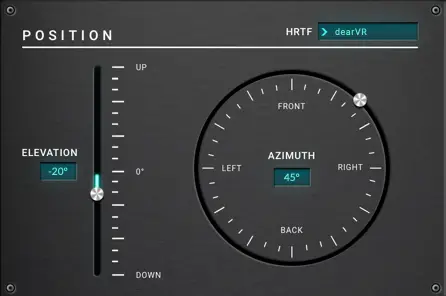 Step 3: Set the "width" of your sound-object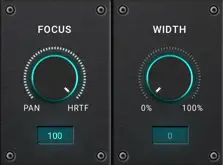 That's essentially it… I personally leave the other parameters as-is.
The "focus" parameter allows you to mix between pan (non-binaural) and HRTF (binaural) processing. It's an interesting feature, but 100% HRTF is what we're looking for.
The "reflections" module is simply a spatial reverb. I don't think it sounds that great, so I leave the "size" parameter at its smallest value (7 meters).
Lastly, you can decide between the "dearVR" HRTF or the legacy "AMBEO Orbit" HRTF.
I personally think that the "dearVR" HRTF (i.e. algorithm) is better.
So, that's it! You don't even need to use a specialized renderer.
Just keep in mind that it won't be the highest form of spatial audio…
Overview of Dear Reality's collection of spatial audio plugins
Once you've had your first impression of dearVR MICRO, you'll most likely start yearning for more and luckily… THERE IS.
We've already talked about dearVR PRO, but there's more where that came from!
Dear Reality has actually created an entire suite of spatial audio plugins…
dearVR MONITOR
dearVR MUSIC
dearVR PRO
dearVR UNITY
dearVR SPATIAL CONNECT
Essentially, they're filling almost every need in the spatial audio realm.
Of course, I don't think they'll be replacing Dolby Atmos and DTS:X anytime soon, but the truth is most of us won't be going that direction.
With dearVR UNITY (you read that correctly), you can specialize your mixes for the Unity gaming engine.
With dearVR SPATIAL CONNECT, you can specialize in gesture-controlled mixes and immerse yourself in the world of VR.
In my opinion though, dearVR MONITOR is probably the least useful plugin on their roster. I admit that simulating the experience of mixing in a professional recording studio can be interesting, it's definitely not on my list of priorities.
I'd rather simply use different devices in different locations.
So, there you have it!
Summary: The EASIEST Way To Mix Spatial Audio
Alright, what are you waiting for?!
You can actually start mixing spatial audio TODAY and it won't cost you a penny. It's also much easier than you think with dearVR MICRO.
Not to mention… It's one of the only options for Logic Pro users.
Also, you'll need to remember that Dolby Atmos and DTS:X are currently only officially supported by Pro Tools. However, there's no support for the Apple M1.
That's why I'm so happy to have found out about Dear Reality.
Even the other free/open-source spatial audio plugins like SPARTA and VISR Production Suite aren't very accessible. For example, none of these supports Audio Units (AU) so you can forget about using them with Logic Pro X.
Also, SPARTA is quite advanced and not quite so user-friendly.
That's why dearVR MICRO and the rest of the Dear Reality collection take it home!
What do you think? Let us know what you're using to mix spatial audio in the comments and feel free to post your questions there as well. Also, don't forget to join Decibel Peak on Discord and to support our Patreon page.
Thanks for reading, now go innovate!
Sources
https://en-de.sennheiser.com/ambeo-orbit