When I found out that sound designers DON'T create all their sound effects from scratch…
I was a little shocked, BUT definitely relieved!
That was also when I started finding out about the best sound effects websites and libraries for sound design. It was definitely thanks to Braden Parkes' YouTube channel, so big shout out!
However, I also found some other great sound effects websites and libraries along the way.
That's partly because some of the industry-standard platforms are VERY expensive.
If you just want to get started in sound design, that can be quite daunting!
That's why I'll be including some FREE sound effects websites and libraries on this list.
We're definitely going to prioritize the BEST sound effects websites and libraries though.
BUT, guess what… One of them is actually free to start and can get you A LOT of mileage.
If you want to find out which one, I guess you'll just have to keep reading! I actually used that platform (almost exclusively) to create the sound design for a short film.
Alright, enough teasing! Let's get into it…
BaseHead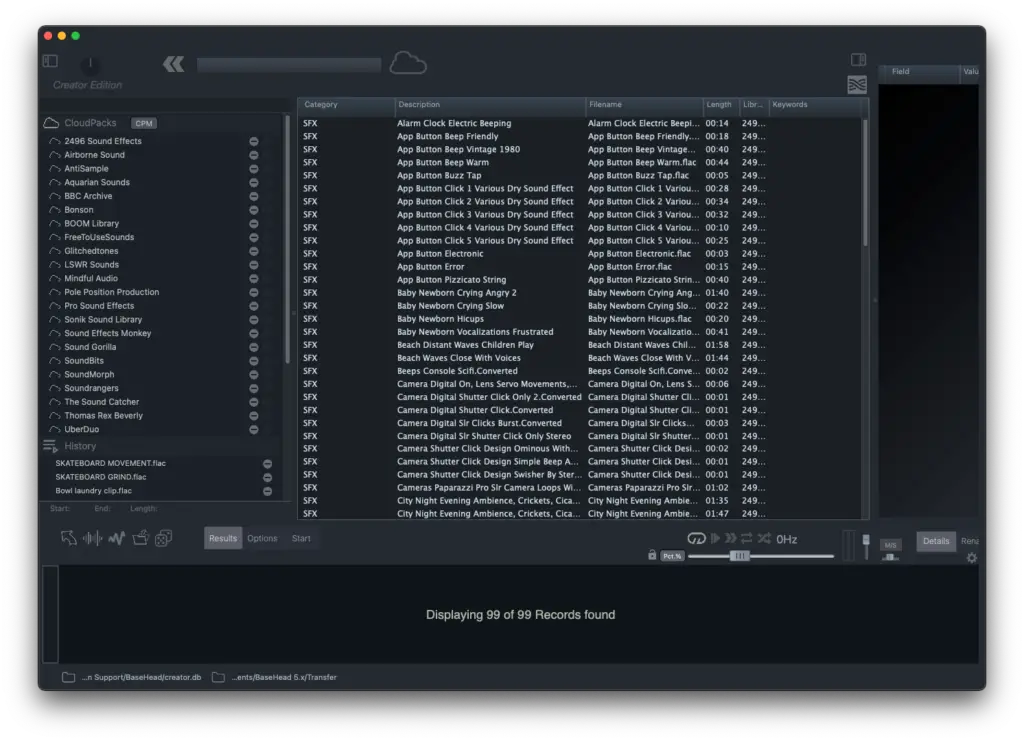 Now, we're starting off with the most essential tool you'll use as a sound designer…
BaseHead is many things, but the desktop client itself is probably the best sound effects search engine in the world.
It'll allow you to import 3rd party sound effects libraries and tag your own sound effects.
You know, if you still go out and record your own sounds (which I highly recommend)!
That's just the tip of the iceberg though… BaseHead can be scaled as an enterprise solution if you ever want to provide access to your personal sound effects library.
For example, if ever you have your very own sound design team!
We're getting ahead of ourselves, but it's a pretty powerful tool.
If you're just getting started though, you can actually use it FREE with BaseHead Creator. The only catch is you can't use it for commercial purposes, just to learn.
It's still pretty nice of them though, so I'd definitely give it a try!
When you're ready though, I definitely recommend making the investment and working with BaseHead. It even has its own marketplace of add-on sound effects (besides what's already included, of course).
BOOM Library
BOOM library is more of a sound effects boutique, but that's what I love about it!
To get the most out of it though, you'll definitely want to load your BOOM libraries into an application like BaseHead or SoundMiner (which we'll talk about later).
So, think of BOOM Library as the go-to 3rd party sound effects vending machine.
If you sign up to their newsletter, you also get FREE sound effects every month!
They also have plenty of sales (all the freaking time), so you'll have plenty of opportunities to get really affordable specialized sound effects libraries.
I just don't recommend starting off your sound design journey with BOOM Library.
You need a WIDE scope of sound effects when you're starting out. So, you'll most likely be collecting sound effects libraries from BOOM as you progress.
I've personally been eyeing the Skate Sounds pack for a while now!
Soundly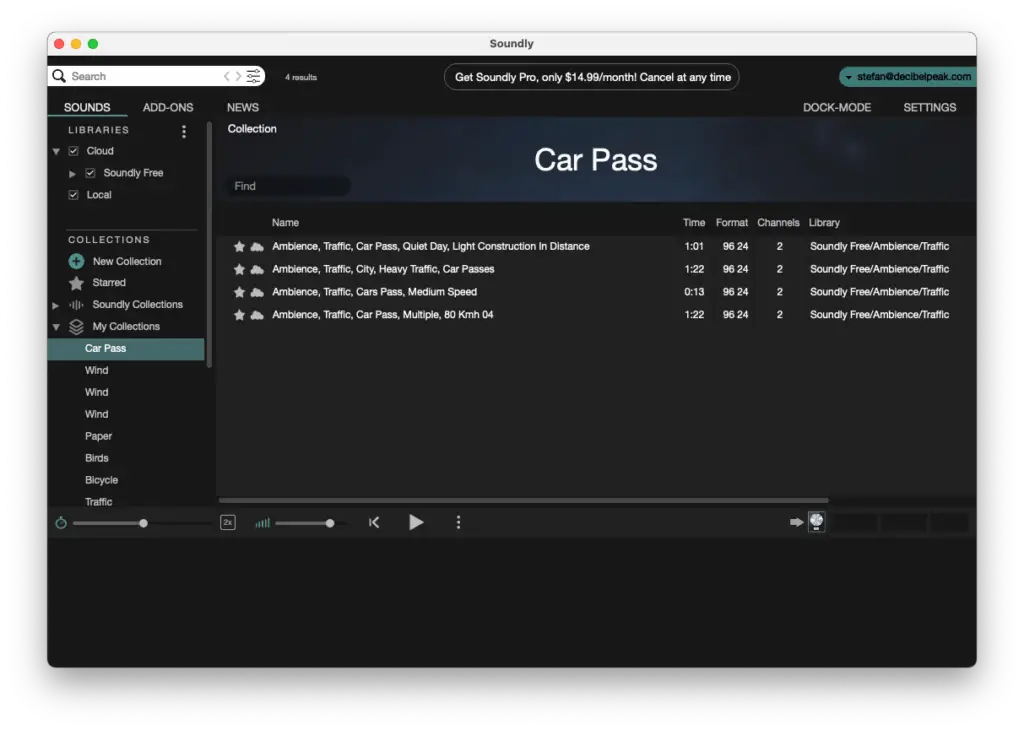 Soundly has become my personal favourite because it got me started!
It's completely FREE to start and is only 14.99$ per month for a pretty massive library of sound effects. You'll already get your essentials (and much more) for free, so it's totally worth it!
The sound library is also continuously growing, so you'll feel proud to support it!
The best part about Soundly is you don't need to download anything. Everything is run from the cloud through a desktop client app you use to search the database and audition sounds.
You just select what you need and drag and drop it into your DAW!
Once you do that, the audio file itself should be stored in your project file.
If you want to easily find and re-use sound effects in future projects, you can favourite them and/or create playlists to suit your needs.
I'm telling you, Soundly is the best sound effects library to get started!
I used it to do the sound design on my first commercial project and I still use it to this day!
Soundminer
If you find that BaseHead is WAY too expensive, check out SoundMiner.
The entry-level version (SoundMiner Basic) starts at 199.99$ and you can easily upgrade. It's pretty much the same deal as BaseHead.
SoundMiner is mainly a sound effects search engine though.
It does have the ability (at an additional cost) to serve/stream files, but BaseHead seems to be more specialized in this respect.
In essence, I mainly recommend SoundMiner if you're looking for a relatively affordable sound effects library that can be purchased (not rented).
Of course, Soundminer can also be used to read 3rd party sound effects libraries.
If you were looking for an affordable way to do that though, Soundly would be a much better option (because you could do that for free).
I mainly recommend Soundminer for its extensive sound effects library.
It can be a great way to get LOTS of additional sounds if you're moving up from something like Soundly. Both can be used together for maximum versatility.
I still prefer the UI of Soundly though (and Soundminer's website, don't get me started lol).
FREE Royalty-Free Sound Effects Websites
Freesound
Freesound (freesound.org) is basically a collection of contributed sound effects from its users.
They're technically royalty-free and free to use for commercial projects, but I don't recommend doing that. First of all, you'll rarely find high-quality sound effects on Freesound.
Secondly, there's no guarantee that the sound effects you're downloading are legitimate.
That's because there's no one necessarily mediating the platform.
In other words, use the sound effects you download on freesound.org at your discretion and ideally, only for personal projects.
It's a great place to find spare parts!
MixKit
MixKit (mixkit.co) is much more legitimate and is actually owned by Envato.
You'll find the same high-quality sound effects you'd find if you were subscribed to Envato Elements, but much less. It can be quite limiting!
That being said, you can definitely use the sound effects you download here on paid projects.
The license covers personal and commercial use!
Personally though, I haven't yet found something on MixKit that I couldn't find much more of on the free plan of Soundly.
BUT, who knows… I'm sure you could find a hidden treasure one day!
Pixabay
If you ever needed free royalty-free images, you've most likely come across Pixabay (pixabay.com).
However, I recently found out that Pixabay also provides free royalty-free sound effects. So far, it's been my favourite place to find sounds I couldn't find elsewhere (for free, that is).
Each time you download a file, it offers to provide the license as a download as well.
That being said, you could definitely use sound effects from Pixabay on commercial projects.
You'll just have difficulty finding everything you need which is why pairing it with Soundly has worked out really well for me.
It's also really easy to catalog sounds you find using the favourites/playlists function.
Videvo
I've used Videvo (videvo.net) for free royalty-free stock footage in the past, but they also do sound effects!
It's very similar to Pixabay, but you'll encounter LOTS of sound effects that are available to premium users only. That's because Videvo is also a premium service.
So, you'll be fairly limited if you're only looking at the free sound effects.
It's still possible to find what you need though, just don't be disappointed if it's not free! The best way to NOT get disappointed is to set the filter to only show free sounds.
It may be worth it to go premium if you need an alternative every now and then.
It's actually pretty affordable and can cost you as little as 4.99$ per month!
Summary: 5+ BEST Sound Effects Websites and Libraries for Sound Design
Do you have enough to start your journey into sound design?
To be completely honest, sourcing a library of high-quality sound effects has always been the sound designer's main challenge when getting started.
Nowadays, you can start RIGHT AWAY with Soundly for FREE.
That's definitely the first step I'd recommend!
If you still don't have enough, then you now have plenty of other sound effects websites and libraries to check out.
I think you can get VERY far with just Soundly and Pixabay though.
That's all I needed to do the sound design for my first commercial project (a short film).
Although, I was definitely sourcing my own sound effects at the time and I definitely encourage you to do the same. It's a bit of a lost art, but I highly recommend it!
If you're interested, you can check out MY GUIDE on how to do foley at home.
You can also go out in the real world and do some field recording with a…
Who knows, maybe one day you can sell your own sound effects!
Alright, enough talking. Let's go get some sound design done before the day ends!
Sources