Reason Studios Reason 11 Review
That's why I wrote this Reason Studios Reason 11 review.
The Zoom H6 has become an iconic sound recording device and with good reason.
Besides the interchangeable microphone capsules (of which there are many), the Zoom H6 is also a portable 6-channel multitrack recorder (4 of those are mic/line inputs).
It's one of the most affordable ways to unlock professional-grade field recording.
However, the Zoom H6 is missing some essential features that some of the top-level sound recording devices (Zoom F-Series, Sound Devices, etc…) may have.
That's why we need to determine if the Zoom H6 is right for YOUR intended use.
Keep reading to find what I like most about it, what I don't like (what it's missing) and what I personally recommend the Zoom H6 for…
What I like about the Zoom H6
One of my favourite features about the Zoom H6 (and the Zoom H5) is called "backup record".
It essentially creates a duplicate of your original audio recording, but it's -12dB lower. That's SUPER useful for mitigating the risk of clipping your audio.
In my opinion, a field recorder has got to have something like this OR "floating-point" recording.
If you're not familiar with that term, it essentially means "infinite" dynamic range which COMPLETELY removes the risk of clipping.
For example, the Sound Devices MixPre-II series has 32-bit float recording.
What else do I like about the Zoom H6?
I personally don't use the microphone capsules too much, but I have to admit that having a wide selection increases the appeal. In comparison, the Zoom H4n Pro's microphone capsule isn't interchangeable like the Zoom H6 and Zoom H5.
Lastly, I really like the idea of being able to use the Zoom H6 as an audio interface.
In other words, it can serve both as a portable sound recording device AND as an audio interface.
If you're on a budget, the Zoom H6 can actually be quite the all-arounder.
What I don't like about the Zoom H6
Okay, there are definitely a few things I don't like about the Zoom H6.
To be more specific, the newest "all-black" 2020 edition has suffered from a few budget cuts.
The actual device (besides the colour) remains unchanged, but the accessories that were included with the previous version of the Zoom H6 AREN'T anymore.
In other words…
NO storage case
NO 2nd microphone capsule
That's why I was lucky to find one of the older versions which DID include those accessories.
That being said, you'll realize that all versions of the Zoom H6 (along with other H-series field recorders) are missing some semi-important features.
For example, the line-out ISN'T balanced.
The Zoom H6 also doesn't support timecode and doesn't have any way of saving your audio recordings to a backup drive (like the Sound Devices MixPre-II series).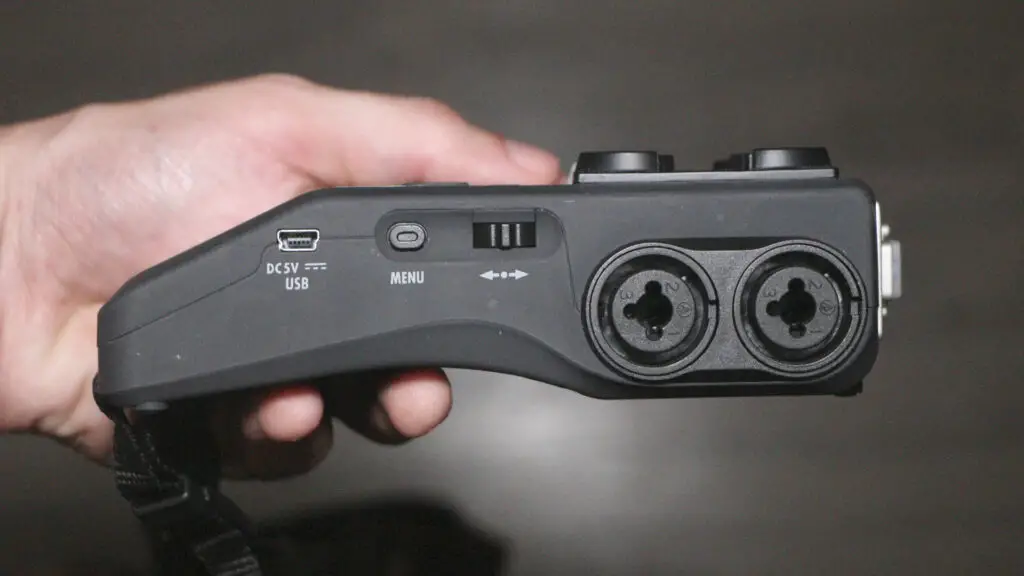 Personally, that doesn't really bother me since I don't personally need that.
Unless you're planning to work on Hollywood-level film sets, you won't be needing timecode.
The fact that the line-out is unbalanced is BETTER if you'll be connecting to a conventional DSLR camera via the 3.5mm jack (otherwise you'd have issues).
The only thing you really need to worry about with the Zoom H6 is a corrupted SD card.
That rarely happens, but the only way to mitigate this risk is to connect your Zoom H6 to a camera using the line-out.
In other words, to use the camera audio as the "backup".
Recommended uses for the Zoom H6
To be honest, there isn't much you can't do with the Zoom H6…
It's one of the most versatile sound recording devices on the market and is used by beginners just as much as professional filmmakers.
I've personally used it on a TV commercial to record voice-over (along with the Sennheiser MKH 416 and my K-Tek 102CCR Klassic graphite boom pole of course).
I also use it when I go out into the field to record sound effects and foley.
I've also been thinking of using the Zoom H6 to record drums. Whether you're using it in "portable-mode" or in "audio interface-mode", you'll have access to plenty of channels.
The stereo microphone capsule can be used as an overhead microphone and the remaining 4-channels can be used for kick drum, snare drum and two additional microphones.
That being said, it's probably one of the most affordable devices to record an entire drum kit.
Frequently Asked Questions (FAQ): Zoom H6
What type of SD card does the Zoom H6 use?
The Zoom H6 has a list of compatible SD cards HERE.
However, the Zoom H6 should be compatible with most SD, SDHC and SDXC cards. I personally use some that aren't "officially" on the list, so you shouldn't need to worry.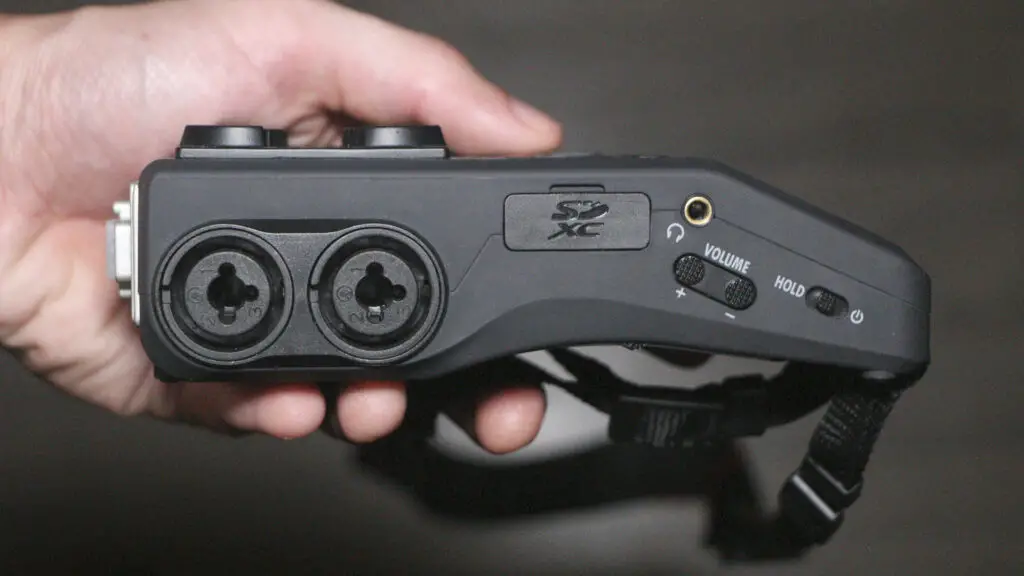 What accessories are included with Zoom H6?
All of the versions of the Zoom H6 include at least one microphone capsule, USB cable and the Cubase/Wavelab LE software.
However, the 2019 Zoom H6 version includes…
Storage case
Additional microphone capsule
Foam windscreen
128GB SD card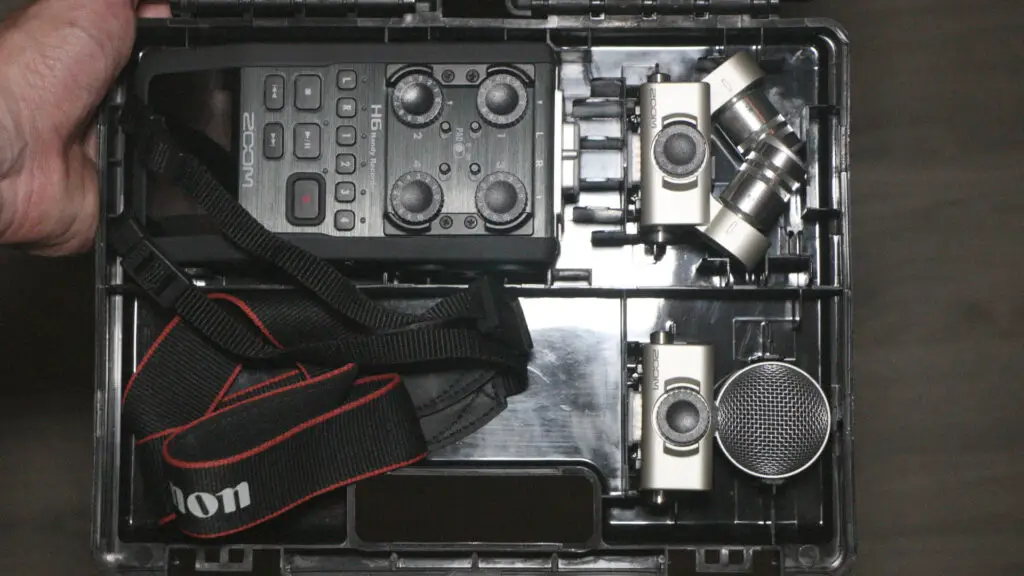 Can you use the Zoom H6 as an audio interface?
YES. The Zoom H6 can be used as a 6-channel audio interface for Mac/PC.
How long does the Zoom H6 battery last?
The Zoom H6 can last up to an impressive 20 HOURS if you use rechargeable NiMH batteries.
I personally use THESE ONES.
Does the Zoom H6 have bluetooth connectivity?
NO. The Zoom H6 doesn't have the ability to connect to an app using bluetooth.
What's the difference between the 2019 Zoom H6 and the 2020 "all-black" Zoom H6?
The only difference between the different versions of the Zoom H6 is the included accessories.
I personally recommend the 2019 Zoom H6 because it includes MUCH MORE accessories for the same price. You can even find one second-hand and save money.
Summary: Zoom H6 Review
In my opinion, the Zoom H6 is the best sound recording device in the H-series.
It's got everything you need to record professional-grade audio out in the field. It's even used by indie filmmakers, so it'll most likely be suitable for your project(s).
I definitely recommend it over the Zoom H4n Pro.
However, I can't necessarily say it'll replace the higher-end sound recording devices out there. If you need things like timecode, floating-point recording and balanced outputs, it might not be the right device for you.
That being said, you can always splurge on something better if you make it to Hollywood!
For now, I think the Zoom H6 is the weapon of choice for many sound mixers/recordists out in the field and it should now be clear to you why that is…
If you have any questions about the Zoom H6, feel free to leave them down in the comments and I'll get back to you as soon as possible.
As always, thanks for reading and don't forget to join us on Discord!
We've also got an awesome Patreon page if you'd like show your support.
Sources
https://zoomcorp.com/en/ca/handheld-recorders/handheld-recorders/h6-audio-recorder/
https://zoomcorp.com/media/documents/H6_compatible_cards_en_3_0.pdf