The Hollyland Lark M1 is an interesting wireless lavalier microphone system for content creators on the go.
It's part of a series of wireless lavalier microphones that was recently introduced my Hollyland. The Lark M1 is the entry-level system, but you also have the Lark C1 and the Lark 150 (which is more appropriate for professional applications).
Although the Lark M1 is far from being a product suitable for professionals, it's portability and ease of use is perfect for social media content creators on the go. It's compatible with both iPhone and Android.
However, it has one feature that sets it apart from all the other wireless microphone systems in this price range…
So, let's find out if the Lark M1 is the right lavalier microphone for your needs!
Table of Contents
Overview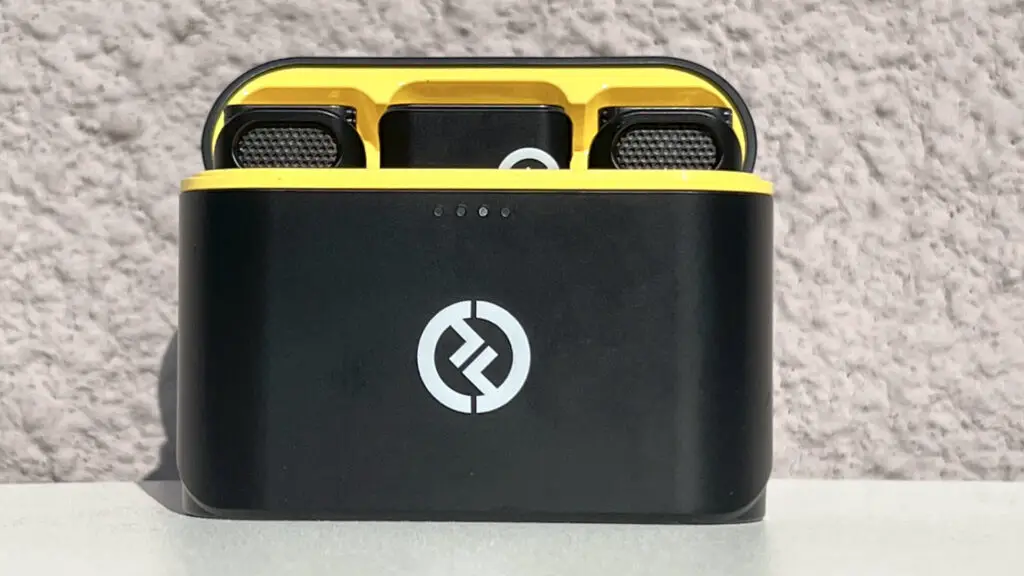 So, I have to admit that the Lark M1 set from Hollyland is quite stylish.
Everything included in the box looks sleek, elegant and could easily fit in your bag.
Here's what it's got to offer…
Reliable 2.4GHz wireless transmission for stable and interference-free audio recording.
Dual-channel capability for connecting two microphones simultaneously.
Compact and lightweight design for portability and convenience.
Intuitive OLED display for real-time monitoring of signal strength, battery status, and audio levels.
Easy-to-use controls for power on/off, channel selection, and audio gain adjustment.
Extended battery life of up to 10 hours on a single charge.
Intelligent power management with standby mode for power conservation.
Versatile audio output options with 3.5mm TRS and TRRS compatibility.
Antenna diversity technology for enhanced range and signal stability.
Noise-cancellation mode processed in real-time
It's available in both single and dual channel sets but regardless, you'll only have one receiver to deal with.
And as I mentioned, there's one great feature on the Lark M1 that surely got your attention… Yup! It's got onboard noise cancellation which is necessary if you're doing any type of LIVE content.
Is it really going to save you hours in post-production though?
Let's talk a little bit more about the Lark M1's performance.
The Lark M1 sounds great on your smartphone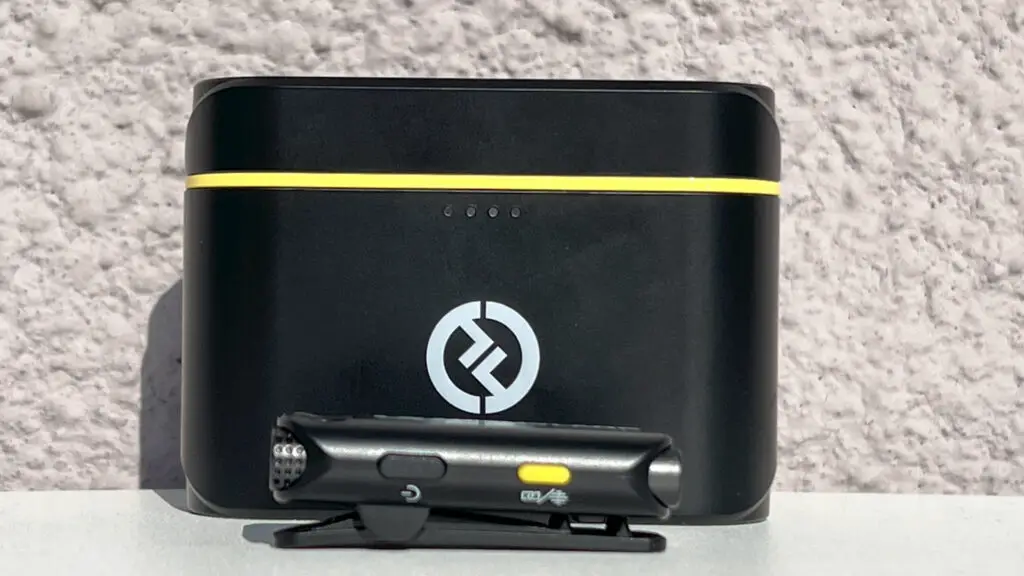 On a pair of professional speaker monitors or studio headphones though? Not so much.
If you're making videos for Instagram, TikTok, etc… I guarantee that your viewers won't really care about the quality of the microphone you're using. Actually, they wouldn't even be capable of telling the difference on a smartphone!
So, if you know your audience isn't filled with audiophiles, it might not be a dealbreaker.
For me though, I would've really appreciated the ability to connect an external lavalier microphone via a 3.5mm jack.
Sadly, it's the same situation on the Lark C1. On the Lark 150 though, you do have the ability to connect a 3rd party lavalier microphone so that's definitely something to keep in mind when comparing the three.
That being said, the microphone on the Lark M1 is definitely passable. I've heard MUCH worse.
What about the wireless range and fidelity though?
Real-Time Noise Cancellation… Yay or Nay?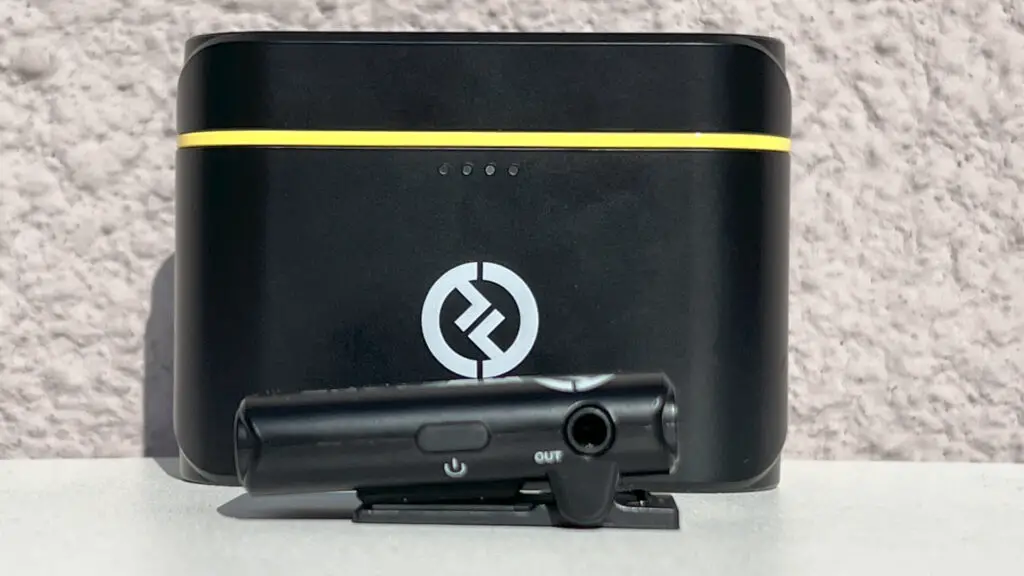 Even if it were the highest quality real-time noise cancellation (like CEDAR audio's), I would still opt for NAY.
That's because you'll always have better results if you apply noise reduction in post-production.
That being said, what if you had no choice? What if you were making a LIVE video?
If that's the case, then I have to admit that the Lark M1's onboard noise cancellation feature could come in handy.
However, it will surely deteriorate the quality of your voice. I tested out for myself outdoors and was surprised at how well it handled itself, BUT… It's pretty much the equivalent of the noise reduction in Zoom meetings (i.e not that great).
If you wanted to use it for virtual meetings and live streams though, it would get the job done.
What about wireless range and fidelity? Does the Lark M1 perform as good as it looks?
Wireless Range, Yes. Wireless Fidelity, Lacking.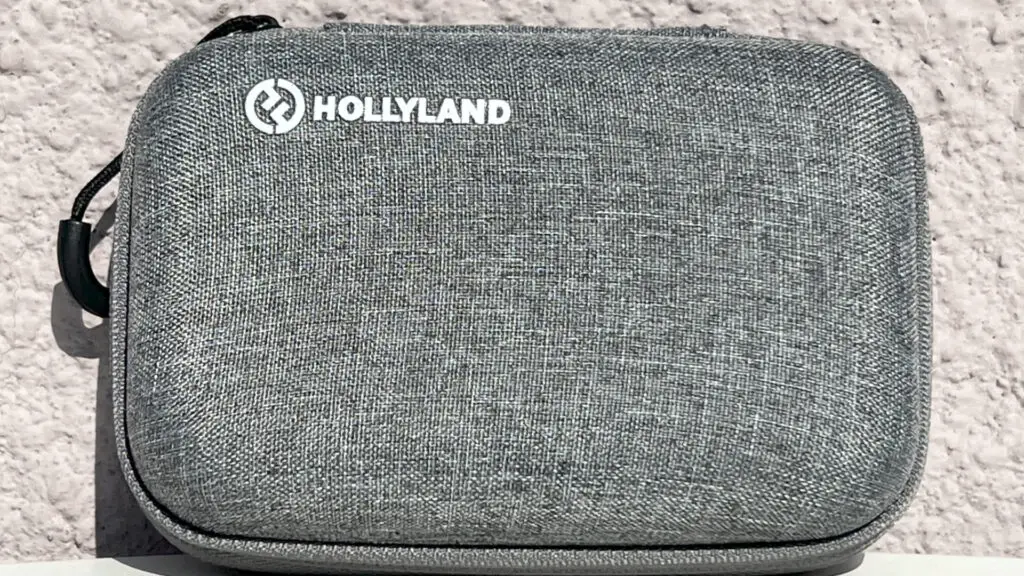 When it comes to range, the Lark M1 is quite surprising.
I doubt you'll actually have to use the full extent of its range, but it can definitely go the mile (so to speak).
In terms of relaibility though… I tested it both indoors and outdoors.
It worked great outdoors without any interruptions, EVER.
However, when I tried recording a video with it inside my studio, it kept having quick dropouts. It wasn't super obvious, but if you were making a YouTube with this indoors, I would be weary.
It seems to react pretty badly to other Wi-Fi/Bluetooth devices in the vicinity.
That being said, that's a VERY common problem with 2.4 GHz systems. So, if you're going to shoot in crowded urban areas, you might want to do some tests before commiting to anything.
Will one charge last you the day though?
Battery Life That'll Last an Entire Adventure
If you were to leave the house with the Lark M1 in the morning, I guarantee that you'd never run out of power.
First of all, the battery on the actual transmitters and receivers can last about 8 hours. However, the case itself can charge the units, so you can easily double that up to 16 hours.
So, you'll never actually have to plug anything in until you get back home in the evening.
Even then, it'll only take about 1.5 hours until a full charge. Pretty cool, right?
Well, it depends what kind of system you need.
For example, my Sennheiser G4 units can easily last 12h+ with 2x AA batteries and I can just as easily carry two extra AA batteries with me if I was worried. So, I wouldn't base my decision on the Lark M1's battery life.
What would I base my decision on though?
Summary: Hollyland Lark M1 Review
As you can probably tell, I'm personally not very impressed with the Lark M1.
I basically see it as a really cool toy, BUT… Maybe that's exactly what you're looking for?
In any case, I would still opt for the Lark C1 because of the receiver. It can attach itself directly toy our iPhone or Android device. The Lark M1's receiver is the same design as the transmitters, so you'll need to clip it somewhere (on your phone, I don't think so…).
The Lark C1 also has an app you can use to control it which is much more practical.
You can also decide how much noise cancellation is applied (the M1 is on/off).
If you want the ability ti connect a high-end lavalier microphone though, I'd go for the Lark 150.
Even then… Using 2.4 GHz in a professional context; you're taking a BIG risk.
So, what do you think? Let us know how you like the Lark M1 in the comments and feel free to ask me for some recommendations if you're looking for something in particular.
Sources