So, I was on the hunt for a compact 2.4GHz wireless microphone system I could actually use in my professional work…
If you work on film/TV sets, you know that mistakes can be VERY costly, so equipping yourself properly is crucial! I'll tell you right away, finding a reliable 2.4 GHz system is difficult (especially in a compact format).
But, I think I finally found something I'll be confident to use on-set… The Hollyland LARK MAX.
Before the LARK MAX, the only other 2.4GHz system I trusted on set was the RODE RODELink series. But I have to admit that it exceeded my expectations in more than just wireless fidelity.
I'll be comparing it to other wireless systems in the same range (DJI Mic, RODE Wireless Pro, etc…), but first…
Let's delve into the LARK MAX itself and how you can get the most out of this wireless system!
Table of Contents
Overview of the Hollyland LARK MAX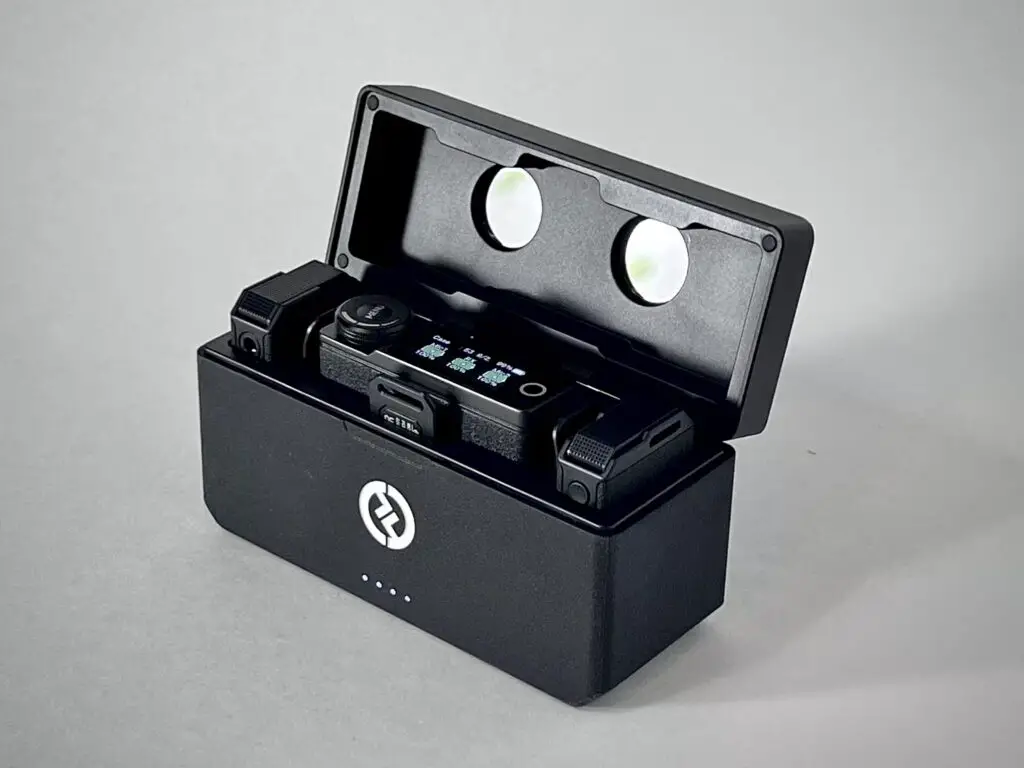 | Technical Specification | Details |
| --- | --- |
| Transmitter Dimensions | Approx. 48.5mm x 30.3mm x 19.37mm (1.9″ x 1.2″ x 0.76″) |
| Transmitter Weight | Approx. 33g (1.16oz) |
| Transmission Range | Up to 820ft (250m) for LOS / 197ft (60m) for NLOS |
| Modulation Mode | GFSK |
| EIRP (Effective Isotropic Radiated Power) | <20dBm |
| Operating Frequency | 2400MHz–2483.5MHz |
| Battery Type | RoHS-compliant LiPo |
| Battery Capacity | 300mAh |
| Battery Voltage | 3.87V |
| Battery Energy | 1.161Wh |
| Charging Temperature | 0° C to 45° C |
| Operating Temperature | –20° C to 45° C |
| Charging Time | <2 hours |
| Operating Time | Approx. 7.5 hours |
| Recording Time | Approx. 14 hours |
| Recorded Audio Format | 48 kHz/24-bit WAV |
| Microphone Polar Pattern | Omnidirectional |
| Microphone Sensitivity | –36dBFS±1dB@1 kHz, 94dB SPL |
| Input Dynamic Range | 98dB (Default) / 106dB (Max) |
| Frequency Response | 20 Hz–20 kHz (Low Cut disabled) |
| Signal-to-Noise Ratio (SNR) | 70dB |
| Sound Pressure Level (SPL) | 120dB SPL (Default) / 128dB SPL (Max) |
| Equivalent Noise | 24dBA |
MaxTimbre Mic Technology and ENC
The core of the LARK MAX's exceptional audio quality lies in its MaxTimbre Mic technology, which features a multilayer membrane microphone design. This design effectively eliminates unwanted resonances, providing a clear and detailed recording experience.
Furthermore, the advanced Environmental Noise Cancellation (ENC) technology minimizes ambient noice.
Just keep in mind that this process uses the LARK MAX's DSP so you'll be adding a few milliseconds of latency. If you're using it with other wireless systems, you can compensate by adding a delay to your other channels (possible on recorders like the Zoom F8n Pro, SoundDevices MixPre, etc…).
That being said, I personally find that the noise reduction is up to par (it doesn't sound like a Zoom call)!
Would I rely 100% on set though? Honestly, if the ambient noise isn't too bad (fridge humming, ventillation, etc…) I'll actually use it to make it easier in post-production.
But, I wouldn't rely on it in louder environments just in case it starts deteriorating the quality of the audio.
On-Board Recording and Compatibility
The system's built-in 8GB storage is invaluable for backup recording, allowing users to capture up to 14 hours of uncompressed and lossless WAV files directly onto the transmitter.
Hollyland just saved you money on microSD cards and energy managing all of them! You can easily transfer audio recordings using a USB cable.
It's even possible to set up the transmitters for "automatic recording" which arms them the moment they're lifted off the charger. That can possibly come in handy because you'll definitely forget to hit record when things are going fast.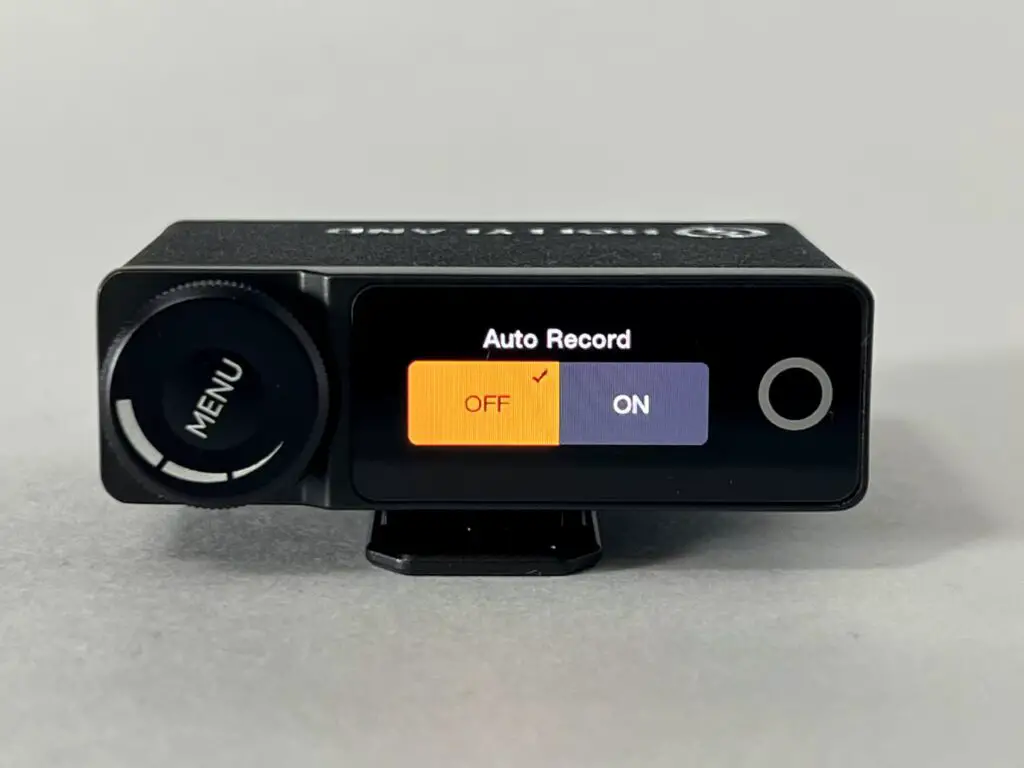 If you're more of a content creator though, the LARK MAX is 100% compatible with iPhone and Android.
When I'm not on the job, I spend most of my time creating content. I assume that most content creators use their iPhone to record videos nowadays, so it just makes the job so much easier.
You'll just need to find a place to clip the receiver on (ideally a tripod).
If you have a DSLR (or other) camera, the clip on transmitter also serves as cold-shoe mount.
Transmitter and Receiver Battery Life
The LARK MAX's performance extends to its battery life, ensuring uninterrupted recording.
The transmitter offers an operation time of approximately 7.5 hours, while the receiver can operate for up to 9 hours. When combined with the charging case, the transmitter's battery life can reach an impressive 22 hours, which could easily last you 2 days on set.
Personally, I think 7.5 hours is more than enough to make it until lunchtime and you'll have enough time to charge it during your break!
What's included in the box?
My favourite experience unboxing a product this year was definitely the LARK MAX. Hollyland really put a lot of thought into the packaging and making it feel prestigious (don't worry, I won't spoil it for you).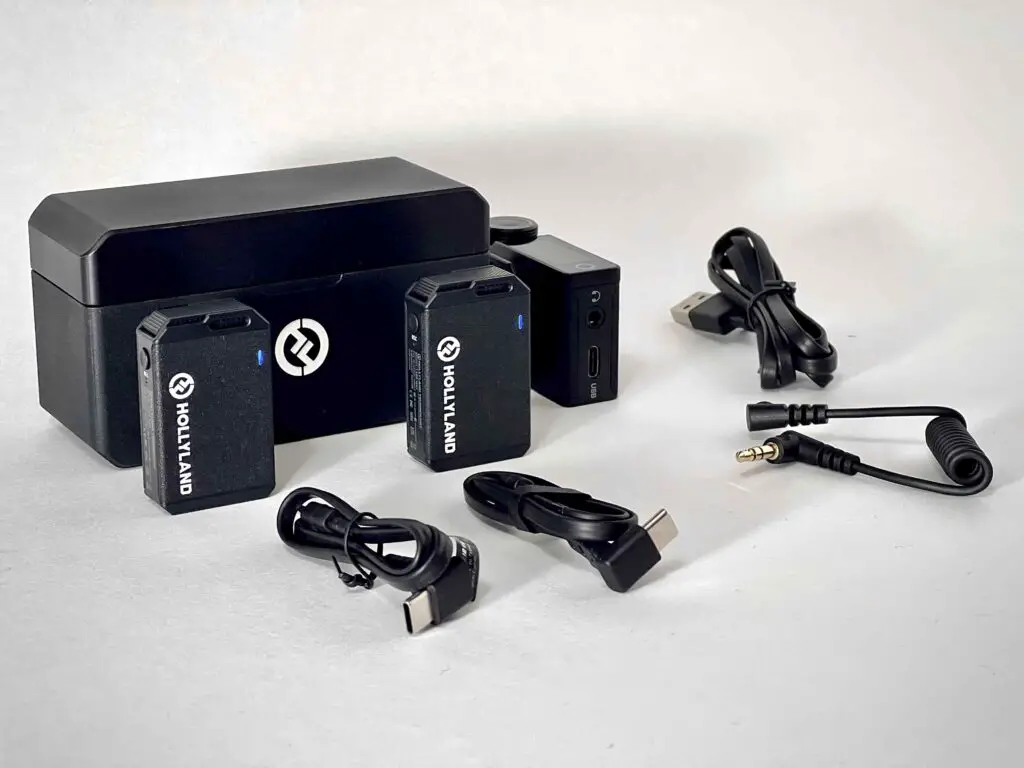 The LARK MAX system comes with…
Carrying Case
Charging Case
2x Transmitter
1x Receiver
1x USB-C to USB-B
1x TRS to TRS
1x TRS to Lightning
1x TRS to USB-C
Hollyland also offers a range of accessories to further enhance your recording experience, such as the Furry Windshield for outdoor recording and the clip magnet for secure attachment.
The clip magnets are surprisingly powerful and can be used for a variety of interesting microphone placements…
How versatile is the LARK MAX?
One of the standout features is the microphone's versatility in placement.
It can be attached to a camera's hot shoe using provided clips or affixed behind clothing using magnetic discs. The magentic discs are what gives us a lot of options when it comes for microphone placement.
For example, you can use them in vehicles as plant mics with the magnets or double-sided tape (which I highly recommend).
The magnets also make it possible to conceal the LARK MAX under clothes, but only loose fitting (obviously).
When that's not possible though, you have access to a 3.5mm input to connect an external lavalier microphone.
I highly recommend doing so in most cases, but the LARK MAX's built-in microphone is actually too amazing to pass on.
Advanced features for quality recordings
The LARK MAX kit boasts several advanced features that enhance the recording experience.
Both transmitters have audio inputs, allowing you to use external lav mics or even on-camera shotgun microphones. The transmitters also have internal storage of 8GB each, enabling direct recording of 24-bit 48 kHz wave files for up to 14 hours.
This makes them convenient standalone field recorders. Additionally, the internal microphones can serve as sync sources in post-production.
Intuitive Receiver Controls and EQ Options
The receiver is equipped with controls and a touch screen that offer easy access to settings and EQ controls.
The three EQ presets—Hi-Fi, low cut, and vocal boost—provide options for tailoring audio to different scenarios. The touch screen displays essential information and allows quick adjustments to both transmitters and the receiver.
This combination of tactile and visual controls adds to the overall usability of the system.
Stable Wireless Connection and Broad Compatibility
The Lark Max wireless system employs 2.4 GHz technology with automatic frequency hopping, ensuring a stable connection over distances of up to 820 feet. This reliability is essential for capturing clean and consistent audio without dropouts.
The system's compatibility is equally impressive, as it can be connected to cameras, smartphones (via lightning or USB-C), and computers for a wide range of recording setups.
LARK MAX vs DJI Mic
| Feature | Hollyland Lark Max | DJI Mic |
| --- | --- | --- |
| Transmission Range | Up to 820ft (250m) | Up to 250m |
| Battery Life | 7.5 hours (up to 22 hours with charging case) | 5.5 hours (up to 15 hours with charging case) |
| Built-in Storage | 8GB for 14-hour backup recording | 8GB for 14-hour recording |
| Microphone Polar Pattern | Omnidirectional | Omnidirectional |
| Compatibility | Wide device compatibility | USB-C, Lightning, 3.5mm TRS |
| Max SPL (Sound Pressure Level) | 128 dB | 114 dB |
The DJI Mic and the Hollyland LARK MAX are similar in many ways, but battery life is where the DJI Mic falls short.
If you were working a 12h day and had to make it until lunch, you'd be cutting it close (and that's when it's brand new)!
I feel much more confident on set with the 7.5 hour lifespan of each transmitter from the LARK MAX kit. I also think that the onboard microphone on the LARK MAX is significantly better than the DJI Mic.
That's partly because of the ENC noise-reduction, but this also extends to external lavalier microphones! That's definitely one of the features that puts the LARK MAX ahead of the competition.
However, there's one product that compensates for what both of these systems are lacking (timecode and 32-bit float recording)…
LARK MAX vs RODE Wireless Pro
| Feature | Hollyland Lark Max | RODE Wireless PRO |
| --- | --- | --- |
| Transmission Range | Up to 820ft (250m) | Up to 260m (line of sight) |
| On-board Recording | 8GB for 14-hour backup recording | 32-bit float on-board recording |
| Compatibility | Various devices | Cameras, smartphones, computers |
| Timecode Sync | No | Yes |
| Gain Control | Flexible gain control | Intelligent GainAssist technology |
| Battery Life | 7.5 hours (up to 22 hours with charging case) | 7 hours |
| Microphone Polar Pattern | Omnidirectional | Omnidirectional |
| Output Ports | USB-C, 3.5mm | 3.5mm TRRS (RX), USB-C |
The RODE Wireless PRO delivers a range of up to 260m, enhanced by 32-bit float on-board recording for audio recovery, making it ideal for dynamic recording environments.
However, it's the Wireless PRO's timecode sync feature that truly makes it stand out from the competition.
If you're working on bigger sets, you know how important timecode is. Having the ability to jam sync is usually something reserved for higher-end wireless systems (SoundDevices, Wisycom, etc…) or for pocket-size field recorders (Zoom F1, Tentacle Track-E, etc…).
You can think of the Wireless Pro as set-friendly version of the RODE Wireless Go II (it even has a locking 3.5mm connector).
That being said, the LARK MAX has one significant advantage… It's built-in microphone (and ENC noise-reduction).
If it's possible to position correctly (under clothes, breast pocket, etc…), I would highly recommend using the LARK MAX's onboard microphone instead of an external lavalier microphone. Its quality is surprising and conceiling it under clothes is a breeze thanks to the magnetic button (not always possible though).
If you're using the RODE Wireless Pro, you'll definitely want an external lavalier microphone.
If you want to use an external lavalier microphone with the LARK MAX, you'll want to get it terminated with an angled 3.5mm jack.
Summary: Hollyland LARK MAX Review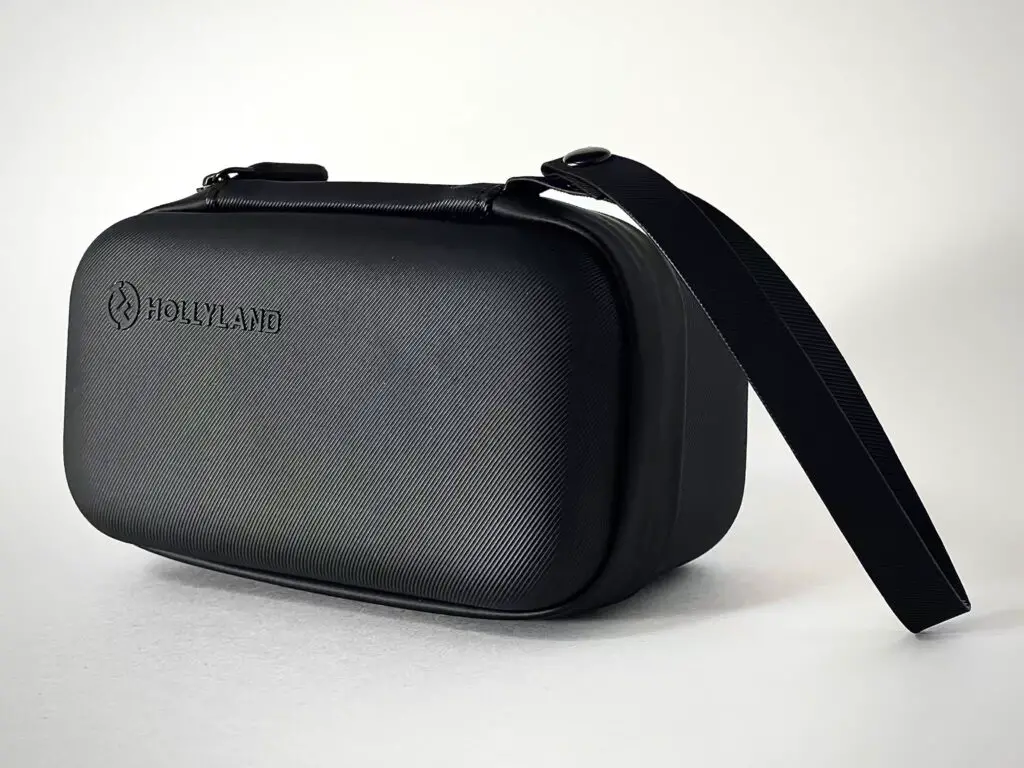 I think Hollyland has finally found a solid recipe for a groundbreaking wireless system.
The LARK MAX sounds great and looks even better, but… Is there anything Hollyland could improve on?
Personally, I think that 32-bit float onboard brecording would've been appreciated by many. But, the "safety track" option does provide the same benefits (you'll be sacrificing stereo recording though).
I also think that adding the ability to jam sync timecode would've put Hollyland on top!
That being said, maybe it'll be added in a future firmware update since the LARK MAX has the ability to be updated.
Regardless, I still think Hollyland has a seriously competitive product at an impressive price point. The wireless fidelity is spot on, the built-in microphone is better than some of my lav mics and the ENC noise reduction is actually useable.
I normally wouldn't rely on built-in noise reduction, but the LARK MAX is an exception (in some cases, not all the time).
What do you think though? Has the LARK MAX found a place in your sound kit?
Let us know in the comments and make sure to check out Hollyland and all of their other products.
Sources
https://www.hollyland.com/product/lark-max