With the rise in popularity of the Apple Mac Mini, it seems that the PC market was beginning to consider its own alternative. The Mini PC became an excellent compromise for musicians looking for both performance and portability. Today, we'll be looking at the best Mini PC for music production and also one of the most affordable computers.
The Intel NUC NUC8i5BEK is the best Mini PC for music production I've ever seen. It competes with the 2020 Mac Mini and it's much more affordable. Intel also offers the ability to construct your very own NUC using their DIY kit. However, most of us probably just want something that works great straight out of the box. Let's start talking about the potential of integrating the Intel NUC NUC8i5BEK into your recording system.
If you're looking for more portability though, you may want to consider a relatively affordable laptop from the Dell XPS-series. Although it's true that a mini PC like the Intel NUC can be used on the go, it won't be as compact and simple to set up in remote locations.
An overview of the best Mini PC for music production
Before getting started, there are a few things you need to know about the Intel NUC-series. First of all, you can purchase them as "kits" which still require additional components or you can purchase them ready out of the box.
I'm going to be recommending the model I'd personally choose.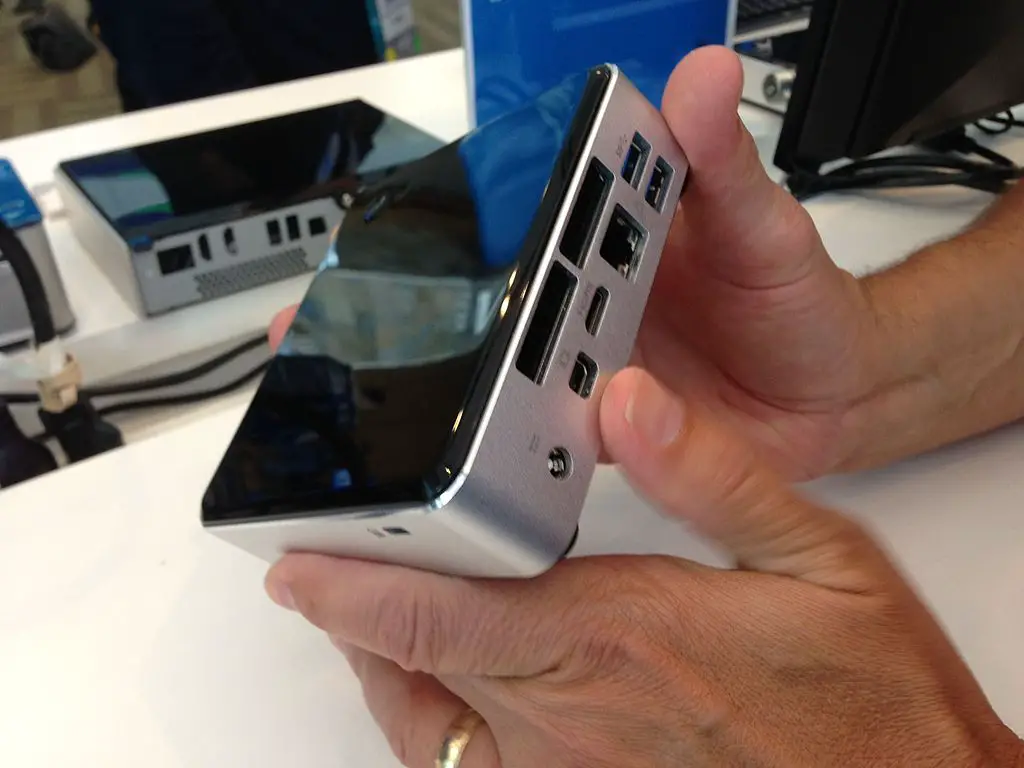 Here are the specifications:
2.3 GHz quad-core Intel Core i5-8259U (overclock up to 3.8 GHz)
16 GB DDR4 SDRAM
256GB SATA-III SSD
Intel Iris Plus Graphics 655
I also chose this model because of its accessibility:
4x USB 3.1
1x Thunderbolt 3/USB 3.1 (gen 2)
1x Micro SD
1x HDMI 2.0
1x Auxiliary Input/Output
1x Ethernet
One of the most important elements I took into consideration was the Thunderbolt 3 support. I truly believe that every musician should have at least one Thunderbolt 3 port (even if they're not using it at the moment).
Thunderbolt is quickly becoming the new industry standard and Windows' support for the protocol is proving that statement more and more every day.
Other than that, the computer itself is truly miniature. It can fit in the palm of your hand and it's certainly smaller than the Apple Mac Mini.
The quality is also phenomenal considering it's made by Intel.
The Intel NUC8i5BEK is the best Mini PC for music production because it supports Thunderbolt 3
You'll hear me talking about Thunderbolt 3 quite often. I use Thunderbolt devices on the daily, but I understand that certain musicians (especially Windows-users) haven't made the upgrade. To be honest, most Windows-users aren't even aware of its existence.
That's because it was exclusive to Apple computers until recently.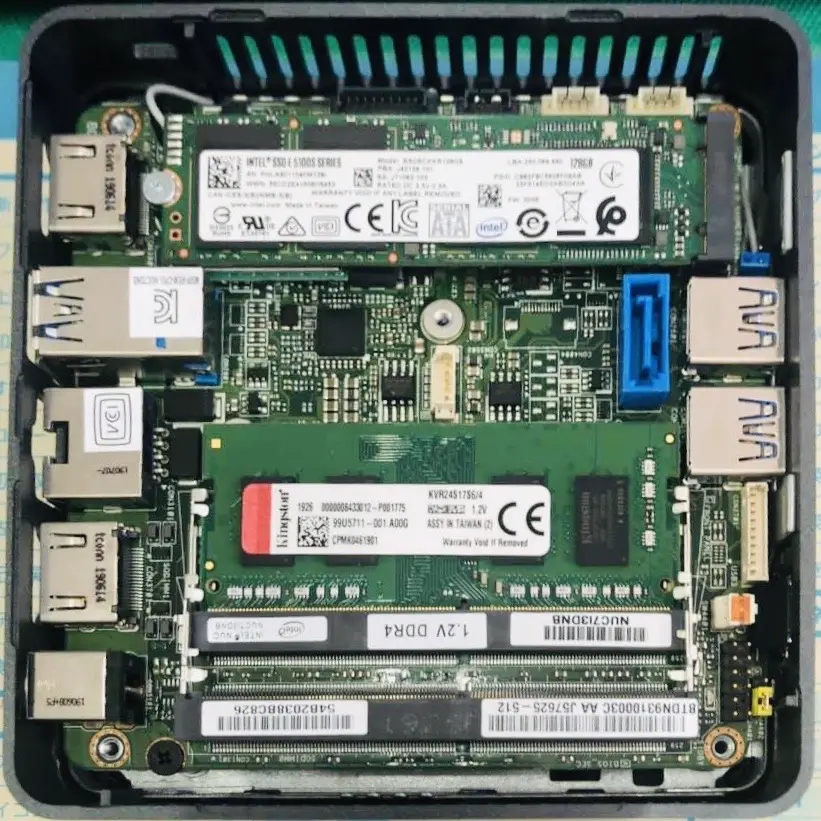 I'm really happy that Thunderbolt 3 has finally made its way to Windows-based computers like the Intel NUC8i5BEK, but most music producers aren't even aware of the benefits. It has nothing to do with the increase in bandwidth (40GB/s) for our purposes.
It's actually the technology in itself that provides all the new advantages.
One of these benefits is the process known as Direct Memory Access (DMA).
It basically allows any Thunderbolt device to bypass the CPU and to communicate directly with the hard drive. In other words, it significantly reduces audio latency and potentially solves the problem for good!
Instead of relying on drivers, the devices can operate at their fullest regardless of your CPU's performance (although the NUC8i5BEK has more than enough).
Another advantage is the ability to pair/daisy-chain multiple Thunderbolt devices. USB audio interfaces, for example, cannot be synchronized together (if you were using more than one). The results would be atrocious.
On the other hand, Thunderbolt devices can operate in perfect synchronization with one another. It's absolutely possible to pair multiple audio interfaces together to "scale" your recording system by adding more inputs.
If you want to find out more, you can read this blog post.
The Intel NUC8i5BEK is the best Mini PC for music production because it uses 8th generation processors
Now, you're probably wondering why I'm recommending computers with 8th generation processors when we're currently working with 10th generation. Well, it's simply because I'm currently using an 8th generation processor and it works great for music production!
The Intel NUC8i5BEK actually performs better than my 2018 Mac Mini and it costs MUCH less.
In 2020, 8th generation processors (depending on the model, of course) are still more than suitable for 99% of musicians. I rarely recommend 10th generation processors for music producers unless they're working with hundreds of tracks.
I'm also talking about orchestral music that relies heavily on sample libraries.
That being said, I invite you to check out the Intel Core i5-8259U's rankings compared to other similar processors by consulting this benchmark.
It has much better single/multi-core performance than the 2020 Mac Mini.
If you haven't read my FREE ebook yet, I talk a lot about single-core performance and how it's one of the most important elements for music production. That's why I rarely look at clock speed first, although it does make an impact.
Either way, I'm sure you'll be more than satisfied with the performance (if you're anything like me, that is).
However, you can always configure your Intel NUC how you want (it's customizable)!
The Intel NUC8i5BEK is the best Mini PC for music production because it uses SSD storage
Perhaps one of the most overlooked computer components for music production is storage. More importantly, I'm talking about solid state drives (SSDs) instead of hard disk drives (HDD).
If you want your machine to run in harmony with the next-generation of hardware, you'll need to move away from mechanical HDDs (at least internally).
The best Mini PC for music production had to have an SSD. That's one of the reasons why I chose the Intel NUC8i5BEK over all the other computers. Either way, it's becoming pretty standard and the prices are starting to drop considerably.
Industry professionals have made SSD the new industry standard.
The performance boost when compared to HDDs is phenomenal. We're talking about more than a doubling of the expected read/write speeds. I noticed immediately when I upgraded from my 2013 21.5-inch iMac to the 2018 Apple Mac Mini.
The Intel NUC8i5BEK's SSD also works in perfect harmony with Thunderbolt.
As far as capacity goes, I think 256GB is plenty for your essential applications.
I still use an external HDD to host my projects, sample libraries and presets. I've had no complaints in regards to performance as of yet, so this recording system does in fact work! I'm actually working with 128GB of SSD storage believe it or not.
However, feel free to configure your machine with as much internal storage as you need!
The best Mini PC for music production is the Intel NUC8i5BEK
I was really pleased when I found out about the Intel NUC-series. When I searched for the best Mini PC for music production, I never imagined I'd find something that could actually compete with the Mac Mini.
However, it still falls short in certain respects (less Thunderbolt 3 ports).
Just keep in mind that you're paying MUCH less than anything you'd find with Apple. The fact that you're working with Intel at such an affordable price almost makes this too good to be true.
One of the best parts about the NUC-series is the ability to configure/build your own.
There are plenty of pre-built options at Amazon which I'll be listing.
99% of musicians would be better off following my recommendations, but the 1% should probably consider shooting for more performance. More specifically, I'd recommend going with 9th generation processors, but that's pretty much it.
RAM is at your discretion because 16GB is plenty!
Anyway, if you're looking for personalized recommendations, I invite you to reach out to me. I'd be more than happy to point you in the right direction based on your unique needs. On that note, here are some of the products I recommend checking out.
Were you as surprised as I was to find out about the Intel NUC8i5BEK? It's pretty amazing that such an affordable and portable option even exists as an alternative to the Apple Mac Mini. However, I still swear by my 2018 Mac Mini! If you're interested in refining your knowledge on computing for music production, I highly recommend reading my free ebook. I appreciate your support, thanks for reading!
Sources:
https://www.intel.ca/content/www/ca/en/products/boards-kits/nuc/kits/nuc8i5bek.html
https://ark.intel.com/content/www/us/en/ark/products/126147/intel-nuc-kit-nuc8i5bek.html
https://ark.intel.com/content/www/us/en/ark/products/135935/intel-core-i5-8259u-processor-6m-cache-up-to-3-80-ghz.html