Are you under the impression that USB 3.0 audio interfaces are better than USB 2.0? There was a time when I thought my audio interface was "outdated" for not using the USB 3.0 protocol. I did a little bit of research and found out I was WRONG!
Although USB 3.0 audio interfaces offer more bandwidth than USB 2.0, they won't provide a lower roundtrip latency. Believe it or not, USB 2.0 possesses more than enough bandwidth to handle our needs, that's not the problem… What makes the USB protocol inferior is simply the way it handles audio/video data transfers. You'll also realize that USB 3.0 audio interfaces are rare. Even manufacturers are aware of this fact, so I'm going to be filling you in and presenting some superior alternatives.
USB 3.0 audio interfaces won't reduce your audio latency
If you've been looking to upgrade from a USB 2.0 audio interface, you may be surprised to find out that there are actually NO benefits. Although USB 3.0 provides more than 10x the data transfer of USB 2.0, it won't result in better performance.
Just take a look at this graph I made comparing several different protocols…
USB 2.0 transfers at 480 Mbps while USB 3.0 transfers at 5 Gbps. The newer USB 3.1 Gen 2 even provides identical speeds to the Thunderbolt 1 protocol!
However, I'll explain why all of this will make absolutely NO difference.
The problem is the USB protocol itself! It was never designed to handle audio/video processes which are amongst the most demanding.
Regardless of your USB 3.0 audio interface's data transfer rate, it will always be limited by a driver… That's right.
In other words, your audio data may reach the driver sooner, but the driver won't necessarily move any faster. This can simply be due to your CPU's speed or the limitations of the driver itself.
But don't be discouraged. USB audio interfaces have been doing an excellent job serving home recording studios since their conception. As I mentioned earlier, the bandwidth from a USB 2.0 interface is more than suitable for our needs.
However, there are TWO high-performance alternatives if you want the BEST.
The different types of audio interfaces
If you own an Apple computer, you're in luck because you'll have access to the Thunderbolt protocol. However, if you're interested in building your own computer, you may want to consider a PCIe audio interface.
The current standard for professional recording studios is either the Thunderbolt protocol or the PCIe protocol.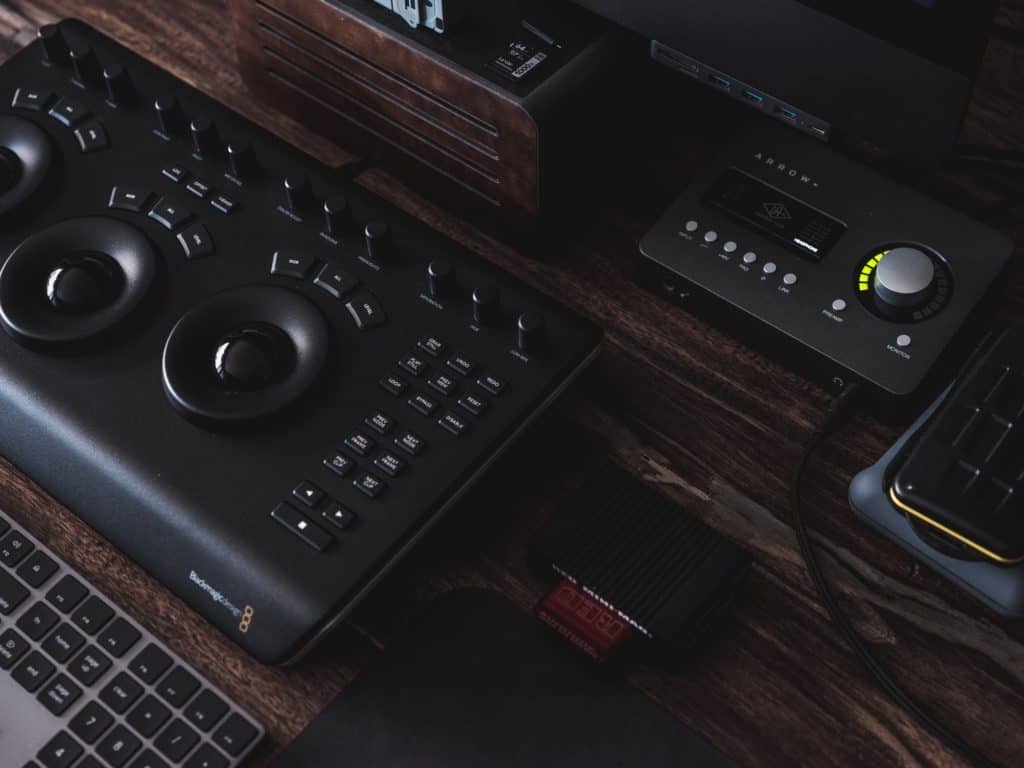 To be honest, they both rival each other when it comes to performance. They're evenly matched, but they do have their advantages.
For example, the Thunderbolt protocol is revolutionary for providing a dedicated data transfer "path" for audio/video processes. In other words, your CPU will never affect the performance of your device and it can stream data directly to your applications. Your data transfer speed won't be compromised by a driver.
Here are a few more advantages of a thunderbolt audio interface…
Ability to "daisy-chain" multiple devices
Ability to upsample your ADC/DAC processes
Some of the lowest round trip latency rates
PCIe audio interfaces will most likely suit musicians who don't use Apple computers. Windows machines won't be optimized for the Thunderbolt protocol even if you installed an additional chipset.
You're much better off installing a PCIe audio interface, but fair warning, they aren't the most affordable. However, they do provide some significant advantages.
For example, you'll actually be taking a HUGE load off your computer's CPU. PCIe audio interfaces are equipped with their own processors and could feature up to 8-cores. In other words, your audio interface will handle the processing of its own audio making it completely independent.
If you're really serious about your craft, I recommend going this route. But personally, I'm much more attracted to the convenience of the Thunderbolt protocol.
USB audio interfaces are in fact "outdated" when we compare them to these, but they'll still get the job done.
Audio interfaces have plenty of bandwidth
When we talk about bandwidth, we're referring to the amount of data a device can handle at one time. In the sound recording world, we're talking about the number of tracks being recorded simultaneously.
Keep in mind that USB 2.0 audio interfaces can handle 18-tracks +, so you'll most likely be satisfied with that.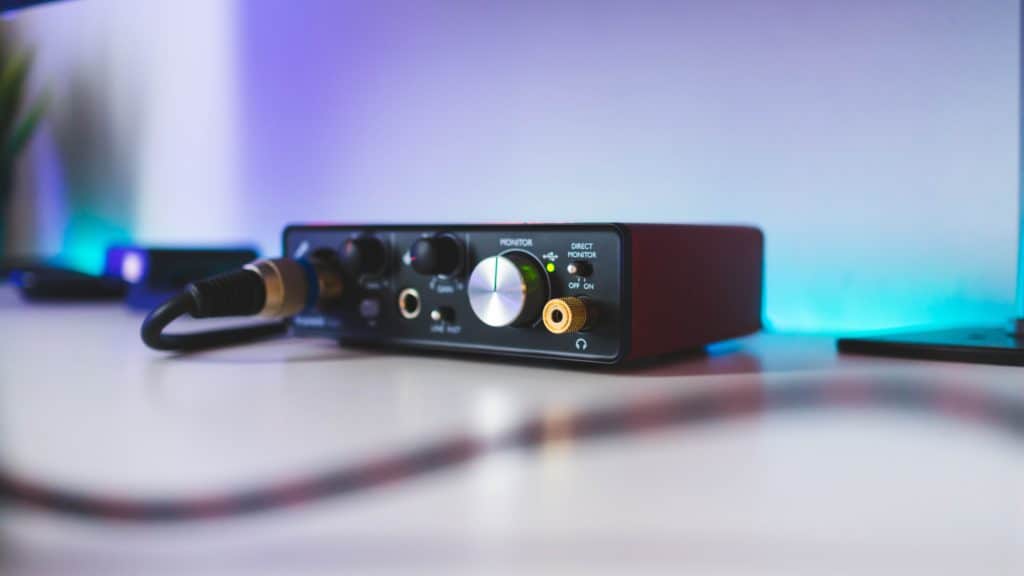 Most home recording studios use audio interfaces with 2-ins/2-outs either way, so there's no real advantage in this aspect. The real advantages arise when these high-performance protocols utilize that extra bandwidth.
For example, the Zoom TAC-2R Thunderbolt audio interface upsamples your signal 4x to reduce aliasing. Your performance remains the same, but the quality of the sound is increased significantly.
In other words, your typical USB 3.0 audio interfaces aren't making use of that extra performance anyway. What we also need to consider is how these protocols synchronize data packets.
Recording more than ONE track simultaneously can be difficult if your computer is struggling.
Being dependent on a driver's stability for performance is less than ideal. There are too many variables to provide reliable results.
What we're looking for in a protocol is stability first and foremost and you'll get it with Thunderbolt/PCIe. Audio/video processing requires LOTS of resources, so it should be completed independently. We can't rely on our CPU to manage everything efficiently, we need to spread the workload.
So if you've been looking for a USB 3.0 audio interface, I suggest you rethink your decision. Unless you're planning on recording hundreds of tracks at the same time, you won't need it. And either way, you'd be better off working with a high-performance protocol if you wanted stability.
USB 3.1 Gen 2, PCIe 2.0 x4 and Thunderbolt 1 all provide data transfer rates of 10 Gbps, but they don't perform the same.
Here are some options you may want to consider
Depending on your current situation and your needs, you'll have many options to choose from. I've explored the world of audio interfaces for many years, so I'd like to provide you with the BEST option from each category:
If you've got yourself an Apple computer with Thunderbolt ports…
If you're just looking for a basic audio interface regardless of your system…
And if you absolutely insist on a USB 3.0 audio interface…
USB 2.0 audio interfaces are certainly the most affordable, but Thunderbolt interfaces aren't that far off. But if you're serious about music production, get yourself the best device you can afford.
USB 3.0 audio interfaces aren't worth it
If you were looking for a USB 3.0 audio interface, I hope you've learned that they aren't any better than USB 2.0. Manufacturers are aware that there aren't any advantages and they simply don't want to risk compatibility issues.
The USB protocol is simply not optimized for audio/video processing.
If you want the best performance, I highly suggest using a Thunderbolt audio interface. You'll experience virtually NO latency.
PCIe audio interfaces actually pre-date USB audio interfaces. They've been used in professional recording studios since computers arrived on the market. However, you'll notice that they aren't the most portable devices.
The only reason you'd need more bandwidth is if you were recording hundreds of tracks simultaneously. And even them, I would consider "daisy-chaining" multiple Thunderbolt audio interfaces.
So if you've got a decent USB 2.0 audio interface, I wouldn't consider "upgrading" to USB 3.0. It's a marketing scheme.
I hope this article has provided you with valuable information and if it has, please consider sharing it!
Which audio interface are you currently using? Let us know in the comments and feel free to recommend any products as well.