Reason Studios Reason 11 Review
That's why I wrote this Reason Studios Reason 11 review.
With my recent move to an extraordinary commercial recording space, I was finally able to start recording acoustic drums (without the neighbours complaining). Before purchasing my Mapex Tornado, I was recording drums using my MIDI/USB keyboard controller. I couldn't stand the limitations anymore, so that's why I decided to purchase what I found to be the best acoustic drum kit for home recording.
After researching many different acoustic drum kits, I found the Mapex Tornado to be the best acoustic drum kit for home recording. Surprisingly, it's also the most affordable high-quality drum kit on the market and guess what… The bundle includes EVERYTHING you could ever need to get started right out of the box! I didn't want to invest too much money because it was my first drum kit, but I wanted something I could learn with and that could provide the sound quality I was looking for. From the initial unboxing, I knew I had chosen the right kit and the assembly was so much fun (not as fun as playing it though)! Keep reading to find out more about the Mapex Tornado.
The Mapex Tornado is the best acoustic drum kit for home recording because it includes everything you need
From the moment I opened the box, I knew I was dealing with some high-quality instruments. The packaging was thorough and facilitated transportation (I couldn't believe that everything fit into two relatively small boxes).
Seriously, I thought the salesman had forgotten to give me a box or something… 
To my disbelief though, everything was there (I even got an extra screw)! So, I know you're dying to know what Mapex has decided to include in this package. Can it really have everything you need to get started right out of the box?
Here's what you'll get:
Kick Drum (22" x 16")
P200 Pedal
Floor Tom (16" x 14")
Rack Tom (12" x 9")
Rack Tom (10" x 8")
Snare Drum (14" x 5.5")
S200 Snare Stand
Hi-Hat Cymbal (14")
H200 Hi-Hat Stand
Crash Cymbal (16")
B200 Boom Stand
Tuning Key
Drum Sticks (7a)
Drum Throne
The Mapex Tornado includes more than most other drum kits!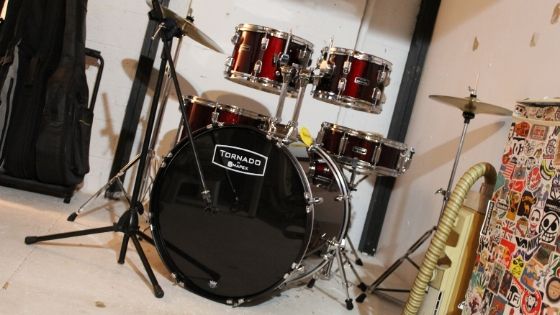 Most drum kits usually include the shells and that's all. You'd be lucky to receive some cymbals and their appropriate stands with your bundle. Some packages include drum sticks, but I've never heard of anyone including the drum throne!
Needless to say, you'll have everything you need out of the box. I started playing right away!
Well, after assembling the Tornado of course (more on that in the next section)! The only thing Mapex didn't include was someone to assemble your kit for you, but they did include some basic instructions.
The last thing I want to mention is that the Mapex Tornado is available in different sizes.
I wasn't aware of this until I actually bought the thing, but stores don't always have each one. I personally own the "rock" model with the measurements identical to ones I've already listed. You can also purchase the "fusion" (20") and "compact" (18") models if you can find them.
Being one of the best-selling drum kits, the Mapex Tornado is frequently out of stock!
Okay, let's talk about the assembly!
The Mapex Tornado is the best acoustic drum kit for home recording because it'll become your teacher
I already have acoustic/electric guitar, bass guitar and keyboards under my belt, but drums were completely new to me. Sure, I had been recording drums using my MIDI/USB keyboard controller, but owning an actual drum kit is something else!
In just a few hours, I learned how to… 
Assemble the entire drum kit
Position the individual drums
Adjust/tune each drum
I'm still figuring things out, but time flies when you're having fun!
Once you've assembled your Mapex Tornado, you'll completely understand how it works. It may sound crazy to the more experienced drummers in the crowd, but I was overwhelmed. Once I figured out the heads, it wasn't an issue anymore.
However, it's the hi-hat stand that gave me the most trouble!
I kind of wish I would've recorded the process, but I don't want to deprive you of the experience. I almost feel like it was necessary… I feel like my Mapex Tornado and I have bonded!
Now, positioning the individual drums is more of a personal thing I guess!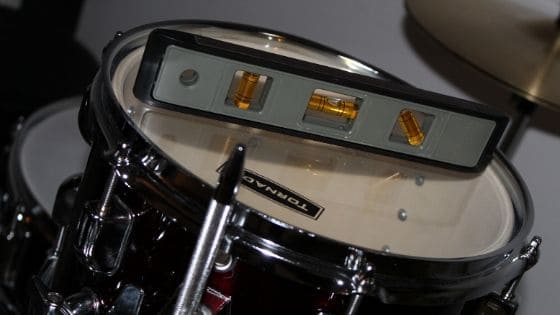 However, I can't stand seeing rack toms that are slightly tilted. You may think I'm going overboard here, but… I actually used my bubble level to make sure they were perfectly perpendicular to the ground.
I guess it's not as efficient, but it sure does LOOK COOL!
Lastly, I started fiddling with my snare mostly. I used my wallet to dampen it (that looks cool too) and I never knew that you could adjust the snare's rattle. So many different sounds!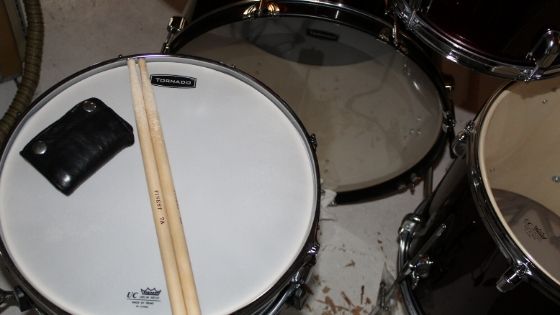 I personally used this video for tuning… 
I couldn't believe how many different sounds you could get out of each drum by simply tuning them differently. I highly recommend going through the entire video and perhaps others to really understand how to tune each drum perfectly.
Great, let's talk about the build-quality now!
The Mapex Tornado is the best acoustic drum kit for home recording because of its surprising build-quality
The first thing you'll want to know about the build-quality is what kind of wood we're working with. I wish I had a definite answer for you, but it seems like some stores say it's basswood and others say it's poplar (confusing, I know).
I did some research and apparently both woods are VERY similar.
According to the store I bought it from though (Long & McQuade), the shells are made of 9-ply poplar. It's more likely because basswood is even softer than poplar. However, they're both pretty soft woods which means they're more fragile.
That doesn't sound too good, does it?
I wouldn't worry about it because the shells are 9 layers thick (like most drums). They honestly feel very solid, but I would advise you to treat your drums with care (especially if you travel). Invest in some high-quality cases if you intend to move them around frequently.
If you're curious about poplar's sound profile though, check this page out.
I think the description is pretty accurate. The Mapex Tornado sounds "boomier" in the low-end and tames some of those higher-frequencies. I'm not an expert on woods (even when it comes to guitars), so I usually just use my ears.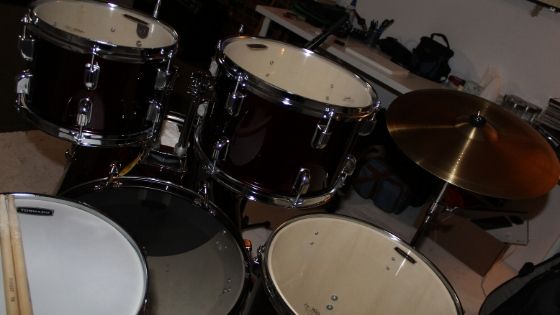 If it sounds good, I'm happy!
Lastly, the included set of Mapex 200 Series double-braced hardware really gets the job done. My favourite piece is definitely the snare stand. I don't know if snare stands can usually lock the snare in place using an adjustable clamp-like mechanism, but I like it!
It seems like Mapex spared no expense. I can rest easy knowing my snare will stay where it is!
The ball-socket tom holders are high-quality. However, it makes the job of aligning your toms perpendicular to ground more difficult (okay, that's just me).
So, is there anything Mapex could improve on this kit?
The Mapex Tornado would be even better if it included some better quality cymbals
I literally have NOTHING bad to say about the Mapex Tornado except… It would've been nice to have a ride cymbal instead of the 16" crash cymbal. It really doesn't sound that good anyway.
Some claim it "could" be used as a ride cymbal, but they most probably haven't used it.
In case you're wondering, the cymbals are "no brand". I assume that they've been specifically made for the Mapex Tornado. However, I still really dig the 14" hi-hat cymbal they included. It sounds fine to my ears (maybe professional drummers would disagree).
I'm definitely planning to attempt selling that crash cymbal (doubt anyone wants it though) and to purchase my ride cymbal (maybe 22" would be best).
To be honest though, I've been preoccupied with the snare exclusively for the past 2 days. I've been practicing my ghost-notes for hours, so that ride cymbal will have to wait! So, the terrible crash cymbal isn't really an issue.
I just wanted to bring it up (maybe Mapex will hear me out)!
I'd prefer having the terrible crash replaced with a terrible ride cymbal.
Before moving on, I also wanted to talk about the kick drum beater. I'm actually glad they included a felt beater instead of the other kind (plastic?) because it gives me that "round" sound I was looking for.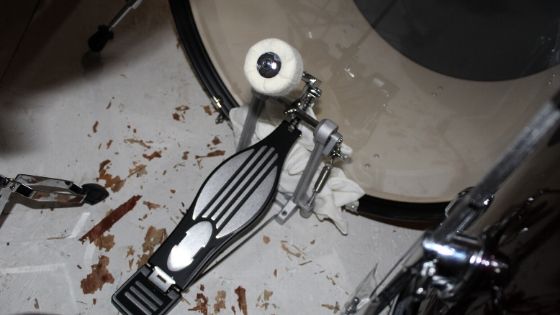 For those of you looking for more "presence", you'll simply need to purchase another beater.
So, I just want to remind you that I'm NOT complaining here. I'm super satisfied with the Mapex Tornado, but I didn't want you guys to think I was obsessed with it or something… In all seriousness though, it really is a fantastic kit (even without the ride cymbal)!
How to record drums at home using the Mapex Tornado
Before sending you off, I wanted to share my personal recording system for recording drums at home using the Mapex Tornado. It's actually really cost-effective, but the quality is just as good as the kit you'll be using (you know which kit I'm talking about).
We're going to need two things: Microphones & Mixers.
Regardless of how many microphones you intend to use, I still recommend going with the Samson DK707 drum microphone bundle. It's the most affordable on the market and should cost you even less than purchasing microphones individually.
It includes 7 microphones, two of those being the overheads.
Don't get me wrong, I'm sure you could find better microphones out there, but using the same reasoning… You could probably find better drum kits! That being said, Samson microphones are fantastic and they'll compliment the Mapex Tornado perfectly.
Now, most of us don't have audio interfaces with 7 inputs… 
That's why we're going to be needing one of those USB mixers that can also be used as an audio interface. I was really excited to find out that this was possible, I didn't know mixers had come such a long way!
I personally recommend the Behringer XENYX X2222USB if you want to use all your mics.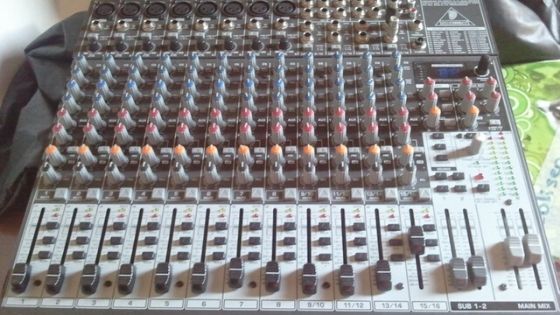 The alternative would be the XENYX 1202FX, but it's only got four XLR inputs.
Either way, all of these products I'm recommending are incredibly affordable and provide maximum value. You can start recording drums at home for under 1000$ easily!
That being said, I'll be leaving you with this shopping list… 
If you were looking for the best acoustic drum kit for home recording, I hope you'll consider the Mapex Tornado. I've done my research and haven't found anything as affordable that included so much value. I honestly get so much pleasure from playing this drum kit and exploring its many tonal possibilities. If for some reason you can't test the kit before buying, take my word… You'll be more than satisfied and you can always return it if you're not. Please consider subscribing to my weekly newsletter if you'd like to stay up do date with more high-quality content like this. Thanks for reading, I hope you're found what you were looking for!