In today's article, we'll be talking about file management for music producers. I know it's not the most interesting topic (for you musicians out there), but it's an essential component of any music producer's workflow and CASHFLOW. Once your music starts paying your bills… You'll definitely want to make sure that your musical assets are organized and safe!
The most important aspect of file management for music producers is the actual hardware/software we'll be using to make our lives simpler. To be more specific, I'm talking about hard drives (both internal and external) and cloud-based storage such as Dropbox, Splice Studio, etc… Equipping yourself with the right tools for the job is the first step, but then we need an actual "game plan" for organization. We'll also be going over some strategies while using my own file system as reference! However, it'll be your responsibility to create your own system using the tools and knowledge you've gathered after reading through today's article. Let's get started!
HDD vs SSD
That's the first question we need to ask ourselves… I personally work with both, but that's because I still haven't upgraded my external storage to SSD. However, I think you should definitely work with flash storage as often as possible.
Just to be clear, we're talking about hard disk drives (HDDs).
AND solid state drives (SSDs), which refers to the type of storage (analog vs digital).
Needless to say, the digital alternative is superior because of performance and durability. To be honest, SSDs have actually become quite affordable so there's no excuse to keep using HDDs (unless you've already settled in with yours).
If you WILL use hard drive disks though… 7200 RPM.
NOTHING LESS.
I personally run all my sample libraries (Composer Cloud, SSD4, etc…) using my external hard disk drive (7200 RPM) and it still gets the job done! That being said, we're already starting to consider the advantages of integrating external storage into our workflow.
If it's done properly, of course.
That's what we'll be covering in the second-half of this article.
Hard drive setup for music producers
For now, you'll want to start looking into external storage if you aren't currently equipped. To be more specific, I personally recommend working with TWO external hard drives. That may sound extreme, but I don't use both of them at the same time.
One is the "primary" backup and the other is the "secondary" backup.
I recommend using the best external hard drive for your "primary" backup, but you can either skip the "secondary" hard drive entirely or use something really cheap. For example, you can use another spare hard drive, USB key, etc…
The "primary" backup can also be used to host your sample libraries.
In other words, it's not necessarily just for backing up your work. I actually use mine as my "primary" storage as well since my internal SSD is only 128GB.
However, you may have more internal storage than I do! It doesn't really matter.
What matters is that your external hard drive can be used as backup AND storage. That's why performance is essential for music production. I personally recommend going for the best and working with Thunderbolt 3 technology.
Using an external SSD that works with Thunderbolt 3 is the best option in my opinion!
We'll be talking about setting up your hard drive(s) in the second-half. For now, let's talk about storing our work in the "cloud" to add that additional layer of security.
Cloud storage for music producers
I only started experimenting with different cloud storage platforms in recent years. However, I finally decided that Dropbox was the best for music producers. I had previously worked with Google Drive, but let's just say that I wanted something more "professional".
That being said, the "professional world" currently works with Dropbox.
Most of the people you'll be working with will be using Dropbox. However, I'm not implying that Dropbox is optimized for music production in any way. It's just good 'ol reliable cloud storage, but I remember thinking it was too much at the beginning.
You'll eventually find that 1TB of storage is the bare minimum though.
Once you do, that's when Dropbox's pricing starts to make more sense. Last I checked, Google Drive was in the same price range at the 1TB level. I really believe that Dropbox is more reliable/secure for important files such as your music!
I still use Google Drive for basic things though.
Now, I still use ANOTHER cloud storage system alongside Dropbox. Many musicians aren't aware that Splice also offers FREE cloud storage for musicians and guess what…
IT'S UNLIMITED!
However, I would NEVER rely on Splice Studio as my main cloud storage provider. It's really neat, but the interface is very "clunky" and makes me worry about potential corrupted files. It's never happened, but I still wouldn't risk it.
It's free, but that almost implies that it's not the best.
It's definitely not the worst though! It's perfect as a "backup" to your cloud storage.
Splice Studio is currently compatible with these DAWs:
Logic Pro
Garageband
Ableton Live
FL Studio
It can even automatically backup your projects and keep every single version EVER MADE.
That in itself makes it worth the try!
So, now you know what I use… Dropbox + Splice Studio (and I sleep like a baby at night).
Assuming you've equipped yourself with everything you need (or think you need), we're ready to move onto the next part of this article dedicated to "setting up camp".
Organizing music projects
My personal file system revolves around my projects. More specifically, it revolves around the APPLICATION that these projects are created in. I always keep these folders on my desktop and name them according to the application.
Here's an example:

On my hard drive(s), I have a near-exact copy (I'll explain why) of the same file but named slightly differently. I name them "[application] Backup" so that I don't confuse it with the original.
That's not the type of mistake you ever want to make…
Within my folder called "Logic Pro X" (the DAW I use), I have the following sub-folders: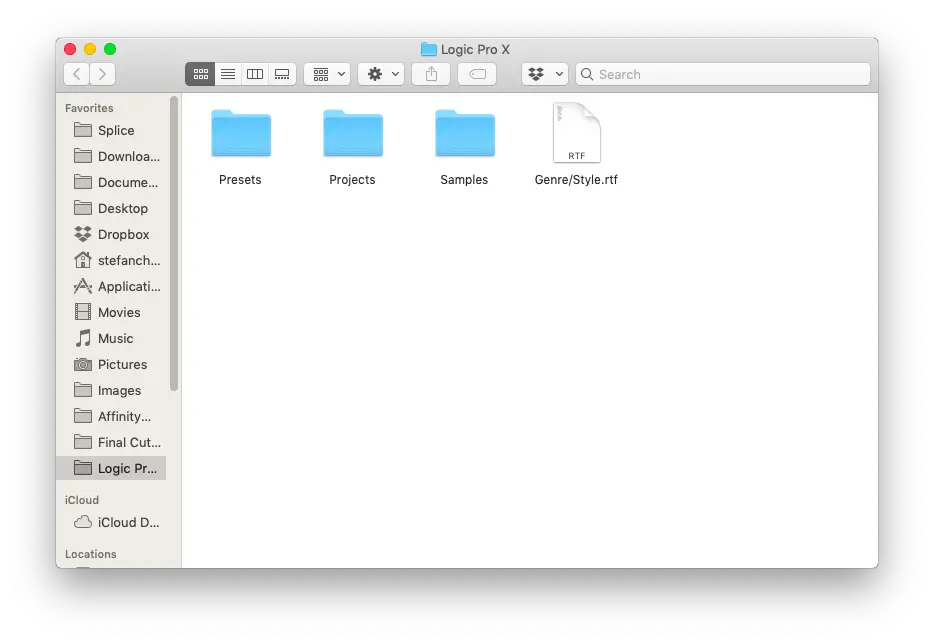 We'll be talking about the other sub-folders in the following sections, but let's focus on the folder entitled "Projects". That's where the bulk of my files find themselves.
It's further subdivided into folders that represent…
Albums
Clients/Project
Genre/Style
Mood/Vibe
That's where it really depends on your personal needs.
What you need to know is that I have EVEN MORE folders within these folders. Does that sound complicated? It really isn't.
I simply keep my actual Logic Pro session files within these sub-folders.
That where I keep…
Project File
Alt-Mixes
Derivative Works
Video Files
Audio Files
Basically, anything that's exclusive to this particular project. You also need to take special note of the fact that I use both WAV/AIFF files for my exports.
I explain why in great detail in this article.
I keep other file formats such as MP3s in another folder.
It's worth mentioning now because it doesn't require much explanation. Basically, I keep any specific file formats in a file named according to the purpose/function. For example, I may need to use MP3s for DistroKid or another distributor.
I'd keep those files in another folder called "DistroKid".
Organizing sample libraries
When it comes to sample libraries, you've got THREE options.
Host your sample libraries exclusively on internal storage
Host your sample libraries exclusively on external storage
Use a combination of both
I personally use both, but 99% of my sample libraries are hosted on my external HDD.
I just put the important ones like Composer Cloud in a folder titled "Sample Libraries". I also use certain sample packs from Reverb and Splice Sounds.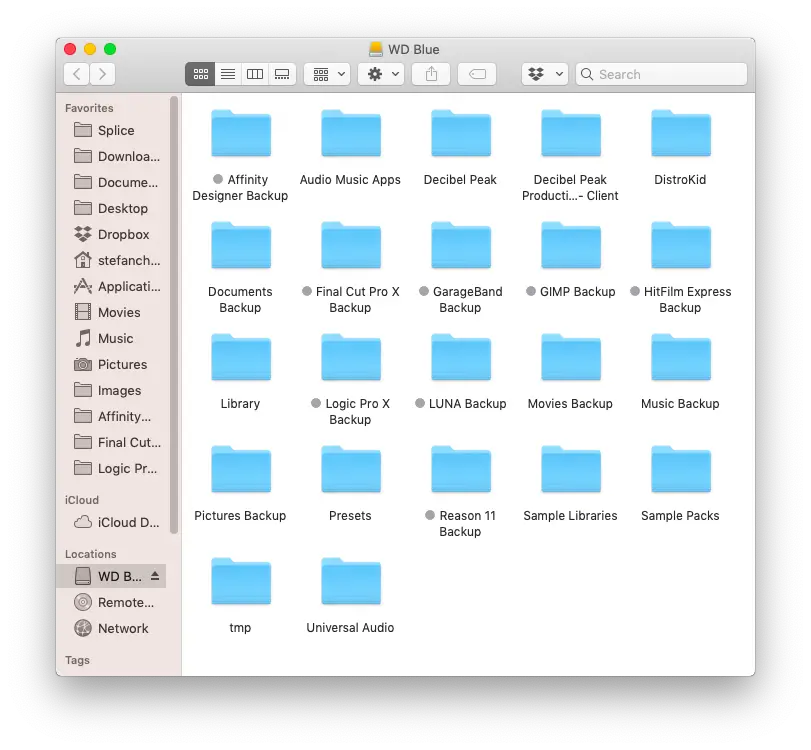 I keep my Splice Sounds files in the Splice folder on my internal hard drive (takes care of itself).
The other sample packs are usually kept in a separate folder on my external hard drive entitled "Sample Packs", but I sometimes keep some on the computer. It just really depends, but you can choose to do whatever you prefer or have the resources for.
I'm limited to 128GB of internal storage, so I'm very efficient when it comes to space!
Organizing presets/templates
I personally keep most of my presets (if not all) on external storage. I created a folder called "Presets" and created sub-folders according to the plugin/effect. However, these presets are usually for third-party applications.
My main presets/templates are stored in my "Documents" folder on my computer.
To be specific, I keep my Logic Pro X presets/templates and anything related to Universal Audio stored there since it's their default location. I prefer to let those take care of themselves and simply automatically backup the "Documents" folder with Dropbox.
I also do the same for my "Desktop" folder, just so you know.
If ever decided to store my presets/templates internally, I'd most likely put them in the same folder as the others. The idea is to keep files that relate to each other in the same location.
It makes it simpler when you're searching.
Using external storage and Dropbox to organize and protect your music
The foundation of file management for music producers relies on the synergy between your Dropbox and external storage systems. It's all about keeping those maintained by instilling daily habits into your music production workflow.
I know, it sounds like work…
However, simply remembering (or setting a reminder) to backup your work to the cloud at the end of each day can work wonders! You can backup to your hard drive once per week, every two weeks, etc…
I rarely make any backups to my "secondary" backup drive.
Maybe once or twice per season.
I get Dropbox to automatically backup anything in these folders:
Desktop
Documents
Downloads
Everything else is done manually by dragging and dropping the most recent version of the "Logic Pro X Backup" folder on my external hard drive. However, you may keep the entirety of your projects on your internal hard drive, so you pick what works best for you.
I also make sure to set the Dropbox folder to "online-only".
That saves me LOTS of space.
Was any of this confusing for you? I hope you've learned some useful tactics to successfully manage your musical assets, but it's your responsibility to create that for yourself. However, I do offer 1-on-1 coaching if you're having some difficulty getting started.
Please visit our Contact Page if that sounds interesting to you!