If you're producing your own tracks from home, then you know how difficult it can be to get them sounding professional. The production phase is one thing, but mixing and mastering doesn't come easy to everyone. Getting your project mixed and mastered by someone else can be both useful and educational, especially if you're just starting out. However, finding the best online mixing and mastering services is essential for your career and your wallet (so let's get it right the first time)!
Mikes Mix & Master is one of the best online mixing and mastering services out there. Instead of simply providing you with superficial information that you can find yourself, I decided to dig deeper by reaching out to Michael (the owner) personally. The review you'll be reading is based on my own personal research and the experience of having one of my tracks personally mastered by the man himself! You'll also get to hear the difference between my track unmastered, mastered by Mike and mastered by me. I personally guarantee that you won't find another review as accurate as this one. Let's get started!
An overview of Mikes Mix & Master's online mixing and mastering services
Founded by Michael Cushion Jr, Mikes Mix & Master has been in business since 2010 (10 years at the time of writing). It's also one of the first companies to be certified for Apple Digital Masters, formerly known as Mastering for iTunes (MFiT).
Another astonishing fact about Mike is that he's a one man show!
When I asked him if he worked with any other engineers, he said that he'd experienced disappointments in the past. The quality of the work from his staff wasn't representative of the vision he had in mind for his brand. Instead, he wants his customers to expect the same level of quality each time they submit their tracks for servicing.
I completely agree with that decision!
It also proves how much he values customer satisfaction and quality above all else. That's most likely why some of the biggest names in the industry have chosen his service over others.
The people/brands he's worked with include Tech N9ne, B.o.B and even MTV! Being an industry leader, he's also affiliated himself with major record labels such as Def Jam, Interscope and Entertainment One.
One thing you'll notice is that most of these artists/labels fall under the Hip-Hop, Pop and Urban categories.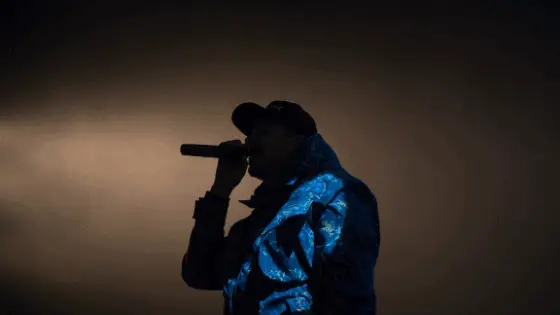 Does that mean he works exclusively in these genres?
I personally asked Mike which genres of music he listened to most of the time and he said that Dance/House, Hip Hop and Alternative were among his favourites. He also mentioned that most of the work he receives falls into the Hip Hop and Rock categories, followed by Dance music.
His website also includes many samples from these genres:
Pop
Hip-Hop
Rock
Dance/EDM
R&B
Reggae
Religious
World
Basically, Mike has become quite the versatile engineer throughout the years and it seems like he's acquired enough experience to tackle pretty much any genre!
Before moving forward, I also wanted to mention that Mikes Mix & Master has been in business much longer than 99% of the other online mixing and mastering services out there. It's also important to note that he's worked in some pretty big studios like Quad NYC.
He also told me that he was self-taught which is honestly impressive! It just goes to show that you don't need some degree to become successful in the music industry.
So, now that you've become acquainted with Mike, let's dive into the details.
Mikes Mix & Master is the best online mixing and mastering service because of its affordable pricing
Mikes Mix & Master offers the most packages out of all the online mixing and mastering services I've seen. Their most affordable package (Mastering) is as low as $50 and their most expensive package (Album/Mixtape Supreme Mix & Master) is as high as $1,288.
Out of all the services out there, his pricing is the most straight-forward.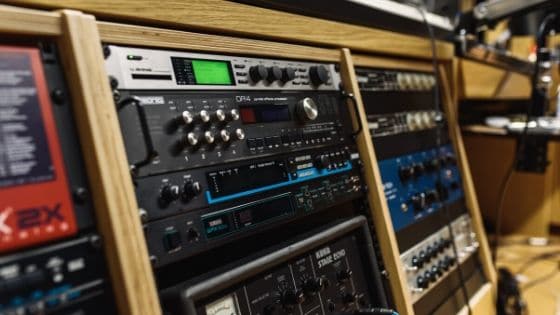 It's also one of the most affordable, especially if you take both mixing and mastering ($126-$175). The mastering service on its own is also more affordable than most competitors. If you had an entire album to service, you'd be saving even more money!
The one thing that can potentially increase your final price is the add-ons…
Revisions (Before Mastering) $25
Revisions (After Mastering) $50
Radio Edit $25
Performance Export $15
Acapella Export $10
Instrumental Export $10
STEMS Export $25
Rush Delivery (3 Days) 20%
Rush Delivery (2 Days) 40%
Rush Delivery (1 Day) 60%
It's important to note that each order includes a minimum of three revisions, so I don't believe you'll be needing them. Unless your song has explicit lyrics, you also won't be needing the radio edit.
If you're in a rush though, you'll be paying considerably more as you can see… Mike mentions that delivery times can vary depending on workload, but it seems to take an average of 4-5 days for mixing and 3-4 days for mastering.
It's pretty reasonable and he actually delivered my order early (in 2 days)!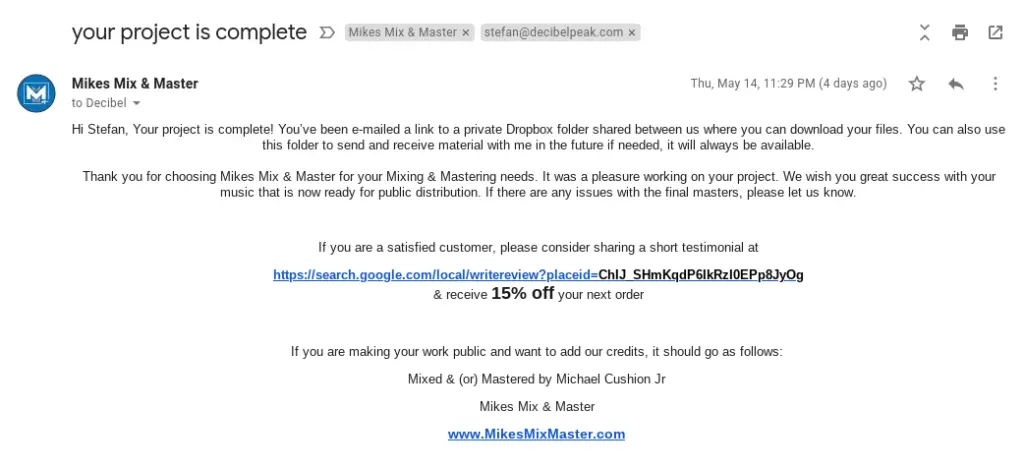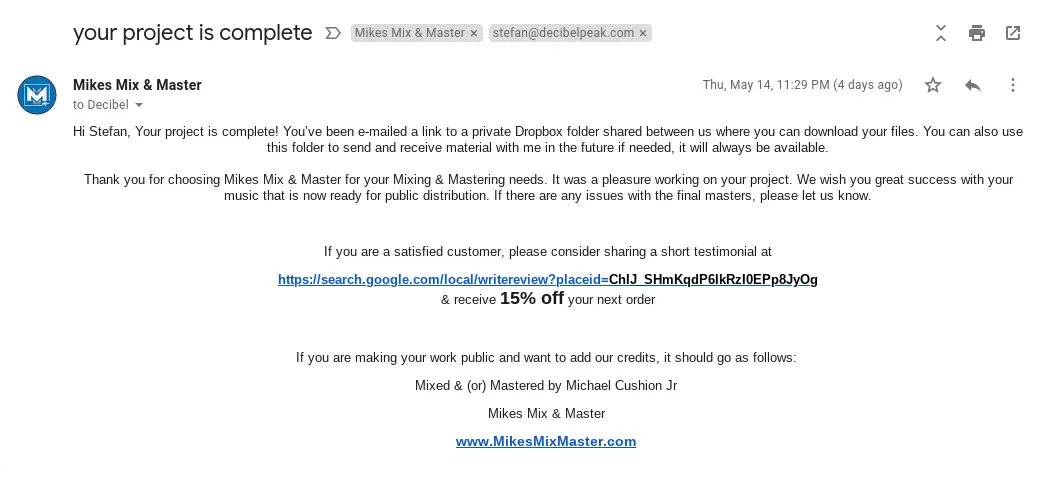 His process might take slightly longer than some of his competitors, but keep in mind that he's working alone. To put things into perspective, I can mix and master one of my own tracks in 1 day (I'm not bragging, anyone at an intermediate/professional level could achieve this).
So, you're saving money but it'll cost you time. It's great to have options!
For the other add-ons, I think you'll be happy in the long run if you choose the STEMS export. You can essentially create all the other exports (and more) yourself with these processed STEM tracks.
Now, if you're curious about the submission process, we're covering that in the next section!
Mikes Mix & Master is the best online mixing and mastering service because of its ease of use
Online mixing and mastering services all have their own submission process, so you're probably wondering what Mike's looks like. Having gone through the process myself, I can say that it's really easy to get your track(s) submitted.
However, you will need to follow some important steps to avoid having your track(s) rejected.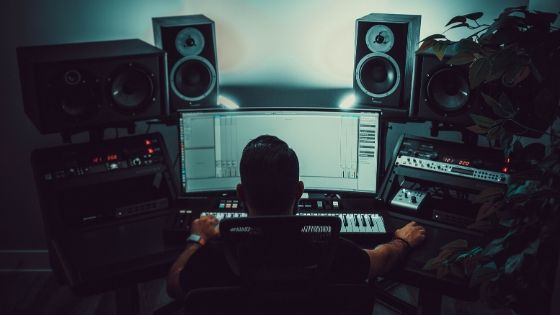 If you've never worked with mixing and mastering engineers, you'll need to understand what they require out of your tracks to get to work. The process for mixing and mastering or simply mastering is slightly different, so allow me to explain.
---
Mixing and mastering
Just finished producing and/or recording your latest hit? The most important thing you'll need to start with is exporting each track individually to create your STEM mix. You'll also need to export your entire project "as is" to provide Mike with a reference.
Everything should be exported using the WAV format except the reference mix which can be exported as an MP3 file.
When it comes to mixing, it doesn't really matter how high/low your levels are since the engineer can easily adjust each clip manually. The bit-depth and sample rate you export with also doesn't matter, so I suggest using the same settings you used to record (eg.: 24-bit/44.1 kHz).
Lastly, I suggest taking a look at the instructions on Mike's website to properly organize the folder you'll be submitting.
It also needs to be compressed using an archiving tool (WinRAR, 7Zip, etc…).
Mastering
If you've already mixed your track and simply need mastering, the process is slightly different. You'll be exporting your entire mix using the WAV file format, but you'll need to be mindful of the levels on your master bus.
You need to give your engineer some headroom, so your levels cannot exceed -3dB.
Even then, I personally keep my master levels even lower (-10dB on average) since it can always be adjusted. The whole point of mastering is to get your tracks sounding louder and bigger, so less is more in this case.
If your levels are too high, Mike recommends lowering each track in unison until you reach the desired output levels. Simply select all your tracks and lower them simultaneously to preserve your mix.
For more information, you can check out Mike's official instructions on his website.
Once again, you'll also need to compress your folder using an archiving tool (WinRAR, 7Zip, etc…)
---
With that out of the way, the last thing you'll need to do is upload your project straight to Mike's website. You won't need to use another service such as Google Drive or WeTranser since the service is provided on the website itself (he uses AnyFile).
However, you will need to have a Dropbox account associated with the email address you provided.
Mike delivers your files using Dropbox and I was surprised to have received more than I expected! If you chose mastering, you'll be receiving your track in these formats: .wav, .mp3 and .m3u.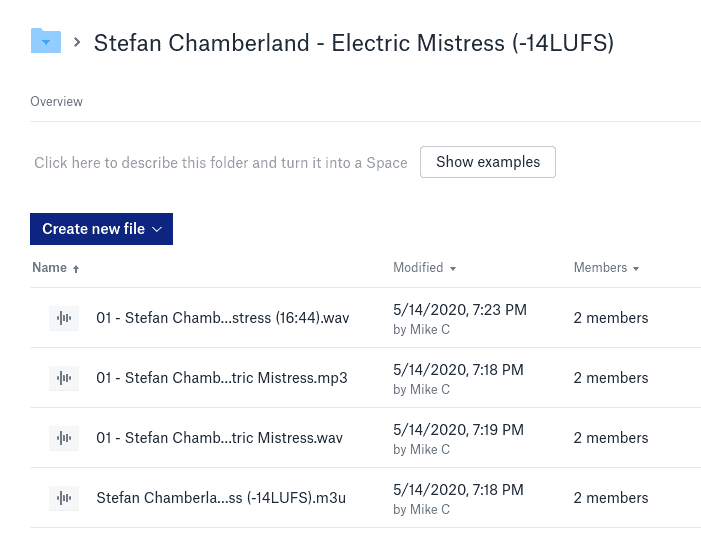 You'll also receive an alternative file with your tracks mastered at -14 LUFS.
This refers to the loudness and is important for certain platforms. Basically, streaming services like Spotify stream music at -14 LUFS so anything louder (or lower) would be brought to this level. However, getting the track "as loud as possible" may result in losing some of its dynamic range.
This is why having this alternative can be useful in certain scenarios.
Now, let's see what the customers think about their investment!
Mikes Mix & Master is the best online mixing and mastering service because of its hundreds of customer reviews
The first thing you'll need to be aware of is that Mikes Mix & Master has in fact been targeted by fake negative reviews. Of course, there are some critical reviews that are actually genuine, but most of the real reviews I've read are excellent.
I always like to start by verifying a business' credibility by searching them up on the Better Business Bureau (BBB).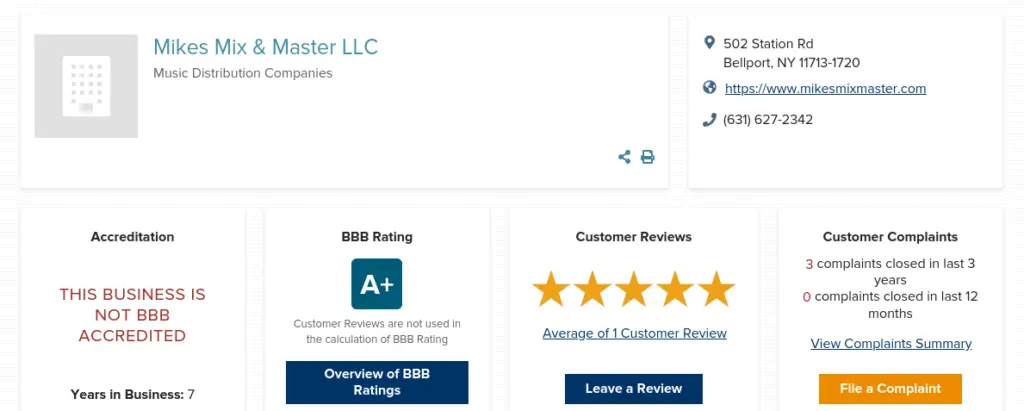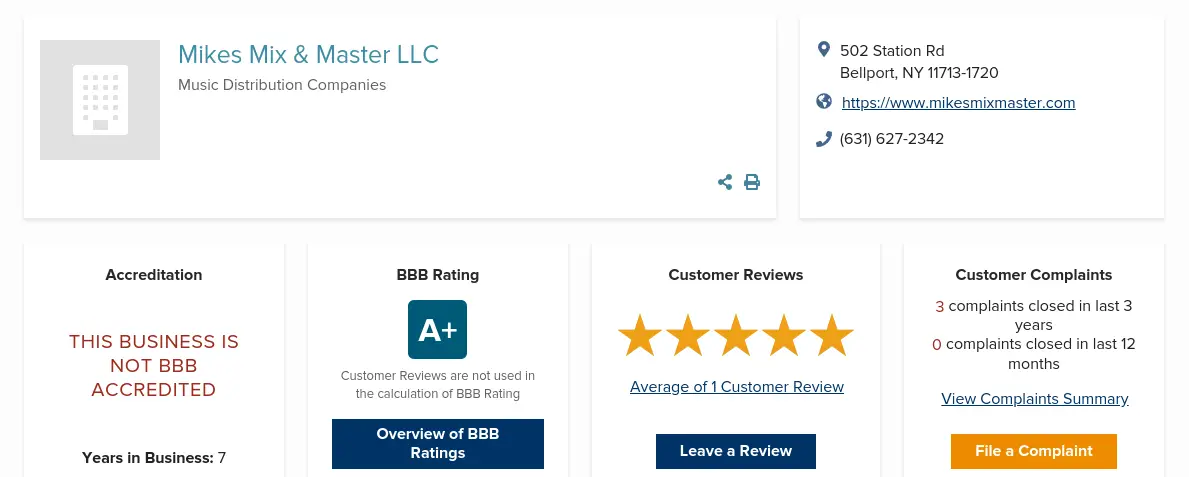 Mike has actually built up an excellent reputation for his business as you'll observe (A+). Whatever complaints he's received have been resolved. Human beings always make mistakes, but it's how honest they can be about them and how thorough about resolving them that counts!
Getting back to those fake negative reviews though, there's actually an interesting story behind them!
When I asked Mike about them, he actually gave me his side of the story. One thing I wasn't expecting was that all these reviews had been made and/or commissioned by ONE person.
I'll let Mike explain the whole story…
A while back I had a customer who ordered a service from me and it was for multiple songs. Long story short, the customer wasn't happy with the results, and instead of working with me to resolve the issues, (what revisions are for) he lashed out and made a huge fuss. The client was refunded in full (even though I spent days on his project).
After this incident from this ONE client, he then decided to go on the internet and create multiple profiles on different websites and blogs at different times to post negative false information and reviews to try his hardest to sabotage my name and reputation. He even had someone hired to post negative reviews on my google page. At a certain period, I was getting 3 fake reviews per day until it finally stopped. You can simply look at the profiles and tell straight away. It's the same thing with the video on YouTube. The video was posted by a person who created the profile on the same day without any other activity on YouTube, and he conveniently disabled the comments. This also goes for the post on Reddit, which a user researched and noticed that the same user's entire Reddit history were fake reviews about me for 2 years straight. He also made sure to optimize the posts for SEO so that it comes up when you search for me. I have been trying to fight these posts for years but this ONE person has really got it out for me. The only real negative reviews I've had were the ones from BBB which all have been resolved, and those clients actually still work with me till this very day!

Michael Cushion Jr.
I looked into this matter myself and everything checks out. I encourage you to do the same to find out for yourself.
On the other hand, the positive reviews all mention how service-oriented Mike is. It really seems like he goes out of his way to personalize each project. Many people commend his communication skills which is extremely important with online work.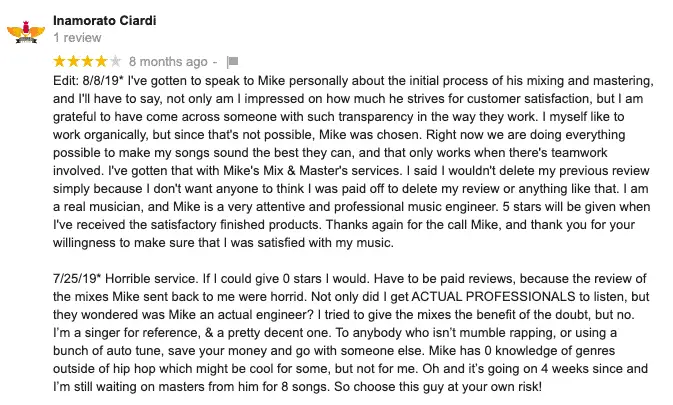 Another thing people are talking about is how affordable the service is compared to what they've used in the past.
It impressed me as well, so it seems like he's found ways to keep his costs down to better serve his client base. You can even see/hear what hundreds of satisfied customers are saying about Mike's online mixing and mastering service by checking out this web page.
I'll let you make up your mind, but I personally think he's providing something unique.
Now, let's consider the equipment he'll be using to service your tracks with!
Mikes Mix & Master is the best online mixing and mastering service because of its professional analog/digital equipment
One of the main things you'll want to consider when shopping for the best online mixing and mastering services is the equipment that'll be used. What I find most attractive about Mikes Mix & Master is that he uses both analog and digital equipment.
I wanted to find out more about his setup, so I asked him about it!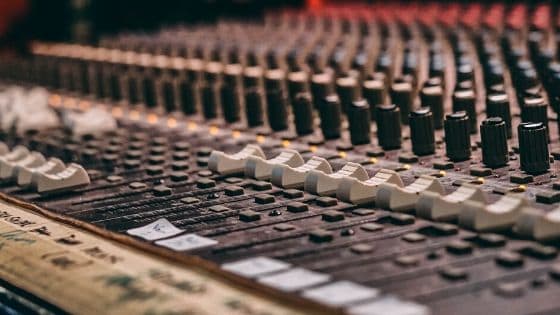 From what he's told me, it seems that Mike has the privilege to travel and work in recording studios around the world. Because of this, he often has access to analog equipment he normally wouldn't have access to at home.
However, he explained that when he's working from his home studio, he uses mostly software-based effects that compliment what he referred to as his "hybrid" setup. That being said, his mixing and mastering style resembles that of Andrew Scheps and Dave Pensado.
I was even lucky enough to have him list some of his personal gear:
Teletronix LA-2A (his main compressor)
WesAudio DIONE (bus compressor)
WesAudio Hyperion (EQ)
Solid State Logic Sigma (summing mixer)
Solid State Logic Nucleus (DAW controller)
Antelope Audio AMARI (audio interface)
It's pretty impressive to say the least. Considering how affordable the service is, you're getting plenty of value for your dollar!
Mike even mentions that if one of his higher-end clients requests something specific, he'll actually go out and rent it from his local audio equipment dealership. Now that's service!

However, what impressed me the most from Mike's answer was that he prefers to keep his setup minimal (i.e.: less is more). For those who have already read some of my content, you know how fond I am of minimalist recording systems, so I was happy to hear that I wasn't alone!
When it comes to DAWs, he uses Logic Pro and Pro Tools for mixing and PreSonus Studio One Professional for mastering purposes.
So there you have it folks, that's the kind of information you won't be able to find anywhere else. Personally, it was an honour for me to learn about another professional's setup and I'm sure it'll be valuable for those of you who care deeply about this kind of stuff.
The last aspect of Mikes Mix & Master we'll be covering is communication.
Mikes Mix & Master is the best online mixing and mastering service because of Mike's excellent communication skills
The best way to find out if someone has good communication skills is to send them a message! Over the last two weeks, Mike and I have been exchanging messages and it's proven to me that he's an excellent communicator.
He expresses his ideas concisely and can really elaborate on certain topics like gear and his mission (we'll finish off with that last one).
If someone can express their ideas with that much clarity, then that person is much more likely to possess the ability to interpret your own ideas. When it comes to finding the best online mixing and mastering service, you better make sure your engineer can understand what you're looking for!
That being said, Mike offers three methods of communication:
Email
Phone
Chat (through his website)
I personally found that communicating through email was pretty efficient. At most, he personally replied to my messages within 48 hours.
You'll have to be patient, but Mike keeps you updated on his progress regularly and won't contact you unless he runs into any issues. It's not the same as physically being in the studio, but online mixing and mastering is MUCH more affordable.
However, it would be interesting if he managed to integrate Skype/Facetime for clients who would like to "virtually" be in the studio (I'm not joking, someone should steal that idea).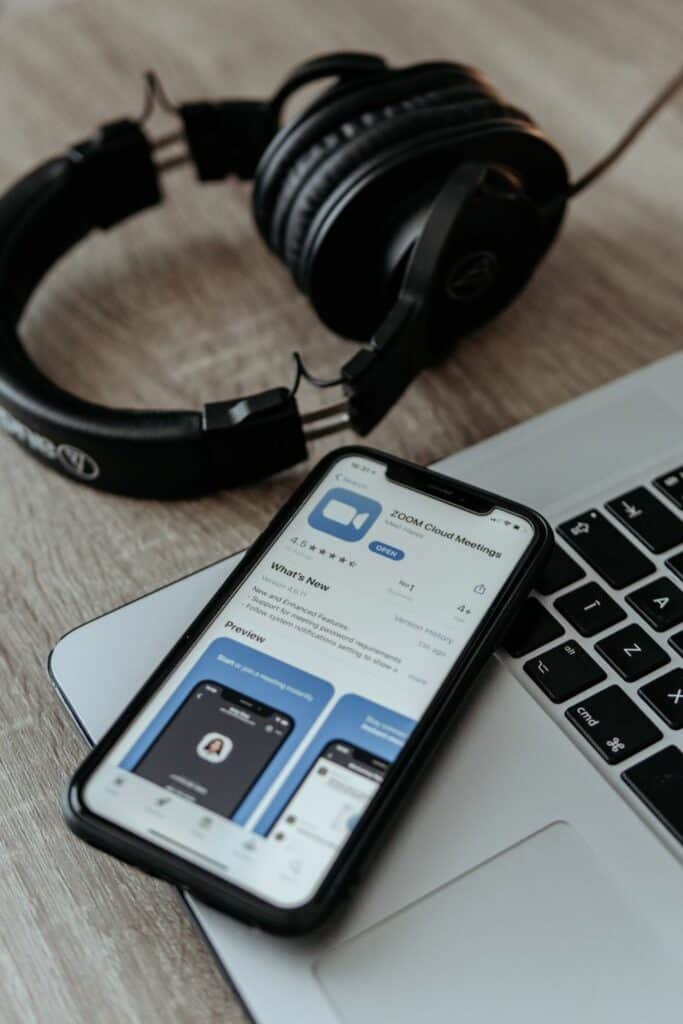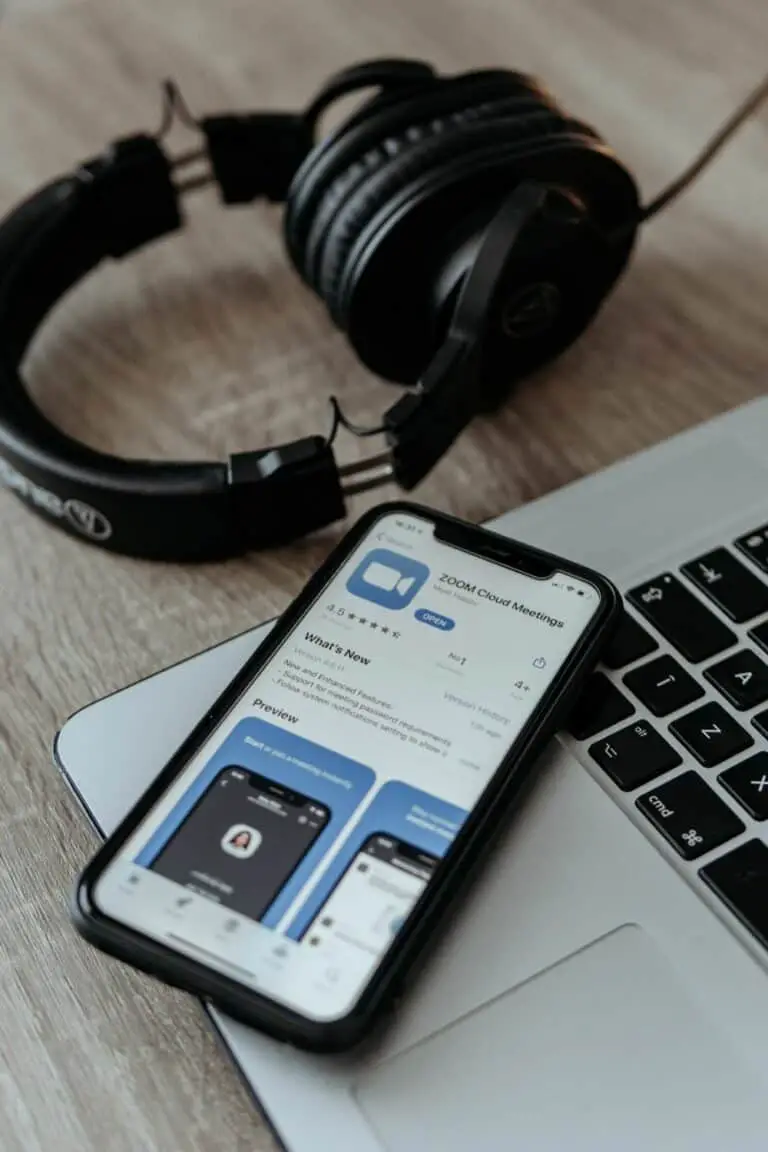 Moving on, I was also curious to know if Mike spoke any other languages (other than English). Apparently he speaks a little Spanish, but he mentioned that he's worked with international clients effectively using Google Translate.
In other words, if you don't speak English you'll be alright!
Other than that, you'll most likely be exchanging quite a few emails with Mike, especially if you need revisions. My suggestion is to be as clear and concise as possible the first time around because this can obviously cause significant delays.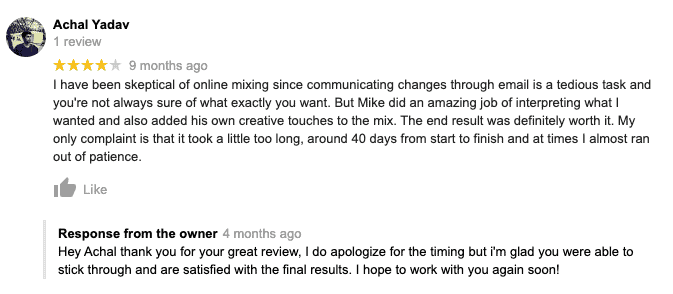 As I mentioned in the section on customer reviews, one of the things people praise the most is Mike's communication skills. I agree!
So, let's finish this up by summarizing my experience and hearing what he's capable of.
Mikes Mix & Master is the best online mixing and mastering service because of Mike's mission
When I first contacted Micheal, I never imagined that our missions would be so closely aligned. After years of struggling as an artist himself, he dedicated the rest of his career to helping musicians achieve commercial success.
The first thing we need as artists is something affordable and somehow, Mike pulled it off without sacrificing quality.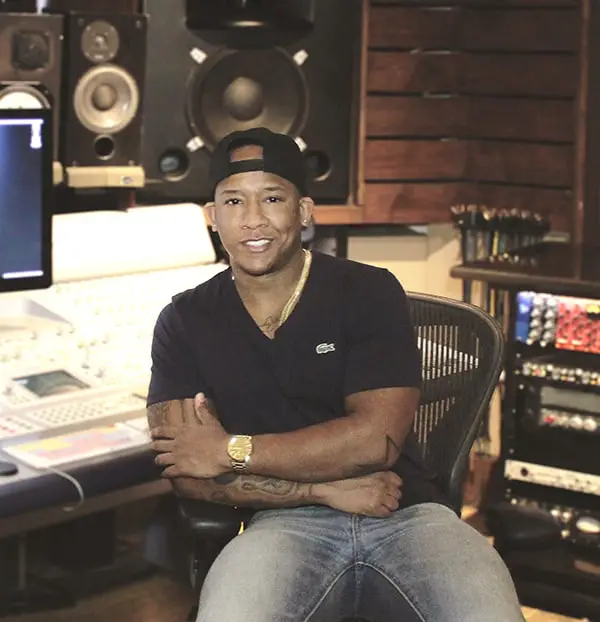 After explaining my mission to transform musicians into independent entrepreneurs, he was thrilled to assist me in making this review possible. If you've read my work before, you know I always go out of my way to provide you with information you can't find anywhere else.
By introducing you to Mikes Mix & Master, we're also creating a network of like-minded artists who want to succeed on their musical journeys.
I'm all about doing everything on your own (which is why I teach mixing and mastering for beginners), but even I still have much to learn. By working on this review and listening to the final product, I learned so much about mastering.
I think everyone should get one track mastered every once in a while, even if you intend on doing it yourself in the long run.
You'll learn a lot from working with a professional like Michael because you'll hear where your mixes/masters are lacking. You may even realize at some point that you'd much rather delegate these tasks to focus on music production exclusively. That's when Mikes Mix & Master comes in!
That being said, we've finally reached the moment of truth. Let's hear these samples!
I'm not ashamed to let you guys know that I'm not perfect.
You can clearly hear that Mike's master is much fuller in the high-end. In general, my master sounds "duller" although the loudness isn't as bad as I thought it'd be! If you wanted to become better, you can simply go through the same process and compare the differences to hear where YOU personally went wrong.
So, what do you guys think?
I'd love to hear your thoughts and comments. If you have any questions, I encourage you to visit Mike's website and contact him personally
I hope you've all realized that mixing and mastering is much more complicated than it sounds. I used to think it wasn't necessary until I had to start doing it on my own for TV/Film licensing (it's easier said than done). If you ever intend on learning to become self-sufficient like me, you should totally subscribe to my weekly newsletter to have access to my latest tutorials. Once you feel like you need to test yourself, contact Mike and pay him to master one of your tracks (it's worth it). Mikes Mix & Master is easily one of the best online mixing and mastering services and offers the most competitive rates. I appreciate your time, thanks for reading!