It's a known fact that spending extended periods of time on the computer can have severe repercussions on your health/posture. The best solution I could think of was to provide myself with a standing desk for music production. However, I learned that no such product exists… That's why I got creative and came up with my own solution!
I created my own standing desk for music production using relatively affordable items that anyone can easily have access to. It's MUCH less expensive than one of those mechanical stand up desks and remember, those types of desks don't accommodate MIDI/USB keyboards that well. Another problem that conventional standing desks overlook is that you're still looking down at your screen (which is responsible for that "hunchback" posture). If you're interested in finding out more about my personal standing desk for music production, you'll definitely want to keep reading!
Accommodating MIDI/USB keyboard controllers
The first problem I needed to solve was the conventional standing desk's inability to accommodate MIDI/USB keyboard controllers (especially ones with 88 keys). Most standing desks don't have any additional shelves and even if they do, they're not sturdy/big enough to accommodate my M-Audio Hammer 88.
I thought about purchasing one of these standing desks and simply creating my own shelf…
However, I would imagine that most of us aren't willing to risk damaging one of these desks in the process considering they all cost 500$+. If I were to dish out that kind of money though, I'd expect it to be fully-functional without the need for modifications.
I had to keep thinking…
That's when I realized the solution was right in front of me the entire time!
The two-tier keyboard stand I'd been using was the perfect candidate for my DIY solution. I just got creative with the second-tier since it wasn't being used. I realized that instead of using the second-tier for another keyboard controller, I could simply use it to hold a plank of wood (i.e. the desk itself).
The most affordable standing desk for music production
If you already have one of these two-tier keyboard stands, you're in luck because your only expense will probably be a plank of wood. I went to my local hardware store and had one of the workers cut the plank to my desired measurements.
If you haven't got the keyboard stand, it'll cost you WAY less than anything else out there.
The type of wood I used is referred to as "medium density fiberboard" (MDF) and cost less than 20$. Most hardware stores should have these in stock, but I went to my local Home Depot to purchase mine. Here's the exact model I use.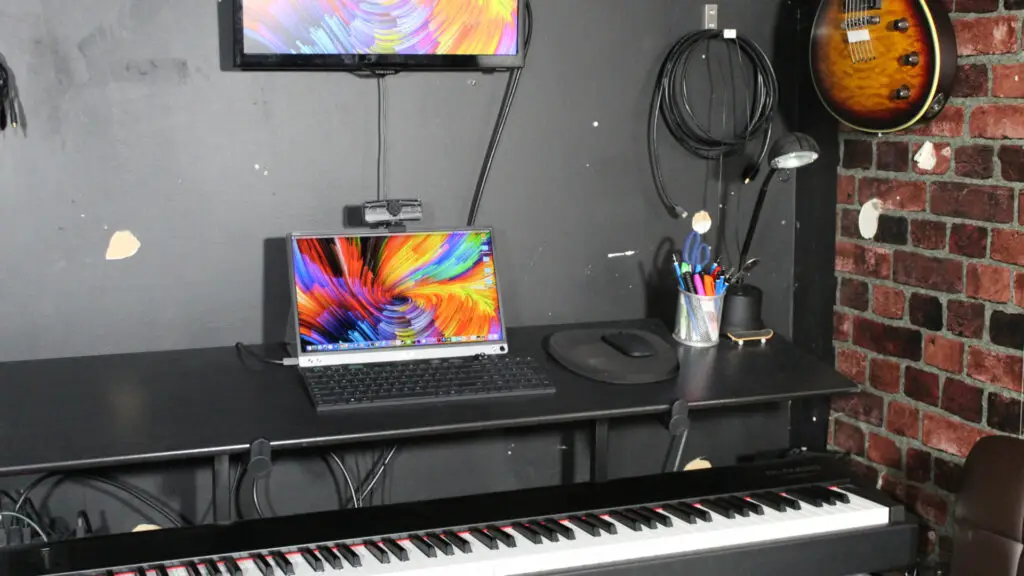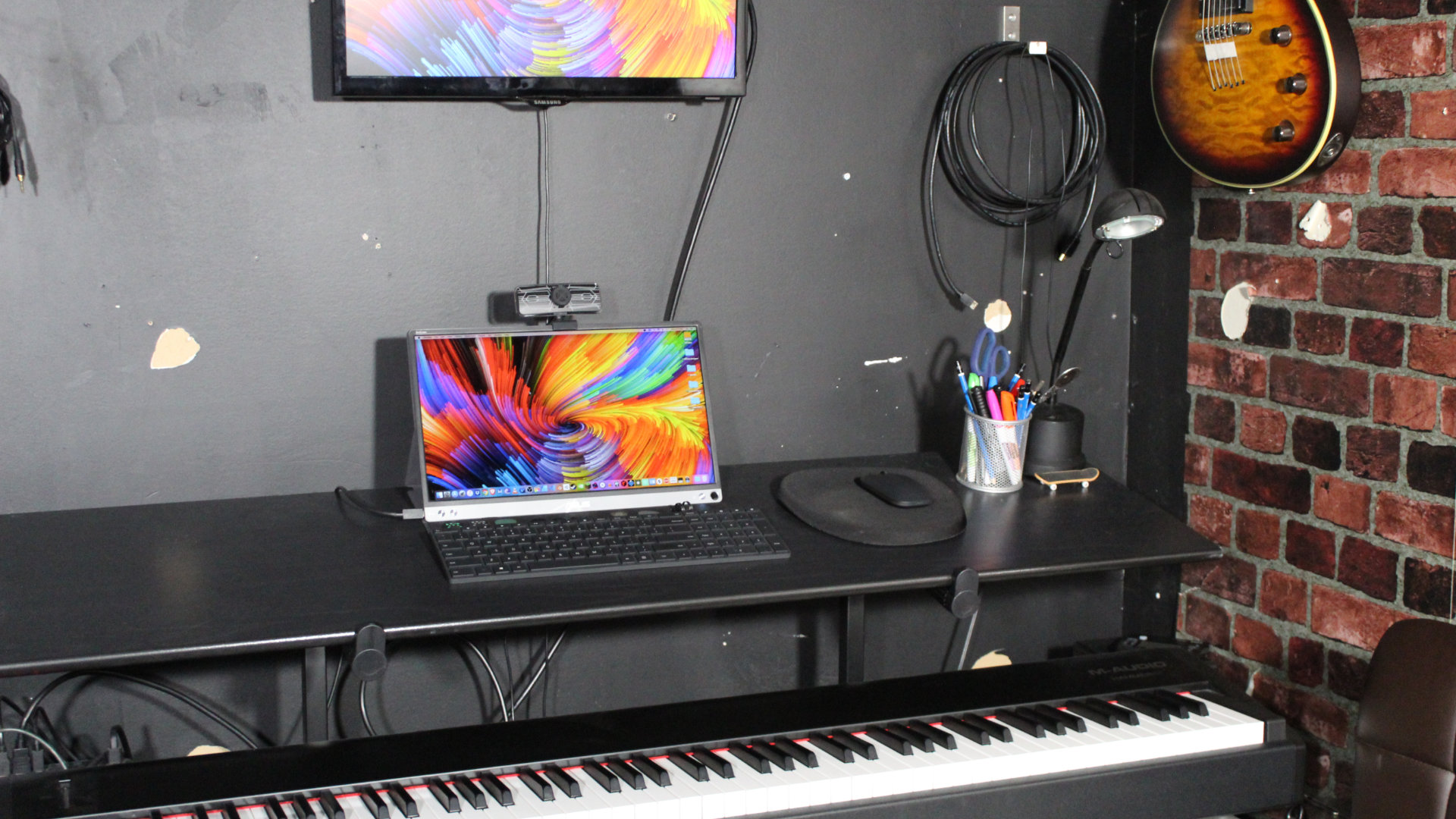 If you're curious about the measurements…
Just ask the woodworker to cut it to 54" (the entire length was 96").
The width was perfect at 15-¼", but you may need that one if you're purchasing another size.
That's pretty much it! After that, I simply placed the plank on my keyboard stand's second-tier and my standing desk was complete. I obviously raised the keyboard stand to its maximum height (I'm 5 feet 12 inches, so adjust yours to your preference).
However, I also wanted to mention some "extras" you could consider to make your standing desk for music production even better! That's coming up in the next section.
The best standing desk for music production
So, I firmly believe to have created the best standing desk for music production. I'm still waiting for someone to prove me wrong, so if that's you, please share some photos with us (you can provide some links in the comment section).
These are the TWO additional items I highly recommend to get it there:
The bar stool is great because it can be adjusted to seat you at the same height as if you were standing. In other words, you could use your DIY standing desk in a seated position if you ever get tired. I usually use it to lean on from time to time and always transition from standing to sitting. It feels even more ergonomic that way!
The TV wall mount is also great because you may still be looking down at your screen from the standing position. I really wanted to make sure I was looking UP to compensate for years of looking down at a screen. If you have the luxury, you can also use an extra screen to provide yourself with a dual-display setup. That way, you can keep your neck comfortable by alternating screens from time to time (or using both at the same time).
I have to say, I've never felt more comfortable working.
The setup feels completely intuitive and is designed to keep you working for long hours without compromising your health/posture. If anything, I feel like working this way keeps me energized and active for longer periods.
Everything you'll need to build your standing desk for music production (and more)
I know some of you may be interested in replicating my EXACT setup, so I'll be listing all the equipment I think will be relevant to creating your own standing desk for music production.
If you want to know about the rest of my rig, feel free to ask me in the comments!
So, we'll be starting from the bottom and working our way up:
Regardless of how much you decide to invest into this project, I guarantee you'll be getting excellent results at a FRACTION of the cost of one of these conventional standing desks.
And don't forget… You still wouldn't have anywhere to place your MIDI/USB keyboard.
You'd also still be looking down at your screen in standing position.
I really put a lot of work into figuring this out, so I hope that you can benefit from my DIY standing desk for music production. It's accessible for everyone and requires very little work to get up and running.
It's probably the most important investment you'll make since your health/posture are essential to keeping you doing the thing that you love for as long as possible. I'm also not kidding when I say you'll actually work BETTER and LONGER this way.
What do you think? I'd love to hear your thoughts in the comments section.