Have you ever dreamed of having the sounds of the most iconic keyboards at your fingertips? I'm talking about electric pianos (Rhodes, Wurlitzer, etc…), electric organs (B3, Farfisa, etc…), synthesizers (Jupiter-8, Prophet, etc…) and much more! After years of research, I've finally discovered the best way to record keyboard at home using one piece of hardware and one piece of software. The best part is that It's affordable and practical for everybody!
The ability to record keyboard at home won't require you to physically own any of the expensive keyboards I just mentioned. I'll be showing you how you can have access to every sound imaginable by using the M-Audio Hammer 88 (or any other 88 key weighted keyboard) and Arturia V Collection 7. In my opinion, there isn't a better combination of hardware and software than the products we'll be discussing today. Whether you're just getting started or simply looking for something more practical (and affordable), I think this'll be an interesting read for you.
Recording keyboard at home using MIDI/USB keyboard controllers
You've probably considered using an actual keyboard (acoustic and/or electric) for your home recording studio, right? It can become expensive very quickly when you start considering microphones, amplifiers and/or direct boxes.
It's also very difficult to fit an acoustic piano into an apartment and recording with microphones would certainly require an acoustically treated room.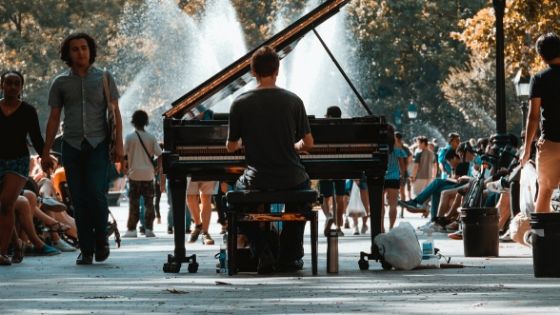 Basically, most of us would be much more productive with an instrument that could somehow serve as an all-in-one solution. Does such an instrument even exist? If we look at manufacturers like Nord Keyboards for example, you'll notice that they're pretty versatile.
Keyboardists can have access to the sounds of piano, organ and beyond in one instrument!
However, these types of keyboards are generally pretty expensive and to be honest, I haven't found one that truly includes ultra-realistic emulations of every single keyboard ever made.
Regardless of the progress we've made, these stage-keyboards could never compete with the performance of your personal computer (assuming you've got a good one). What I'm implying is that it'd be much better to use your computer to host your collection of virtual instruments.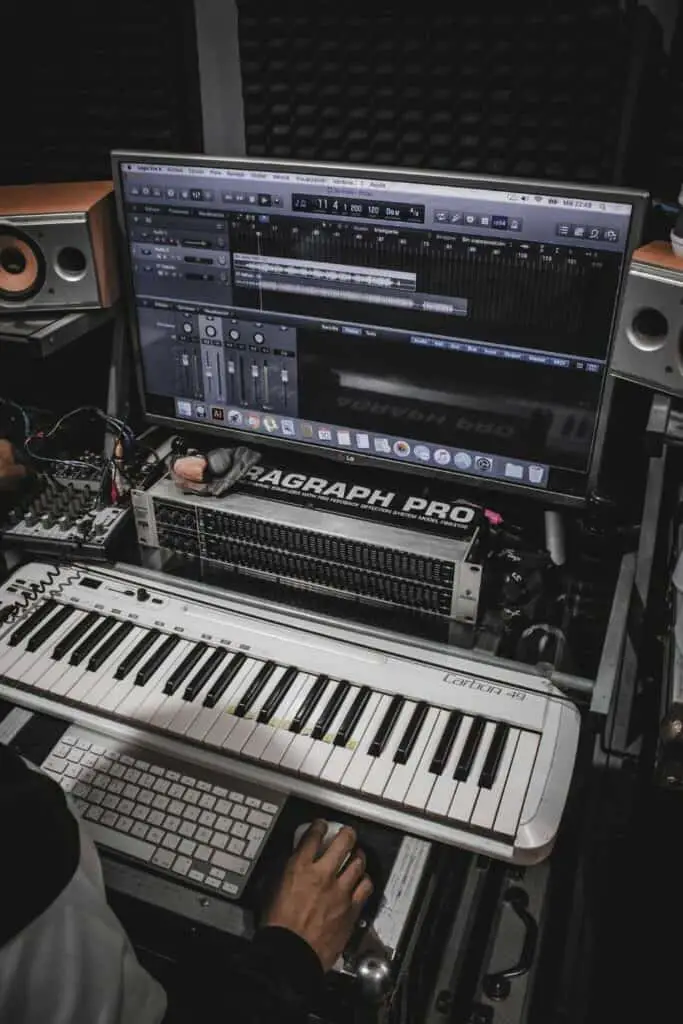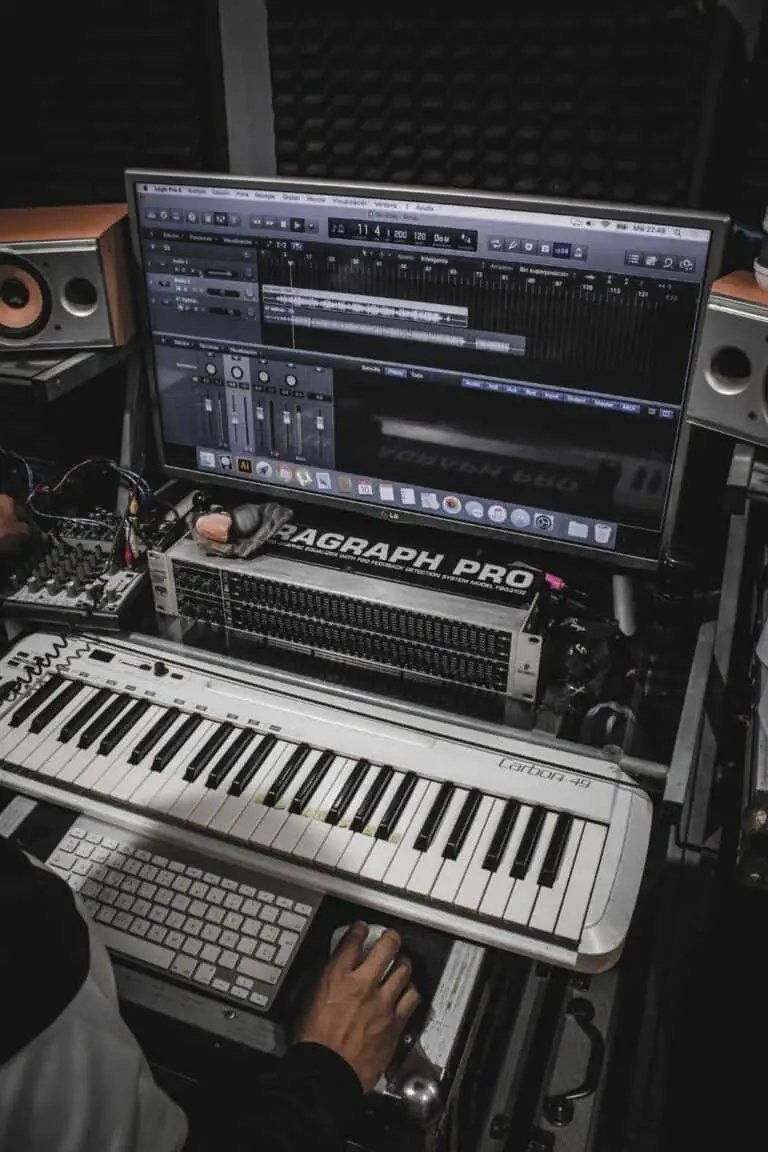 You wouldn't be limited by the hardware and could always purchase additional software (it won't be necessary though as we'll be discussing soon).
The only piece of hardware you'd need is the best keyboard controller you could get your hands on. At some point though, you may prefer owning two different types of controllers depending on your particular style.
For example, I personally use the M-Audio Hammer 88 most of the time, but I also have an M-Audio KeyRig 49 (discontinued) for synth parts. The first one is fully-weighted (like real keyboards) and the second one is semi-weighted (like most synthesizers).
Regardless of what you prefer to work with, here's what they should both have:
Pitch Bend Wheel
Modulation Wheel
Volume Fader
Assignable Buttons (at least two)
Pedal Inputs (sustain & expression)
These are the essentials, so if your controller is missing one of these, you'll be sacrificing lots of versatility and functionality down the road.
Of course, there are keyboards that include much more bells and whistles, but I've found that these basic features allow me to accomplish every musical task I require. On top of that, I also recommend finding a keyboard that'll allow you to connect sustain pedals and expression pedals.
We'll be talking more about these add-ons later, but for now, let's talk about the specific keyboard controllers I recommend.
Recording keyboard at home using the M-Audio Hammer 88
The best way to record keyboard at home (according to me) involves using the Hammer 88 from M-Audio. After years of research, I finally found the most affordable 88-key fully-weighted keyboard controller and it's also one of the best!
If you're planning to replicate the feel of keyboards with hammer-action, keep reading.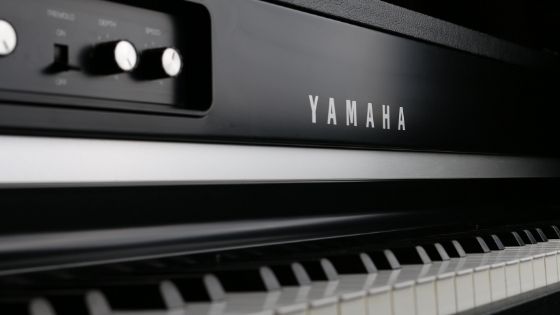 Considering we'll be performing our parts with the Hammer 88 (because we're musicians, right?), you'll want your instrument to feel realistic. For example, if you were your favourite racing video game, you'd most likely use some sort of steering wheel controller. In other words, we need the right tool for the job!
If you're using these types of software instruments… 
Grand Piano
Upright Piano
Fender Rhodes
Wurlitzer "Wurli"
Hohner Clavinet
You'll need the M-Audio Hammer 88 to benefit from the full-experience.
One of my favourite features is its ability to support three different types of pedals (sustain, soft & expression). I highly recommend taking advantage of this by purchasing these additional accessories. You'll have complete control over the software you'll be interacting with!
For example, sustain pedals are essential for anything that involves an acoustic/electric piano.
Expression pedals are excellent for controlling volume and other effects such as filters (wah-wah is very popular with the clavinet).
If you're into classical music, soft pedals can be interesting too, but I don't personally use them.
If you're eager to find out more about the M-Audio Hammer 88, I recommend reading my product review. It's really the best keyboard controller out there in my opinion, but you'll also read about some potential flaws that I won't discuss in this article.
The last thing we'll talk about is its essential features:
Pitch Bend Wheel
Modulation Wheel
Master Volume Fader
+/- Buttons
Personally, these are the only bells and whistles I'll ever need.
However, the wheels won't really be necessary for these hammer-action keyboards. They're mostly useful for synthesizers and other sample libraries, but the master volume and +/- buttons really come in handy!
I use the master volume fader to change my selected track's volume on the spot without needing to grab my mouse.
I also use the +/- buttons to switch between presets without letting go of my keyboard.
Lastly, one of the most important things about the Hammer 88 is that it's bus-powered. It features USB/MIDI ports so you won't need one of those MIDI interfaces to use it. However, if you were going to use the MIDI output, you'd need to use an AC adapter (not included).
Still, I like the fact that M-Audio included the MIDI I/O. It's rare these days!
Recording keyboard at home using the M-Audio Keystation 88 II
If you're more comfortable using semi-weighted keyboards, the best way to record keyboard at home involves using the Keystation 88 II from M-Audio. It's even more affordable than the Hammer 88, especially if you decide to go with one of the smaller models (49-key/32-key).
If you're planning to replicate the feel of keyboards with synth-action, keep reading.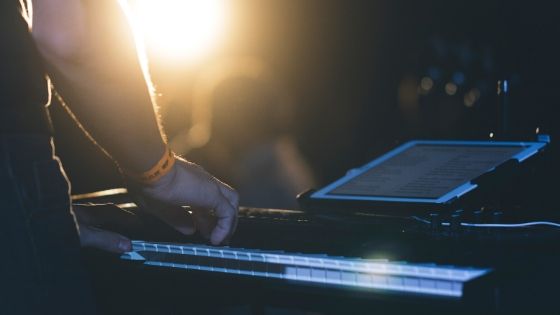 Compared to those hammer-action keyboards, the Keystation 88 II provides much more speed. The best way to visualize the difference is by comparing acoustic guitars to electric guitars. Which one are you most likely to "shred" on (hint: the electric guitar)?
If you're using these types of software instruments… 
Hammond B3
VOX Continental
Farfisa
Mellotron
Jupiter-8
Prophet 5
MiniMoog
You'll need the Keystation 88 II to get the most out of each sound.
Just like the Hammer 88, you'll have the option to purchase an additional sustain pedal and expression pedal. It's even more important for these types of keyboards because synthesizers have much more parameters that can be modulated using an expression pedal.
I usually use the sustain pedal to "freeze" chords while adjusting the parameters.
I also use the expression pedal to modulate different parameters such as filter envelopes and/or volume (especially for the electric organs).
If you'd like to find out more about the Keystation 88 II, please consider reading my review. Next to the Hammer 88, I believe that we've got another winner on our hands! However, M-Audio isn't perfect by any means (I know it seems like I'm promoting them but to be honest, I'm only interested in their keyboards).
Compared to the Hammer 88 though, the Keystation 88 II has some additional features:
Transport Controls (UP, DOWN, LEFT, RIGHT, Stop, Play & Record)
Pitch Bend Wheel
Modulation Wheel
Master Volume Fader
+/- Buttons
Function Button
Obviously, this model was designed for electronic musicians.
I really like the transport controls though (I wish the Hammer 88 had those). Ironically though, the wheels on the Hammer 88 are much heftier than the Keystation 88 II, but that doesn't mean they're not ready to rock!
Basically, the transport controls can take the place of the mouse/keyboard 99% of the time.
The function button can be used to assign different parameters to the same button (epic)!
Once again, M-Audio had the right idea to preserve the 5-pin MIDI connector as well as include the option for USB connectivity. The Keystation 88 II is completely bus-powered as well, but if you'll be using the MIDI port, you'll still need the 9V adapter.
Okay, let's start talking about the software we'll need!
Recording keyboard at home using software instruments
Your MIDI/USB keyboard controllers will be useless unless you pair them with the appropriate software instruments. You'll also want to make sure that you've got the appropriate computer for the job because some of these programs can be quite demanding.
Essentially, the computer becomes the all-in-one instrument and is controlled by your controller.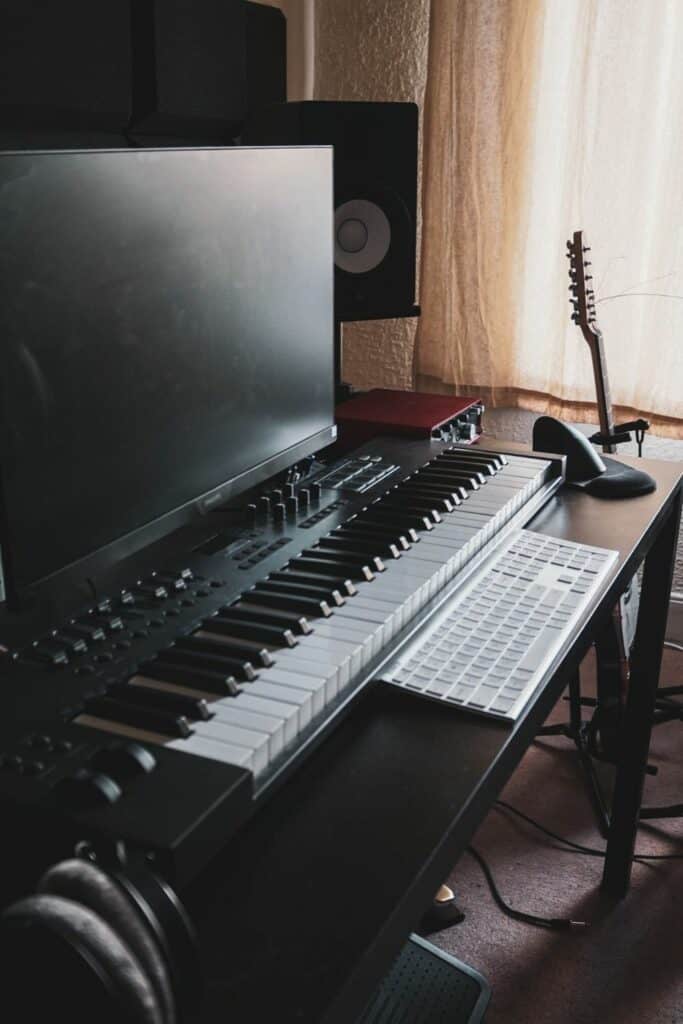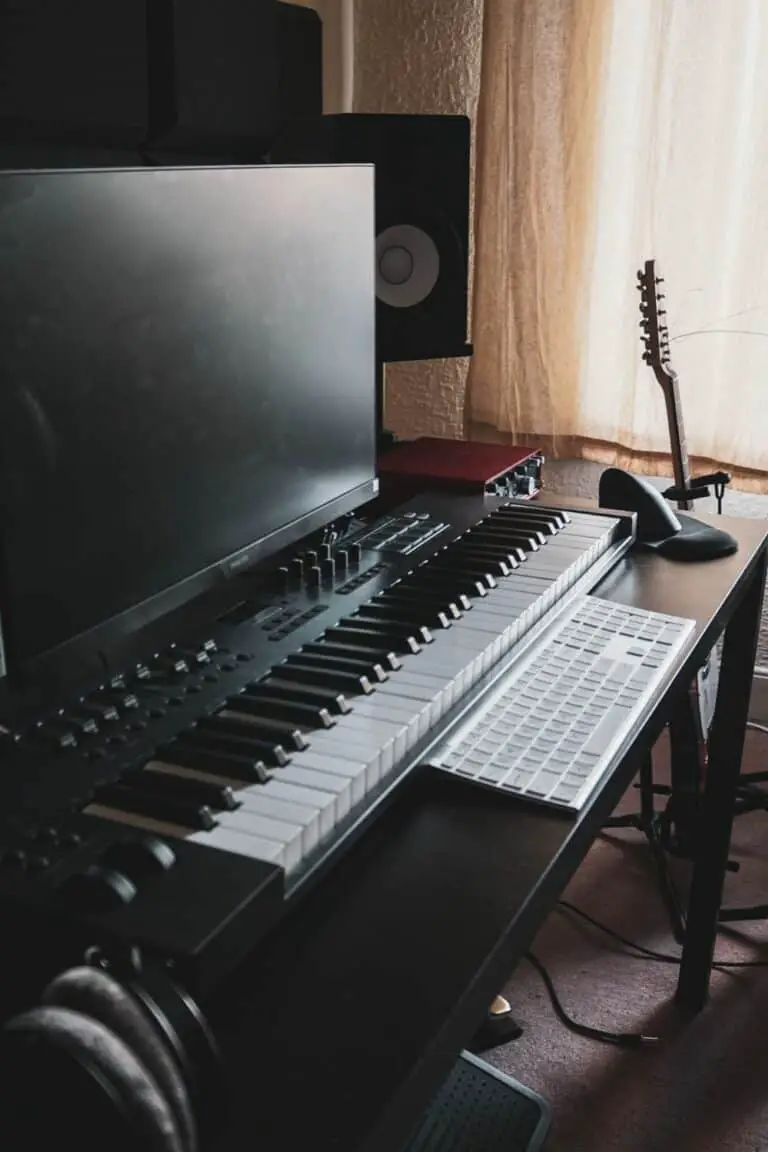 Now, the significant difference between using hardware instruments and software instruments is the data we'll be working with. In this case, we'll be working with MIDI files instead of audio files. If you're not familiar with either of these, let me elaborate.
Audio files are like images of the sound; you can manipulate them, but your performance is pretty much set in stone.
MIDI files are like sequences of data; you can manipulate the information at will and edit your performance at will using the MIDI sequencer available in each major DAW.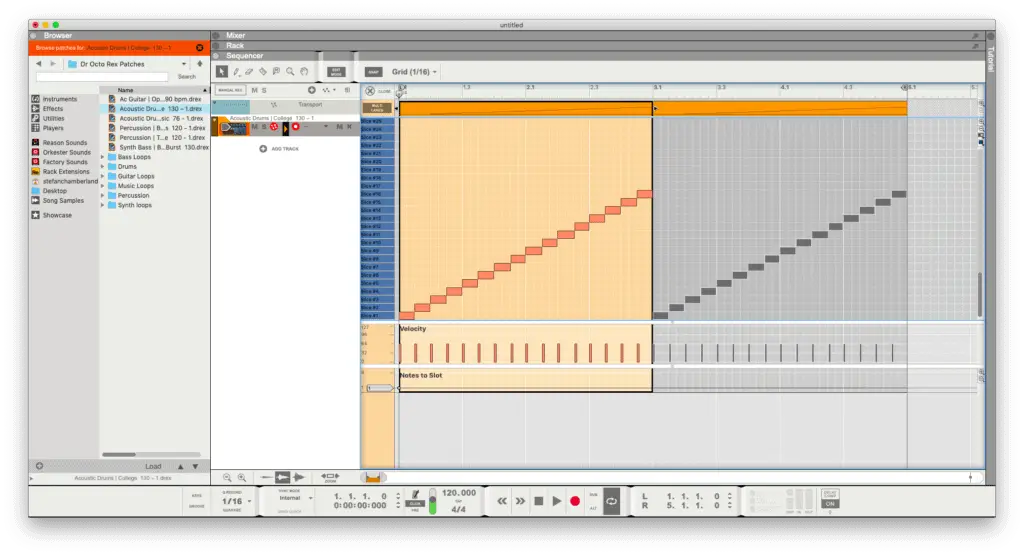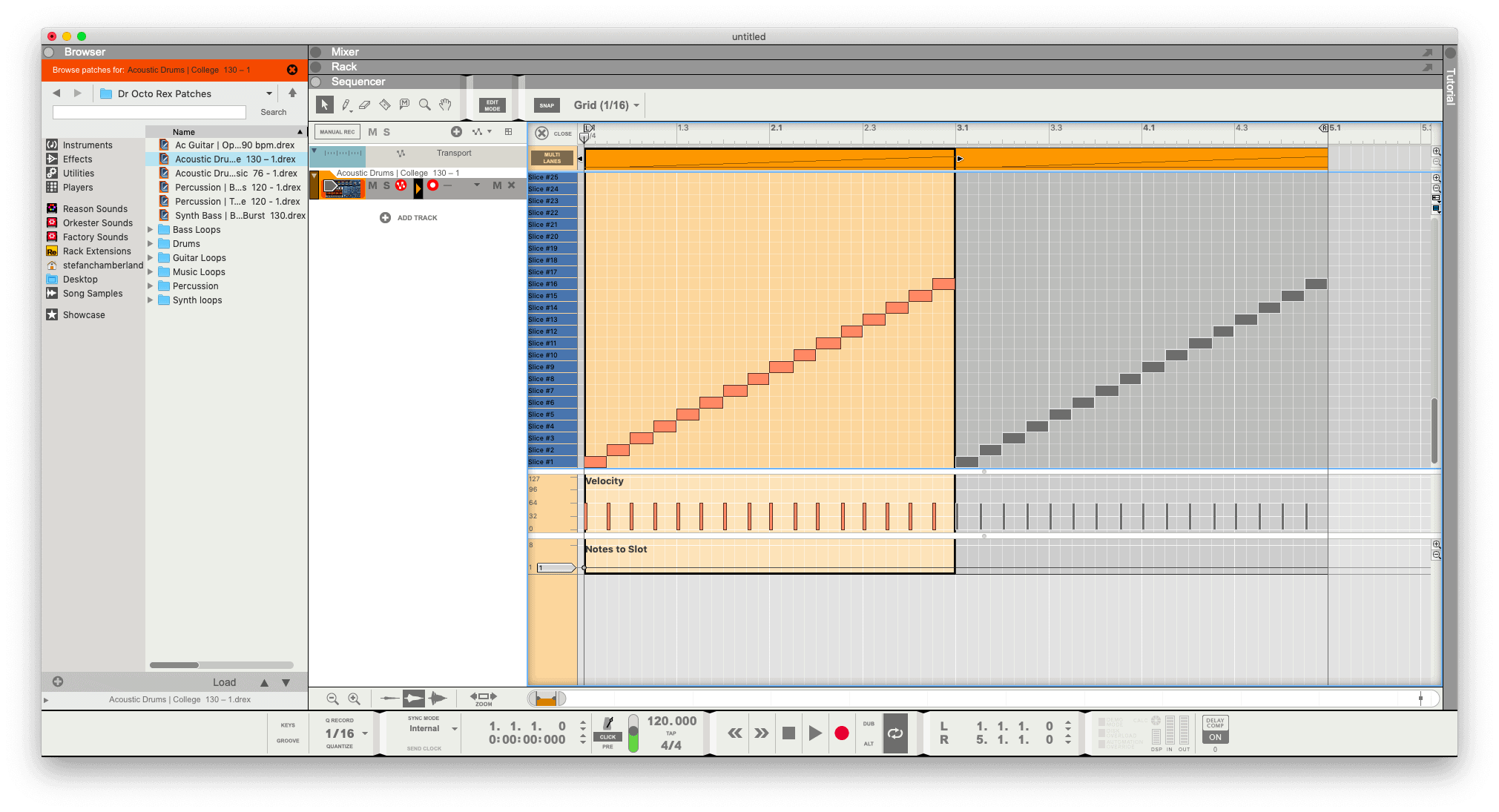 Basically, MIDI is much closer to programming than anything else. You could also manually enter the information using the sequencer instead of actually performing your parts. I'm personally against doing things this way, but it's definitely possible.
The one thing about MIDI files is that they're pretty much useless unless they're interacting with your software instruments.
The best way to describe how this works would be to visualize a player piano. The scroll that's used to move the keys is identical to MIDI and had to be performed at some point by an actual keyboardist. The player piano itself is comparable to the software instrument.
Now, imagine being able to take that scroll and placing it in another instrument.
The combination of MIDI hardware/software instruments makes it possible to adjust both your performance and your sound at any point. I hope you can see how working in this way is both more time-efficient and cost-efficient (because time is money).
These software instruments cost a fraction of the actual hardware they emulate.
The question is, are they as good as the real thing?
If you know where to shop, then yes, some of these software instruments sound exactly like the hardware with the added benefits of convenience. We'll be covering my personal recommendations later on, so you get an idea of what's possible.
However, keep in mind that you can literally use ANY instrument (not just keyboards) using my method. It's the same method famous film composers such as Hans Zimmer use!
You'll need the right tools for the job though!
Recording keyboard at home using Arturia V Collection 7
In my opinion, the best way to record keyboard at home involves using the V Collection 7 software instrument from Arturia. Out of all my recommendations, this keyboard collection is the most comprehensive and provides the most value for your dollar.
If you're looking for the highest-quality software instrument that includes both keyboards AND synthesizers, keep reading.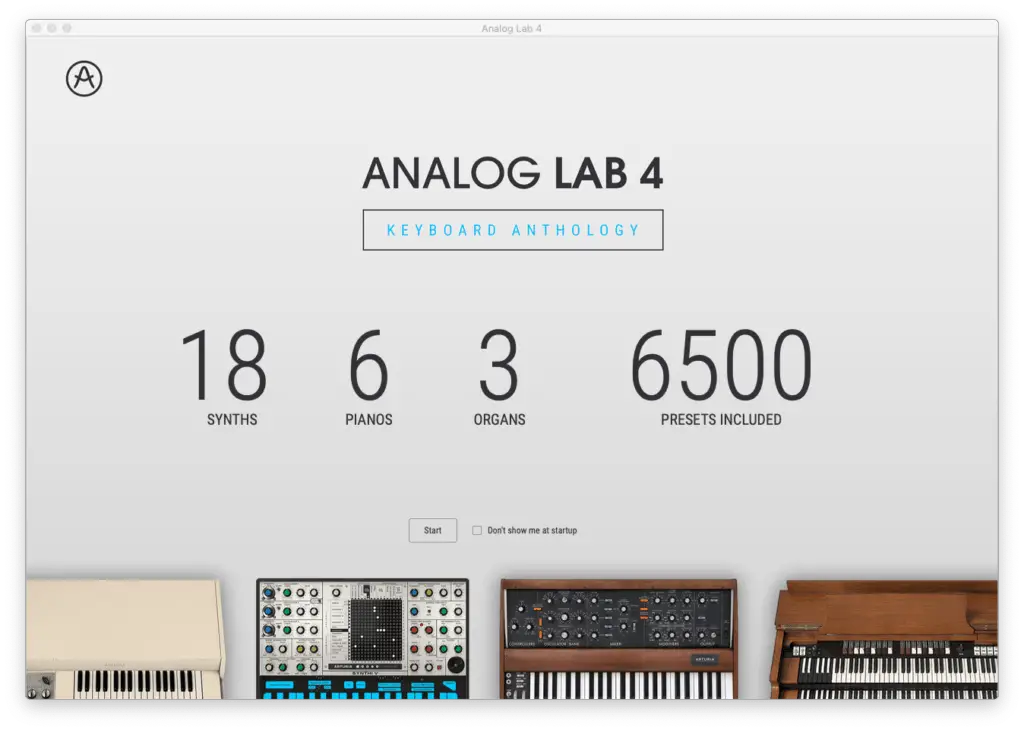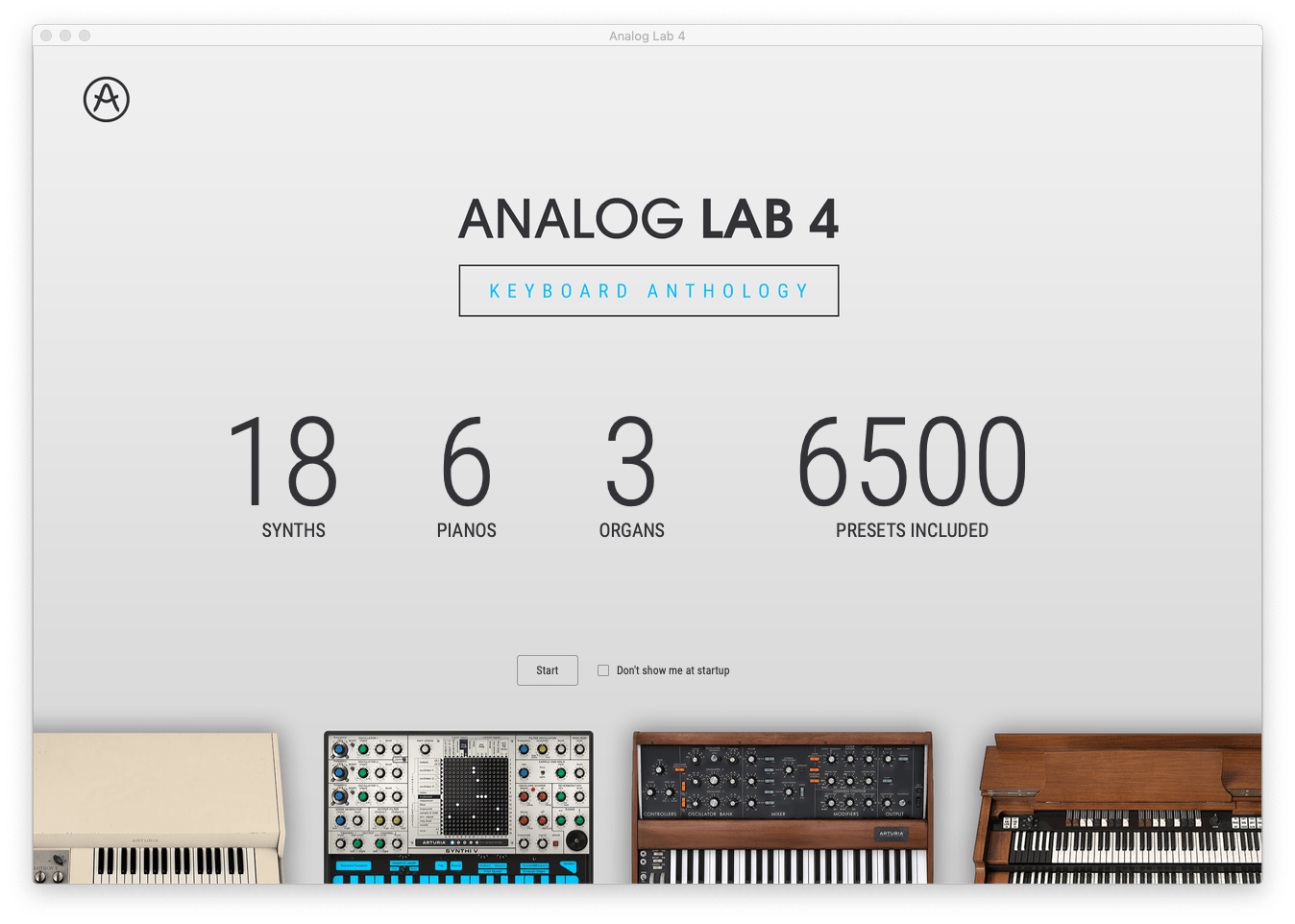 The main reason I prefer V Collection 7 is that it's not like your typical multi-sampled instrument (sample library). By integrating their proprietary modelling technologies, Arturia has truly revolutionized what software instruments are capable of.
We're talking about the True Analog Emulation (TAE) and Physical Modelling (Phi) engines.
Essentially, these software instruments can do the impossible by actually recreating the sound of these instruments inside your computer. It's almost as if your computer literally BECOMES the instrument it's emulating.
Speaking of instruments, let's see what's included in V Collection 7:
Buchla Easel
Minimoog
Matrix-12
Solina
SEM
Jupiter-8
ARP 2600
CS-80
Prophet
Moog Modular
Synthi
CMI
DX7
Synclavier
CZ
Clavinet
Grand/Upright Piano
Fender Rhodes
Farfisa
Wurlitzer Wurli
VOX Continental
Mellotron
Hammond B3
That's quite the list, isn't it? The best part is that they keep adding more every time!
I personally guarantee that you won't find another keyboard collection with this much content. Each instrument sounds identical to the original and it'll only cost you pennies compared to actually owning every single physical instrument.
One of my favourite features is the ability to use each instrument standalone.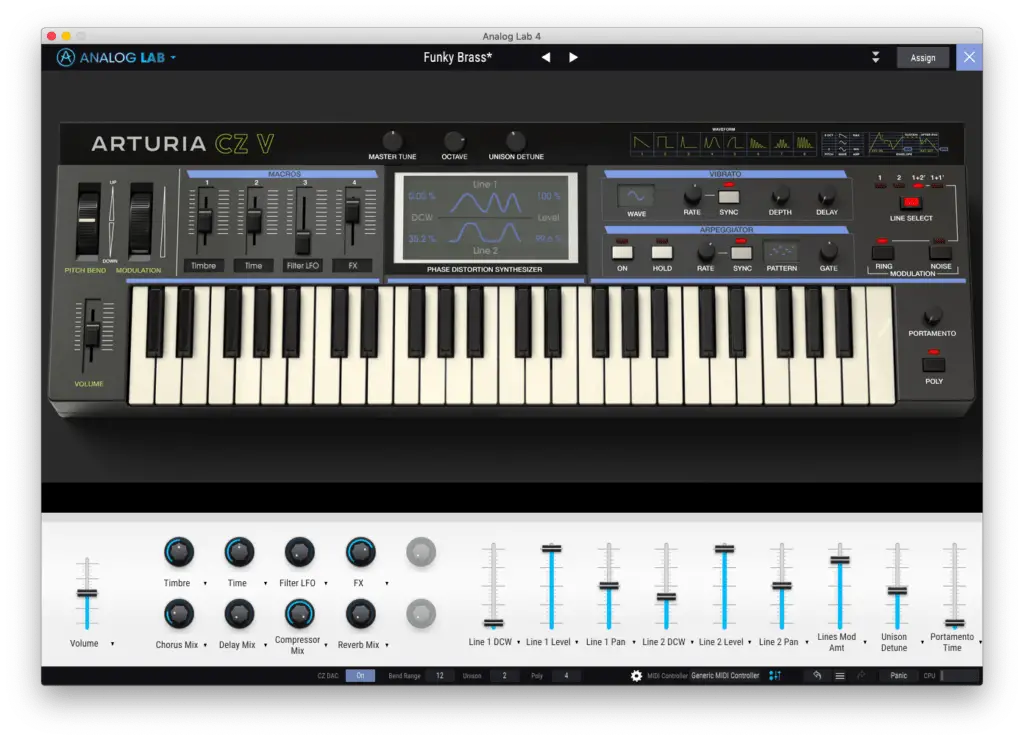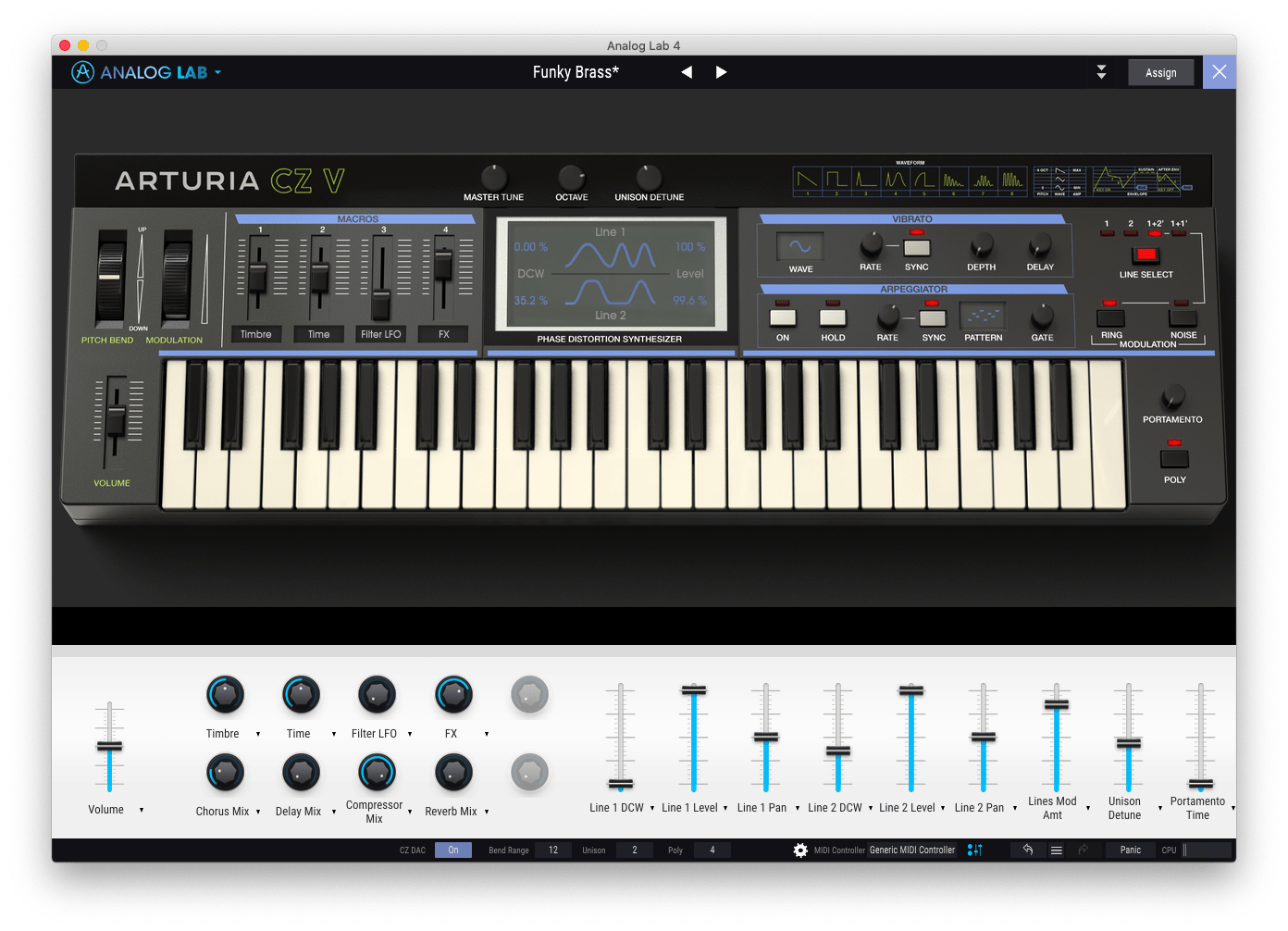 However, we're going to need to implement them into our DAW if we want to record with them. Each instrument includes VST, VST3, AU and AAX formats for compatibility with every workstation, but that's not all… 
By using Analog Lab (which comes with V Collection), you can essentially have access to all of these instruments within ONE instrument.
Let me explain!
Instead of loading each instrument individually, you can simply use Analog Lab as your "master instrument" and easily browse presets for every instrument in the collection. It's essentially an encyclopedia of patches/presets that never seems to end (warning: you will be overwhelmed).
There's so much to work with that I never have the time (or need) to create my own presets!
In other words, Arturia V Collection 7 is designed to stimulate your creative energy instead of draining it. The user-interface was designed for artists and not engineers, so you'll be ready to start recording keyboard the moment you've found the perfect sound.
I personally bookmark my favourite patches/presets, but too be honest, they're so iconic that you'll start memorizing them by name!
Recording keyboard at home using Spectrasonics Keyscape
If you're focusing exclusively on hammer-action styled keyboards, the best way to record keyboard at home for you would be to use Keyscapes by Spectrasonics. Although it doesn't include synthesizers and other synth-action keyboards, it does include more actual keyboards than Arturia's V Collection 7.
If you're looking for the most variety in terms of hammer-action keyboards, keep reading.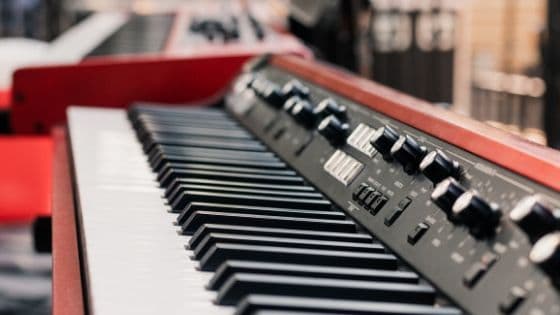 Compared to V Collection 7, Keyscape doesn't use any remarkable technology. However, the multi-sampled library of common and rare keyboards makes it one of the most valuable collections of collector keyboards on the market.
That being said, the entire library is over 75 GB which is at least 10x bigger than V Collection.
It can also be reduced to 30 GB for stage-use, but that'll still require some high-performance storage (solid-state drive ideally). In other words, Keyscape will require more expensive computers to run its sample library optimally.
That being said, let's see what we'll be working with:
Grand/Upright Piano
Fender Rhodes
Wurlitzer Wurli
Yamaha CP-70
Pianet
Weltmeister Claviset
Celeste
Chimeatron
Dulcitone
Hohner Clavinet
Clavichord
Dolceola
Mini Piano
Toy Piano
Harmochord
Piano Bass
Weltmeister Basset
Keyscape focuses more on the actual model, so I've simply summarized the types of instruments that are included.
It's pretty impressive though! Some of the instruments were completely new to me, I had never heard of them. I don't know if some of these'll ever show up on future releases of V Collection but for now, Keyscape is the only way to get your hands on them (unless you're a billionaire).
Keyscape can also be integrated into Spectrasonics' Omnisphere 2.
The advantage here is the ability to harness the true potential of this sample library by combining it with Omnisphere's STEAM synthesis engine. Another interesting feature is the ability to combine two keyboards together to create new hybrid "Duo" sounds.
To be completely honest though, I still prefer V Collection 7 out of the two.
It's much lighter to operate and includes much more tonal possibilities than Keyscape. Spectrasonics really focused on the specific timbres of each instrument though. It's perfect if you're really looking for those subtle nuances, but I'd rather have more sounds to work with.
If you eventually want to include electric organs and synthesizers into your music, Keyscape won't be able to provide that for you.
On the other hand… There's no reason you couldn't use both Keyscapes and V Collection!
Recording keyboard at home using EastWest Composer Cloud
I decided to include Composer Cloud by EastWest because the subscription does include some excellent keyboard-based software instruments. It's the best way to record keyboard at home if you're looking for an unlimited palette of sounds to work with (that aren't exclusively keyboards).
If you'd like to make the most of your keyboard controller (like Hans Zimmer), then you'll want to keep reading.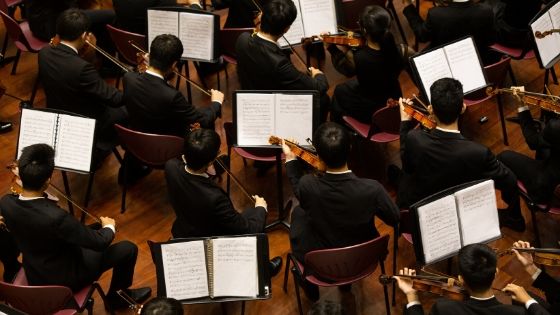 Composer Cloud is unique in the sense that it's a subscription service that essentially grants you unlimited access to EVERY instrument in EastWest's catalogue. For professionals that use it often (such as myself), it's much more affordable to "rent" these instruments.
At some point, I calculated what it would cost to actually own these instruments and I realized that my monthly subscription wouldn't even pay for itself in one lifetime.
That being said, you'll get much more than just keyboards and keyboard-like instruments with Composer Cloud. You'll have access to the entire "alphabet" of musical instruments from sitars to cinematic percussion to terrible sounding guitar samples (I'm not a fan, personally).
However, since we're focused on recording keyboard at home… 
Bechstein D-280
Steinway D
Bösendorfer 290
Yamaha C7
Fender Rhodes
Yamaha CP-80
Hohner Clavinet
Honky Tonk
Hammond B3
Farfisa
VOX Continental
Church Organ
Celeste
Glockenspiel
Harpsichord
Accordion (keyboard-like, right?)
Synthesizers
Similar to Keyscape, these instruments were multi-sampled at the highest possible standards.
I'm personally incredibly satisfied with Composer Cloud. Although, I have to admit that I rarely (if ever) use the keyboards included. They sound amazing, don't get me wrong, but V Collection 7 takes care of all my keyboard needs.
For me, the real value in subscribing to Composer Cloud is to have access to everything else!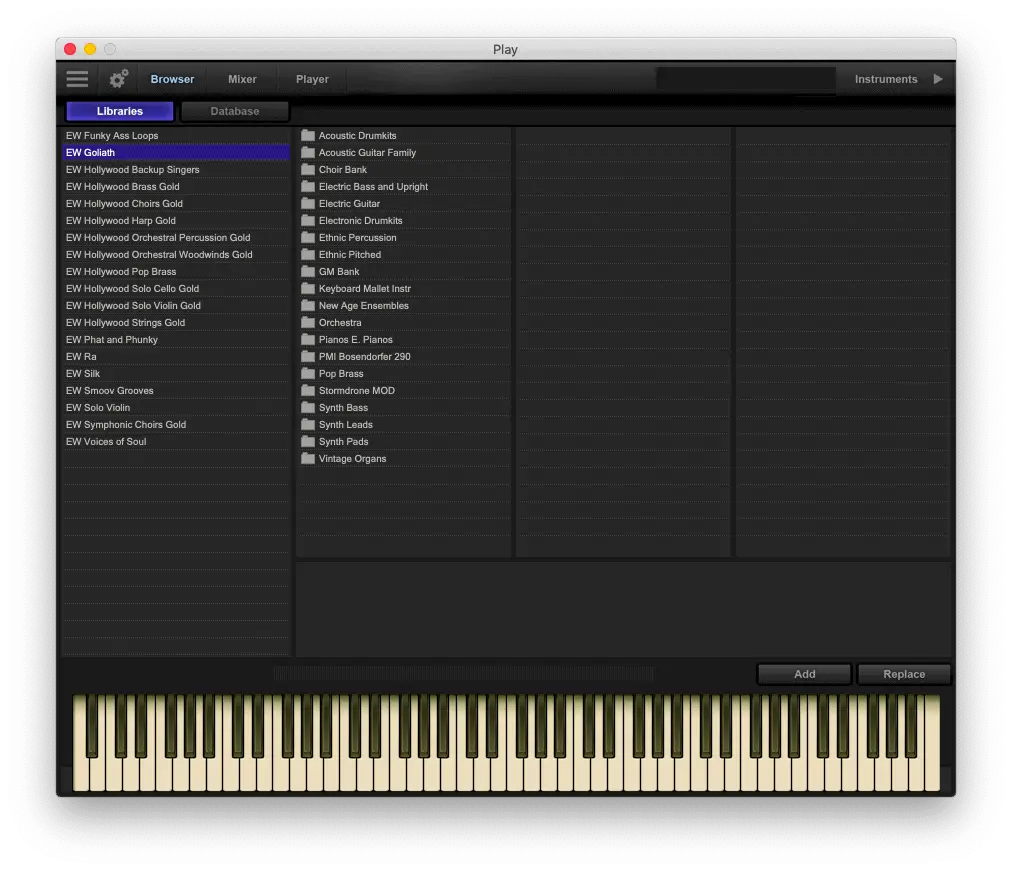 You'll have to check it out yourself if you're interested in finding out more because we're staying on topic. However, if you were simply looking for some basic keyboard and keyboard-like instruments and didn't want to dish out your money all at once… 
Composer Cloud would certainly get you started for MUCH less.
If you were gonna purchase one of their sample libraries though, I would go with Goliath (it includes 99% of the instruments I mentioned).
How I personally record keyboard at home for best results
If you're just getting started, I know finding the best way to record keyboard at home can be difficult (especially if you don't know where to shop). After trying many different keyboard controllers and software instruments, I can safely say that my recommendations are excellent!
I wanted to provide you with as many options as possible without completely overwhelming you.
When it comes to hardware/software, I will always preach that LESS IS MORE. The only time you'll hear me say otherwise is when it comes to guitars (the more the better in that case). With that being said, I keep my keyboard recording setup minimal of the best results.
If you wanted to know what I personally use today (it may change)… 
M-Audio Hammer 88
M-Audio KeyRig 49 (replaced by the Keystation)
Arturia V Collection 7
Composer Cloud
I don't use Keyscape because I simply don't need it, although I would totally purchase it one day for those super rare collector keyboards!
Another thing worth mentioning is that I don't usually use both of my keyboard controllers at the same time. It comes in handy when you want to combine two different instruments together or use multiple drawbars for an organ, but my main keyboard controller is the Hammer 88.
I always have it plugged into my Mac Mini and I use Logic Pro X to record my projects.
When it comes to keyboards though, I ALWAYS use V Collection 7 and nothing else. As I mentioned earlier, Composer Cloud is used for everything BUT keyboards. Recording keyboard with V Collection 7 is as simple as plugging in your keyboard and loading up your software instrument.
Another REALLY IMPORTANT fact I need to mention is that I perform all my parts and do my editing afterwards.
I'm not a "click-and-point" type of guy and neither is Hans Zimmer (sorry, he's really cool). When it comes to audio latency, my Mac Mini keeps it to a minimum so what I play is what I hear. There's no delay when it comes to my keyboard controller and my software instrument.
If they ever make Thunderbolt keyboard controllers, I'll make the switch but for now, it's all about purchasing an adequate computer that can handle the software instrument and/or sample library that you're using (especially if you're thinking of going with Keyscape).
So, that's it folks! There's nothing really complicated about this recording system.
If you're looking to purchase any of the gear I mentioned, here's where you can get it!
The best hammer-action keyboard controller, the M-Audio Hammer 88… 
The best synth-action keyboard controller, the M-Audio Keystation 88 II… 
The best software instrument for keyboards, synthesizers and beyond, Arturia V Collection 7… 
The best sample library for common and rare keyboards, Spectrasonics Keyscape… 
The best sample library for EVERYTHING (including keyboards), EastWest Composer Cloud… 
I hope you've learned that the best way to record keyboard at home is actually much simpler and affordable than you originally thought. If you've already acquired some physical keyboards in your collection, you're probably too awesome for this article, so I'll have to write another one to show you how to record them using direct boxes (DI) and microphones. For now though, everybody recording keyboard in their home and/or apartment will achieve the best results using this method. If you've enjoyed learning with me, consider subscribing to my weekly newsletter so we can stay in touch. I appreciate your time and as usually, thanks for reading!