If you can execute musical performances with ease, but aren't as experienced when it comes to sound recording… This one's for you! If you've been meaning to record keyboard and vocals at the same time, that's exactly what we'll be covering today. If your voice depends on your personal accompaniment behind the keys, you'll want to master this skill set!
When I started learning how to record keyboard and vocals at the same time, I realized that my keyboard setup wasn't the problem… Learning how to record vocals at home wasn't as simple and required some special equipment. In this guide, we'll be learning about the materials that can help us obtain professional results at home while capturing every nuance of your playing. You'll absolutely need to use your DAW (Logic Pro X, Cubase, Pro Tools, Reason, FL Studio, etc…). I'll also provide different alternatives to accommodate your current setup. Alright, let's get going!
Recording keyboard and vocals at the same time using your audio interface and DAW
If you haven't acquired an audio interface and DAW yet, you won't be able to learn how to record keyboard and vocals at the same time. These are essential tools that'll allow us to record both of these instruments simultaneously.
I'm personally using the Universal Audio Arrow with Logic Pro X.
Although, any audio interface and DAW will have the ability to record multiple tracks at one time. It's just a matter of figuring it out, but there may be more to it than that. First of all, you'll want to make sure your recording system's audio latency is reduced.
It won't be an issue if you're using audio channels exclusively though.
On the other hand, the first method we'll be discussing requires more performance out of your computer. Using software instruments (which we'll be talking about) with audio channels is difficult if you're planning to use direct monitoring (zero-latency).
In other words, you'll need to make sure your audio interface is up to the task.
The best way to reduce audio latency is to use Thunderbolt audio interfaces. If you don't have the right ports though, at least make sure your computer is running optimally.
The difference with Thunderbolt is that it writes data directly to the storage medium without passing through the CPU. It's an independent process and has resulted in some of the lowest audio latency rates we've ever heard!
If you'll be using USB audio interfaces, you may have difficulty getting your tracks to "sync".
They'll be fine once they're recorded, but the whole point is to "live" your performance. It really won't add to the magic of recording keyboard and vocals at the same time if it stresses you out more than anything.
The only thing you need to do while recording is to remember to record-enable all the tracks you'd like to record at the same time. You'll also want to make sure that all the tracks you want to hear have monitoring enabled.
You can also route all these tracks to another bus (although it might be necessary).
Either way, I'll be running you through the details for each approach. I just wanted to cover the fundamentals before diving into anything specific. Regardless, one of these three methods will surely be the right one for you, so consider them well!
Recording keyboard using your MIDI/USB keyboard controller and software instruments
By far the simplest option, we'll be learning how to record keyboard and vocals at the same time using your MIDI/USB keyboard controller. If you're just getting started, I highly recommend this option because it's both practical and cost-efficient.
I personally use my M-Audio Hammer 88 and Arturia V Collection 7.
Of course, my needs aren't your needs. If you're simply looking for the sound of an acoustic piano and/or electric piano (Rhodes, Wurlitzer, etc…), Garageband includes some high-quality software instruments from the start.
You may also decide to simply purchase 3rd party software instruments (VST, VST3, AU, AAX).
Either way, you'll need something to reproduce the sounds of real instruments because keyboard controllers are simply that; controllers. These controllers should also reproduce the expressive ability of the instrument it emulates.
I chose the Hammer 88 because of its ultra-realistic hammer-action and affordability.
Arturia V Collection 7 isn't sample-based, it actually MODELS the sound of its keyboard and/or keyboard-like instruments (it includes synthesizers as well).
So, I'll let you decide for yourself which tools you'll be using, but I gave you somewhere to start. Next, we'll be talking about an alternative to this method. You'll need to own some actual acoustic/electronic instruments for this one!
Recording keyboard using your analog/digital instruments (Rhodes, Wurlitzer, Hammond B3, etc…) and DI boxes
For those of you out there serious enough to purchase physical instruments, you'll be learning how to record keyboard and vocals at the same time using DI boxes.
The important thing to remember; most of these keyboards require stereo inputs.
That being said, we're not talking about acoustic keyboards yet. We're talking about any type of keyboard that can produce analog/digital sound. We'll also need an additional input on our audio interface (the main input will be used to record vocals).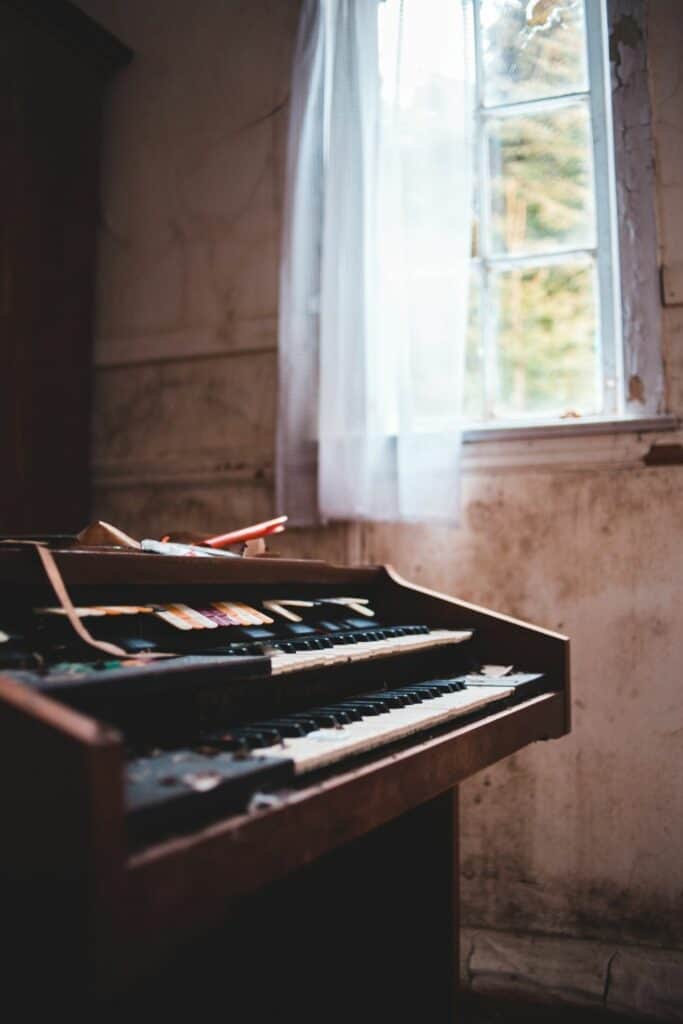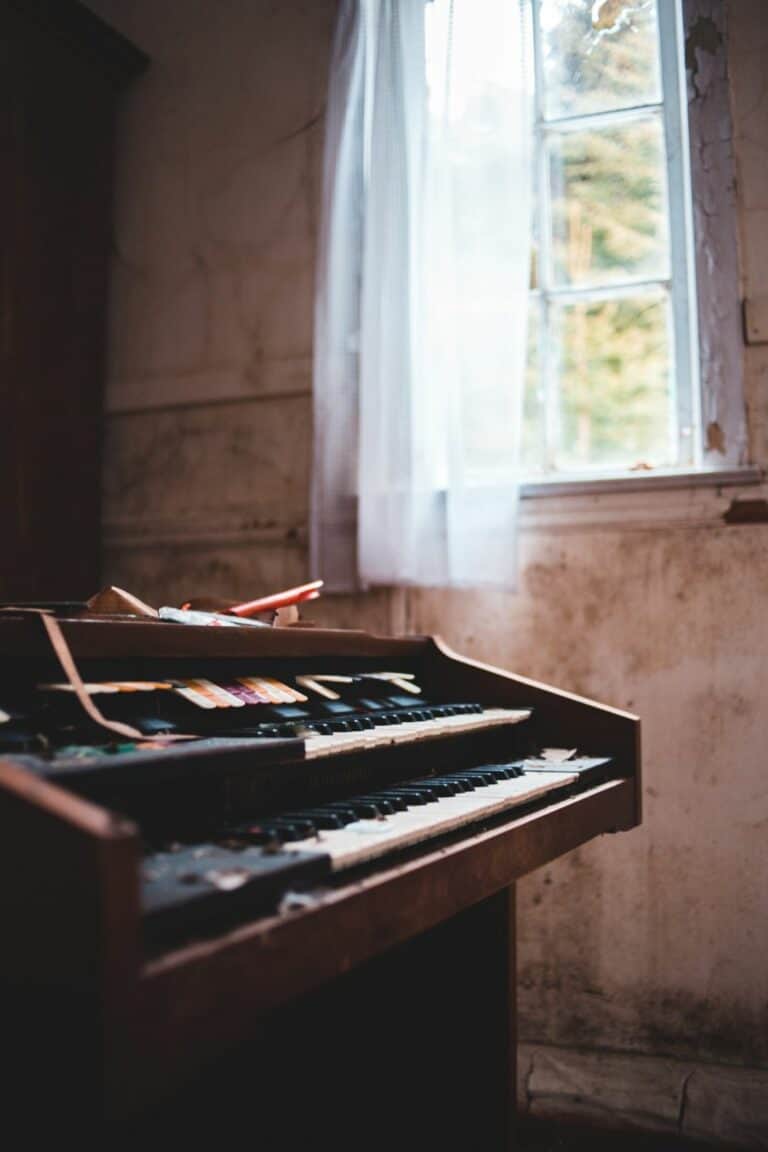 The only device that we wouldn't need if we were using MIDI/USB keyboard controllers is the DI boxes we'll be considering.
The reason we need DI boxes is simple… The impedance/voltage of these types of instruments is considered high. So high, that conventional preamps would be overloaded by the signal. These high-output instruments require DI boxes.
You'll get to choose between passive/active DI boxes
OR
Some audio interfaces include high-impedance (HI-Z) inputs.
It's easy enough to find these types of audio interfaces, but I still prefer using DI boxes because some of them actually "add" to the sound. I'm talking about passive DI boxes mostly, but active DI boxes may be essential for low-output instruments (usually vintage and very rare).
DI boxes basically "match" your instrument's output impedance to your audio interface's input impedance.
They also convert "unbalanced" signals to "balanced" signals.
For the most part though, keyboard instruments will do better with high-quality passive DI boxes like the Radial JDI Stereo. It uses high-quality Jensen transformers and "refines" your original signal into something professional sounding.
If you're looking for audio interfaces, consider the Behringer XENYX 1202FX.
You'll need at least THREE inputs for this project. TWO for the stereo outputs and ONE for your microphone (which we're getting to).
Before moving on to vocals, there's one last alternative I'd like to explore.
Recording keyboard using your upright/grand piano and two condenser (small-diaphragm) microphones
Lucky enough to own your own grand piano? You'll need to learn how to keyboard and vocals at the same time using microphones and obviously, an audio interface.
If you're using amplifiers for your analog/digital keyboards, you'll also be using this approach.
I'm not going to go too deep into microphone techniques, but the general consensus is you'll be needing TWO of them. We're talking about matched stereo microphones. You could technically record your vocals using these same two microphones, but I'll be explaining why I wouldn't.
You could get away with using ONE for amplifiers though.
The types of microphones I recommend using are small-diaphragm condenser microphones (sometimes referred to as "pencil" microphones). If you're not working in ideal conditions though, you could opt to use dynamic (moving-coil) microphones.
I recommend the Samson CO2 Pair for their affordability/quality.
Although this method won't require any DI boxes, your audio interface will need +48V Phantom Power if you're using active condenser microphones.
So, you've now been made aware of three different techniques for recording your keyboard at home, but now… 
What about your voice?
Recording vocals using your dynamic (moving-coil) microphone
If you're planning to learn how to record keyboard and vocals at the same time, you'll need proper equipment for your voice. Recording professional vocals at home isn't easy, but by using the right microphone, we can get pretty close!
If you're not familiar with microphone types, check this article out first.
Basically, we're going to be working with dynamic (moving-coil) microphones because they're the easiest to work with. The reason being that they're the least sensitive and provide the narrowest pickup range.
The microphone I personally use is the AKG P5 S.
Microphones like these will sound pretty good, regardless of your room's sound. Of course, some minor acoustic treatment can make things even better though!
There are even portable vocal booths that can be attached to your microphone stand.
Speaking of stands, you'll absolutely need one while you're playing piano!
I didn't want to get too deep into the details in this guide, but those are the essentials. It's very easy to get carried away with vocals, but you don't need some "special" microphone to record excellent quality vocals.
You can if you have the appropriate space, but I don't recommend it at first.
I also wanted to talk about recording vocals this way if you're using microphones on your acoustic piano. The reason I'd use another microphone for the voice is to get more definition/precision.
You could just use the piano's overhead microphones, but it's up to you.
I prefer giving myself as many options as possible in the mixing stage.
How I'd personally record keyboard and vocals at the same time
There you have it! Now you know how to record keyboard and vocals at the same time using one of the three methods we covered. The first one is the easiest to work with in restricted environments like apartments.
However, is the most convenient method really the best?
Personally, I use the combination of MIDI/USB keyboard controllers and software instruments. I prefer them because they're more predictable than the "real thing" so it's easier to get consistent results.
Sometimes, convenience is best for predictable outcomes (unless you prefer chaos).
To be honest, the combination of equipment I use sounds exactly like the real thing to me. If it didn't sound good, I wouldn't be using it. So yes, Arturia V Collection 7 can easily replace ANY physical keyboards and can be run easily while recording vocals.
Just make sure your computer is powerful enough!
The M-Audio Hammer 88 is the perfect all-purpose keyboard controller and feels like an actual acoustic piano. If you're going to replace something, it's gotta be equivalent or better to the original.
On that note, I'll leave you with your shopping list if you want to check out the recommendations we discussed:
If you're using Microsoft, I recommend the Mackie Onyx Producer 2-2:
If you're using Apple, I recommend the Zoom TAC-2R:
If you're looking for more inputs, check out the Behringer XENYX 1202FX:
If you're looking for realisma and affordability, I recommend the M-Audio Hammer 88:
If you need to record your analog/digital instruments, check out the Radia JDI Stereo:
If you need affordable, yet professional overhead microphones… The Samson CO2 (Pair):
If you want to record vocals (or amplifiers) with professional studio quality, I recommend the AKG P5 S:
If you're looking for the most realistic keyboard modelling, you need Arturia V Collection 7:
If you've been wanting to learn how to record keyboard and vocals at the same time, I hope you've found what you were looking for. It'll certainly take some preparation, but each method requires fewer materials than you thought. I've also done my research and have recommended the best products at the most affordable prices. If you enjoyed learning with me today, consider subscribing to my weekly newsletter for more great-quality content like this. I appreciate the time you took to read, you're now one step closer to recording your own music at home!