It seems that more of us are waking up to the fact that earning respectable income as music producers is easier than ever (contrary to popular belief). However, learning how to start a music production company is easier said than done. In this article, I'll be sharing my personal strategies for generating sustainable income using your music production skills.
Growing your own personal catalogue of licensable music for the TV/Film industry is the best way to ensure long-term passive income. Starting your own music blog can also guarantee an alternative stream of income. It's true that the traditional approach to succeeding in one's music career isn't effective as it used to be, but there's a place for every musician to prosper in this new digital economy.
How To Start A Music Production Company | Introduction
Before getting into the strategies, I simply want to provide an overview of the topics that will be covered in this article. Feel free to skip this introduction if you're ready to get started right away!
The music industry: THEN vs NOW
The one thing to remember is that the music industry is constantly evolving. What worked in the 20th century won't necessarily work in the 21st.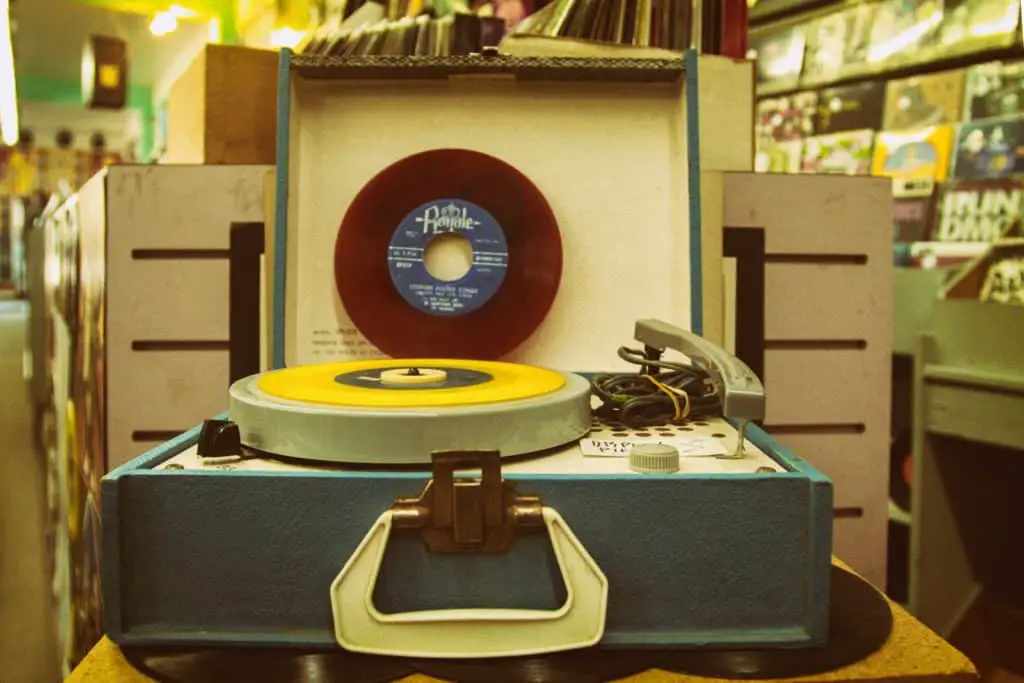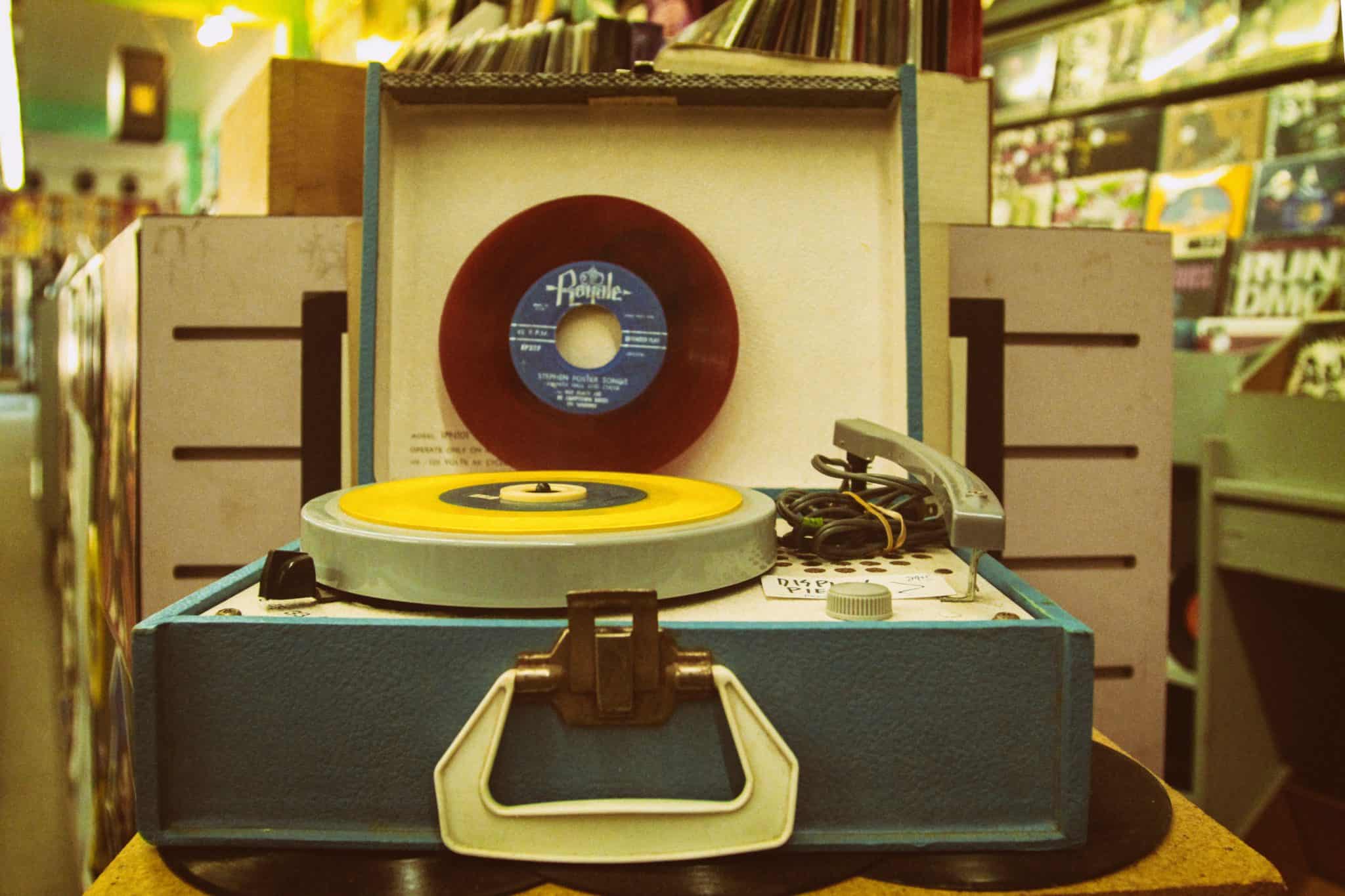 The biggest change for music producers was the innovation of digital recording and the internet.
To make a long story short, anybody with an ear can successfully create tracks that sound like they were produced in the most luxurious Hollywood production houses. The only difference is we can achieve the same results in my small studio apartment (without bothering my neighbours).
Before the advent of digital technology, musical productions were incredibly high-budget. Artists depended on the large pockets of record labels! However, it seems that everyone considers themselves "indie" nowadays.
There are so many ways to monetize your musical endeavours, but I'm going to be focusing on THE BEST.
Starting a music production company isn't for everyone
In this day and age, there's so much opportunity surrounding us that we can't even see it! Every day we're discovering new ways to earn a full-time income.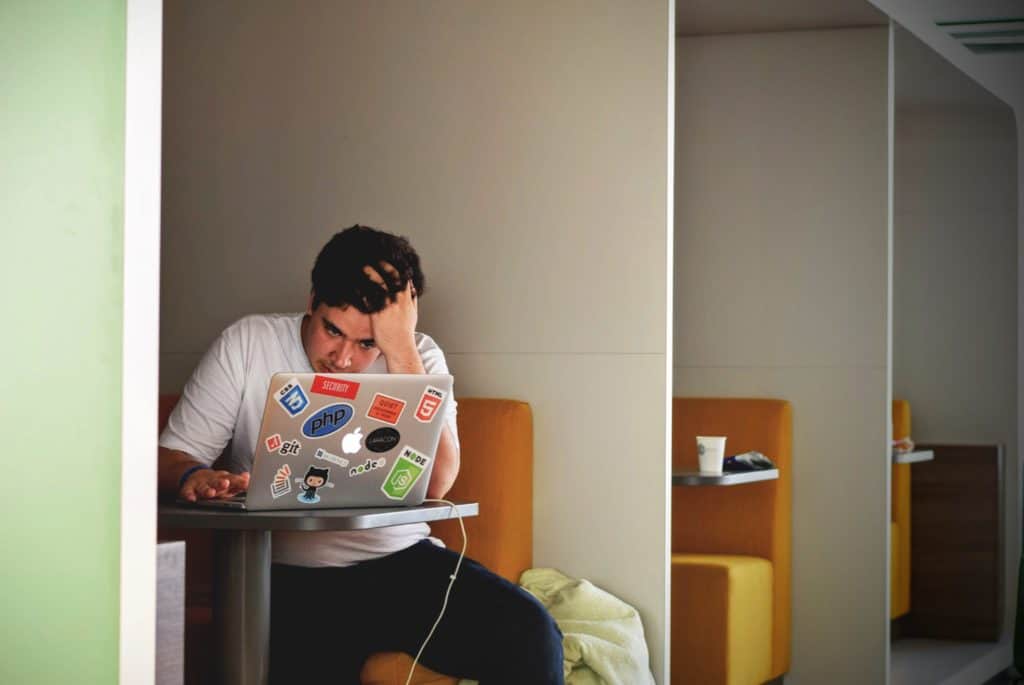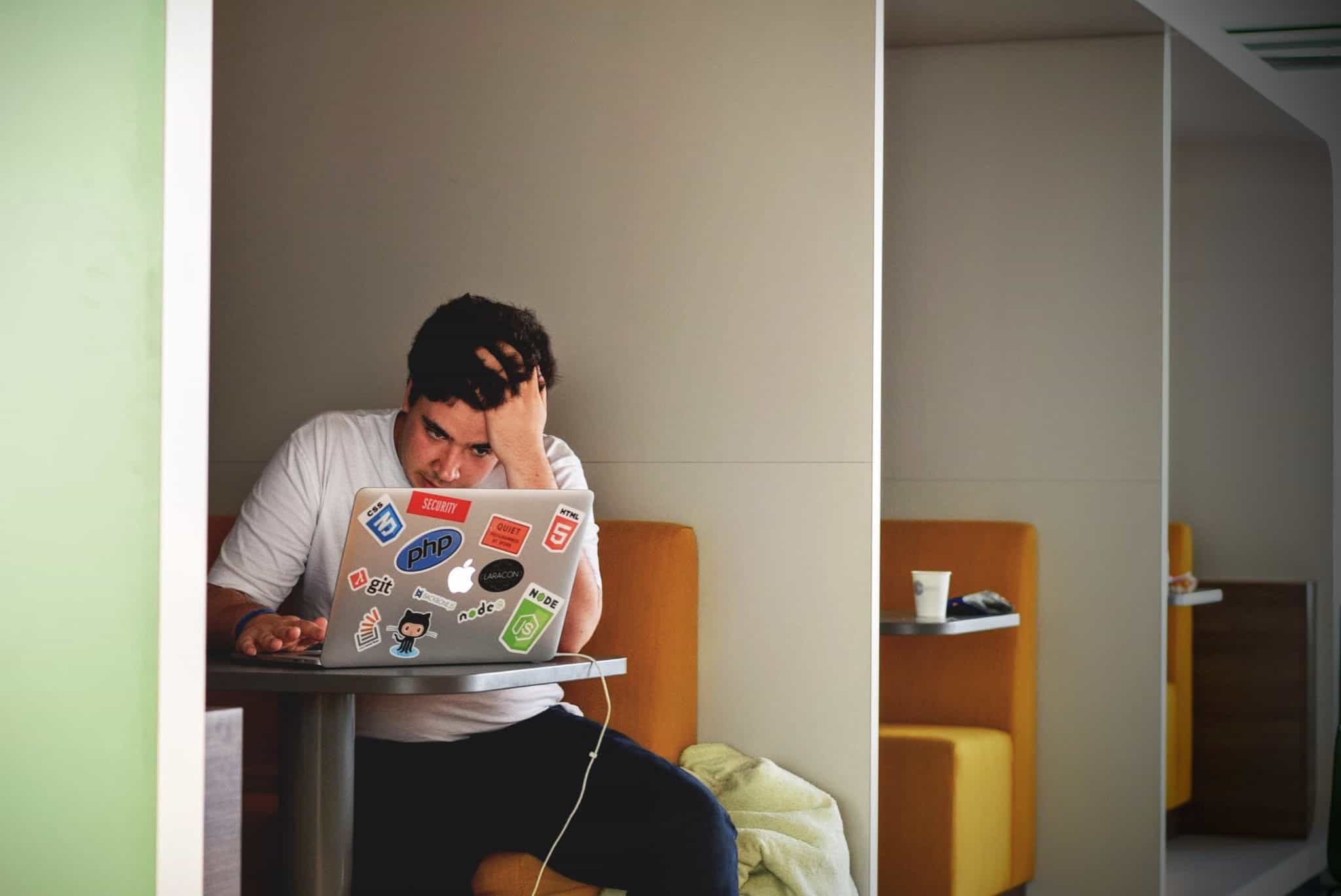 Whether you CAN make music production your career is one thing, BUT…
The real question is, WILL you?
You need to consider what it is you really WANT out of life. However, you have nothing to lose from giving it a shot!
To give you an idea of what to expect, I'll be proving some of my personal experiences. If you remember, I DID mention that starting your own music blog was a great place to start. For example, Decibel Peak is the "face" of my music production company; my brand.
Whether you're using social media or search engines, establishing an online presence is essential in this digital age. Once you acquire enough traffic, you'll realize how much of an asset your website can be. It's like a piece of virtual real estate that can make you REAL money!
Commissions, Royalties, Sales and Service Fees
Music production companies can generate income from a variety of different streams. As music producers, we're actually creating ASSETS each time we bounce tracks to our hard disk.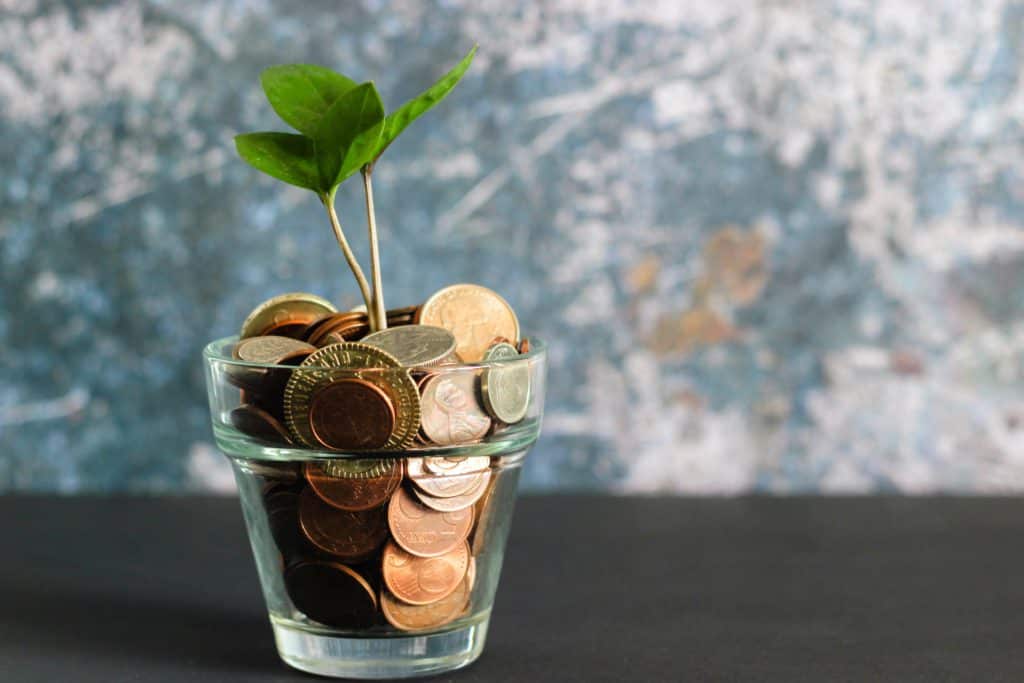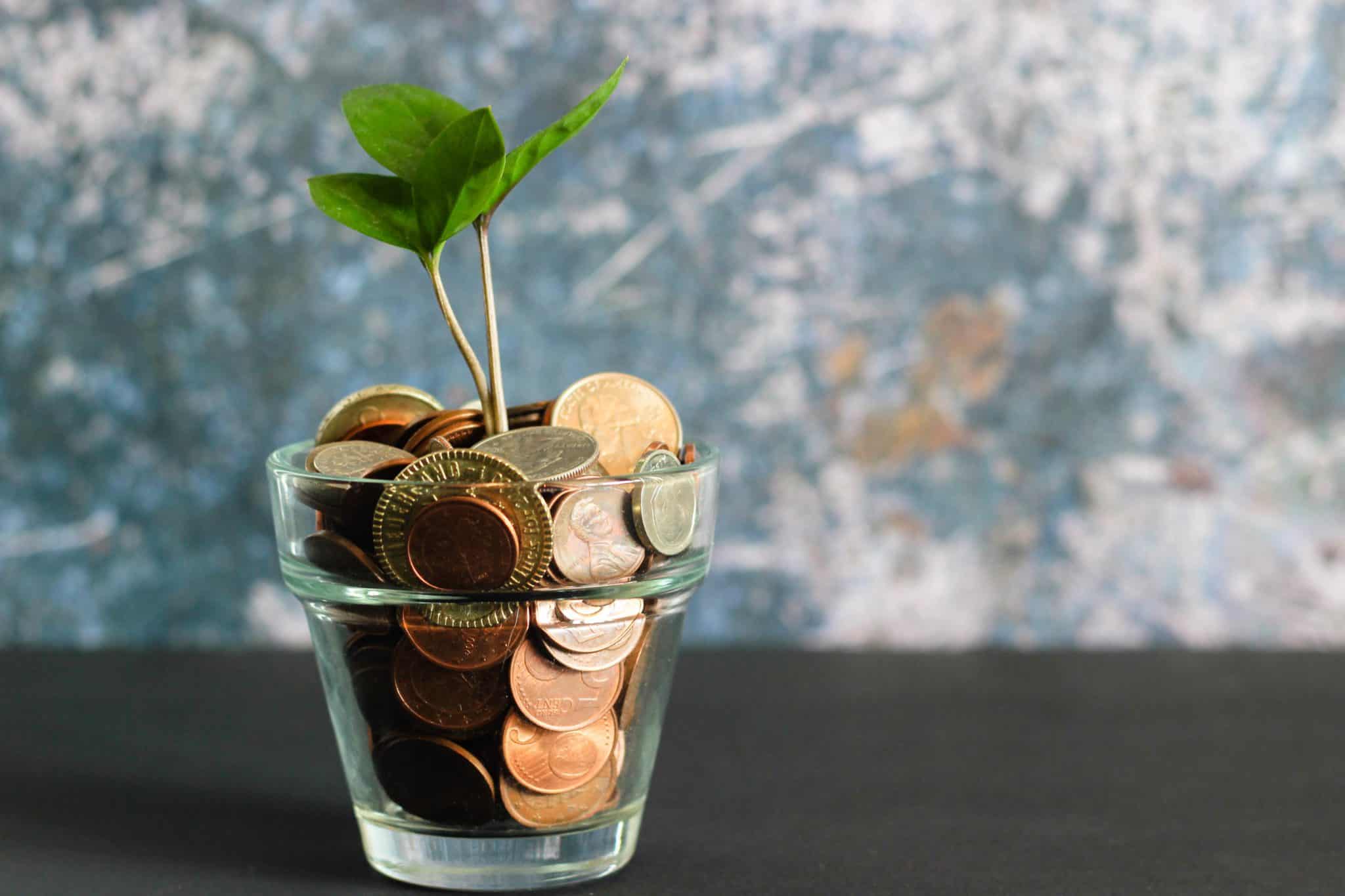 In the digital economy, your content is your employee.
In other words, your favourite song on Spotify has its own "social insurance number" that earns royalties for its writers/publishers. Each time a commercial airs, the musician that composed the music earns royalties!
Those are great strategies for generating long-term passive income from your musical assets. However, we'll be covering several other ways of making money that falls into these categories…
Commissions: affiliate links, product reviews
Royalties: streaming, ad placements
Sales: online courses, digital/physical products
Service Fees: digital services, subscriptions
I hope this introduction to starting your music production company has provided some insight. In the following section, we'll be diving right into some of these strategies. I'll be providing specific instructions to achieve each one throughout realistic timeframes.
How To Start A Music Production Company | Strategies
Feel free to browse through these strategies and focus on the one(s) that interest you the most. I've ordered them from most lucrative, to least lucrative. However, it's possible to make a living incorporating these strategies or combinations therein.
Music Libraries (Exclusive, Non-Exclusive & Royalty-Free)
The #1 way to make money as a music producer is by serving the clients of music libraries (TV stations, production companies, streaming services, video game developers, etc…). In other words, we're targeting the "big fish".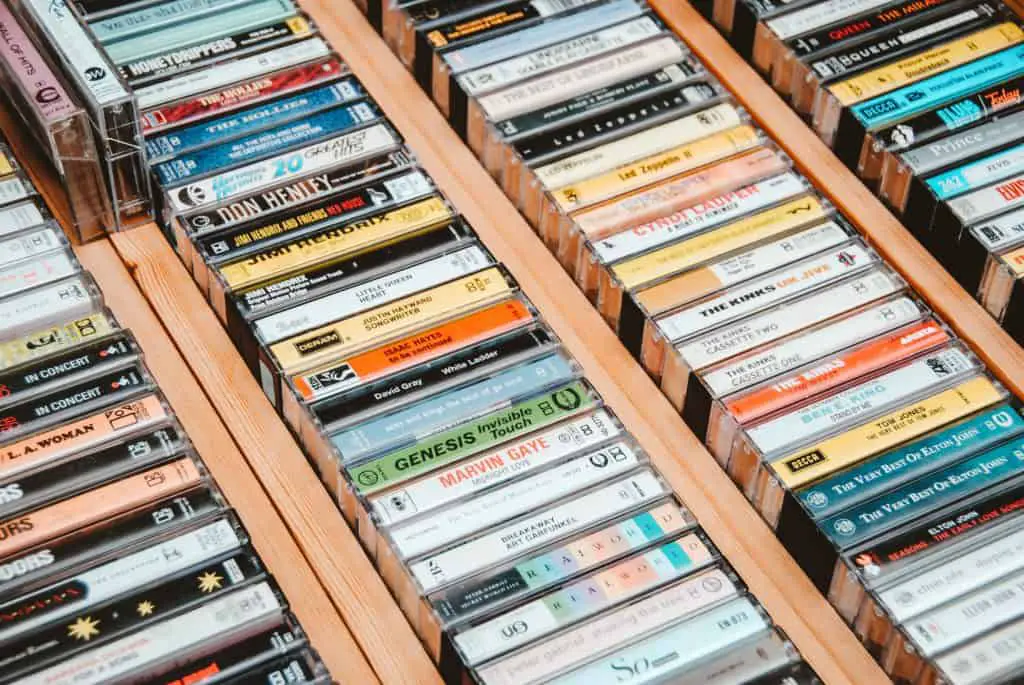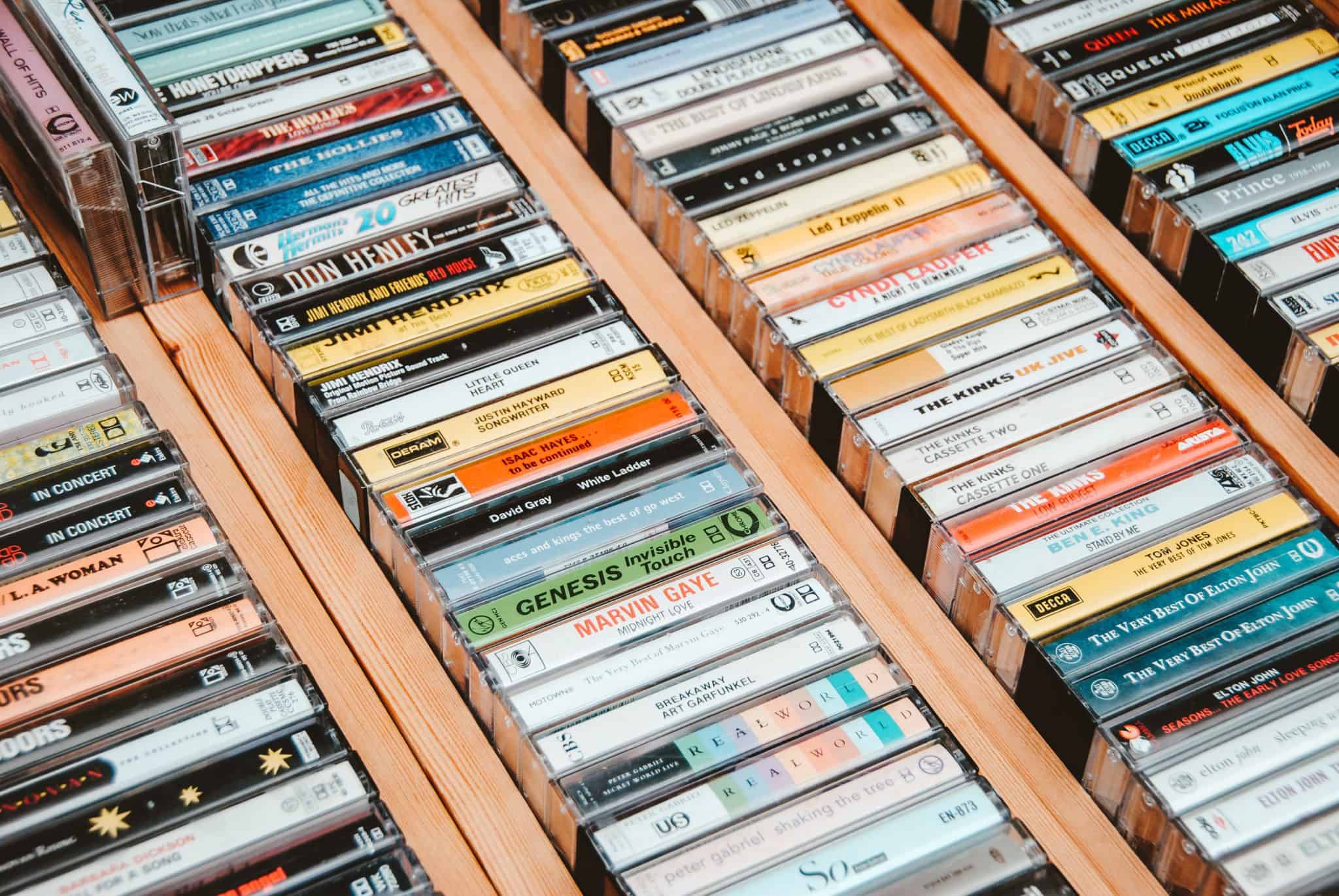 Ironically, it seems that most music producers aren't interested in this particular avenue.
It's certainly become more popular, but hey, this industry's been around since the radio. To be honest, it's actually grown considerably and new opportunities are always appearing! At the moment, owning the writer's shares of multiple TV/Film placements can pay all or most of your bills.
It really depends on how LARGE your catalogue is and the libraries you've decided to partner with.
WordPress (Blogging)
Even fewer musicians consider blogging about music. There are so many niches within the musical universe, so it's impossible not to find a topic worth blogging about.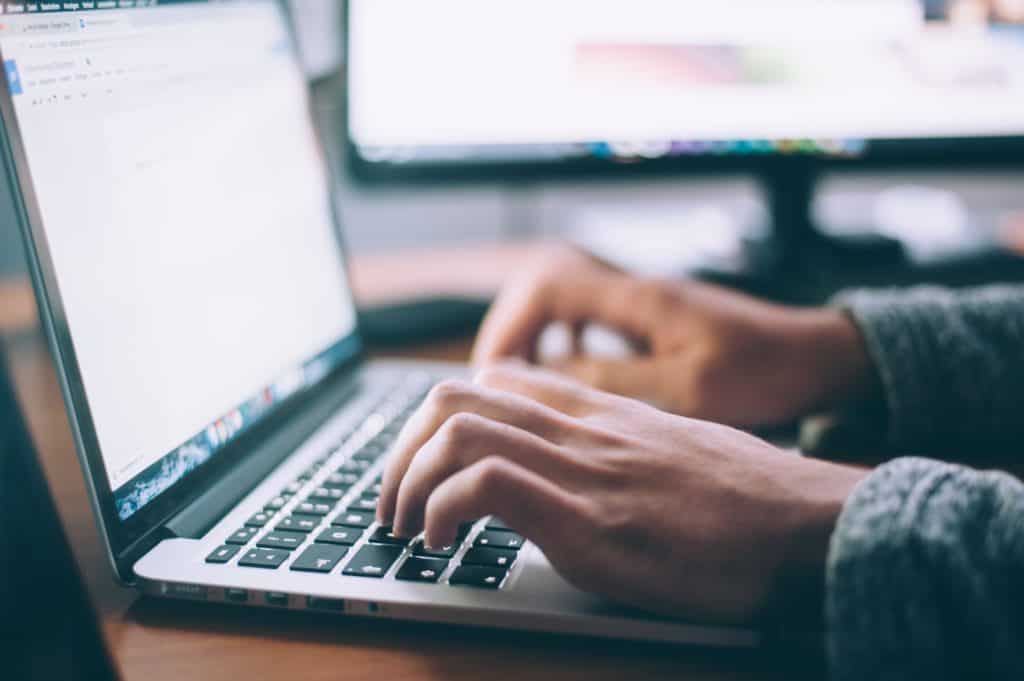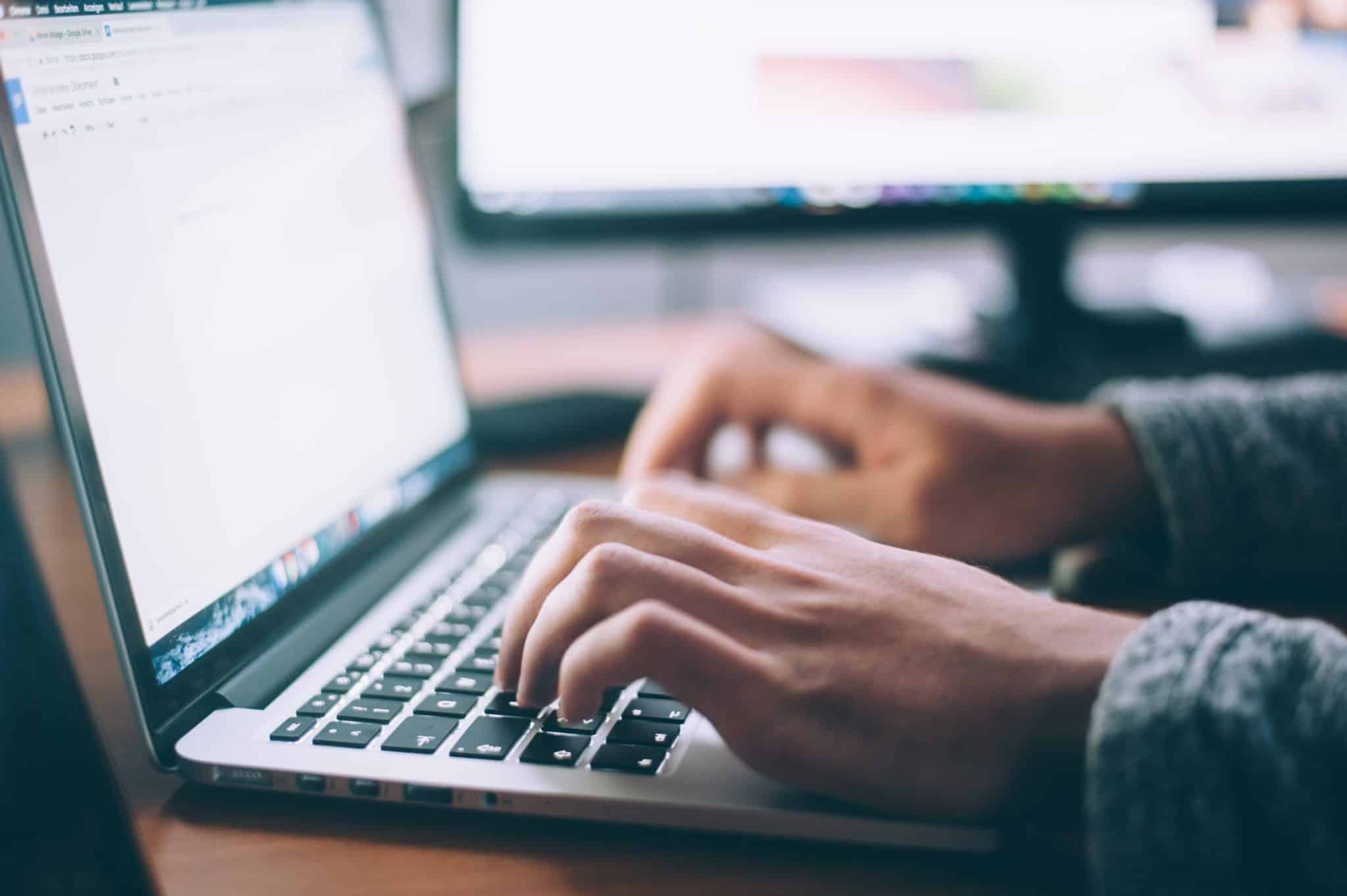 Monetizing blog content with affiliate links and advertisements can be a great place to start, but it doesn't end there.
Once you generate enough traffic to your website, you'll have created a powerful asset. I referred to this as a piece of virtual real estate earlier with good reason. Did you know that some folks have sold websites for thousands of dollars (millions for some!)?
That being said, creating a channel to share your ideas is crucial in this day and age. You can even share your online courses, virtual/physical products and services.
Upwork (Freelancing)
There are many websites that allow just about anybody to offer just about any service. Copywriting, graphic design, audio editing and music production are just a few of the services YOU could provide.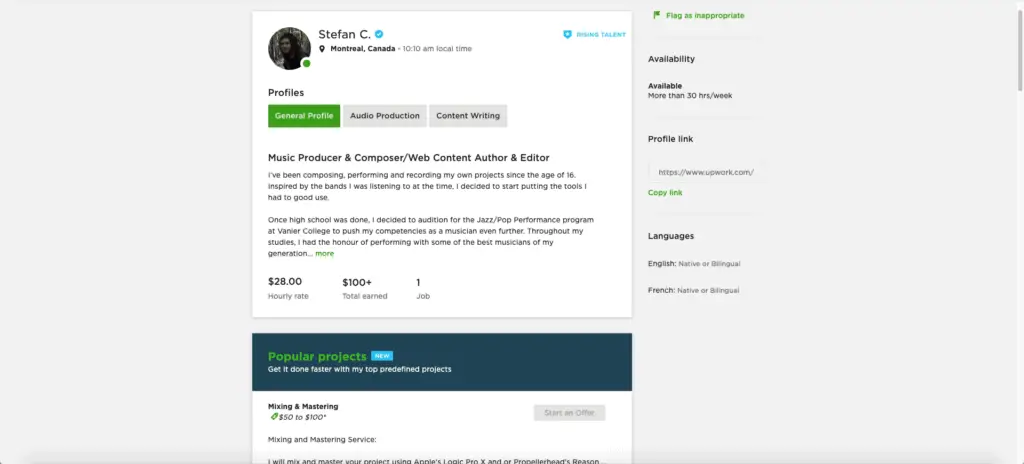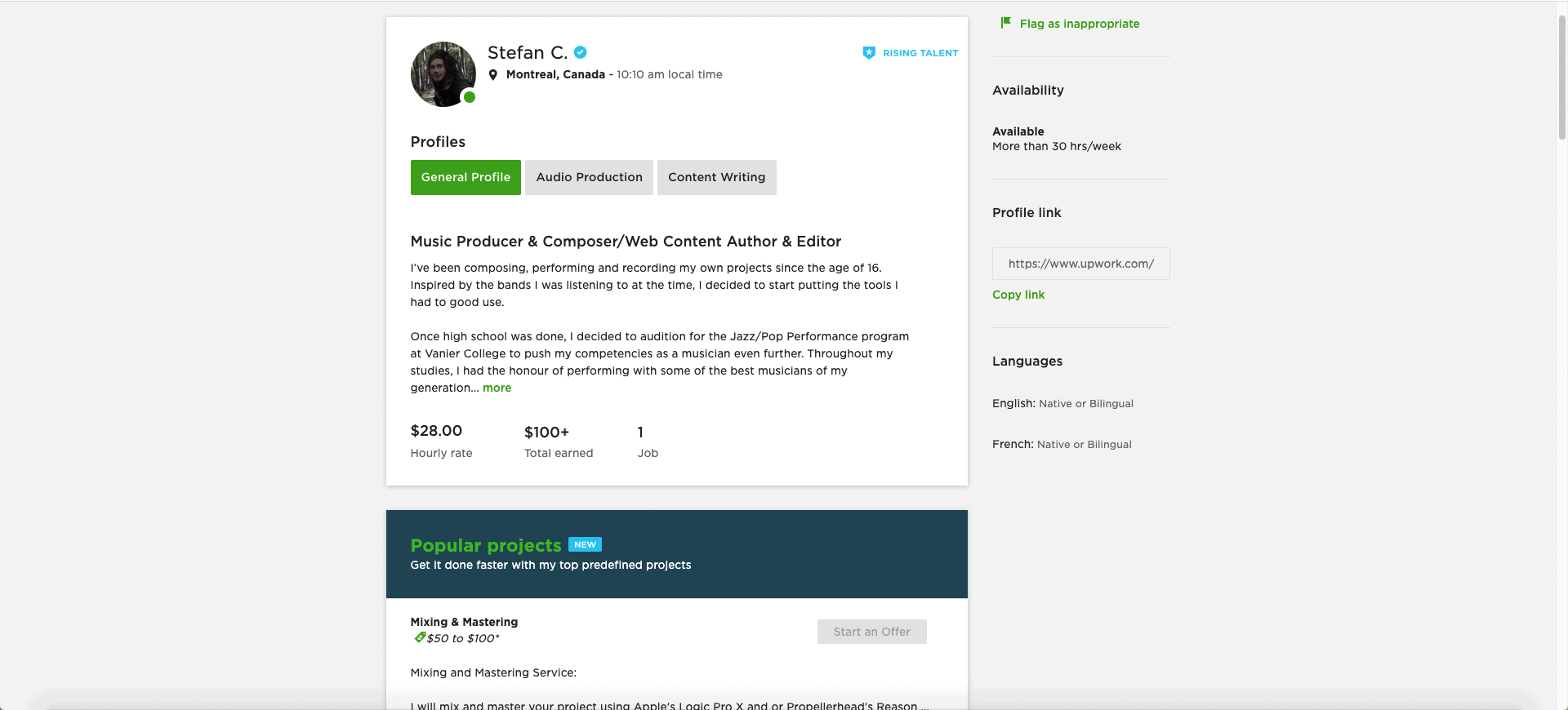 Upwork has built a reputation for being quite competitive though…
That being said, getting accepted is REALLY difficult. It took about 5 attempts before securing my account. There's a lot of information on the web about this, but the general idea is you need to prove your value by offering RARE skills.
You can use my profile as a reference while you create yours if you'd like!
Fiverr (Freelancing)
Compared to Upwork, Fiverr is open to everybody and doesn't have an application process. However, this isn't necessarily a good thing as it's become quite saturated over the years.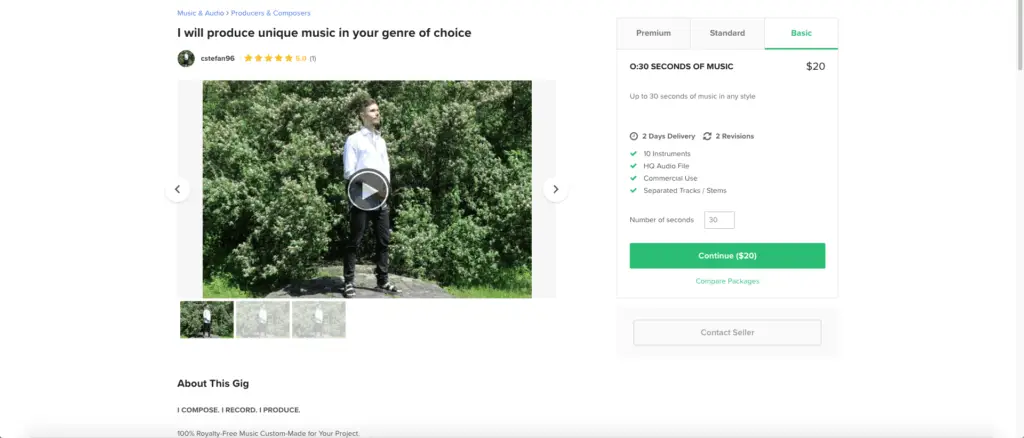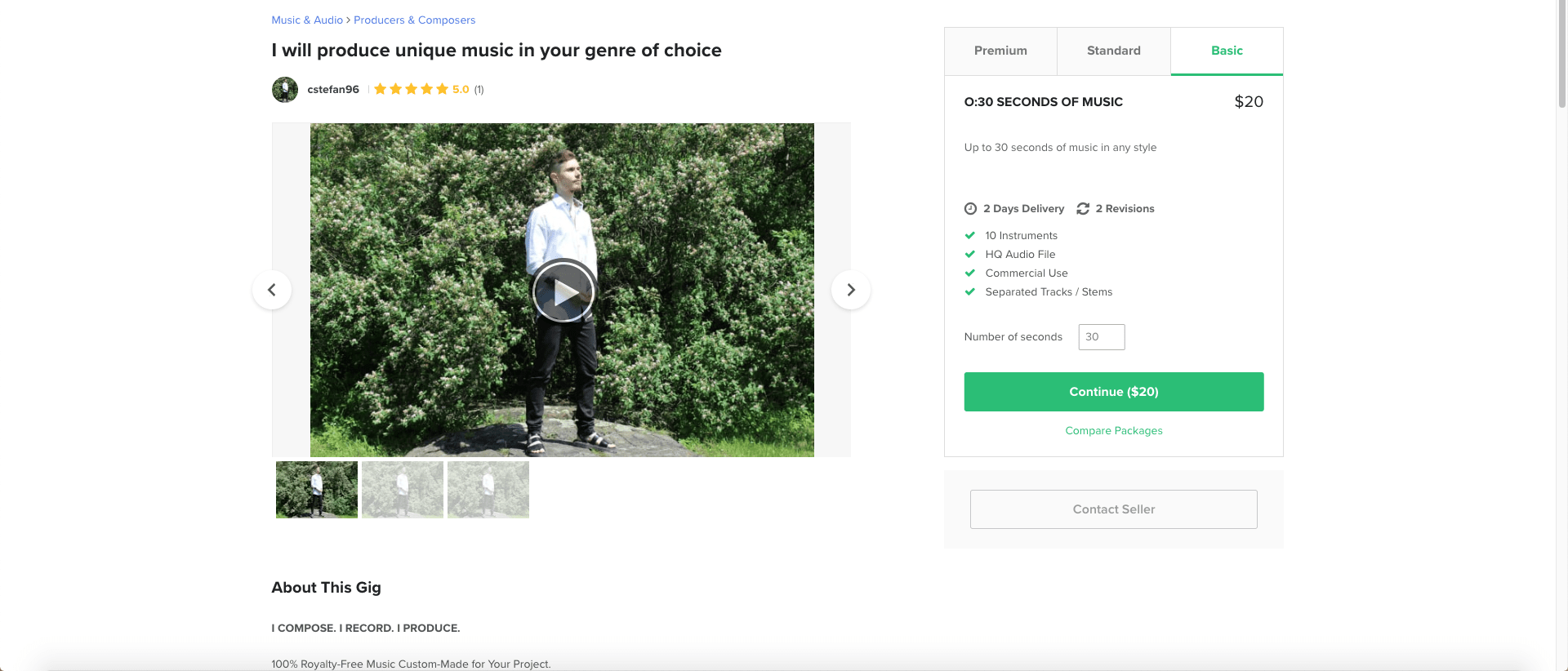 You'll need to be much more conscious of search engine optimization (SEO) principles to succeed on Fiverr.
The general tactic would be to offer your services at a competitive rate and increase as you gain more clientele/experience. Some people claim to generate full-time income using these platforms, but remember, you're still trading your time for money, so it's not a long-term solution.
Here's one of my personal Fiverr "gigs", if you'd like to use it as a reference.
Streaming Services (Spotify, Amazon, Apple, Google)
You're probably surprised to see this category at the bottom, but it's the truth. With the myriad of artists and the amount of "plays" required to make a respectable living, maybe it's time to move on.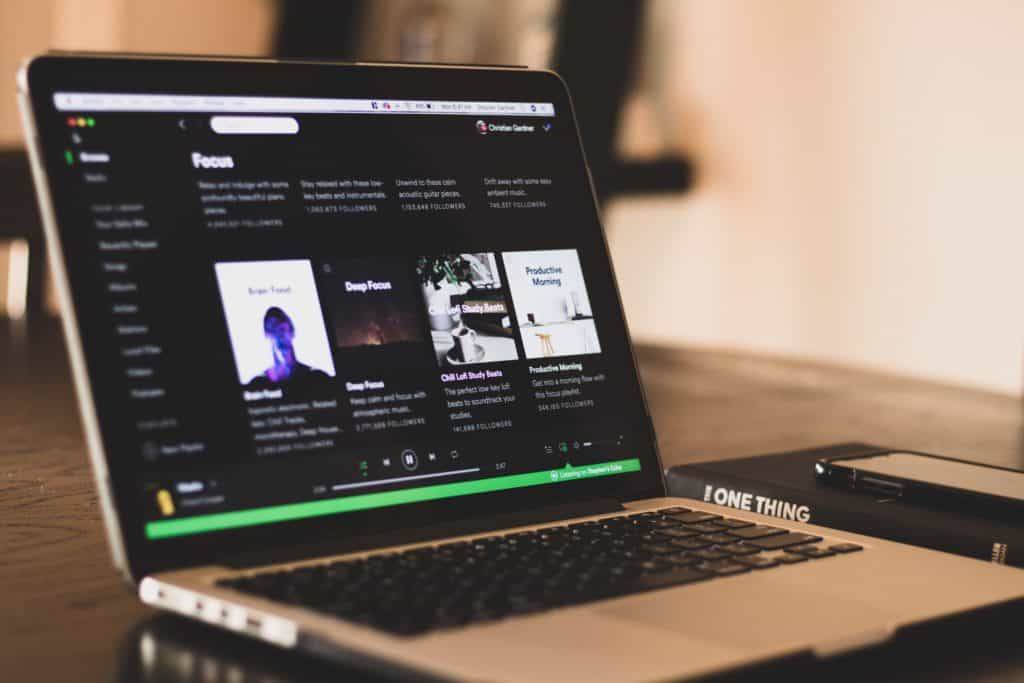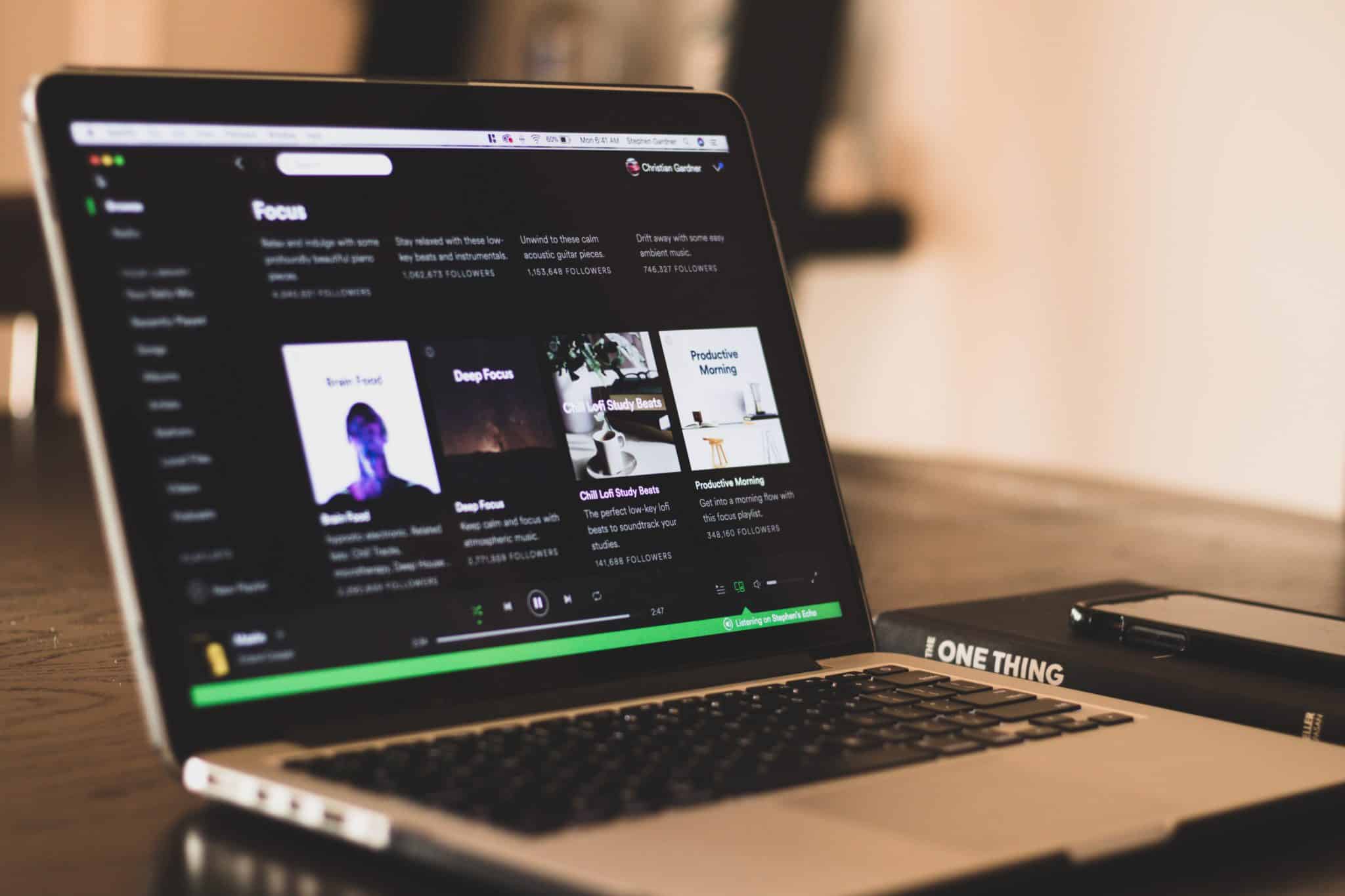 Unless you've got LOTS of music out there and are world-famous, it may be wise to place your music in non-exclusive music libraries as well!
Using a combination of the streaming services and non-exclusive libraries can significantly increase your royalties. Exclusive libraries would require you to remove your tracks from these streaming services.
I've covered how to distribute your music for free in another article, but Amuse is by far the best distributor! I highly recommend it.
How To Start A Music Production Company | Tools
As we discussed earlier, music producers in the 21st century are expected to be fully-equipped. Building your home recording studio will require much planning and consideration, so this section is dedicated to sharing my personal expertise on the subject.
Computer (Apple vs Microsoft)
In the digital age, the music producer's greatest asset is his/her personal computer. The agelong debate of Apple vs Microsoft rages on, but I've made my position very clear.
However, you can make music with ANYTHING if you set your mind to it.
Purchasing your gear second hand can save you plenty of cash down the line. Just keep in mind that the computer is the CORE of your setup. We're creating digital assets using this machine, so it certainly needs to keep you competitive!
I've written quite a few product reviews to guide anybody interested in upgrading their current rig…
Digital Audio Workstation (DAW)
The second most important ingredient in the music production line is software. It doesn't matter if you use Logic Pro, Reason, Pro Tools, Cubase, Ableton, FL Studio and so on…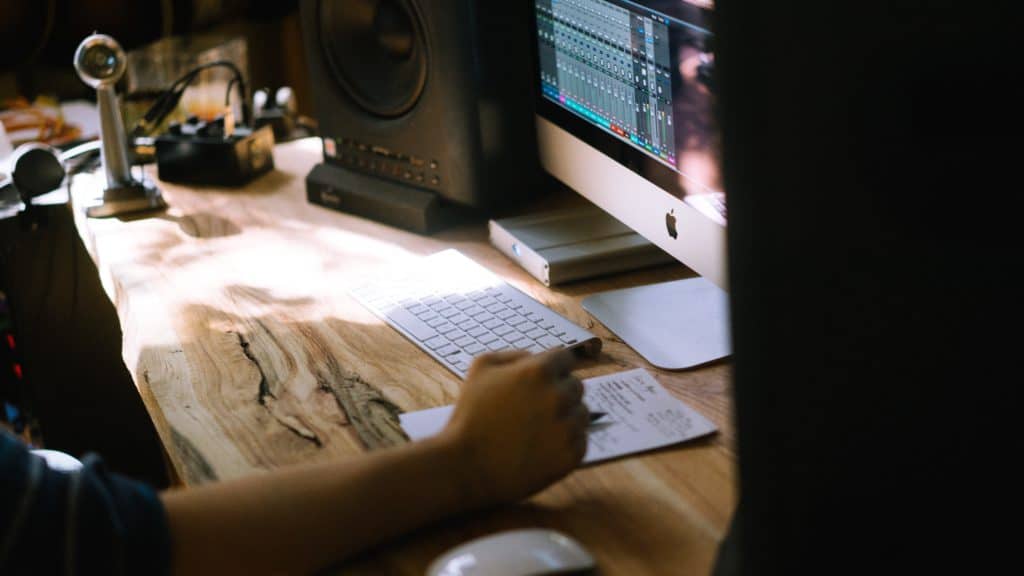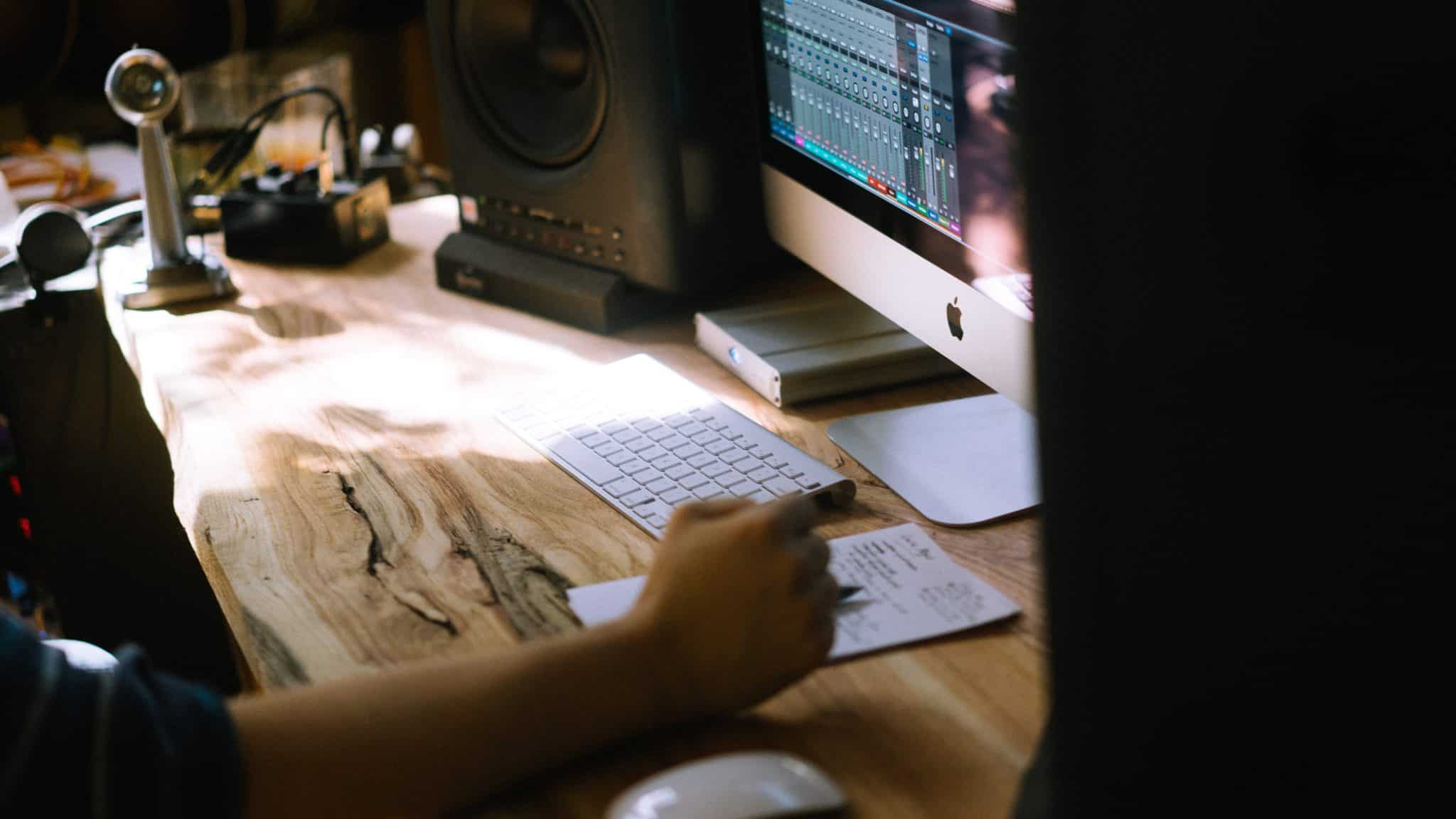 However, I personally use Logic Pro X and Reason 11.
Any demonstrations I provide utilize these DAWs, but the concepts I teach apply to all DAWs. Just make sure you test at least two of these programs before investing. Each manufacturer usually provides some form of demo version.
The hardware these applications have replaced saves producers like you and me thousands of dollars and makes all of this possible! Choose wisely…
Storage (HDD vs SSD vs Cloud)
Before getting too far into the game, I highly recommend mastering storage. After all, you'll be producing some pretty valuable assets, so it's worth the time and consideration.
Personally, I recommend having TWO physical storage mediums and at least ONE virtual storage space (cloud storage).
I've written extensively about this subject and believe to have mastered the craft! You can read more about my personal setup, but here's another mind map I made the other day.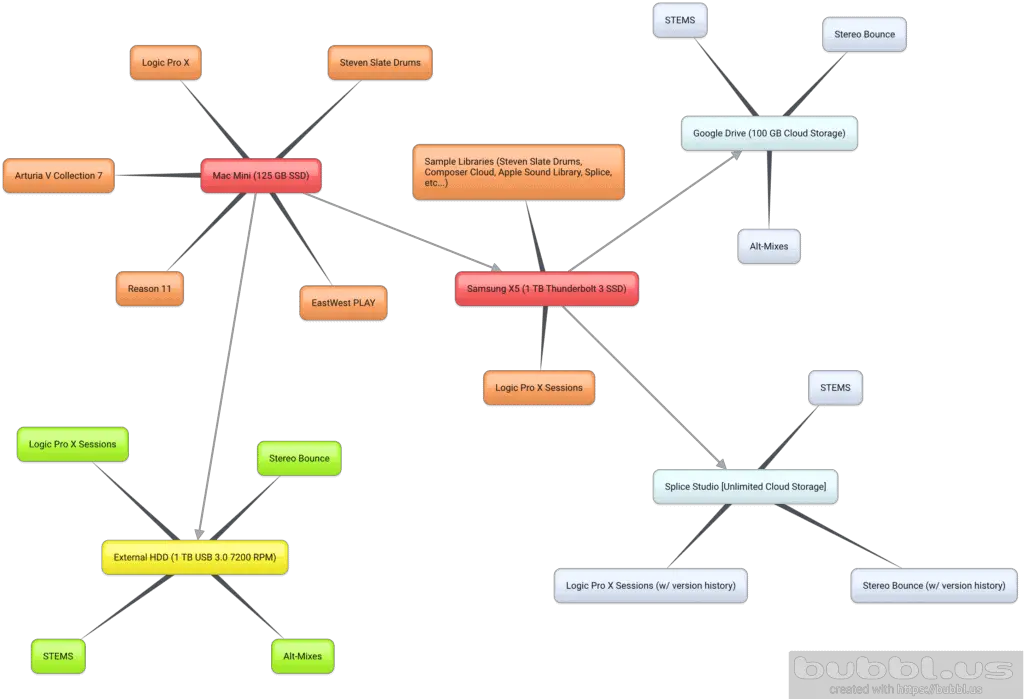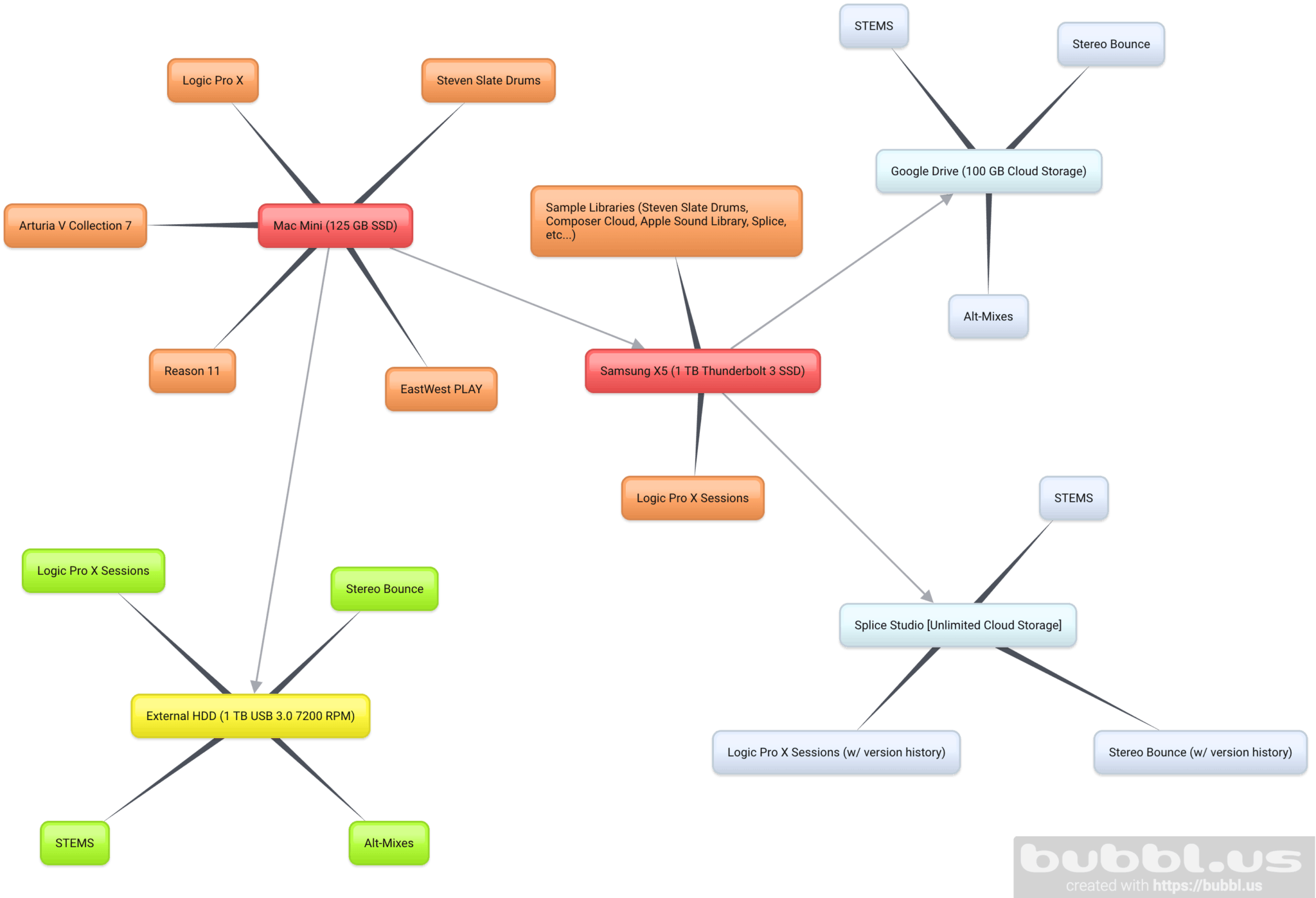 I got storage out of the way early, so maybe I can be of assistance. Here are a few links that are related to storage…
Audio Interface (USB, FireWire & Thunderbolt)
You probably didn't believe me when I said we could achieve all of this without disturbing the neighbours. Audio interfaces have come a long way, but it's time everyone made the move to Thunderbolt technology.
In 2020, we need to move away from USB audio interfaces. They've become obsolete, let's face it.
Companies such as Universal Audio have revolutionized the music industry with their innovative technology. I won't get into the details here, but you can read more about my personal audio interface, the Arrow, by following this link.
This essential tool is necessary to capture the analog signals from our instruments. If you don't intend on recording anything, you may be able to skip on this one.
Controller (USB/MIDI)
USB/MIDI controllers come in a variety of shapes and sizes. It seems like every year, someone has created some new revolutionary device!
I personally like to stick to the basics, but it will depend on your particular style.
From experience, I feel like the keyboard is required to provide that "human" feel. Professional music producers are actually professional musicians!
Your music doesn't need to be complicated, but it needs to sound REAL.
Instruments/Amplifiers
In all honesty, more and more it seems that music producers are moving away from analog/physical gear. Using virtual instruments, it's become possible to emulate nearly every sound.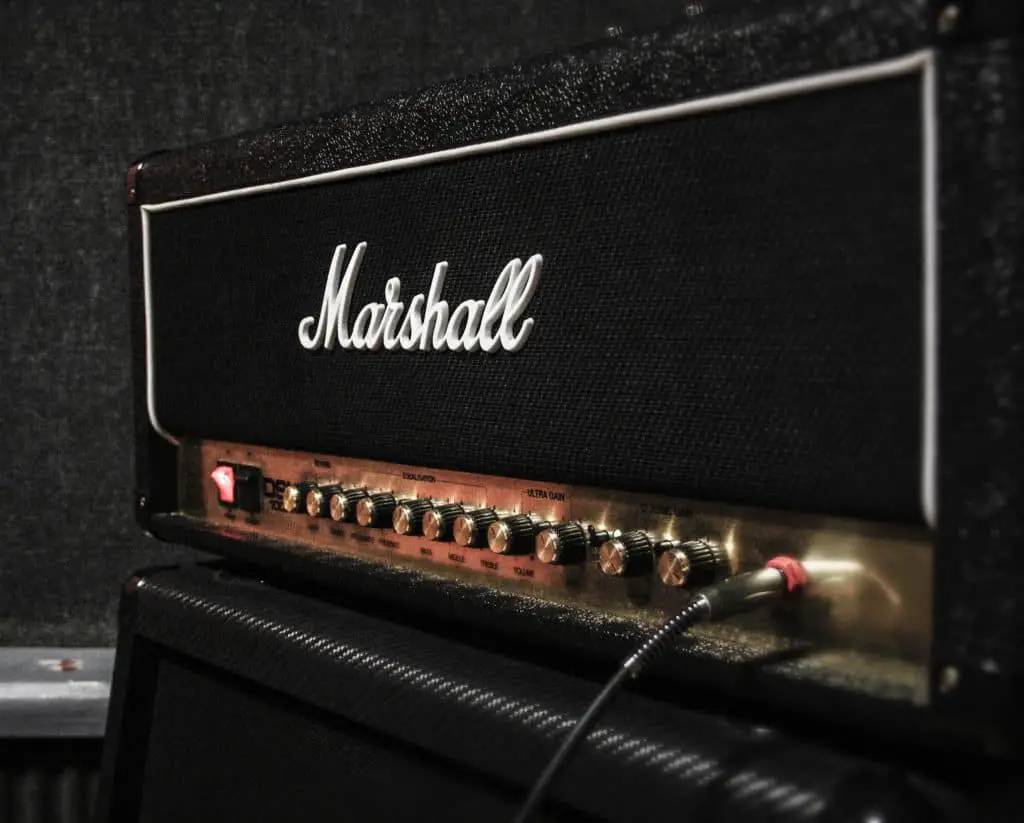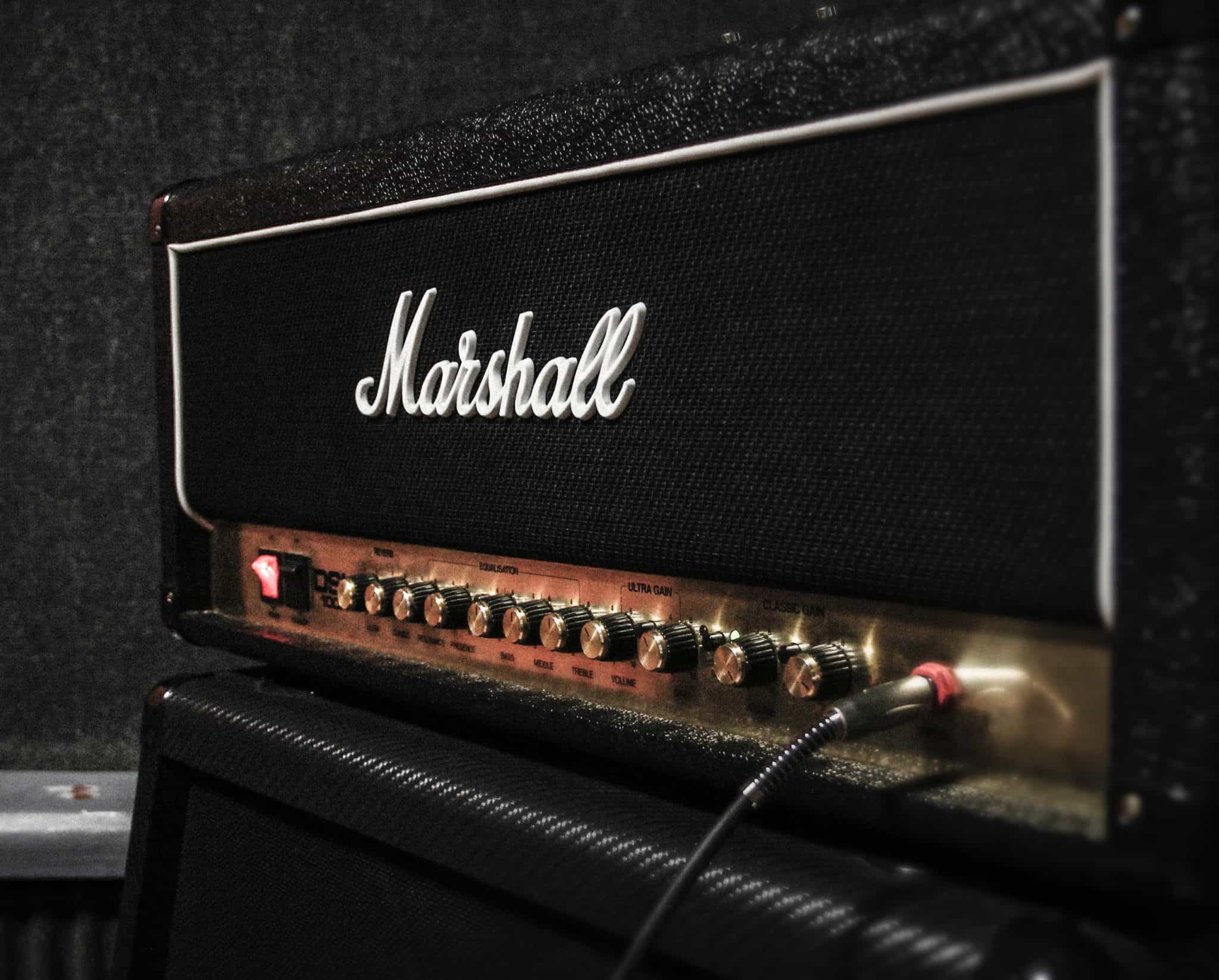 I'm kind of a purist to tell you the truth, so I still use real guitar/bass in my projects.
As far as amplifiers are concerned, I still own a few. Using direct boxes (DI), I can track an amplifier using my microphone and preserve my instrument's DI signal. It's great to provide yourself with many options, but this segment is optional.
I'd really like to hear more musicianship in today's music. Artists like Snarky Puppy, Vulfpeck and many others are responsible for pushing this movement forward.
Are you committed to starting your own music production company?
If you answered YES to that question, you might benefit from signing up to my mailing list. The one thing about being an entrepreneur is that we're always reaching for the next summit.
But that's the truth, there'll always be another summit… It's a long journey!
Taking on the responsibilities of creating your own job isn't for everyone. It'll require a lifetime of dedication and hard work. If you want to be your own boss, there'll be no one to tell you what to do but YOU.
That being said, I want to help you stay on track. I'll make sure you receive my latest content every week. Whether I'm launching my next online course or releasing my latest content, you'll never miss a single beat.
You can also leave us a comment if you have anything you'd like to share. I wish you all the success in the world on your musical adventures!