If you're looking for some of the best royalty-free samples on the internet, I think you'll enjoy reading about LANDR Samples and Splice Sounds. I've personally worked with both, but I've definitely decided which service I'll be using from now on…
LANDR Samples and Splice Sounds are two of the best sources for royalty-free samples. However, I think LANDR's use of artificial intelligence and superior technology gives them the advantage when it comes to long-term growth. It's ability to recommend complementary samples based on other samples saves me LOTS of time. It gets even better with the included multi-tracker which allows you to "audition" your samples together before making the purchase. I'm excited to talk more about these features, but does that mean we're completely ruling out Splice Sounds? I think it'll come down to personal preference in the end, so keep reading to find out which one is right for you.
The pros/cons of LANDR Samples
I only recently started using LANDR Samples, but it's quickly earned its place (even if it's a small one) in my music production toolbelt. It's much easier to work with than Splice Sounds and part of that is because it doesn't require an app.
PROS
The "Selector" helps you find relevant samples quickly
The "Creator" helps you hear your samples in context
Sample packs are well-curated and high-quality
It's easy to create collections of you favourite sounds
CONS
Certain genres are either absent or lacking
The library is still growing (not as large as Splice Sounds)
That being said, I think the fact that LANDR Samples focuses on certain genres is actually an advantage (for me, anyway). I like stuff that "grooves" and find it very easy to find loops that correspond to my musical taste.
There's lots of Hip-Hop, Funk, RnB/Soul and even some Disco!
It's also really easy to search for sounds based on instrument-type.
However, I still feel like the library could be more organized. I think that's one of it's main weaknesses at the moment (probably because it relies on AI to do most of the work). That's why you'll want to get used to working with the "Selector".
Unless you know exactly what you're looking for, it can seem overwhelming to browse.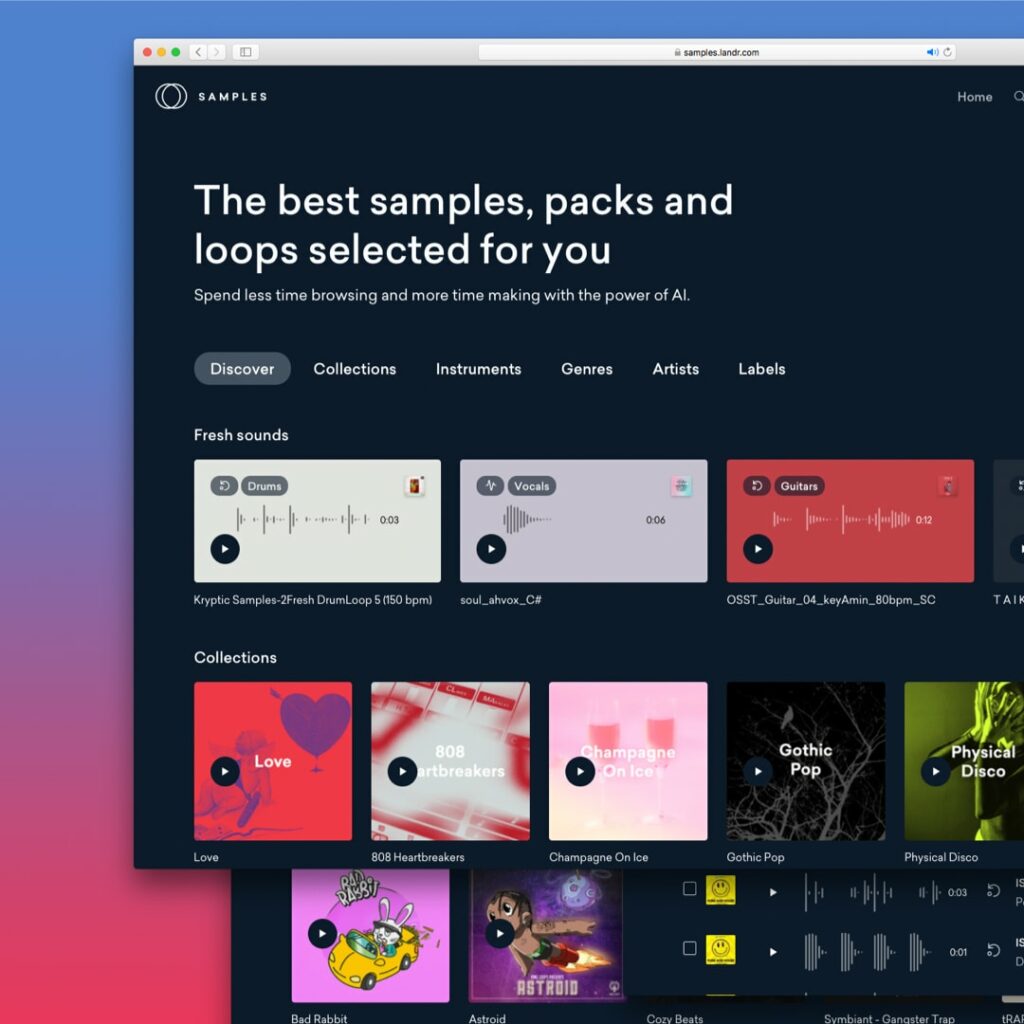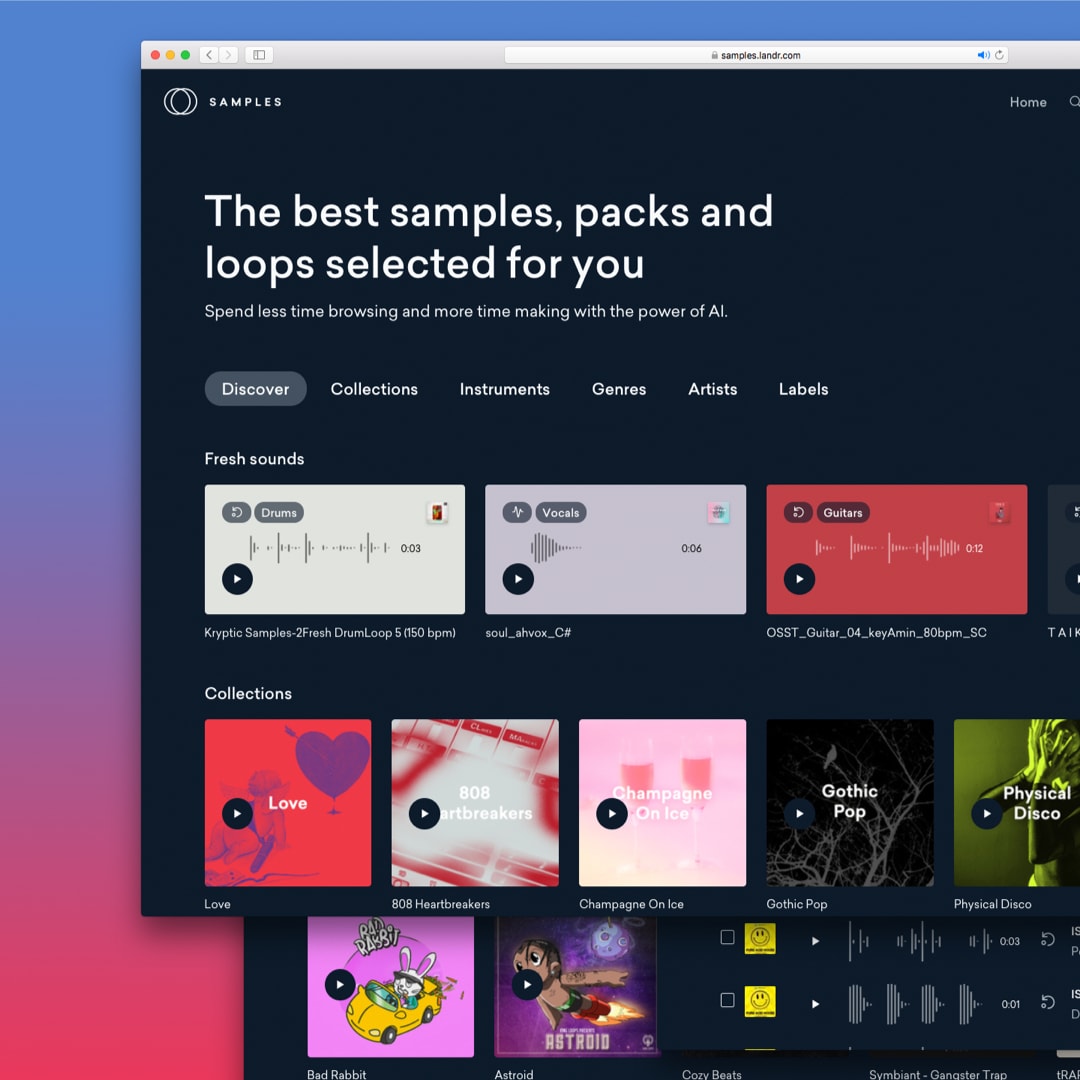 The pros/cons of Splice Sounds
I've been using Splice Sounds from time to time, but I recently stopped using it for good. I was getting really tired of using the desktop app (it's not that great in my opinion).
You'll need to use it to download, whether you want to or not.
PROS
Excellent selection of sounds from various artists/genres
Exclusive artist packs for signature sounds
The ability to download presets for certain plugins
The online catalog is extensive and well-organized
CONS
The desktop app doesn't do the platform justice
If you're wondering what's wrong with the desktop app, I'll explain. It's almost as if they've completely neglected it and expect the user to put up with it.
I'm really picky when it comes to software (as you may know), so it didn't meet my criteria.
Even with high-speed internet, the client is EXTREMELY slow. The ability to search for sounds on the app is severely reduced as well which makes me question its purpose in the first place. Of course, you can always use your web browser to search and it'll simply prompt the app when you select a sample.
I just would've preferred something web-based (or a better app).
That's really what killed it for me. The sound library itself is excellent though.
Let's talk about LANDR Samples' "Selector"
One of the most time-consuming tasks is searching for sounds. That's why LANDR as a company has started implementing artificial intelligence into its platform; to save us time.
Now, they're not the only ones to have thought of that (apparently Splice has as well).
I just know that LANDR has been working with AI for much longer, so I find that the quality of the process is where it needs to be. The samples that the platform recommends are actually great matches most of the time.
It's really efficient because you end up finding the sample packs you're looking for that way.
From there, you can simply browse the packs and see what fits with what you've got. However, that only works with sounds you find on LANDR Samples. I'd like to have the ability to feed my own sounds and/or tracks so that it can find complementary samples that way.
Considering how far AI has come, I don't think that'd be too difficult.
If you're reading this LANDR, please make that happen!
Let's talk about LANDR Samples' "Creator"
Now, let's dive into my favourite feature on LANDR Samples! I've probably spent too much time creating some pretty "groovy" loops using the "Creator".
I think it's great for musicians who need something quick (like a backing track) in order to create content for their social media accounts.
For example, you can make your loop and simply sing/solo over it.
Even as a talented music producer, I'd rather not waste too much time creating something for Instagram when I know it'll be forgotten 1-2 days after posting.
That's why having LANDR Samples "spit out" a track can be fun and cost-efficient!
The best part is that you can modify the key, tempo and overall mix (volume) of each sample. The "Creator" automatically aligns the keys/tempos of your chosen samples which makes it incredibly easy to cook something up on the spot.
Even better… It allows you to download the "processed" samples so that you don't have to redo everything manually in your DAW.
LANDR Samples is much better for content creators
I think Splice Sounds is probably better if you're looking for individual/one-shot samples, but LANDR Samples provides turn-key solutions for content creators. That's why I'd personally use the platform; for social media content creation.
As you might know, I'm not too fond of using samples in my music (find out why here).
Considering how affordable both of these platforms are though, I think it's accessible enough for anybody to use. It's much less expensive than hiring musicians to play on your next Instagram post (which'll be lost in time by tomorrow).
That being said, I don't think LANDR Samples is there to replace real musicianship.
I think LANDR gets that and instead has created a tool for you to have FUN WITH.
It's also interesting to see what the platform can create for you. If you're looking for inspiration for your next project, I think it's a viable place to start your creative research.
The best part is that you can accomplish that for FREE (you won't be able to download though).
If anyone asks though, you didn't hear that from me! However, I still encourage you to try the service out. The most affordable plan (75 credits) should last you for quite some time and get those creative juices flowing.
Let me know what you think and please, share what you create (the platform allows you to share links to what you've created with the "Creator").