Don't have a background in graphic design? No problem! That didn't stop me from creating simple, yet effective album art for my single releases. Learning how to create your own album art can potentially save you lots of money down the road and it'll become useful in many ways.
By using Canva, a web-based image manipulation software, you can easily create your own album art using royalty-free images. In fact, I'll also be sharing 3 websites where you can provide yourself with these images for FREE. Canva is also free-to-use, but has paid options if you need more features. For the purposes of creating album art, we won't need to dish out any money, just a little time and energy!
Create your own album art using free stock images
The first step to learning how to create your own album art is acquiring some pertinent images. Of course, you don't actually need to use images if you're just planning to do something simpler.
For example, you could simply have a white background with some text.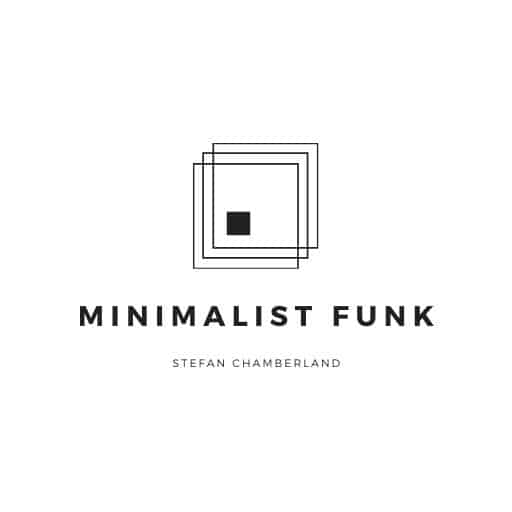 It really depends on the purpose of your release and who's eyes you're trying to catch. The best place to start is by selecting some keywords that describe your future release. You can also study album art for artists in the same niche as you to see if you can find any trends.
One of these trends is easily observed by studying the "synthwave" scene.
Once you've come up with some keywords, you can then start your search for that perfect image! Here are 3 of my favourite websites for finding high-quality images that are both free and royalty-free…
In case you're wondering, YES, you can use these images commercially without crediting the artist/photographer.
However, I encourage you to do so when possible and to donate some money to them personally (a dollar is better than nothing). The very least you could do is thank them, especially if you'll be making money with your release!
Once you've got 2-3 images to work with, you're ready for the next step.
Create your own album art using Canva
You'll need to create an account at canva.com before getting started. It's very easy, especially if you decided to connect using your Google/Facebook account.
Once that's done, you'll be at the dashboard and you'll be ready to start creating!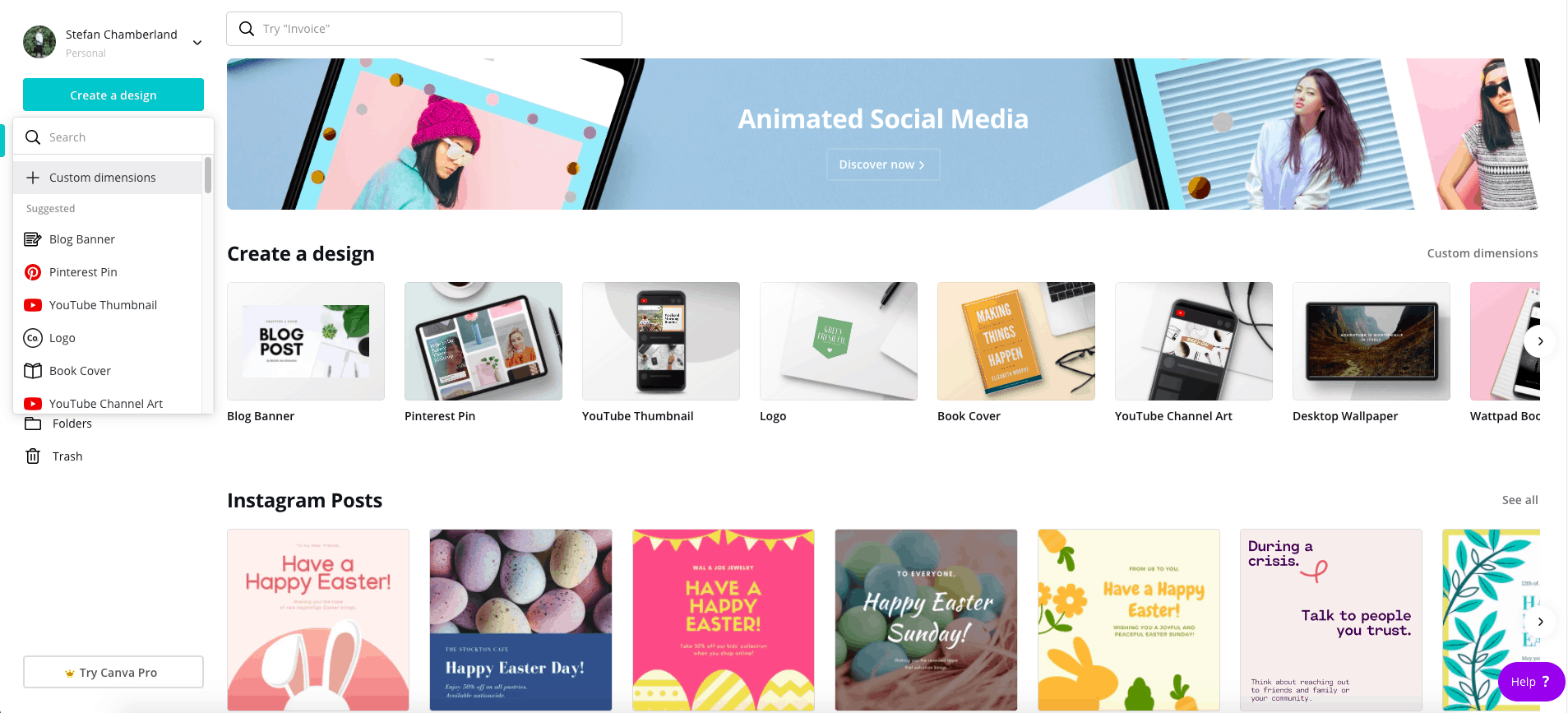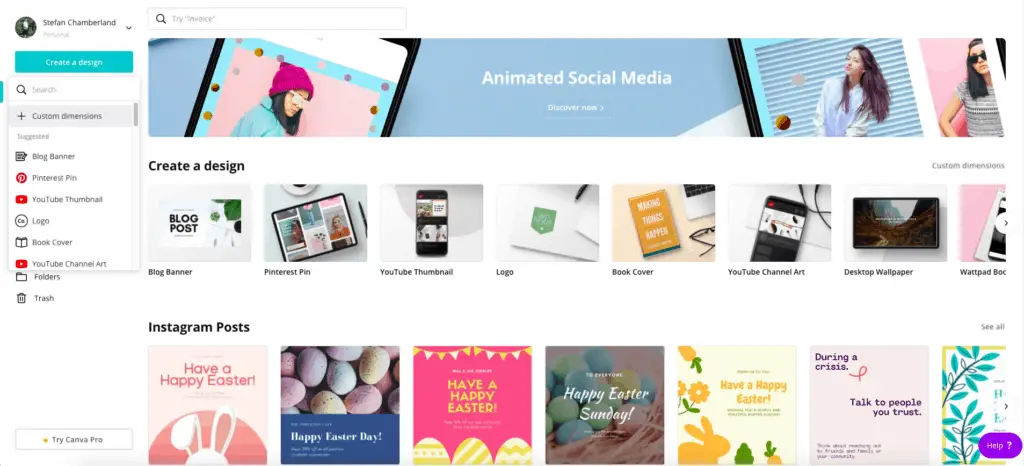 Canva provides its users with many templates to get started, but we won't be needing these. We'll simply create our own design using custom dimensions. As you may have noticed, album art is a square, but which dimensions should you use?
To keep the file size small, I recommend 512×512, but you could go smaller if you'd like.
It's all relative, but keeping the file size below a certain threshold may be required for certain platforms.
As long as you keep your original image, you could always go back and reformat if you run into issues. Canva also saves all your designs automatically, so you can easily make modifications at any point.
Another thing I forgot to mention is that Canva also has free images integrated into the platform.
However, I found that there's less options than directly going to the websites I mentioned in the previous section. There are also images you can purchase which is an advantage if you're looking for something more unique.
Once you've got your canvas in front of you, you'll notice a panel on the left side of the screen.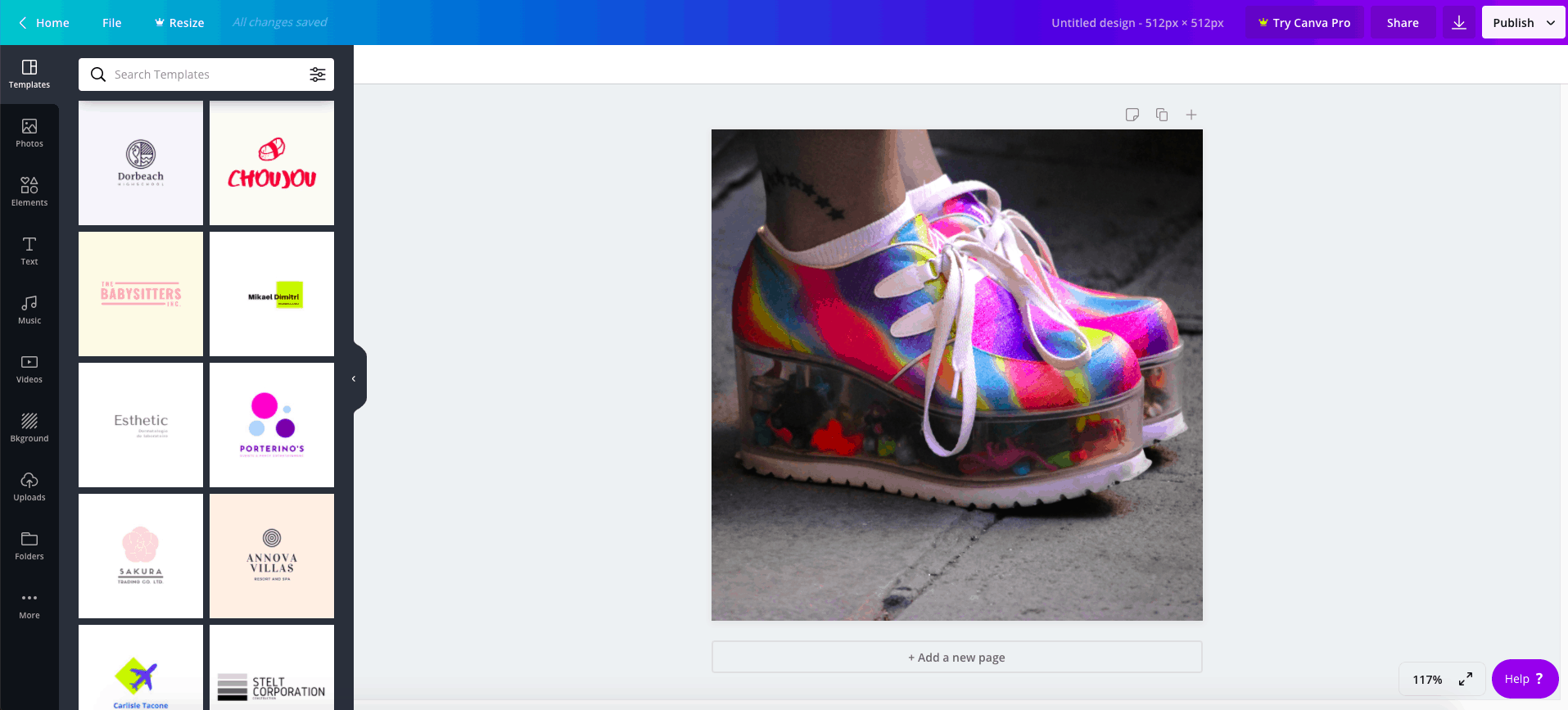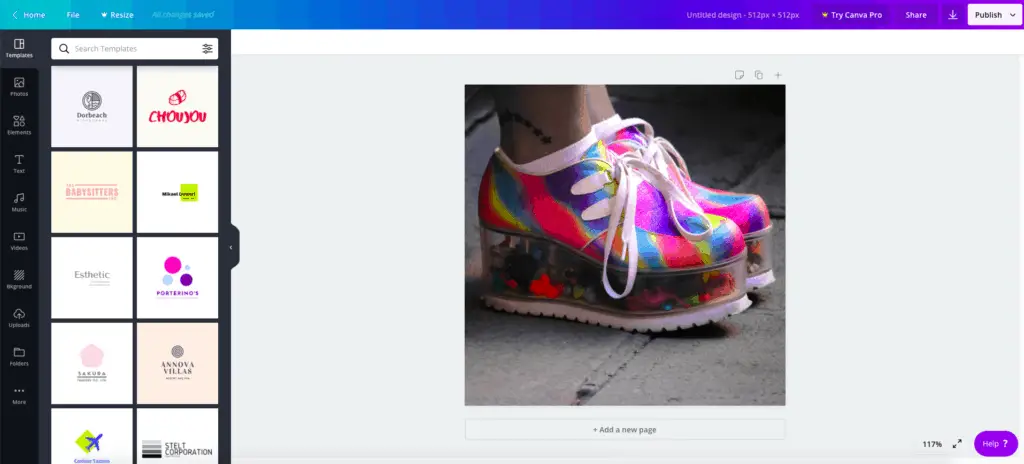 The only sections we need to be concerned with are…
Templates | you can use these for inspiration or if you have absolutely no idea where to start.
Photos | this is where you can search for free royalty-free images like on the websites I mentioned
Elements | these can be interesting if you want to add some extra flair to your images
Text | you'll have many fonts to choose from if you need to express yourself in words
Backgrounds | if you're just planning to do something simple, these can be an option
Uploads | this is where you can upload your free royalty-free images from the websites I mentioned
I encourage you to take an hour or two just to familiarize yourself with the software.
You'll also need to resize most images to fit the new dimensions. Use your eye to determine what works best.
Next, we'll be looking at another free piece of software you can use if you're more advanced.
Create your own album art using GIMP
Another piece of software I've used in the past is GIMP. It's open-source which means that it's free and compatible with pretty much any operating system (OS X, Windows and Linux).
GIMP is very similar to Photoshop, but it's obviously got its learning curve.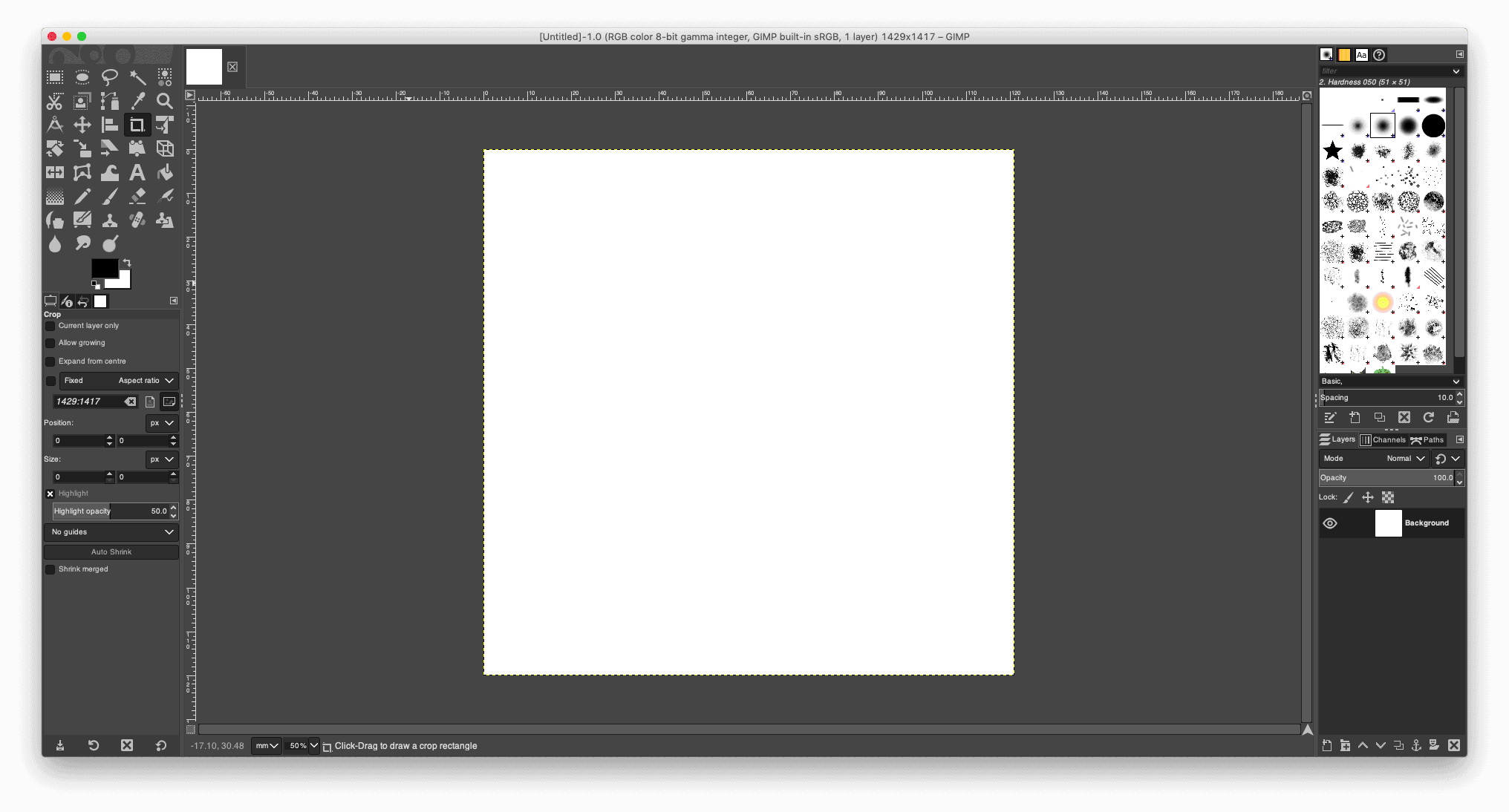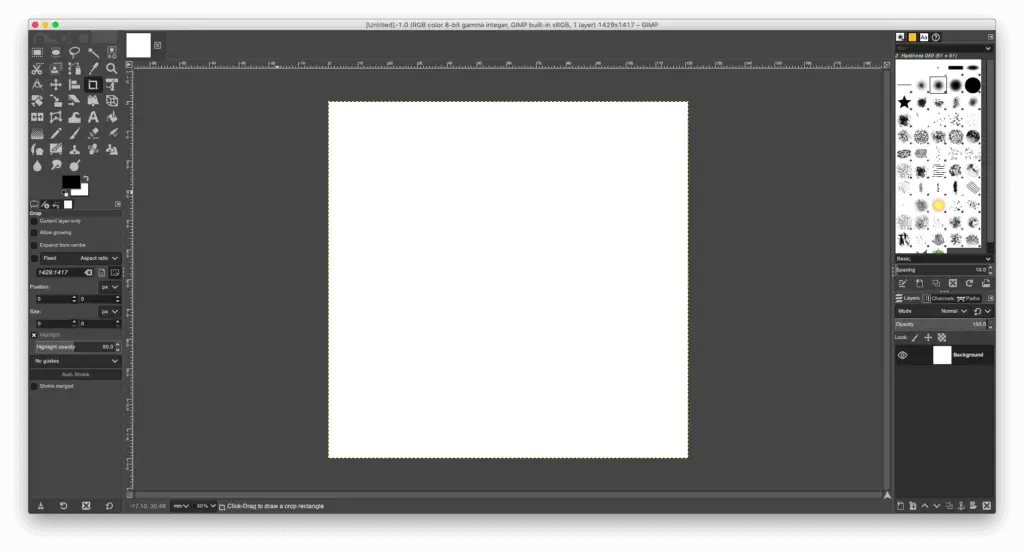 The only reason you'd need to use GIMP or any other similar software is to do more complex manipulations. Canva has its limitations and is designed to be user-friendly for pretty much anybody.
For example, you may want to do things like…
Create special effects
Combine multiple images
Use fonts that you downloaded
Use different layers and crossfade
The sky's the limit with these types of programs and you can find many tutorials on YouTube.
It really depends on how much time you're willing to put into this. Personally, I'm much more of a minimalist so I just use the image as-is. I put most of my energy into finding the perfect images and I let the music speak for itself!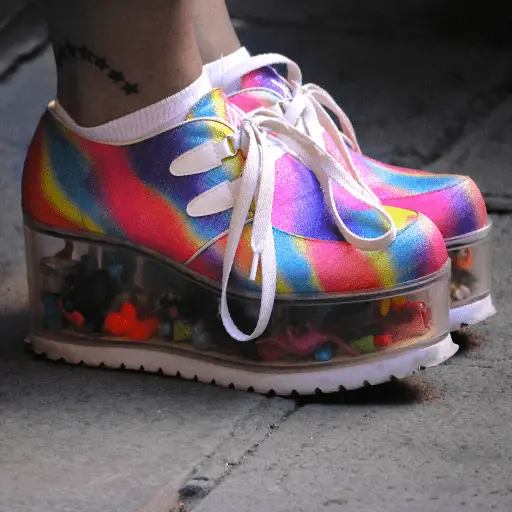 I'm not going to get too deep into GIMP in this tutorial because I'm not a graphic designer. I simply wanted to present the option to those looking for something more.
Exporting your album art
Are you wondering which format works best for album art? There aren't necessarily any standards, but it may vary from platform to platform.
I usually use JPEG, but I always make a PNG copy just in case.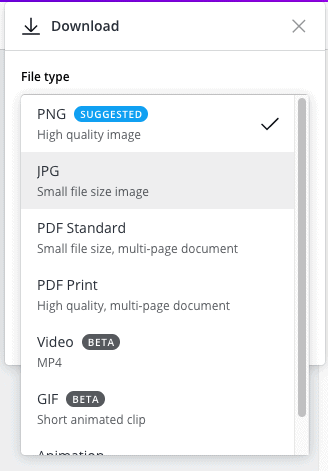 Following these guidelines, I've never had any issues. However, downloading your design in JPEG format from Canva does result in smaller file size (which is good). PNG isn't much bigger, but on the internet, smaller is better.
The difference in quality isn't apparent (to me at least).
As I mentioned earlier, Canva will save your design if you ever need to make modifications down the road. If you're using software like GIMP, you definitely want to save your project. Exporting images in GIMP is slightly more complicated because you'll have lots of options.
Stick to JPEG, keep the quality as high as you want, but your file shouldn't exceed 1 MB.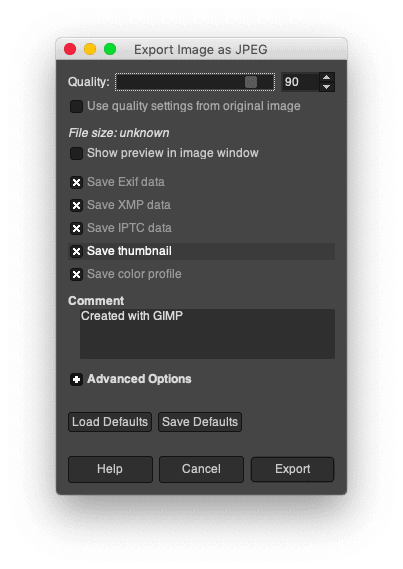 Other than that, you should be good to go.
It's really not that complicated once you understand the lingo.
Learning how to create your own album art!
If anything, I hope this tutorial has proved to you that there is a way to do this on your own. Paying a stranger to create your album art on sites like Fiverr rarely produces satisfying results.
Besides, they're most likely doing exactly what we learned how to do today!
If you're releasing albums once per year, you may be able to afford a graphic designer. However, music producers that work with music libraries can potentially crank out an album per month. That can get expensive!
You won't always need to provide your own artwork, but it's required if you're publishing your music on streaming services and non-exclusive libraries.
I got into doing this kind of work when I used to make pins for Pinterest. It taught me how to be self-reliant when it comes to imagery and I even used the knowledge to design Decibel Peak's logo!
I'm telling you, I simply learned this stuff on my own and I know you can too.
Developing your personal style will help your fans recognize your music with their eyes, not just their ears. This is much easier to achieve if the persona creating the artwork (you) is always the same. So what are you waiting for?
Go create your own album art!
Did you know about any of these websites before reading this tutorial? Let me know in the comments and feel free to ask any questions you have on your mind. If you've found this tutorial useful, consider sharing it with another independent musician and subscribing to my mailing list for more like this one. Thanks for reading!