It's become more important than ever to have an online presence. Establishing your own personal "brand" of music by creating a website is the best way to get the word out. Of course, you should also consider getting yourself on social media but today, we're learning how to create a music website with WordPress (and getting started for free).
Learning how to create a music website with WordPress is an essential skill that musical entrepreneurs should develop. People easily spend thousands of dollars to have their websites built by others, but we're going to be learning how to get started for FREE!! However, you'll eventually want to purchase your own domain name and web hosting. By doing this, you'll be purchasing your very own piece of "virtual" real estate. Music websites (unlike social media) can actually become assets and generate passive income. We'll be learning about that as well…  So you definitely won't want to miss this one!
PART I: INSTALLING WORDPRESS
PART II: WORDPRESS PLUGINS FOR MUSIC WEBSITES
PART III: CONCLUSION
PART I: INSTALLING WORDPRESS
Creating your own self-hosted music website using WordPress
The first thing you'll need to create a music website with WordPress is your domain name and your web hosting service. However, if you're just looking to get started for free, you can join Wealthy Affiliate and start working with TWO free domains (you can purchase them later).
It's much easier for beginners (includes tutorials), but I encourage you to do your own research.
I personally use Wealthy Affiliate for Decibel Peak and my other websites. I registered my domain names with them and they also provide web hosting services (the best, might I add). On top of that, it's also an online course for affiliate marketing and social network for entrepreneurs.
I won't get into the details, but it's where I started out and it worked out great!
Either way, you'll be installing WordPress on your music website through your web host. I recommend looking for tutorials on YouTube or simply following my recommendations. Wealthy Affiliate's FREE training shows you how to set up your first website.
Since we're using our own domain name, our WordPress installation is considered "self-hosted". In other words, WordPress isn't hosting your website because you've got your own web hosting.
It's not really important for us, but wordpress.com (not .org) can also host websites.
Anyway, once you've installed WordPress on your registered (or FREE) domain, we're ready! The first thing I recommend doing is deleting all the default plugins. We most likely won't be needing them and/or will be replacing them with other plugins.
It'll make sure we're on the same page!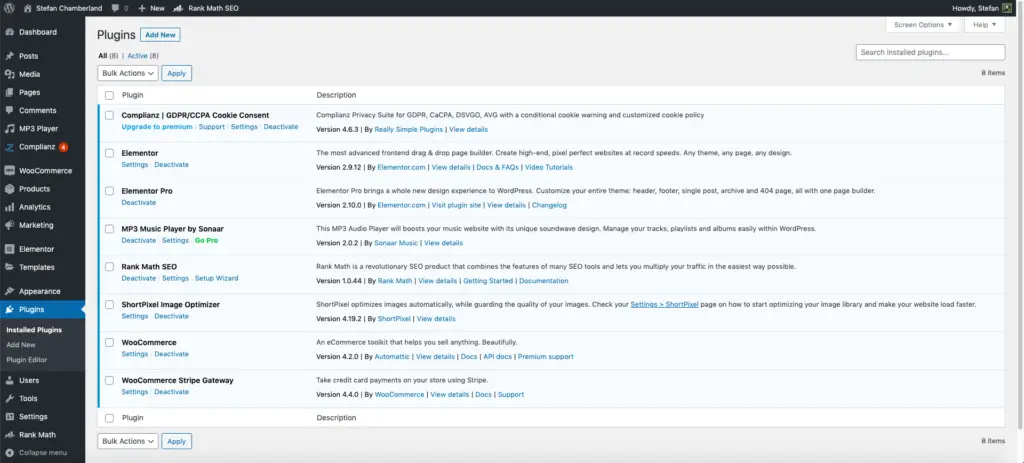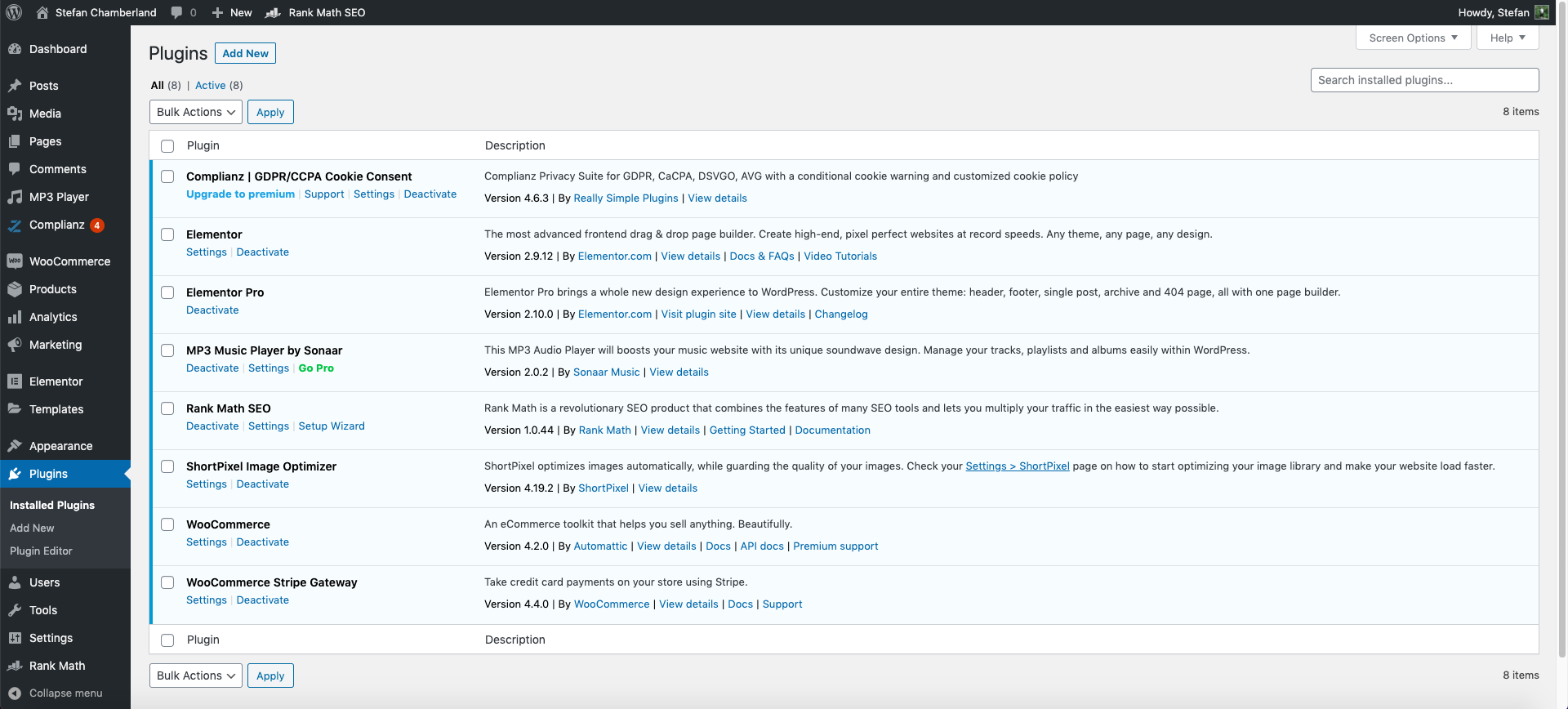 You can simply start by installing them and activating them one by one as we progress.
PART II: WORDPRESS PLUGINS FOR MUSIC WEBSITES
Creating a music website with WordPress using Elementor
Whoever said that "you can't judge a book by its cover" wasn't talking about websites! One of the most important tools you can purchase for your music website is a page builder plugin.
I started off with Elementor's FREE WordPress plugin and "Hello Theme" (WordPress theme).
The simple and light-weight combination provided the perfect foundation for my music websites. Everything you'll see on stefanchamberland.com and decibelpeak.com was created using Elementor Pro (the premium version of Elementor) and  "Hello Theme" for WordPress.
Without the necessity to learn HTML code, you can focus on making your website beautiful!
With the premium version, you'll also have access to dozens of templates to start from. You could easily create visually stunning music websites in minutes, but the page builder is so extensive that you could spend hours refining your web design (I've done this many times).
Though, keep in mind that your objective is to increase the quality of your user-experience. Search engines like Google prioritize websites that provide above average user-experiences.
Just remember to keep things simple because page load speed also affects page rankings.
Either way, creating something unique with Elementor will surely enhance your own user-experience with WordPress as well as convince your visitors to keep coming back!
After our WordPress installation, Elementor (and Elementor Pro) are the second most important components to learning how to create a music website with WordPress. I encourage you to research alternatives, but I have come to the conclusion that Elementor is the best out there.
I'll be using Elementor Pro to teach web design for musical entrepreneurs.
If you're using Elementor and would like me to demonstrate any techniques… Leave me a comment and tell me EXACTLY what you want me to show you. I'll be making web design tutorials specifically tailored for music-related websites in the near future!
Creating a music website with WordPress using WooCommerce
If you're planning to accept payments on your music website, you'll want to install the WooCommerce plugin as well as the Stripe Gateway plugin. Whether you'll be selling your music (digital/physical), merchandise and/or musical services, you'll need this.
It's currently the industry-standard for WordPress users.
It's fully integrated into the WordPress content management system (CMS) and has been optimized for use with Elementor's page builder. It's never been easier to create your very own online music store!
Instead of relying on third-party sellers (Bandcamp, iTunes, etc…) you can take charge!
Keep 100% of your sales and learn how to create a music website with WordPress. The setup procedure can be overwhelming, but luckily the WooCommerce team has made this tutorial guiding you step-by-step through the setup wizard.
You'll also need to create your Stripe account if you haven't done so already.
It's the payment processor you'll be using to accept payments through your website.
You'll also have the option to use PayPal, but you'll want to have Stripe as well for customers that don't have PayPal accounts. In other words, you need Stripe to accept credit card payments directly from your music website.
WooCommerce is probably just as important as Elementor (if not more)!
However, you won't need to install this plugin if you're not planning to accept payments. For example, I don't have WooCommerce installed on Decibel Peak (I use my main website to sell my products/services).
If you'd like me to demonstrate some techniques using WooCommerce for WordPress, let me know WHAT in the comments. I'll be creating ecommerce tutorials for music-related websites in the near future, so let me know what you're finding difficult!
Creating a music website with WordPress using Sonaar
One of the plugins you'll be needing if you intend on streaming music on your website is MP3 Music Player by Sonaar. If you're learning how to create a music website with WordPress, you'll eventually realize that the default WordPress media player is quite restrictive.
It also allows just about anybody to download your audio files… NOT good!
You can find the FREE version on WordPress' plugin browser, but you'll need to upgrade to the premium version if you want access to exclusive features. One of my favourite parts of Sonaar is its integration with Elementor (it includes its own widget)!
The player itself looks really modern and sleek.
However, you can easily modify its appearance using Elementor.
The premium version also includes the ability to have the player "stick" to the bottom of the page, regardless of where the user navigates. In other words, they can listen to your music while visiting your website!
It even includes statistical reports to see which songs are being listened to the most.
I would seriously consider the premium version, but you can always start with the "lite" version to see how you like the plugin. As always, do your own research but I'm telling you… Sonaar is one of the best/most affordable options out there.
I've used other similar plugins, but none of them had the integration with Elementor.
When it comes to creating websites, I like anything that'll allow me to customize appearances. By using Sonaar, you can truly provide a unique listening/shopping experience for your visitors without learning how to code!
Creating a music website with WordPress using Rank Math
If you've never heard of search engine optimization (SEO), you'll become quite familiar with it! Although search engines have a preference for WordPress websites, we still want to increase the odds of our website being seen by others.
We'll be discussing SEO strategies more deeply in "how to create a successful music blog", but right now we're simply going to install/activate Rank Math.
I've used many other SEO plugins (All in One SEO, Yoast, etc…), but none of them are as good as Rank Math SEO. Without getting off-track, it's basically got more features that'll be really useful down the line without needing to install more plugins (less is more, remember that).
Once you've completed the setup wizard (to the best of your ability), you should be good to go.
If you want to make sure you're on the right track though,
The settings can be changed at any time, regardless of what you chose in the setup wizard.
Basically, Rank Math will help search engines (like Google) index your content. Without your SEO plugin, search engines would have difficulty "crawling" your pages. From past experience, search engines don't like websites that make their job more difficult.
If you ever hope to get on the first page or search results, you're going to work for it!
Of course, that's only one part of the equation.
You'll be describing your website to search engines using the content you'll be creating for your music website (blog posts, product reviews, physical/digital releases, online courses, etc…).
You'll need traffic to move mountains, so you'll need to get the search engines on your side.
Everything else, we'll be discussing more thoroughly in another blog post… 
Creating a music website with WordPress using ShortPixel
If you're going to learn how to create a music website WordPress, you'll need to understand how to properly optimize your images. Bulky images can really slow down your music website and that'll most likely impact your rankings on search engines.
By using image optimizers like ShortPixel, you're increasing your website's performance!
It's even more important for users using mobile devices. Images need to be delivered using the latest standards and one of those standards is using the WEBP format. To make things simpler, I rely on my image optimizer plugin to convert my images.
I still compress them myself before uploading though, although it's not mandatory.
I usually use the JPEG format to upload because it's smaller than PNG.
Either way, you can get up to 100 image optimizations per month for FREE with ShortPixel. It's perfect if you're just getting started and becomes quite affordable if you ever need more.
I personally use my plan on all my websites using the entry-level pricing.
Just like SEO plugins, image optimizers are essential for music websites using WordPress. When you're competing for first place, every millisecond of site performance makes a difference!
Seriously, increasing your page load speed by a second can land you on page ONE of Google's search results!
I encourage you to do your own research, but I found that ShortPixel worked best. The image optimizer is compatible with Elementor, but I've personally had issues with adaptive images (a different plugin from ShortPixel).
Creating a music website with WordPress using Complianz
Lastly, learning how to create a music website with WordPress requires compliance. We're talking about complying to associations like the CCPA, GDPR, etc… 
At some point, you can actually get fined if you don't adhere to their guidelines.
Nobody talks about this stuff, so I struggled to find answers.
Most people overlook the little details like… 
Terms and Conditions
Privacy Policy
Cookie Policy
Affiliate Disclosures
Disclaimers
It can really keep you up at night thinking of these things!
Luckily, I found Complianz to assist me with anything related to legal matters. Basically, it makes your website compliant to the standards of these organizations.
To make things even better, they also offer their "lite" plugin FREE of charge. However, there are some minor restrictions that you may eventually want to overcome. Complianz is still the most affordable solution BY FAR.
I really did my research on this topic, so believe me when I say that nothing comes close!
However, you need to do your own due diligence because neither Complianz or I can be held liable for any losses, should you incur any. I'm simply recommending the tools that I personally use, but you should always consult the terms and conditions.
In all honesty though, Complianz should have you covered.
The premium version allows your website to comply with the user's specific region so that you'll be covered regardless of where your web traffic comes from.
The most important part of Complianz is its automated "cookie consent" popup.
PART III: CONCLUSION
How I personally created my own music websites with WordPress
The reason I ended up learning how to create a music website was because I was looking for alternative sources of income. It can be difficult to pay the bills as an artist, so we're always looking for different ways to monetize our lifestyles.
Blogging about my journey and the lessons I learn along the way seemed exciting!
I talk more deeply about monetizing your music website in this blog post, but just remember that I had my doubts at the beginning too. However, discovering Wealthy Affiliate truly gave me the foundation I needed to succeed on the Internet.
It wasn't designed for musicians, but the tools and knowledge I picked up benefited me greatly.
The one thing we never learned as musicians is how to make money. As artists, we often overlook the business side of things, but the truth is we can't live without it. If you truly want to be considered "independent", you need to learn about online marketing.
The best place to learn is to start with the FREE membership at Wealthy Affiliate.
You'll get to practice everything you learned today with TWO free WordPress websites.
You'll even have access to the first training module!
To be completely honest though, there are probably much more affordable options when it comes to domain registration and web hosting. So, why am I still using Wealthy Affiliate?
Community of like-minded entrepreneurs
Online courses about online marketing made by the owners
Tutorials made by members
Weekly webinars
Impeccable web hosting technology (one of the best in the world)
Exceptional 24/7 customer support (they reply to you within minutes)
It's much more than all that, but I won't keep you waiting.
You can simply visit Wealthy Affiliate yourself and see if it's worth it for you!
If you DO decide to join though, make sure you find me and add me to your network. It'll be much easier for me to help you with your website by communicating directly through there. Regardless, leave me some comments if you want me to make tutorials about anything we talked about today.
I hope you're ready to start creating your own music website with WordPress. Once you know which plugins to use, you can get to work right away! Of course, learning how to use the plugins and WordPress itself will take some time. That's why I encourage you to take advantage of the FREE training module at Wealthy Affiliate where you'll learn the basics. However, feel free to ask me your question(s) if you need me to clarify anything. I want every musician to know how to create his/her own music website. It's one of the (if not the most) important assets you'll be cultivating and it starts TODAY! Thanks for reading, let me know if I can be of assistance.