So, you're looking for the best budget Thunderbolt audio interface?
If you ask me, I say it's the Apollo Solo by Universal Audio. I would've also included the Universal Audio Arrow, but it seems like it's been replaced by the Apollo Solo.
However, you'd realize pretty quickly that both of these audio interfaces are IDENTICAL (except in colour). I personally use the Arrow, but it would've been the Apollo Solo if I purchased today.
Why did I decide to go with Universal Audio though?
That's what you'll find out if you keep reading…
Apollo Solo – UAD's best budget Thunderbolt audio interface
To put things into perspective, you need to understand that Universal Audio sells audio interfaces that are MUCH more expensive than the Apollo Solo.
So relatively speaking, the Apollo Solo (and Arrow) are pretty affordable.
However, these audio interfaces benefit from the same features as all of the other top-line Universal Audio devices…
Onboard DSP
Unison-enabled preamps
UAD plugins
Console mixing software
LUNA recording software
We'll talk more about each of these features in subsequent sections.
For now, let's just compare the Apollo Solo with the only other "budget" Thunderbolt audio interface I could find (and it's still more expensive).
The MOTU 8A 16×18 Thunderbolt audio interface doesn't offer much more.
Sure, MOTU is renowned for delivering high-quality and reliable audio interfaces but Universal Audio has taken audio interfacing to another level.
It's nice that the MOTU 8A 16×18 has some internal DSP effects, but that's about it.
Universal Audio knocks it out of the park with its collection of analog modelled plugins.
These plugins are hosted inside the interface's DSP chip in real time (zero-latency).
AND we haven't even talked about all of the other benefits! You'll have to keep reading if you want to find out more, but let's just set one thing straight…
Although the Universal Audio Apollo Solo/Arrow are still relatively expensive when compared to other entry-level USB audio interfaces, they're actually the most affordable Thunderbolt audio interfaces on the market right now.
Hopefully, the rest of this article will justify the price-point but if it doesn't, you can always consider the best budget USB audio interface.
You'll definitely be missing out though!
The best Thunderbolt audio interface has onboard DSP
Regardless of the model, each UAD audio interface comes equipped with onboard DSP.
The only thing that changes is the capacity of the processor.
For example, some devices can have up to 8-cores of internal DSP. However, the Apollo Solo/Arrow only has a single-core processor.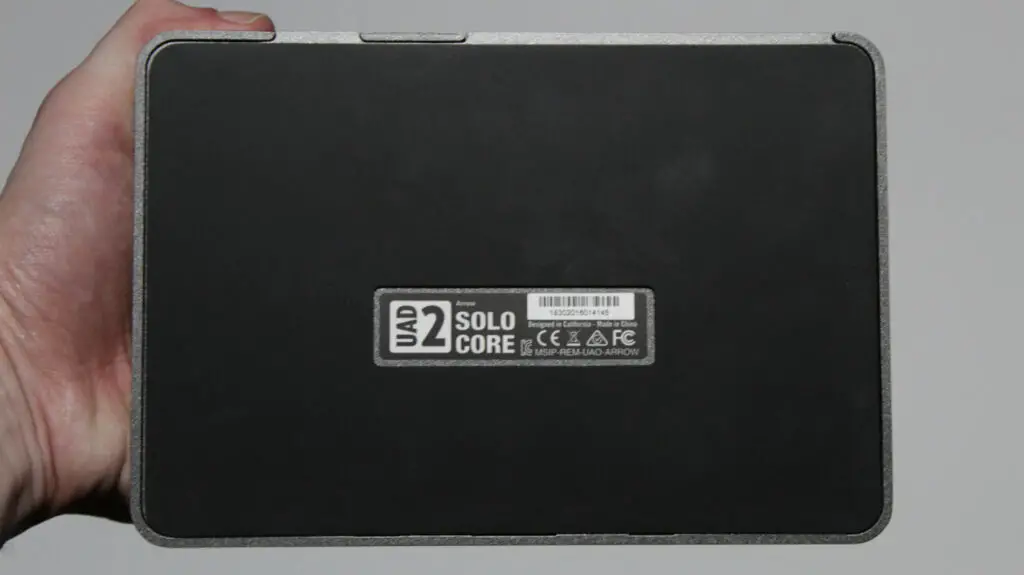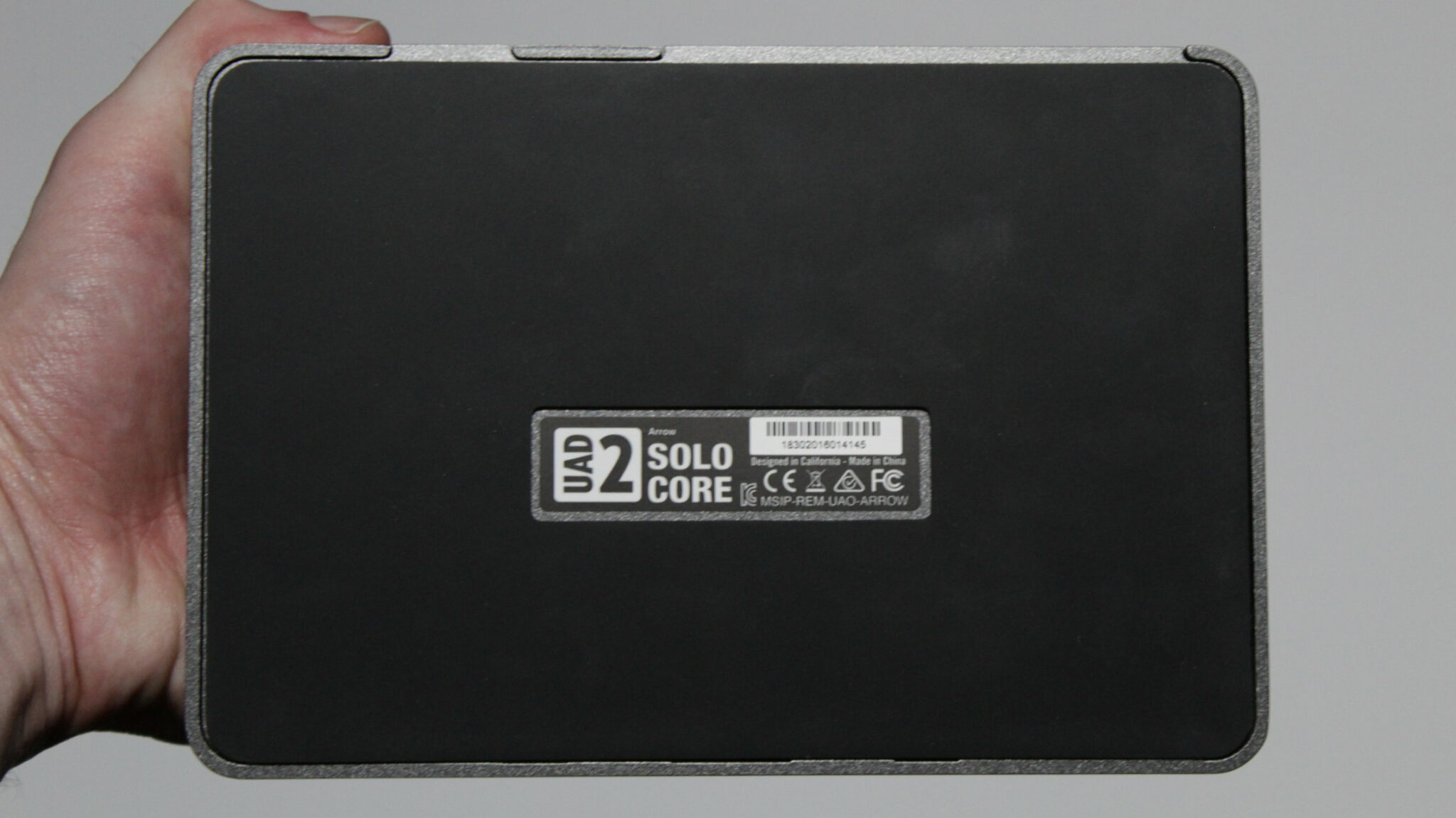 Is that an issue?
It really depends on how many UAD plugins you want to run at once.
I personally only use the onboard DSP to host amp modelling plugins and maybe a few other effects (compressor, distortion, etc…).
That being said, that's pretty much all a single-core DSP unit can handle.
To be more specific, I mean about 2-3 plugins.
If you were planning to mix and master using UAD plugins, you could forget about the Apollo Solo! That's because UAD plugins CANNOT be hosted using your computer's CPU.
These plugins absolutely need to run using your UAD device.
Personally, that's the one thing I don't like about Universal Audio and many will agree.
That's why I don't mix and master using UAD plugins, I just use a few of them to record.
If we're on the same page, then the Apollo Solo/Arrow is still the right tool for the job!
Compared to the MOTU 8A 16×18 Thunderbolt audio interface which only has a few onboard DSP effects, it's still a HUGE improvement.
I mostly bought my UAD Arrow because of the ultra-realistic amp modelling plugins.
As far as I'm concerned though, the rest of the UAD plugin collection isn't worth my time (or money).
The best Thunderbolt audio interface has Unison-enabled preamps
So, here's where the magic of Universal Audio comes in…
Some of the UAD plugins (like amp modelling) can be hosted using the audio interface's special Unison-enabled preamps. What does that even mean?
Well, imagine having an audio interface that emulates the analog circuitry of the piece of equipment your analog plugin is modelling…
It'd basically be like plugging into the real thing, right?
CORRECT!!
That's how Universal Audio bridges the gap between the analog and the digital world.
That's also another reason why UAD plugins are in a league of their own.
However, there aren't any other audio interfaces that can achieve this. Unison technology is exclusive to Universal Audio and it's REVOLUTIONARY.
To elaborate more on the concept, it's basically like having a "shape-shifting" audio interface.
The preamps take on the "form" of the software model which basically categorizes Unison technology as hardware modelling.
Does that make sense? It certainly made sense when I first heard the results!
These preamps also optimize your instrument's impedance to the plugin. AMAZING!
The best Thunderbolt audio interface includes the best software
We've already talked about UAD plugins, but what else do these devices include?
The Apollo Solo, along with all other UAD devices include:
LUNA (recording software/DAW)
Console (mixing software)
However, the software included with the Apollo Solo is just as good (if not better) than some of the most expensive music production software.
If I was just starting out, I'd be pretty happy to have a free professional-level DAW.
GarageBand is great, but LUNA is on the same level as Logic Pro X.
I don't use it because I'm already trained with Logic Pro, but it's a great option if you're just starting out. It's also designed to work in perfect harmony with your UAD devices.
The mixing console software known as Console is my favourite though.
Think of it as the mixing console INSIDE your UAD device.
This is the application you'll use to control your Apollo Solo/Arrow from your desktop and is also where you'll be hosting/selecting your UAD plugins.
The only thing you can't do with it is record…
That's where LUNA and/or your other DAWs come into the picture.
Summary: Best Budget Thunderbolt Audio Interface
Alright, if you're not convinced yet then I don't know what else to tell you!
The Apollo Solo/Arrow is the best budget Thunderbolt audio interface on the market and it's also the most affordable. It even includes everything you need to get started.
UAD also includes a few FREE plugins with each device.
That being said, you're definitely getting your money's worth and then some!
If you can still find the Universal Audio Arrow up for sale (maybe secondhand), I'd definitely go for that one if you want to save some cash.
Other than that, remember that the Apollo Solo is basically the same device.
The last thing I want to mention is that Universal Audio never seems to include Thunderbolt cables with the device. It's weird, I know… Just remember to purchase yourself one.
Make sure that it's an ACTIVE Thunderbolt 3 cable. I got this one.
Lastly, I want to leave you with a challenge… If you can find a better Thunderbolt audio interface than the Apollo Solo that costs LESS, I'll rewrite this entire article.
Seriously though, I'm curious! Share your thoughts in the comment section and feel free to ask any of your burning questions over there as well. You can also find more information on the Apollo Solo/Arrow by reading my in-depth product review on the UAD Arrow HERE.
Thanks for reading, until next time!
Sources:
https://www.uaudio.com/blog/unison-quick-tip/